When to Apply for a Student Loan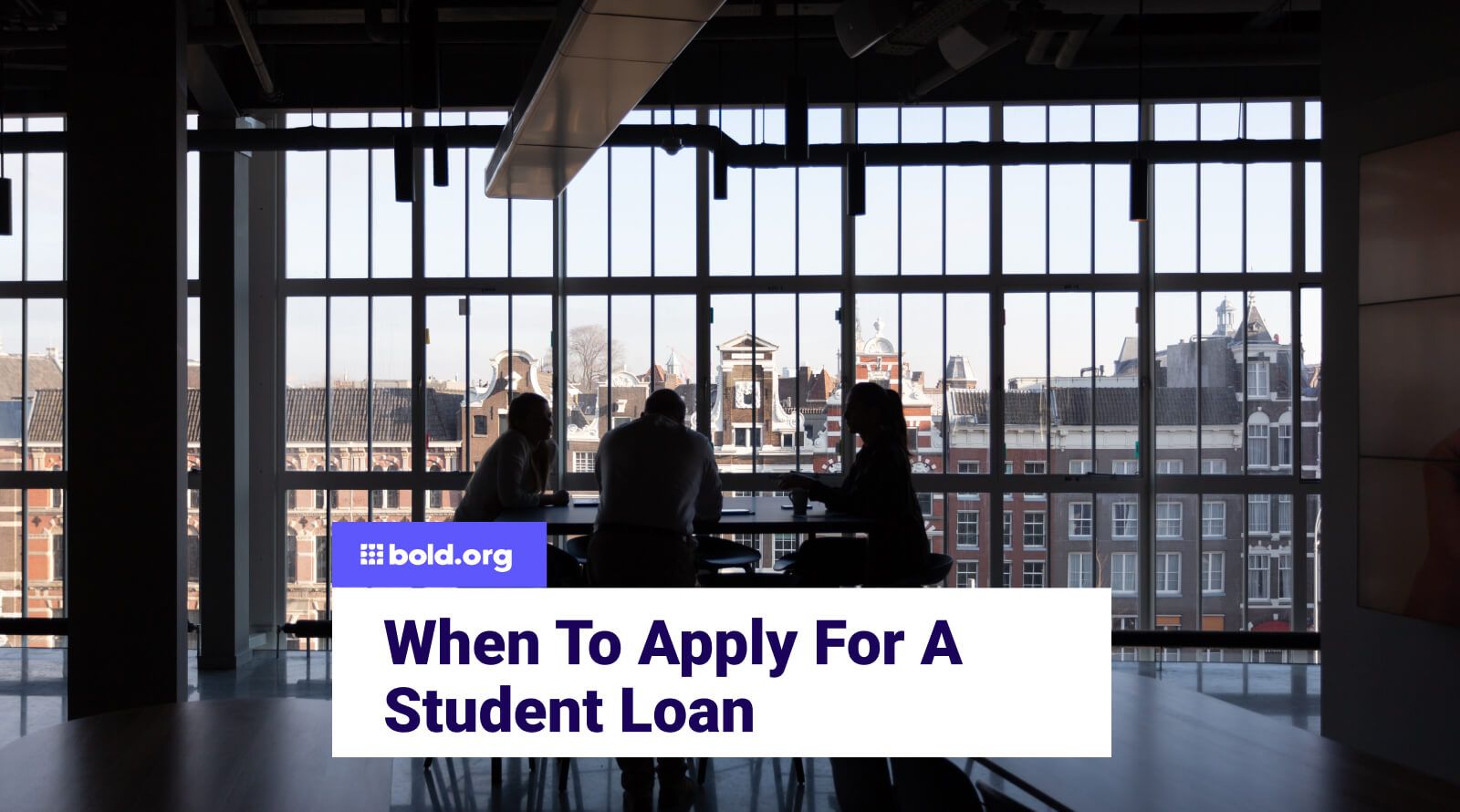 Top scholarships with upcoming deadlines
Applying for college can be both an exciting and stressful time. In addition to individual universities' written applications, you should simultaneously begin preparing for how you plan to afford college costs.
Financial aid resources such as scholarships are a great opportunity for you to save money for your education. There are endless opportunities offered through Bold.org for you to utilize.
Create a Bold.org profile and use the scholarship search feature to access hundreds of exclusive scholarships so you don't have to worry about student loan interest!
Once exhausting all other avenues of financial support, most students will rely on student loans to cover the remaining amount. Due to the high demand of federal and private student loans, you are encouraged to begin applying long before tuition is due.
If school payments are overdue for too long it can risk your enrollment status at the university as well as prevent you from attending classes or living in school housing. Given the consequences, it is best to prioritize this as soon as possible.
Depending on what loan you choose to take out, there will be different application circumstances as well as a timeline to abide by. Since private student loans come from a magnitude of various organizations such as banks and credit unions, you might see the eligibility criteria fluctuate.
Federal student loans are always contingent on you or your families income (for dependent undergraduate students), and will provide the student loan amount accordingly. Due to all the elements that are required to determine qualifications, you must gather those materials early.
Get Matched to Thousands of Scholarships
Create your Bold.org profile to access thousands of exclusive scholarships, available only on Bold.org.
Create Free Profile
Federal student loan
The application for federal student loans, the Free Application for Federal Student Aid (FAFSA) opens up on October 1st for students to apply for the following year. Utilizing the information presented in the application, your school's financial aid office will provide a financial aid award letter that includes both grants and student loans.
Applying closer to the opening date will increase your chances of receiving more financial aid in grants. For most schools, the priority filing date is by early February. It would be financially beneficial for you to have these documents completed by that time.
The last day to apply for that academic year will be sometime around the end of June when the term is completely over. Although the FAFSA form is open for a large timeframe make sure to apply for student loans as early as possible.
Federal student aid will require tax forms and other related documents, so also be aware of needing those materials in conjunction with the formal application.
Undergraduate borrowers taking out federal loans will have to reapply each year during this same timeframe. Ensure to mark early October in your calendar because it can get lost as a priority when flooding with other college responsibilities.
Private student loan
Unlike federal loans, there is no streamlined application and will completely vary based on where you go. Private student lenders might prompt a credit score, co-signer, or future projected income documents.
There is also no strict due date for borrowers to abide by, and will depend on the lender.. However, qualifying for private loans can take some time, so it is better to begin the process once you have decided which college you are going to. That way you will have a better idea of how much you need to take out.
Make sure to account for other forms of financial aid such as work-study, scholarships, grants, to assess the appropriate amount of student loans needed to pay off the entire bill.
Lastly, when choosing between lenders be cautious of interest rates, loan payments schedules, and whether there is or not a grace period. Picking a private student loan with lower benefits could hurt your financial health in the future.

Can you take out both federal and private student loans?
Yes, most students utilize both federal and private student loans to fund their studies when one is not enough. Since both loans differ in how much financial support they offer, students usually supplement them together.
Federal student loans are reputably known for their lower interest rates and a more flexible repayment plan if needed. The federal government also provides some benefits including loan-forgiveness or income driven-repayment plans.
While the benefits of federal loans exceed that of private student loans, their maximum amount is much lower. While the number will fluctuate based on your enrollment status and year at the institution, federal aid only covers up to $7,500 of your tuition expenses - including both direct unsubsidized and direct subsidized loans.
Private student loans typically offer a higher maximum amount that can completely cover your higher education. For most lenders, this can range between $70,000 to $120,000 that borrowers can take advantage of.
If you need the extra assistance it is much better to take out both than to solely rely on private student loans. Private lenders have higher interest rates and less flexible payment plans, as well as more exclusive eligibility requirements.
Given the magnitude of student loan debt, any penny counts. The benefits federal loans offer could save you thousands in the end, allowing you to escape debt quicker.
Borrowers are advised to take as little as student loans as they possibly can. If it is absolutely necessary, ensure to compare the agreements from each loan, and to understand the total amount of debt you will be taking on.
It is also important to make sure you understand what your loan is asking from you before signing any documents. Most federal student loans are different from the various sources private student loans come from.
Do adequate research to make sure you are getting the best deal between both loans for yourself. Also consider applying to scholarships to eliminate some of the expenses needed to be covered by student loans.
Can Grants be used to cover student loans?
Yes and no!
Bold.org offers grants that are entirely focused on helping borrowers pay off their student loans. These grants can be used for both federal and private loans. The support from these grants can be really helpful in alleviating the burden of student loans in the long run.
All borrowers are welcome to apply for these grants to become one step closer to being debt-free. Upon winning one, the grant money will be sent to either the organization affiliated with your student loan or to you directly to allocate accordingly.
The accumulation of these grants could save you some additional funds for other expenses or even allow you to put more towards your monthly payments. All in all it would contribute greatly to your overall financial health.
While there are several grants available, not all grants are intended to be used for student loans. Read the criteria carefully to ensure that the grant can be used for the intended purpose and that there are not any restrictions limiting you from applying the funds to your student loans.
There are also several scholarships that could also help with minimizing student loans. Scholarships are essentially gift-aid that are not required to be paid back upon degree completion. You could significantly decrease the amount you need in student loans by applying for more scholarships.
Bold.org offers scholarship opportunities for students from all different backgrounds, providing greater access to pursuing higher education. Luckily, these scholarships can be applied for throughout your college career. In fact, many of these scholarships are geared towards undergraduate and graduate students.
List of Frequently Asked Questions
What can student loans be used for?
Student loans are different from personal loans, meaning there are restrictions as to where the finances can be issued. Most lenders require that these loans be used for educational expenses alone.
In most cases, the loans will be issued directly to your institution for them to take care of spending all the money. Then, if there are any extras it will be sent to you, so that you can fund any further vital purchases related to your education.
This includes
Transportation
College tuition
Room and Board
Books and Supplies
Personal necessary expenses
If you are unsure of any expenses it is best to communicate with your lender ahead of time. Spending on prohibited items before clarifying could cost you your entire loan and call for severe consequences.
Being in violation of the terms highlighted in your agreement could lead to fines and penalties or legal action. If not that, overspending could make it more difficult to pay off student loans in the long run and cause you to be behind on payments.
Lateness can cause defaulted loans which may limit your abilities to apply for flexible repayment programs and lower your credit score. It is important to create a well thought out budget and use student loans for permitted expenses.
Read our blog post for more information regarding what student loans may be used for.
Can you defer student loan payments?
Deferment is temporarily halting monthly payments for a certain period of time. This allows borrowers to take some extra time to sort out their personal finances until they are ready to begin making payments again.
Most federal student loans offer deferment for their different types of student loans in certain circumstances. In order to eligible borrowers must be on top of all past payments with no discharged loans. Whenever you are having difficulty and need assistance paying off loans, it is important to contact your lender right away. If you wait too late it could make you ineligible to apply.
Not all deferment applications will be approved, there are certain situations where it will be considered. This includes:
Expensive medical treatment (cancer)
Financial hardships
Graduate fellowship
Military service
Rehabilitation
Unemployment
Enrolled in at least 12 credits at an accredited University or College
Although student loans can be deferred, loans may still accrue interest during this time. Double check with your lender to better understand how deferment will help you.
Private student loans are a little bit more different because they come from multiple sources. Some offer deferment while others do not. There is no simple criteria shared amongst all private lenders to determine eligibility for deferment.
It may be similar to that of federal student loans, but it is always best to double check. Having the option to defer your student loan could be useful and is important to ask about before agreeing to any loan. To request a loan, contact your lender to make them aware of the situation and discuss potential options.
Interested to learn more? Check out Bold.org's blog page to read on everything you need to know regarding college including student loans and scholarships.