Can you apply for scholarships in college?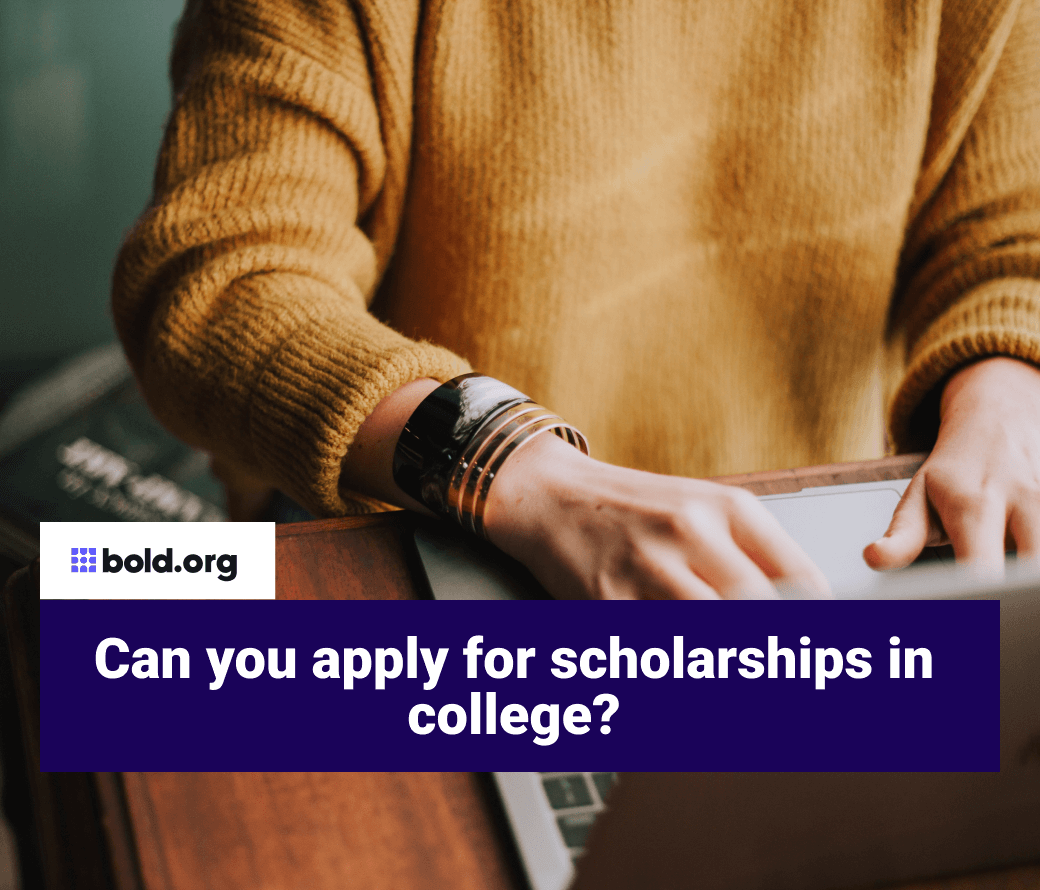 Top scholarships with upcoming deadlines
Applying for scholarships is a great way to help fund your higher education, and it's good idea to apply whether you're still in high school or already in college. Although it may seem that scholarships are mostly for high school seniors, this is by no means true. Undergraduate students and graduate students alike can apply for college scholarships. In short, students can absolutely apply for scholarships during their college years.
Scholarships (unlike student loans) give money that students do not need to pay back, allowing them to focus on their education rather than worrying about finances. Scholarships are a good option for students who want to budget for their education without incurring further student loan debt.
An estimated 25% of college students receive money from scholarships or grants. Whether you're a freshman in college, about to graduate, or already in graduate school, any current college student can apply for scholarships.
Get Matched to Thousands of Scholarships
Create your Bold.org profile to access thousands of exclusive scholarships, available only on Bold.org.
Create Free Profile
Some current college students believe that scholarships are only for high school students or high school seniors. Though it's true that there are some scholarships exclusively open to high school students, many scholarships are open to students of all grade levels.
Many scholarships fall into one of three categories regarding availability. First, there are scholarships that are only available to high school students (regardless of whether they are high school seniors or younger). Second, there are scholarships only available to college students, and lastly, there are scholarships that are available to students of any grade level.
This means there is a large chunk of scholarships that are available exclusively for college students, which high school students cannot apply for. As of 2020, there are as many as 1,581,000 college scholarships available to undergraduate college students and graduate college students each year. There are an abundance of scholarships for college students of any age to apply for!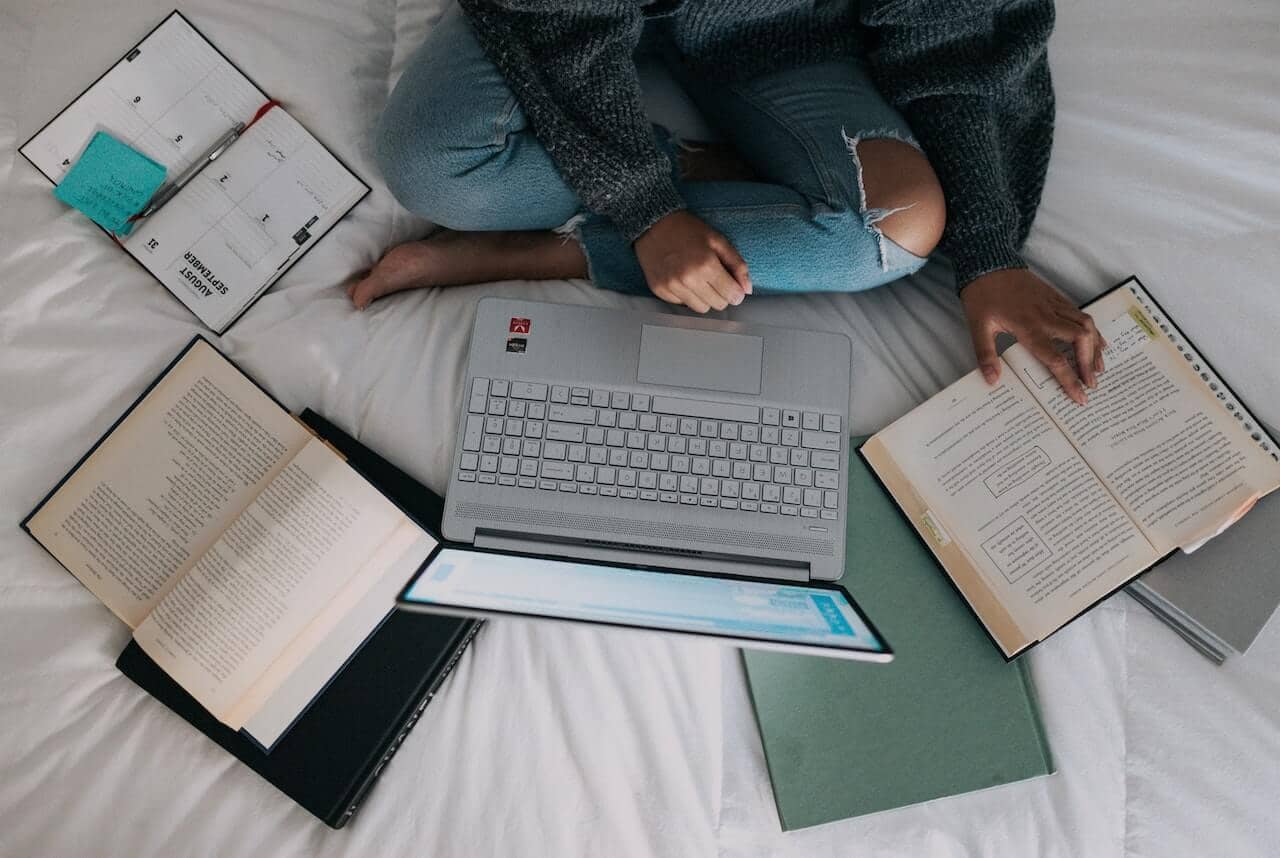 Here on Bold.org, you can apply to hundreds of exclusive scholarships, updated daily. Create your free acount today to start applying!
How to find scholarships in college
Though the schedule of a college student can be quite demanding, carving out time to research and apply for scholarships can make a difference. Winning even one or two scholarships each semester will add up quickly. For help with balancing a college workload and finding time to submit scholarship applications, students can visit the financial aid office at their school.
The scholarship search can be daunting at first, but there are many tools students can make use of to help them find scholarships. Online platforms like Bold.org allow students to easily filter through hundreds of aid opportunities, making the scholarship search much more convenient. Searching by major or grade/education level can greatly help students find scholarships that are right for them.
In addition to applying for scholarships through platforms like Bold.org, students should look at other financial aid options. Some colleges and universities offer financial aid packages to their students; visit your school's financial aid office to discuss your options.
Financial aid advisors at your school can greatly help with your search for scholarships as individual universities often have connections to opportunities that are not open to the general public. As a result, applying for exclusive financial aid programs through your university may decrease your competition and help you win money.
The financial aid office can assist students with accessing federal student aid as well; this can take the form of grants, work-study programs, loans, fellowships, and more. To access federal aid, make sure to fill out the FAFSA.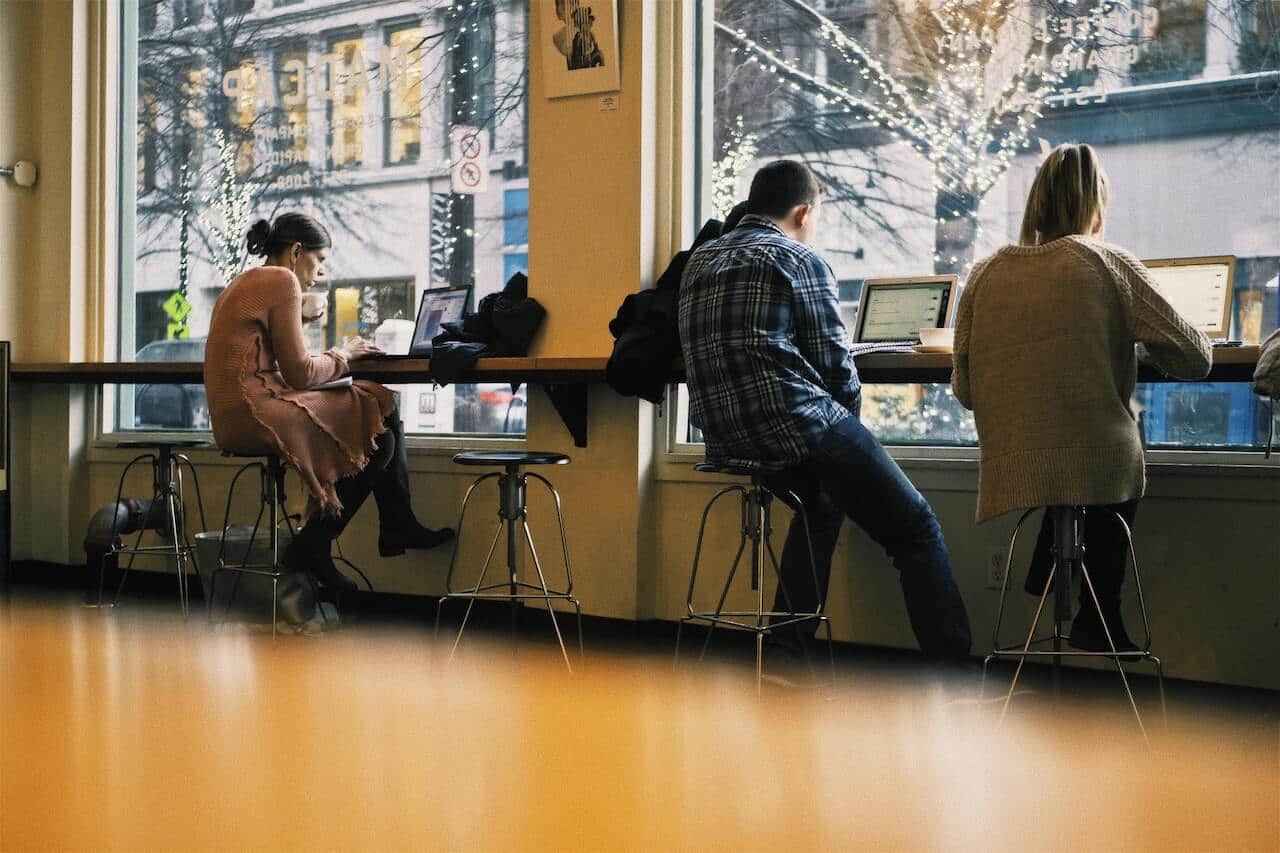 How to apply for scholarships in college
The process for applying for scholarships in college is very similar to the process for applying for high school scholarships. College students will still need to submit their personal information to show that they qualify for the scholarship. If an essay is required, students will need to prepare and submit a personal statement as well.
When submitting applications through online platforms, students should make sure to follow the instructions given. Oftentimes, students will be able to submit both their profile and personal statement through their online platform of choice, meaning students won't have to worry about sending the information separately.
On the other hand, students may be able to find many funding opportunities through their university's financial aid office. In this case, students should speak with the office's administrators or advisors to learn about scholarships available to them and how to apply. These opportunities may require students to separately mail their application information, or have a financial advisor submit the application on their behalf.
The personal statement will likely also be quite similar to the personal statements high school students are used to writing. Regardless of grade level, the personal statement is simply a way for the donor to get to know the applicant.
Depending on the question or prompt for the personal statement, it may also be an opportunity for the applicant to showcase their talents or academic accomplishments. Doing so can help strengthen the application overall by showing that the applicant is intelligent, hard-working, and passionate.
As a result, whether in high school or in college, the most important thing about a personal statement is to be genuine and true to oneself. Allow some of your personality and voice to shine through, and don't be afraid to open up and talk about events that made you the person you are.
Scholarships for college students
There is a college scholarship for everyone. To get you started, here is a short list of scholarships college students can apply for. Many scholarships are only available to students of a certain academic major, location, or background, so continue to look for more opportunities on Bold.org if none of these are right for you.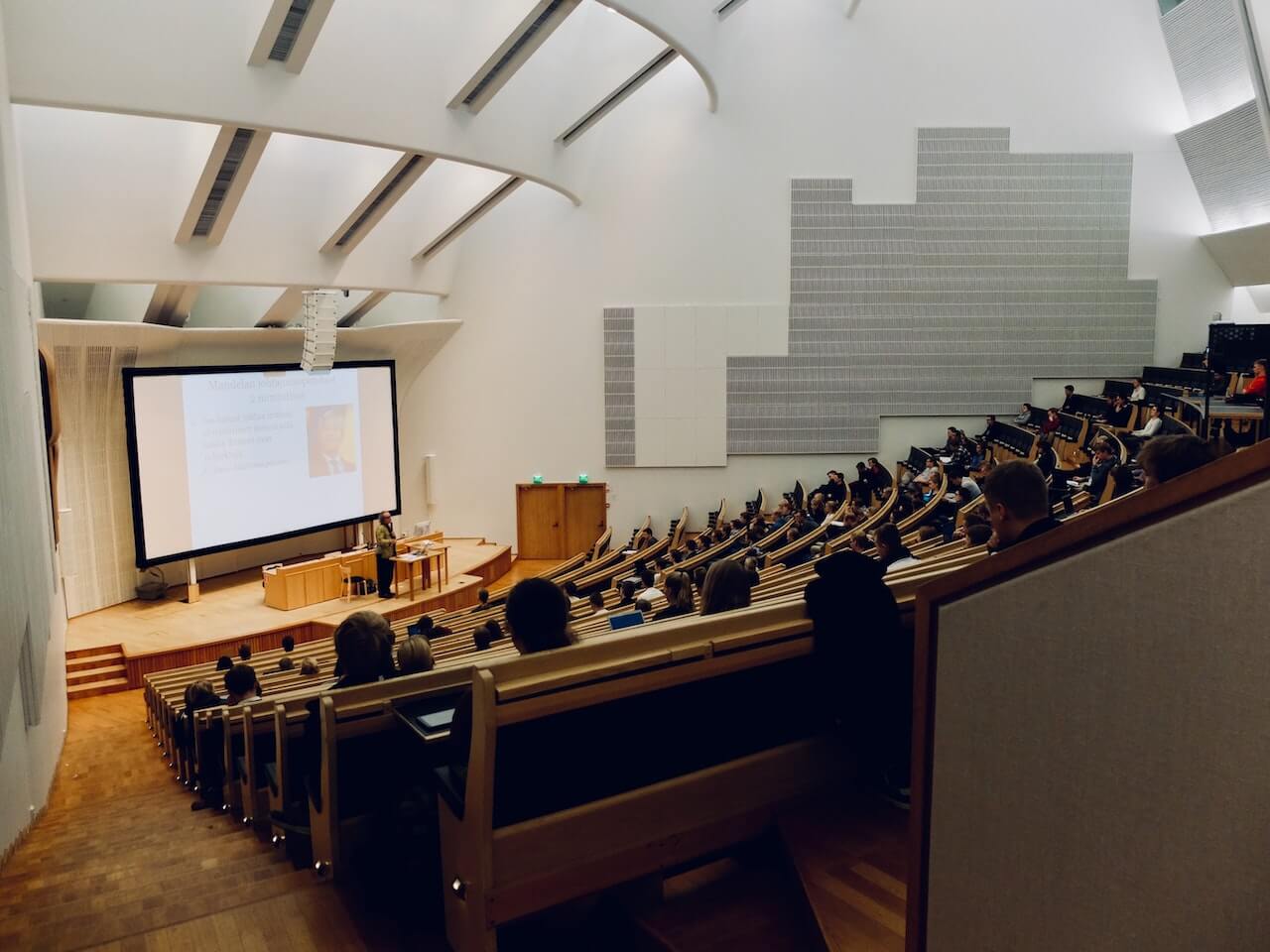 When should you start applying for scholarships in college?
Students should begin to apply for scholarships as soon as they are ready. Even incoming freshmen can start to apply for scholarships, so there is no reason to wait if you're interested in finding financial aid opportunities. On the flip side, graduate students can apply for college scholarships as well, so it's never too late to start, either.
Students should focus on finding scholarships that are relevant to their needs, as well as opportunities they are eligible for. Visiting the school financial aid office may be of service to many students who want to learn more about their school's financial aid connections and programs.
Students can begin applying for college scholarships as early as their first semester in college. Even if students have applied for and won several scholarships in high school, continuing to apply in college can be very beneficial.
Continuing to apply for scholarships throughout the entire education process is a great way to continue to save up money for educational expenses. Applying for more scholarships means a greater chance to win money, so in this case, more time is more money. Looking for scholarships in college means an extra four years to find opportunities that match your needs, generating more money.
In a nutshell, there's no right or wrong time to begin applying for scholarships. It's never too late to begin. The point is that continuing to apply for scholarships in college will increase your chances of winning money. Students who stop applying for scholarships after high school will miss some worthwhile financial opportunities in college.
Regardless of when you begin applying for scholarships, continuing to apply until your education is finished can greatly increase your chances of winning money. Current college students should apply for as many scholarships as they're able to.
How many scholarships can a student get?
In theory, a student can get an unlimited amount of scholarship money. There is no cap on the number of scholarships students can apply to or win. Approximately ​​1 in 8 students will receive at least one scholarship.
Considering this, as well as the high volume of applicants many scholarships receive, it is advisable to apply for as many financial aid opportunities as possible. Because of the competition students will face from other applicants, even students who are very qualified and submit exemplary applications may not win every scholarship they apply for.
It's important to remember that many impressive applications will be submitted to each scholarship. Not winning a scholarship does not indicate that your application was inferior. However, students should continue to try to improve their applications with each attempt, the point is that failing to win money the first few tries does not mean you should give up.
On the contrary, applying for dozens of scholarships and getting rejected from some is simply part of the process. Instead of getting discouraged, students should keep trying and should work on improving their applications.
Wondering if scholarships expire? Check out this blog to learn more!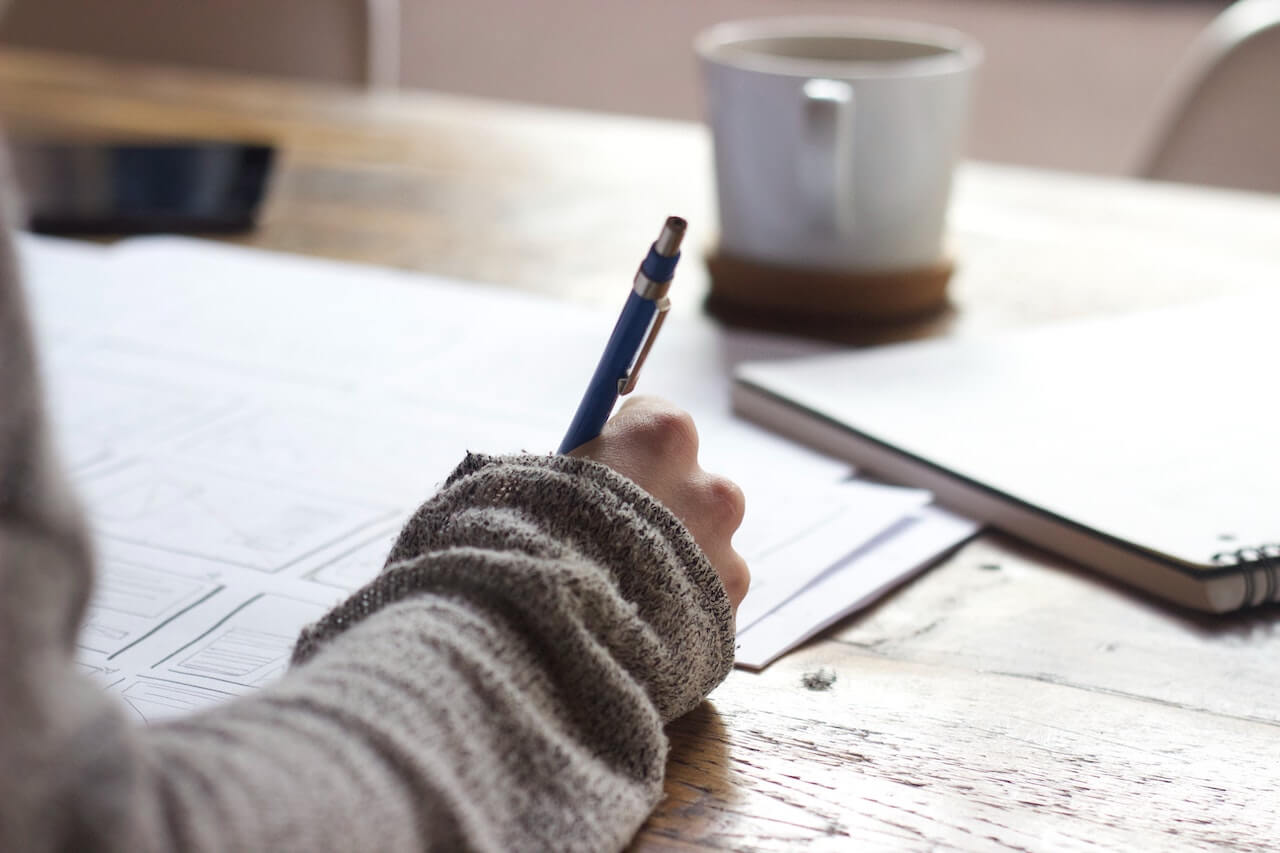 Don't waste another minute! Create your free Bold.org acount today to start applying to thousands of exclusive scholarships!
Frequently asked questions
Is it hard to get scholarships while in college?
Students should be able to find as many scholarships in college as they did in high school. In other words, the difficulty of finding a scholarship does not change between high school and college. Students will still need to look through dozens of scholarships to find opportunities they are eligible for.
This may mean looking for scholarships that support students of a specific major or area of study. Students who are passionate about biology, for instance, should look into financial aid opportunities that are specifically for biology students.
Students may come across many scholarships where they meet one or two of the criteria, but not all. For example, a scholarship for low-income nursing students in California may be of interest to many students. An applicant may be low-income and interested in nursing but live in a different state. Although frustrating, students will likely come across many such scholarships that they narrowly do not qualify for.
This is part of the process when looking for scholarships. Reading the criteria carefully and thoroughly is a large part of locating good opportunities that match your specific needs. Don't be discouraged when you come across scholarships that you are not eligible to apply for. Many scholarships are quite specific and will not be available to a large number of students.
Despite the specificity of many scholarships, the sheer number of scholarships available to students still means it is more than likely that students will be able to find a scholarship that suits their needs. Instead of trawling through hundreds of scholarships, try to look for scholarships that match an area of interest for you. This will increase your chances of finding a relevant opportunity.
In general, it is not too difficult to find scholarships in college (or in high school). There are many relevant opportunities current college students and graduate students can apply for. The main obstacle is not a shortage of scholarships, but the competition students will face.
A single college scholarship may receive many qualified applications, but there often can only be one winner. As a result, students will need to apply for many scholarships in order to increase their chances of winning.
For a qualified applicant, getting a scholarship in college is dependent on hard work and a bit of luck. Finding a scholarship you are eligible for is not too difficult in itself, but the odds of whether you will win that scholarship can mean it will take several tries to win money. This is a normal part of the process— don't give up, and keep trying.
Do you apply for scholarships before or after applying for college?
Students can apply for scholarships before applying to college or after they are accepted. There is no period of time where a student will not be eligible for scholarships because of their grade level.
However, some scholarships are only open to high school students, and some scholarships are only open to college students. You can apply for scholarships at any time before, during, or after the college application process, but make sure you apply based on your current status and grade level.
Applying prior to the college application process or during means that you should look for high school scholarships. Applying after the college application process can mean you are classed as a high school or college student depending on the month. A student might complete the entire college application process by January of their senior year in high school, for example. However, they are not an undergraduate yet and should continue to apply for high school opportunities until they graduate high school.
Looking at scholarship deadlines can also help students decide if they should apply for high school scholarships or college scholarships. If the timing is cutting it close, investigate the scholarship deadlines and guidelines more to see if this issue is addressed. There are also many scholarships that are open to high school, undergraduate, and graduate students, meaning it won't matter when students apply.
In short, students can apply for scholarships regardless of where they are in the college application process. They should keep in mind that their current grade level still determines what financial aid opportunities they are eligible for.