Why Are Scholarships Important?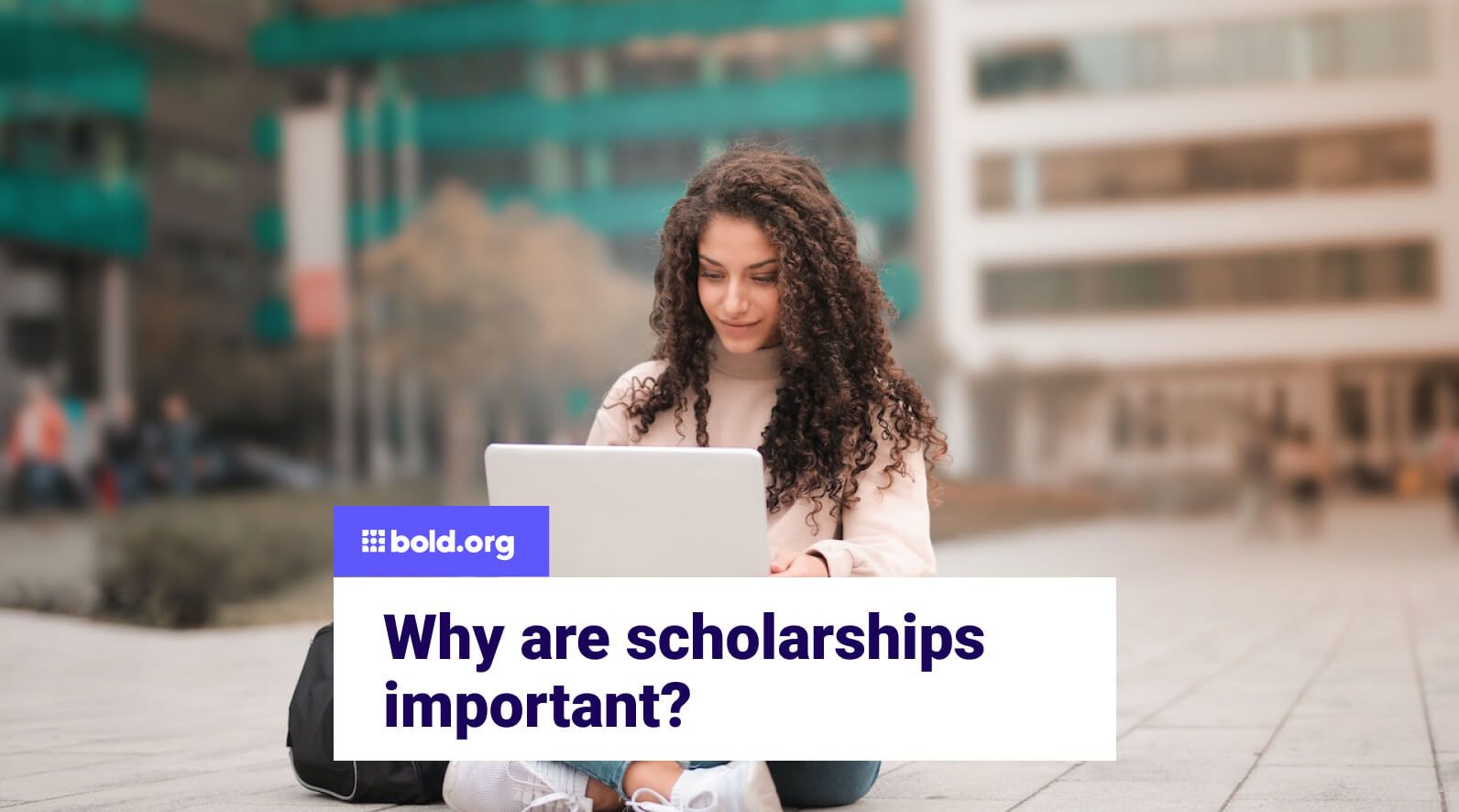 Top scholarships with upcoming deadlines
If you are thinking about getting a college education, you should not underestimate the power of scholarships. Scholarships are a readily available form of financial assistance that any student can earn if they need help paying for college. While many people don't realize the importance of scholarships in a student's future, scholarships are often the optimal form of financial aid since, unlike student loans, scholarships do not need to be repaid. College scholarships are free money for students to use towards their tuition and fees.
Many college students pursue higher education without searching and applying for scholarship opportunities, leading to only a fraction of college students receiving a scholarship. But if you are looking into getting a scholarship, there are plenty of places to find them, from your college or university to private companies. On Bold.org, you can find and apply for plenty of scholarships to attend college debt-free. Create a free Bold.org account today to gain access to thousands of scholarships!
But for students or donors who don't know how scholarships work or why they are important, here are a couple of reasons why it is crucial that students apply for scholarships.
College is expensive
For students completing 2 or 4 years of college, it may seem impossible to pay for or deal with college tuition. The average cost of college in the United States is $35,551 per student per year, including tuition and fees. In total, students pay an average of $400,000 for a bachelor's degree, considering student loan interest and loss of income.
College costs have doubled in the 21st century, growing by around 7% annually. But college is an important step for students who want to advance their professional careers and increase their academic opportunities. While the financial burden may be daunting, scholarships can significantly decrease college tuition and lessen the need for student loans.
Get Matched to Thousands of Scholarships
Create your Bold.org profile to access thousands of exclusive scholarships, available only on Bold.org.
Create Free Profile
Student debt can be detrimental
If you take out a federal or a private student loan, you have to pay the money back with interest. This leads students to fall into a massive amount of debt, and on average, each borrower owes $32,880 in student loans. Additionally, student loans can take a long time to repay. Two decades after enrolling in college, 50% of student borrowers still owe $20,000 each in outstanding student loan payments.
Unlike loans, grants and scholarships do not have to be repaid. With scholarship programs, financial support does not come with unnecessary fees or requirements. So if you are deciding between taking out a loan and finding scholarships, you should look into scholarship opportunities first.
If you are a college graduate who has already taken out a loan, do not be discouraged. While most scholarships are catered toward students in higher education, there are some scholarships for college graduates as well. On Bold.org, there are many scholarships for anyone with student loan debt regardless of their age, including many opportunities for graduate school students and even those who have left school.
Other financial aid doesn't always cover tuition costs
A student's financial aid includes any kind of money that a student is given to pursue higher education, whether it is from the federal government, their college or university, or a private organization.
Grants and scholarships do not need to be repaid, but grants usually come from the federal government and colleges while scholarships often come from private organizations. The largest federal grant program available to undergraduate students is the Federal Pell Grant program, but the maximum amount of money you can get from a Pell Grant is $6,495 per year.
While student loans are another option, students must take into consideration the risk of falling into debt. While federal loans only give out a certain amount of money, you can take out as many private loans as you need. But, the interest rates on student loans can make them difficult or impossible to repay.
Compared to loans and grants, scholarships offer the most amount of money with none of the negative effects, like repayment and falling into debt. By finding and applying for the right scholarships, you can graduate college without fear.
There are plenty of scholarships available
Over 1.7 million scholarships are awarded annually. Deserving students should not be deterred by a scholarship's application process or competitiveness. By applying to all of the scholarships you can, you can increase your chances of getting a scholarship.
You can get scholarships from a variety of places. The U.S. Department of Education awards an estimated $46 billion in scholarship money annually. But if you are an international student or if you do not get enough money from the government, private sources award over $7.4 billion in scholarship money annually.
Most public scholarships from the government or your college can be accessed through the Federal Application for Federal Student Aid (FAFSA). Once you apply for scholarships through the FAFSA, you can gain access to a wide variety of scholarships.
While your financial aid package may not include enough money to cover your tuition, private scholarships can provide enough financial assistance to get you through college. Private scholarship programs may have specific requirements for applicants, so be sure to check the eligibility requirements.
There are also a wide variety of scholarships for different kinds of students, whether you are interested in a certain sport, major, career, or extracurricular. There are also scholarships for students from specific locations, whether it is a state or a city. On Bold.org, you can find scholarships for every type of person, regardless of what you are passionate about or where you are from.
How do scholarships benefit students?
Scholarships help alleviate some of the financial burdens of getting a college education. By getting scholarships, college students do not have to rely on loans and can focus solely on getting their education.
If you are choosing between two schools with different financial aid offers, getting scholarships can also allow you to choose the school that is best for you. Some prestigious schools may offer less financial aid, but with scholarships, you can get the financial assistance that you need.
After graduating, scholarship recipients also have less student loan debt, and thus, they have a higher chance of satisfaction in their lives. Those with large amounts of student debt may choose a specific job that they may not be passionate about in order to pay their expenses or may not buy products or invest in larger purchases like a house in order to save money. Scholarships allow students to pursue their dreams without paying for their education for years after they graduate.
So, by getting scholarships and eliminating student debt, graduates have the ability to make financial choices that may make them happier or more successful in the long run.
How can I increase my chances of getting a scholarship?
The best way to increase your chances of getting a scholarship is to apply for a wide variety of scholarships. While scholarships can be competitive, applying to many scholarships may allow you to get more money and increase your odds of winning.
Scholarships can be incredibly competitive, so you will also have to stand out when you apply. You can do this by writing compelling essays or applications that will impress the scholarship committees. Some scholarships may even require an endorsement or letter of recommendation from your school, so you should ensure that you maintain good grades and have a good relationship with your teachers or professors.
While national scholarships do have a wide range of applicants, the best way to get a national scholarship is to show that you are passionate about something. If a scholarship asks applicants to be interested in a certain career or major, for example, writing an essay that talks about the moment you wanted to study in that field or what made you passionate about it can help you stand out.
If you are worried about finding and applying for scholarships, Bold.org has a variety of scholarships that are easy to apply for that can help any student across the United States. You can easily apply for scholarships on Bold.org. Just make sure that you have a strong profile before you apply.
Frequently asked questions about the importance of scholarships
What are the types of scholarships?
Depending on where the scholarship is coming from, there will be different requirements for applicants, including a student's GPA or family income. Most scholarships fall under the categories of merit-based or need-based.
Need-based scholarships are based on your family's income and need for financial support rather than any type of merit or personal accomplishment. Students may qualify for need-based scholarship funds if they come from low-income backgrounds.
Merit-based scholarships are awarded based on things like academic achievement, athletic ability, or participation in extracurricular activities. A merit-based scholarship recipient needs to excel in some form of their academic or extracurricular life in order to win these scholarships.
There are also a wide variety of scholarships for different kinds of students, including athletic-based awards, major-specific awards, location-based scholarships, and college-specific scholarships. On Bold.org, you can find scholarships for every type of person, regardless of major or location.
Where do scholarship funds come from?
Scholarships can come from private companies, local or state governments, or non-profit organizations. Because many scholarships have online applications, including Federal Student Aid through the FAFSA, you can find plenty of scholarships online just by doing a simple google search.
When trying to find private companies that offer scholarships, it can be helpful to ask local organizations or apply for scholarships through a scholarship website. Bold.org's website includes hundreds of scholarships and you can even find tips on how to get scholarships through the scholarship blog.