How Long Are Student Loans Deferred?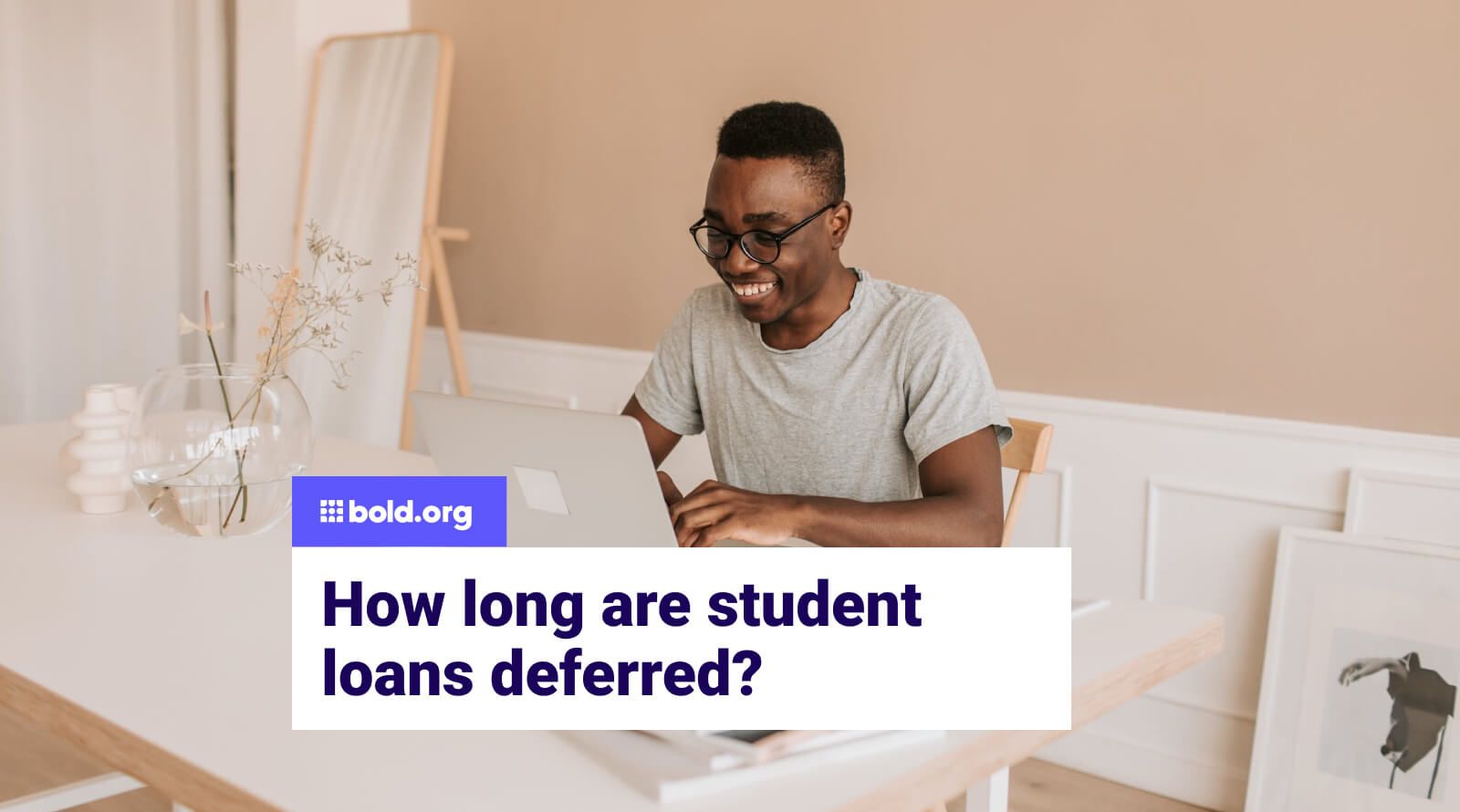 Top scholarships with upcoming deadlines
A student loan deferral refers to a temporary period of time when the borrower is not required to make student loan payments on their federal student loans. There are a few reasons why a borrower might be eligible for student loan deferral. For example, extenuating financial circumstances might mean the borrower cannot make their student loan payments on time.
In addition, the current student loan payment pause put in place by the federal government means that all borrowers who hold federal student loans do not need to make loan payments at this time. Interest rates also do not apply during this pause. However, keep in mind that this pause does not apply to private student loans.
Sign up today to make a free profile with Bold.org for free blog posts and resources on student loans and college finances. During the student loan payment freeze, it may be a good idea to start saving up for when payments resume. Scholarships are an excellent way to help pay for college or to help pay back your student loans.
Hundreds of scholarships are available and free to apply to on Bold.org. Start applying today, or look through this list of grants for paying back student loans. Use the scholarship search function to find financial opportunities for specific majors, grade levels, and more.
Because of the growing student debt crisis and the recent COVID-19 pandemic, the federal government has implemented a student loan payment freeze intended to provide some relief to borrowers. Currently, the federal government is also in the process of establishing student loan forgiveness programs for borrowers.
The student loan payment pause will continue until the Department of Education is able to open the student loan forgiveness program. Student loan payments will resume 60 days afterwards. If the Department of Education is unable to resolve the legal issues surrounding the student loan forgiveness program by June 30, 2023, payments will resume 60 days after that. Read our guide on when student loan repayment starts for more details.
Student loan borrowers should make sure they are prepared for when the student loan payment pause is lifted. In addition, borrowers should take advantage of the pause to see if they are eligible for the student loan forgiveness program.
Though the forgiveness program is facing some issues at the moment, student loan borrowers should talk to their loan servicer to see if they are eligible for forgiveness. Most federal loans will be eligible for some type of forgiveness if the borrower's annual income is under a certain threshold. Read our article on what student loan forgiveness is to find out if you qualify and how to apply once the program is re-established.
How Long Are Student Loans Deferred Regularly?
A loan deferral can also refer to a finance option unrelated to COVID-19 or student loan debt forgiveness. In typical years, without the special cases of government intervention or an international pandemic, a deferral simply means requesting a short period of time in which you don't need to make monthly payments.
This could be due to a number of reasons, but usually requesting a deferral on your student loan debt means that the borrower is experiencing special financial circumstances and cannot afford to make payments.
To request a student loan deferment, the borrower must submit a formal request to their student loan servicer. Since deferments are usually only available to those with special circumstances, the borrower may need to submit official documentation to their loan servicer as well. The documentation is necessary to show that they qualify for student loan deferment.
There are several reasons one might qualify for a loan deferral. For example, cancer treatment deferment is available to borrowers who are undergoing cancer treatments. The deferral will continue for a six-month period after the end of your medical treatments.
A broader category of deferment is economic hardship deferment. Borrowers will qualify for this type of student loan deferral if they meet the following requirements.
They're a full-time worker whose salary is below 150% of the poverty guidelines that apply to their state and family size
They currently serve in the Peace Corps
They are currently receiving a means-tested benefit such as welfare
Economic hardship deferment can exempt you from making monthly payments for up to three years. Check the federal student loan aid website for more details on the different types of normal deferment.
Are Student Loans Going to Be Deferred Again?
The student loan payment pause will end at some point, very likely no later than the stated deadline of June 30, 2023. Again, payments will resume 30 days after this date. While it is possible that student loans might be deferred even past this point, it is not guaranteed.
Borrowers should not expect another student loan payment pause or further loan deferral. The payment pause was intended to allow borrowers some breathing room during the COVID-19 pandemic, and to allow the federal government time to establish the loan forgiveness program.
Once the loan forgiveness program is established, loan payments will almost certainly begin again. If the student loan forgiveness program is reestablished before June 30, 2023, loan payments will resume earlier.
Remember, payments are intended to resume 30 days after the forgiveness program opens. June 30, 2023, is simply the latest possible date currently set by the government.
In addition, if the student loan forgiveness program is not able to overcome the legal difficulties it currently faces, the payment pause will still end at some point. The student loan payment freeze was never intended as a permanent solution. It is a temporary relief measure that cannot continue indefinitely.
Preparing for the End of the Payment Pause
As a result, borrowers need to be prepared for the end of the payment pause. Take this time to make sure you will be able to meet your monthly payments once the pause ends. If financial circumstances prevent you from making monthly payments after the pause ends, talk to your loan servicer immediately.
Federal student loan borrowers can switch to a different repayment plan if their current plan is not feasible. The income-based repayment plan, for example, often offers borrowers lower monthly payments. This is because the plan calculates your monthly payments based on your income and family size to make it as affordable as possible.
Though payments are paused, borrowers can still make payments if they wish. This is not required but can help decrease the balance of your loans for when the payment pause ends. For those whose financial circumstances allow it, making a few payments during the pause can help ease the burden of your student loan debt later.
Borrowers who know they are eligible for student loan forgiveness may want to think about whether this will help them first. If the loan forgiveness program is reinstated, those who are eligible will have a large portion of their debt forgiven, so it may not make sense to make payments.
Are Student Loans Forgiven After 20 Years?
The length of time it takes to repay a loan depends on the financial situation of the borrower and the repayment plan they are enrolled in. Visit the federal student aid website for details on the different repayment plans available.
The type of repayment plan will also determine whether your loans will be forgiven after a certain period of time. For example, with the income-based repayment plan, loans will be forgiven 20 to 25 years after taking out the loan if there is still outstanding debt.
Ideally, student loans will be paid off within 10 years of taking out the loan. Under the standard repayment plan, the following loan types will calculate your monthly payments so that they are paid off within 10 years.
Direct subsidized and unsubsidized loans
All PLUS loans
Subsidized and unsubsidized federal Stafford loans
Federal consolidation loans, whether direct or FFEL, have a more flexible repayment period and are meant to be repaid between 10 and 30 years after taking out the loan.
With the extended payment plan, for example, borrowers who are struggling with their monthly payments on other plans can pay lower monthly payments over a longer period of time. This means that those on the extended payment plan are expected to pay off their loans within 25 years, not 10.
As mentioned, the income-driven repayment plan will forgive any outstanding balance borrowers hold after 20 to 25 years of making payments. The income-driven repayment plan is also one of the more affordable student loan repayment plans, as it calculates monthly payments based on the borrower's annual income and family size.
Lastly, any borrower holding federal student loans should seek forgiveness through the federal student loan forgiveness program. Once applications reopen, borrowers should apply as soon as possible to see if their loans will be forgiven.
The forgiveness program, if it is reinstated, will likely be the single most powerful relief measure a borrower can apply for to make a significant dent in their student loan debt. Be sure to check to see if your federal student loans are eligible for forgiveness. If they are eligible, talk to your loan servicer to get an idea of how much debt might be forgiven.
You may be wondering about the timeline for student loan default after missing a payment. Check out this blog to learn more!
Frequently Asked Questions About Student Loan Deferral
What kind of student loans will be forgiven?
To qualify for student loan forgiveness, the borrower must hold a federal student loan and have an annual income of less than $125,000. For households and families, the annual income must be less than $250,000. Borrowers who meet these criteria may be able to have up to $10,000 in student loan debt canceled.
Almost every type of federal student loan qualifies for some kind of forgiveness. Keep in mind that as this is a federal program, private loans will not be forgiven. Some loan types that qualify include direct unsubsidized loans, direct subsidized loans, parent PLUS loans, and other federal loan types.
Make sure to review our guide on student loan forgiveness for more details on how the program works and who is eligible for forgiveness.
How many times has the student loan pause been extended?
The student loan payment pause has been extended eight times since March 2020. Due to COVID-19 and some legal issues the student loan forgiveness plan is facing, the Biden-Harris administration extended the payment pause several times.
Given the fact that the loan payment pause was intended initially as a temporary relief measure, it is unlikely that the pause will be extended again. Borrowers should make sure they are ready for payments to resume. Talking to your loan servicer about your payment plan can help you decide if you will be able to make your monthly payments or not.
Those with federal student loans who continue to struggle with student loan debt should consider other possible options to help them make their monthly payments on time. As discussed, the income-driven repayment plan can be a more affordable option. Scholarships can also assist borrowers with their student loan debt, as scholarships are free to apply for.
For more financial resources, visit Bold.org. Students of all grade levels can begin earning money through scholarships by making a free profile. In addition, blog posts like when student loan interest starts collecting can help you make informed decisions about your student loans and college finances.