When Does Interest Start on Student Loans?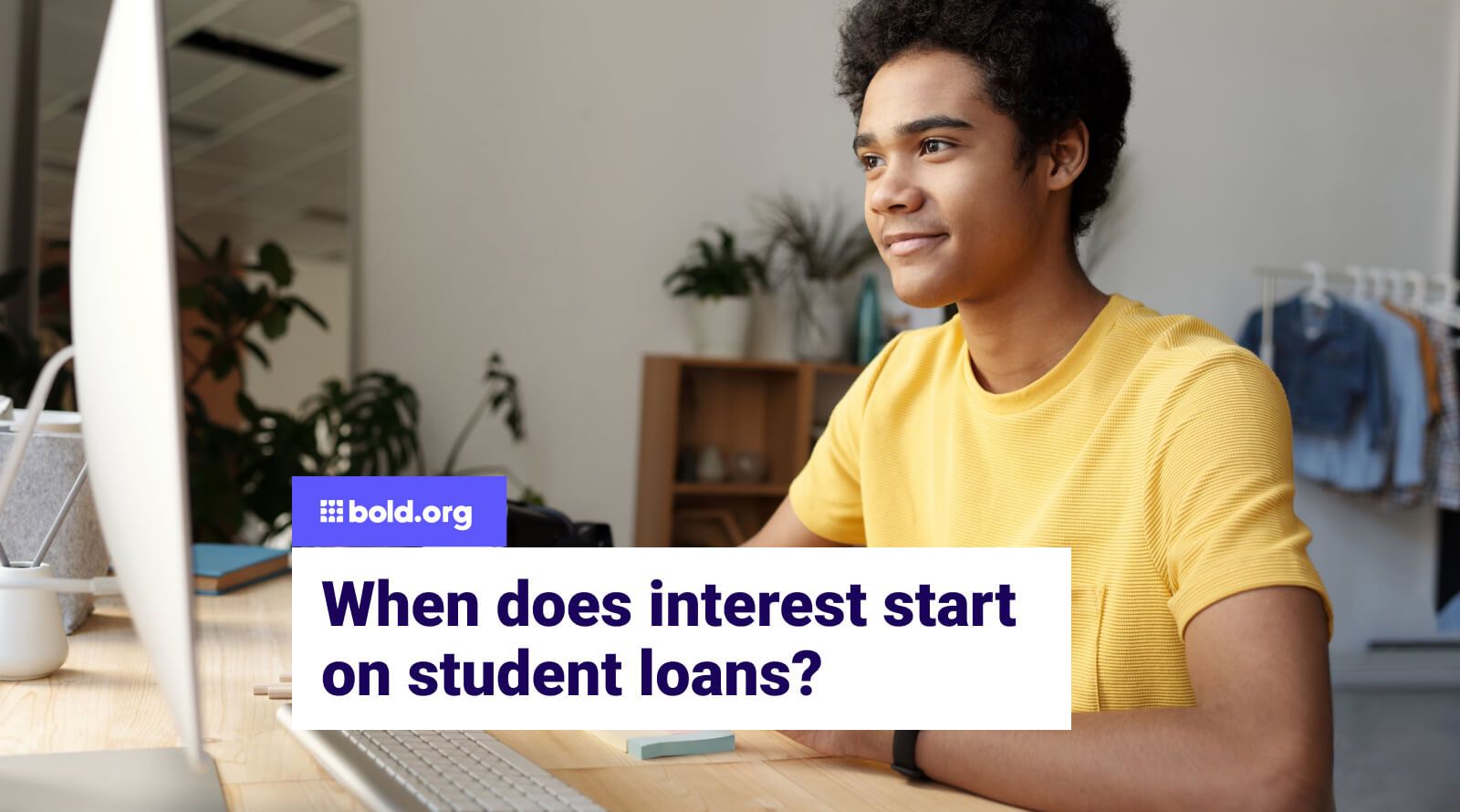 Top scholarships with upcoming deadlines
Each year, thousands of undergraduate and graduate students rely on student loans to afford college expenses. Whether it be from the federal government or a private lender, student loans are borrowed money that is expected to be paid back with interest.
The trade-off between receiving this money urgently is having to pay it back in a larger monetary value over time.
Student loans accumulate interest as soon as the money is deposited into your bank account. However, each loan servicer differs in how these interest payments are given to student loan borrowers.
It is always beneficial to know how your specific student loan interest work to prepare ahead and ensure that loan payments are manageable.
Direct Subsidized Loans
This type of student loan is a type of federal loan, which only undergraduate students can apply for using the Free application for federal student aid (FAFSA). Your respective school will often use the application to give you your financial aid offer which includes a calculation in this loan.
Get Matched to Thousands of Scholarships
Create your Bold.org profile to access thousands of exclusive scholarships, available only on Bold.org.
Create Free Profile
Subsidized loans have very low-interest payments, as the US department of education covers interest during school enrollment (half or full-time) and the 6-month grace period upon graduation.
While it accrued interest throughout your academic career, students do not have to worry about a tremendous loan balance after completing college as it is paid for.
Direct Unsubsidized Loans
Unlike subsidized loans, direct unsubsidized loans are available to both undergraduate and graduate students. These loans are not contingent on any financial need and do not require the FAFSA to qualify.
While they are also provided by the government, there is no additional aid in covering interest for students regardless of enrollment. Those who borrow money are responsible for paying it off from the day they receive it until the balance is fulfilled.
As interest accrues as soon as the funds are disbursed, these interest rates are much higher compared to subsidized loans.
Wondering about student loans and taxes? Check out this blog and this blog to learn more.
Direct Parent PLUS Loan
Another type of federal student loan is the parent PLUS loan, which is exclusive for parents covering college costs for their children matriculating into university.
Similar to unsubsidized loans, a parent plus loan accrues interest the same day it is lent out to the borrower. Furthermore, considering the borrower is one with a stable income they are required to begin making payments right away.
While some parents can request a deferment, an extension until either 6 months after graduating or if the student leaves school for any reason, interest still increases throughout this duration.
Private Student Loans
Private student loans come from nonfederal loan servicers such as banks, credit unions, institutions, agencies, etc. Although this type of loan is provided through different sources, there are some underlying similarities students should look for.
Usually, interest starts accruing as soon as it is paid to the school. Many private student loan lenders also offer a deferment period where loan payments can be made after a grace period ends.
Despite the extension, these loans still accrue interest even if monthly payments have yet to begin.
Depending on the source, student loans can differ in when repayment is expected of you. It is always best to contact the student loan servicer to figure these details out early. Investing in student loans is a very big decision that can lead to serious financial trouble if not taken seriously.
It is also worth noting that there is a different interest rate associated with each student loan. Some will be higher or lower than others, so compare to see what the right fit is for you. As numbers rise in student loan debt, be extra careful when making this decision.
Discover options like refinancing and loan consolidation to see what works best for your student loan repayment.
Does Interest Accrue on Student Loans During School?
Yes, interest can accrue on student loans during school. As mentioned earlier, interest begins the very first day the money is available in your bank account or given to the institution.
For most student loans, interest accumulates over time regardless of repayment status. This includes deferment and grace periods as well.
The only loan that does not accrue interest during school enrollment is federal subsidized loans. These undergraduate-exclusive student loans are meant to lower interest rates and limit student debt for post-graduates.
As long as one is either a full-time or half-time student, the government will pay all interest-only payments for those loans until 6 months after graduation. After that, students are required to begin paying student loan payments as interest accrues.
To support funding for student loan payments during enrollment, students might consider applying for scholarships during college through Bold.org's website. Luckily, there are always undergraduate and graduate scholarship opportunities for students to apply to during the semester.
What Schedule Does Student Loan Interest Go On?
It is recommended that students begin applying for student loans a few months prior to their upcoming tuition due date. An early start prohibits any confusion or difficulty with enrollment.
While every student loan regardless of its source accrues interest right away, the timeline may look different depending on whether it is a federal or private student loan.
All federal direct loans except for parent PLUS loans expect student loan payment to continue after 6 months post-graduation. Even then, parent borrowers under PLUS loans can ask for a deferment until a manageable time.
You can expect uniformity between individual federal student loans as they share similar requirements. The only differentiation is between direct subsidized and unsubsidized loans, as the latter collect interest while the borrower may still be in school.
Private student loans have vastly different norms due to the large magnitude they come from. It is difficult to pinpoint a singular timeframe to follow due to the diverse variety of loan servicers that exist.
In most cases, students are responsible for paying the interest that accumulates during school. Unlike subsidized loans, most lenders will not pay for that interest or offer a grace period. It is always best to check with your lender and clear up those gaps before signing any contracts!
What Is the Income Limit for Student Loan Interest?
Each year, taxpayers can write off student loan interest in their taxes if they are borrowers meeting certain criteria including:
Paying interest on an active qualifying student loan during that year
Your name is legally bounded to the documents and not of your spouse or another dependent
In 2022, the largest amount that was eligible to be deducted on all qualifying private and federal loans was $2500. There is, however, a certain income threshold that borrowers must meet to qualify.
If you are filing as a single, head of household, or widower, then your adjusted gross income must not exceed $85,000. If married, both incomes together should be less than $175,000.
Why Are Student Loans Hard to Pay Off?
As college costs continue to rise, students are forced to take more and more student loans out. By the time they graduate college, students are faced with a hefty bill to pay on top of balancing this new independent lifestyle.
Interest is the reason behind America's current trillions in outstanding student loan debt crisis. With interest rates fluctuating and often becoming higher, borrowers find their balances growing exponentially faster than their income.
It is easy to think that paying consistently will combat this fight, but that is far from true. Borrowers who are also diligent in their monthly payments find themselves drowning in the crisis with no way out as high interest rates risk increase their balance. Sometimes, this can cause you to pay more than you initially took out.
Learn what can happen if you don't pay your student loans!
A better alternative to student loans is scholarships. There is no interest nor repayment and the gift aid is given free of charge. Funds to afford your school expenses can be provided with a simple application to any of the scholarships fitting your criteria. Explore Bold.org's scholarships and apply today.
Curious about what happens to student loans when someone passes away? Check out this guide to learn more!