How is a student loan different from a scholarship?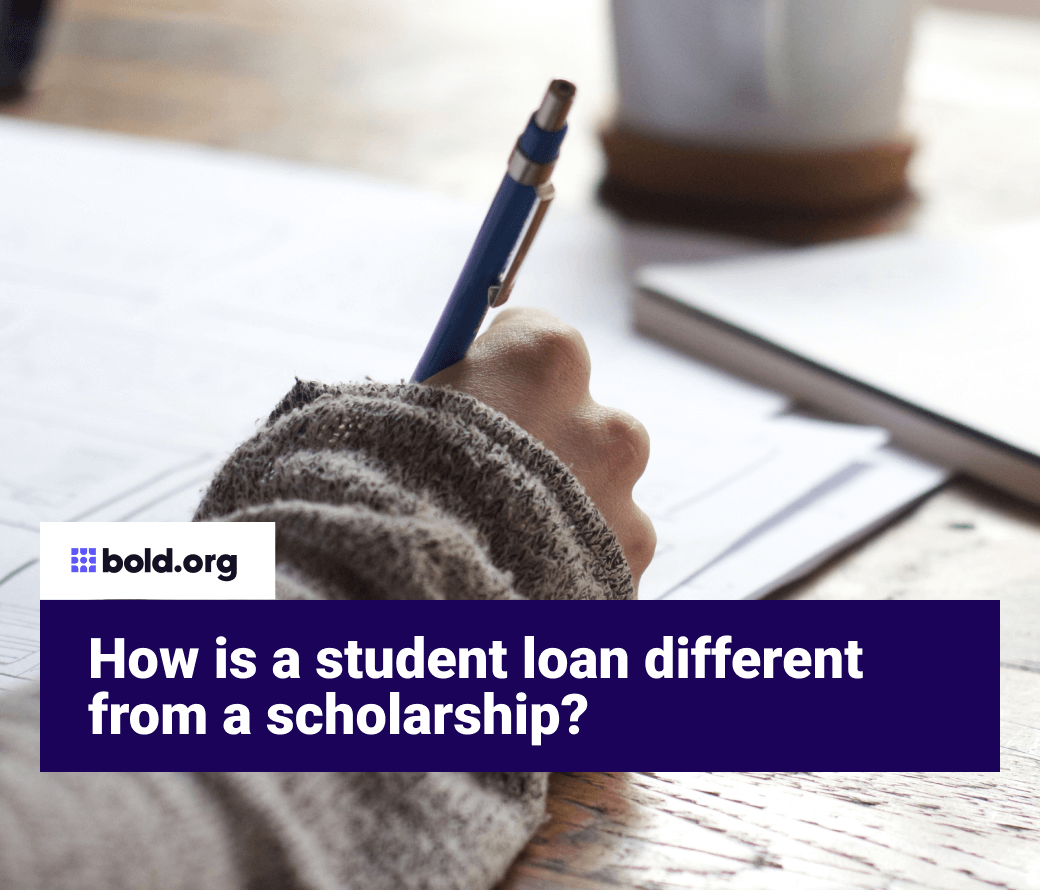 Top scholarships with upcoming deadlines
The average cost of a college education has more than doubled in the 21st century, with an annual growth rate of 6.8%. As a result, many college students have been relying on financial aid to keep up with the rising costs. Students use financial aid to pay for 92% of higher education costs, with 84% of students receiving some form of financial aid. Between student loans to scholarships, students who pursue higher education are sure to find the financial aid they need.
However, the difference between the two can also be the difference between college expenses now and student debt later on.
So, how is a student loan different from a scholarship? In short, scholarships are "free money," while student loans are "borrowed money."
Create a profile on Bold.org to access hundreds of exclusive scholarships with more added daily.
How do scholarships work?
Scholarships are a form of financial aid that is awarded to students to assist them in paying for college.
Some types of scholarships, including a full-ride scholarship or merit-based scholarship, can be funded by the federal state government. In fact, 47% of all grants and scholarships come from the federal government.
Get Matched to Thousands of Scholarships
Create your Bold.org profile to access thousands of exclusive scholarships, available only on Bold.org.
Create Free Profile
Private organizations, private companies, and other institutions can also fund scholarships that can be searched personally by students. However, the chances of winning a private scholarship are about 1-in-8. Bold.org is one such resource that lists many types of scholarships funded by private donors. Scholarship money can be awarded based on outstanding academic records, niches, excellence in sports or the arts, etc.
The application process for scholarships usually involves meeting eligibility criteria, submitting required materials, or writing an essay based on a given prompt. When the deadline for a scholarship passes, the applicants are evaluated to choose either a single winner or a select few recipients.
Check out this guide on how scholarships work to learn more!
Benefits of scholarships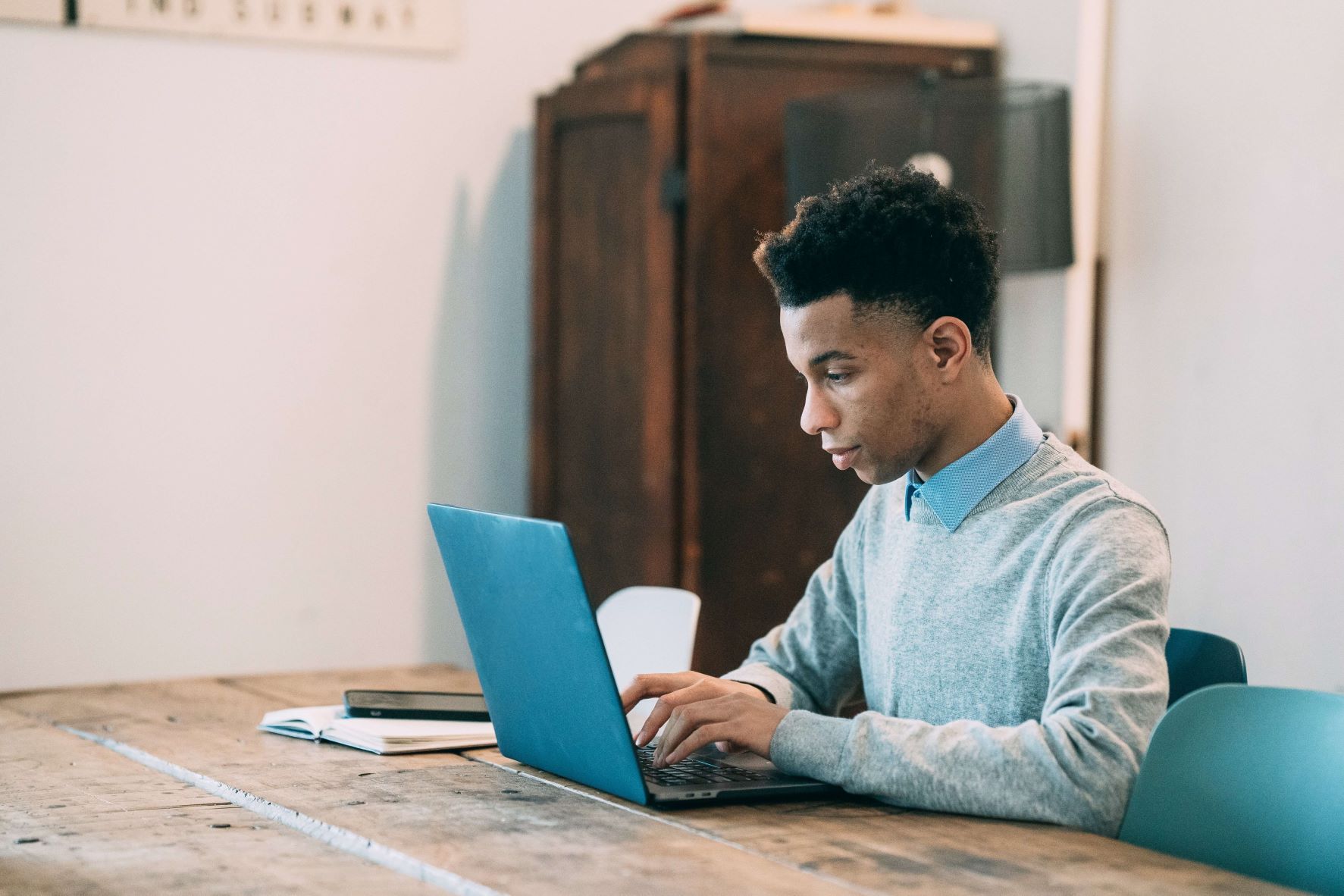 It is the benefits of scholarships that make them so competitive. The biggest benefit of scholarships is that they do not have to be repaid! Scholarships are essentially free money for students to use. Americans now owe more than $1.7 trillion in student loan debt, which is largely attributed to the interest rates of student loans. With scholarships, you don't owe anyone money, so no interest accrues over time.
Scholarships have allowed many students to graduate with no student loan debt or a lesser amount than those who take on student loans. Once the financial aid is earned and spent, you never have to worry about it again.
Scholarships are also not considered a form of income, since they are awarded as 'gift aid' to students. As long as the scholarship money does not exceed the cost of your attendance and is being put towards education-related costs, the money is generally not taxable.
College-related costs that scholarships can cover include student fees, tuition, books, or other expenses at the discretion of the scholarship provider. Since scholarships earned from Bold.org are sent directly to your college instead of to your personal bank account, recipients don't have to worry about being taxed. Additionally, you can speak to your schools financial aid office to learn about more aid opportunities.
Many scholarships generally evaluate the academic achievements of applicants, but scholarships can also have eligibility criteria that narrow down the applicant pool. In fact, beyond academic achievements, students can receive scholarships for almost anything. Once you find your niche on Bold.org, you can apply for scholarships with less competition. All in all, there are endless ways of earning scholarships, especially on Bold.org.
What are the types of student loans?
Student loans are another form of financial aid. There are many types of student loans to consider, just like there are many different types of scholarships. Essentially, student loans are different from a scholarship in that they are amounts of 'borrowed money' you take from a lender. It is important to remember that taking a loan is a legal obligation. You become responsible for repaying the amount you borrow with interest to the lender.
An option for financial aid is to accept federal loans. About 71% of college-bound students seek federal aid to pay for college. If you decide to take on federal student loans, then the U.S. Department of Education would be your lender. Under the William D. Ford Federal Direct Loan Program, you can borrow money directly from the government through these four different types of Direct Loans:
Direct Subsidized Loans - A subsidized loan is awarded based on family income, and is offered to eligible undergraduate students who demonstrate financial need based on their completed FAFSA form. The government pays the interest while the borrower is in school on at least a half-time basis and during the six-month grace period after leaving college.
Direct Unsubsidized Loans - These are offered to all undergraduate, graduate, or professional students. The eligibility for an unsubsidized loan is not based on financial need. Instead, the amount offered is based on your tuition costs. Unsubsidized means that the borrower is solely responsible for paying all interest on the loan.
Direct PLUS Loans - Direct PLUS Loans are offered to graduate or professional students and parents of dependent undergraduate students to cover what expenses are not covered by other financial aid. Eligibility is not based on financial need. However, this type of loan does require a credit history check. Borrowers who have an adverse credit history must meet additional requirements to qualify.
Direct Consolidation Loans - This type of federal student loan allows borrowers to combine all eligible federal loans into a single loan with the help of a loan servicer.
Completing the FAFSA form every year is the first step that college students must take to apply for loans and for all types of federal student aid. The FAFSA must be filled out by students every year they need money for college, with the form being released on October 1st. The sooner you complete it after October 1st, the better, since some federal grants (like Pell Grants) are awarded on a first-come, first-serve basis.
The amounts and types of federal loan offers you get for the academic year can be viewed after filling out the FAFSA and receiving your loan offer under financial aid.
It is important to note that the Direct Loan amount offered depends on what year you are in college and your dependency status. If you are an undergraduate student, the maximum amount you can borrow each year in Direct Subsidized Loans and Direct Unsubsidized Loans ranges from $5,500 to $12,500 per year. If you are a graduate or professional student, you can borrow up to $20,500 each year in Direct Unsubsidized Loans.
Another option to pay for college is to take out private loans. Private student loans do not come from the federal government, but rather, from private lenders. A private lender can be anything from a bank, lending institution, or another type of financial institution like credit unions,
Students apply for private loans directly through the lender, where the application process involves choosing from the type of repayment plans and interest rates and checking the student's credit history. Once evaluations are finished, the lender will give their credit decision: they will either lend the money or deny the private student loan.
Adding a cosigner can sometimes increase your chances of getting a private student loan. Sometimes instead of the student taking out a private loan, a parent or other creditworthy individual takes out the loan to help their student pay for college.
Benefits of loans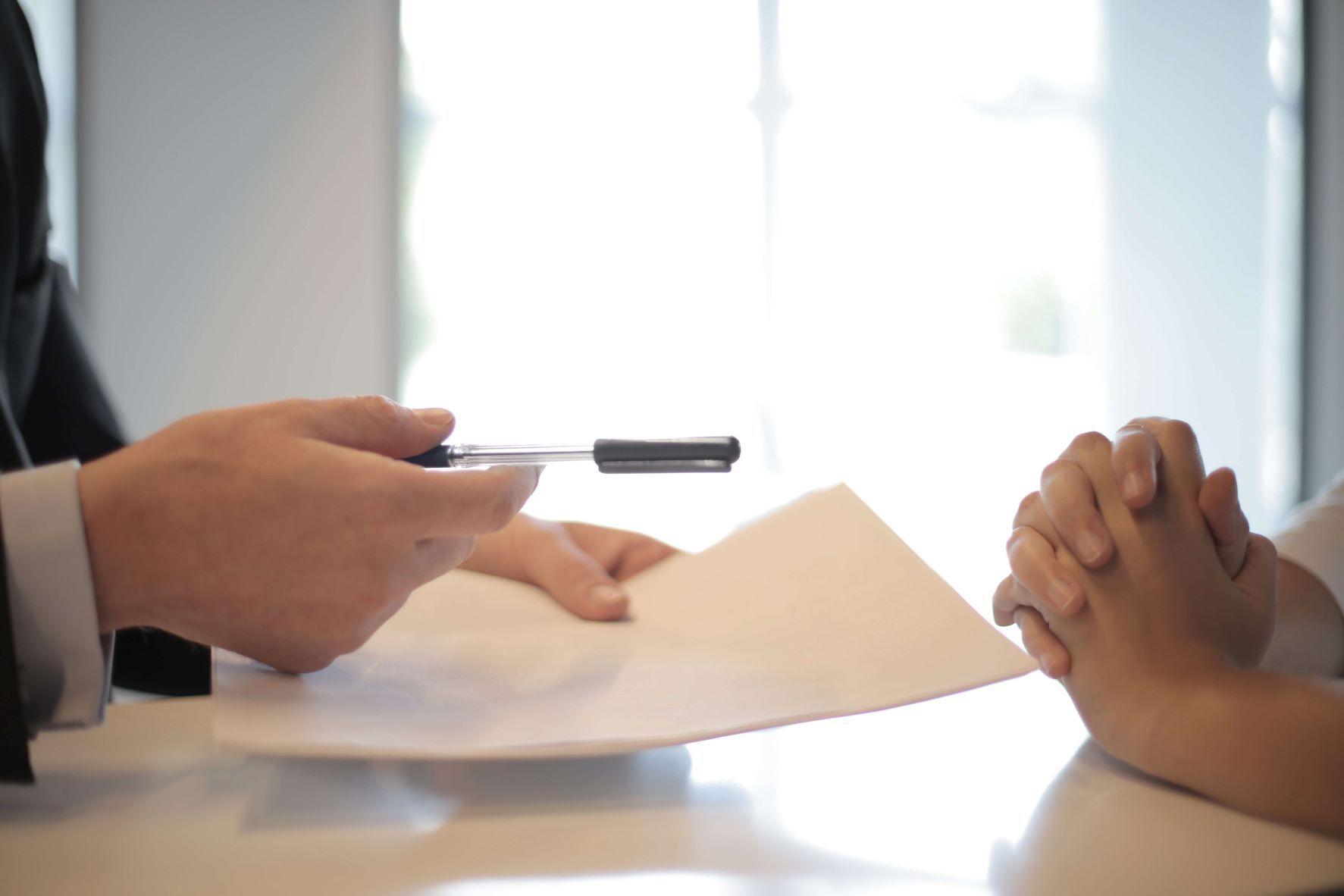 In 2021, the average amount of student loan debt totaled $31,100 per borrower. While owing money is never a fun situation, it can be turned into a beneficial one with the right borrower and lender.
If you can manage to get a private loan without the need for a credit check, then student loans are an opportunity to establish your credit history and show lenders that you are a responsible borrower. Being able to repay a student loan can help you in later applying for other types of loans.
Compared to scholarships, applying for loans does not involve any competition. The application process is fairly simple for federal student loans. Once you've completed your FAFSA, the loan amounts will appear in your financial aid offer.
Some scholarships may not reach you in time since they have their own deadlines and selection process, and there is also no guarantee that you will win. Federal loans are relatively accessible for students, with subsidized loans offered to those who demonstrate financial need, and unsubsidized federal loans being offered generally to all college students as a quick financial aid grab when it's really needed.
For the most part, many loans offer flexible repayment options or income-driven repayment plans. After college and earning your postsecondary degree, student loan forgiveness also exists for certain eligible individuals. While we don't suggest getting loans solely based on these benefits, it's good to know the upsides of making this financial decision.
Can scholarships pay off student loans?
Unfortunately, not all scholarships can be used to pay off outstanding loans. This is because most scholarships are designed to only be awarded to applicants currently attending college, or to be specifically put towards existing tuition costs. However, there are many opportunities that can be used for student loans, so don't be discouraged if you're looking for debt reduction options.
The average cost of tuition at public colleges and universities is already $37,396, not including living expenses or other fees. It's hard for students to hold onto scholarship funds until loan repayments start after the six-month grace period. Students just can't afford to set aside money from scholarships to repay student loans later after graduation when there are tuition and educational expenses to be paid right now.
While there are some federal grants available that borrowers can use to pay off their student loans, they usually come with a price of their own. Grants are rooted in influencing your career choices with financial aid. However, Bold.org wants to do financial aid differently.
Bold.org has a mission to fight student debt, whether it's while attending college or after graduation. Bold.org has scholarships and grants for both current college students and college graduates with existing student debt that can be used to pay off student loans. Grants on Bold.org like the @ESPDaniella Debt Grant or the Forget Your Student Debt. No-Essay Grant. are designed to pay off student loan debt.
Can you get a student loan if you have a scholarship?
You can always apply for as many scholarships as you'd like. However, loan offers usually have a limit to the loan amount you can take. It is important to take note that the acceptance of one form of financial aid can directly affect your eligibility for the other.
Eligibility for federal loans, specifically subsidized loans, will be the most affected. Subsidized loans are awarded based on financial need; the offered loan amount is based on your family income and FAFSA information. If you have a scholarship for financial assistance, it will be reflected in the loan amount offered.
Since scholarships are meant to cover financial needs and subsidized loans are based on financial need, scholarships can negatively impact the amount offered. However, this doesn't mean that getting a loan on top of a scholarship is impossible.
Your eligibility for private loans is mostly unaffected since eligibility is based on your credit history rather than financial need. Unsubsidized loans are also still an option.
Frequently asked questions about student loans and scholarships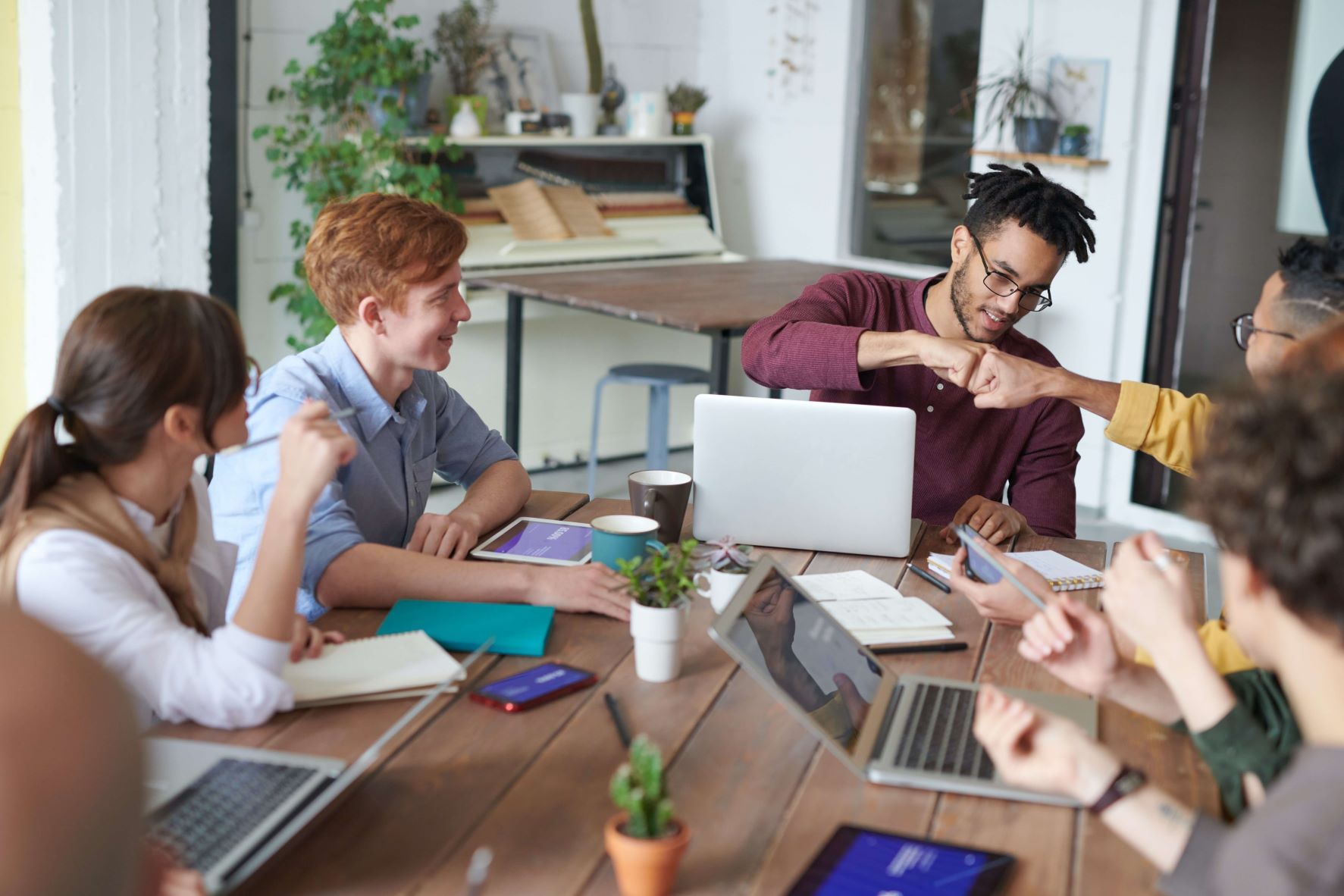 What do student loans cover?
Student loans cover tuition, books, supplies, student fees, lab fees, and other expenses related to higher education. Any miscellaneous expenses like equipment and meal plans can also be covered with a student loan. Students can also apply for loans to cover living expenses and transportation.
Loans can just about cover the same expenses that scholarships can. However, a student loan is different from a scholarship since it is considered 'borrowed money.' You never want to borrow more than you need. Always borrow enough to match the cost of tuition and related expenses unless you have other income to supplement your expenses.
What type of loan is best for college students?
The best student loan type is different for every college student. It depends on what financial need must be met and which repayment option works best for the student long after college. However, looking at the pros and cons of each loan type can help you decide.
Interest rates are an important factor to consider when dealing with student loans. Many private lenders offer different interest rate options to choose from, but they are usually unsubsidized. However, federal student loans have a fixed interest rate that is usually lower than that of private loans.
For federal loans, you don't have to begin the principal and interest rate payments to the federal government until after a six-month grace period following leaving college or dropping below half-time. If you demonstrate financial need, the government even pays the interest on some subsidized loan types while you are in school and during some periods after school.
The repayment option for every type of student loan Many private student loans require repayment while you're still in school. If you're having trouble making payments, federal student loans offer flexible repayment plans and options to postpone your loan payments. Additionally, graduates who work certain jobs after college may be eligible to have partial student loan forgiveness if they meet certain conditions.
Private loans from most lenders are unsubsidized. While an unsubsidized loan gives a larger loan offer, it requires monthly payments and starts racking up interest immediately after you leave college. This can make it harder to pay off interest in the long run.
Choosing the best loan type might be a decision that is out of many students' areas of expertise. Be sure to visit the school's financial aid office or financial aid advisor for any in-depth financial assistance.
Use the Bold.org scholarship search feature to filter through all different kinds of scholarships.