How Many Days After Missing a Student Loan Payment Do Your Loans Go Into Default?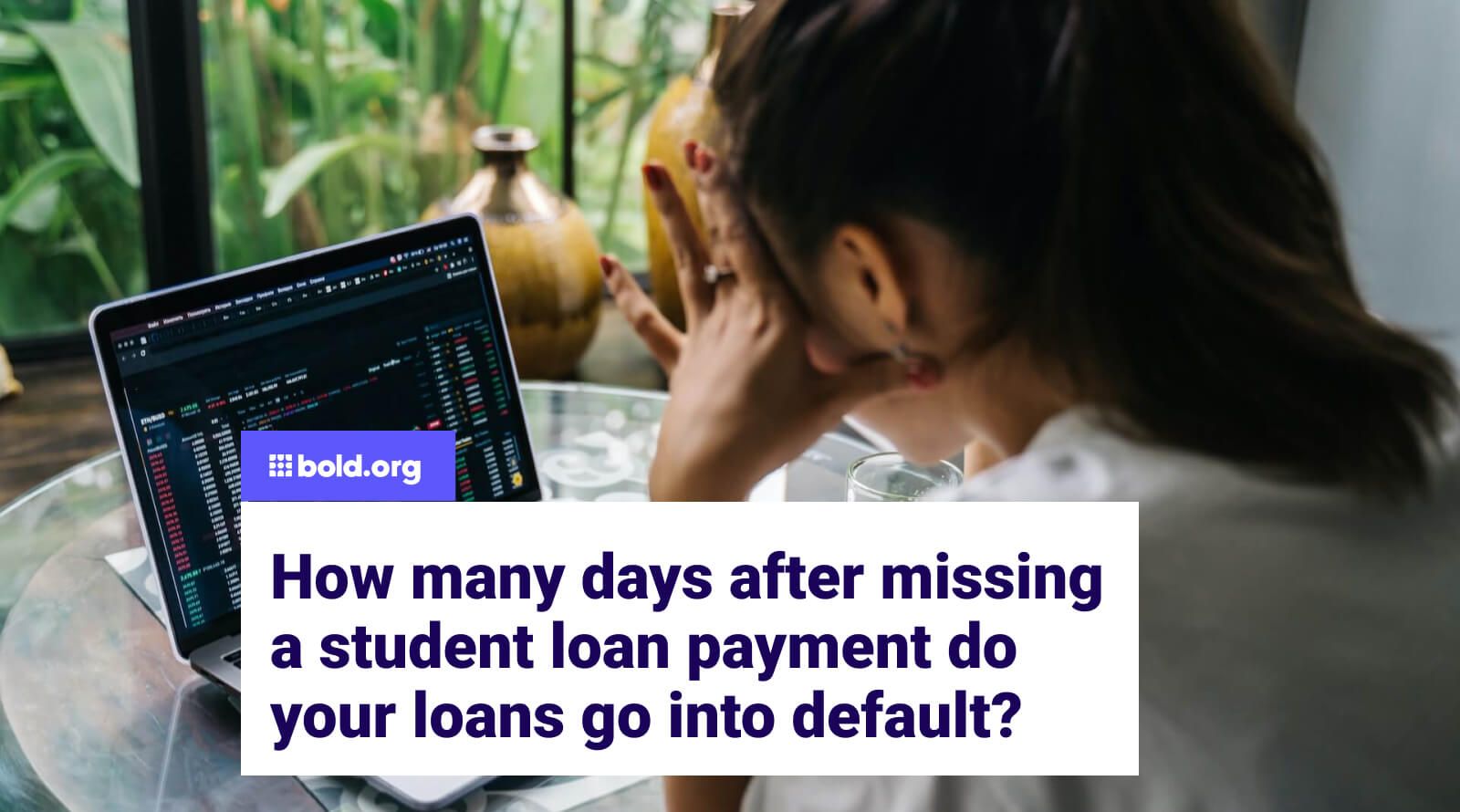 Top scholarships with upcoming deadlines
If you're worried about your student loans going into default after a few missed payments, you are not alone. Paying off student loan debt can be difficult for many students. When you are worried about all the other bills you have to pay, student loans start to lose priority.
It can be hard to come by enough money to meet your monthly minimum student loan payment, leading to missed payments. Though just one missed payment is usually insufficient to put your loan into default, it can take 45 to over 270 days of missing monthly payments to go into student loan default.
Create a Bold.org profile and use the Scholarship Blog to access more insightful information about student loans and scholarships.
Missed student loan payments are a common problem for students. Around 1.29 million student loan borrowers make student loan payments between 31 and 90 days late. While missing student loan payments can result in your student loan defaulting, how many days after missing a student loan payment your student loans will default depends on the specific loan you've taken out.
Get Matched to Thousands of Scholarships
Create your Bold.org profile to access thousands of exclusive scholarships, available only on Bold.org.
Create Free Profile
Most federal student loans default after 270 days of missed payments, and private student loans can default after just 90 days of missed payments. Be sure to check your promissory note to determine your student loan repayment details.
Applying for scholarships is an easy way to avoid the difficulties and stress that student loans can bring. Scholarships offer a great alternative to student loans as they do not have to be repaid. Scholarships and loans are two very different forms of financial aid with their own benefits and disadvantages. To better understand their unique differences and determine which form of financial aid is right for you, visit this blog on how a student loan differs from a scholarship.
Finding scholarships is challenging, but by visiting Bold.org, you can create a free profile and begin applying to hundreds of open scholarships. Bold gives you access to scholarships based on your state, major, hobbies, and many other categories.
How Many Loan Payments Can You Miss Before Defaulting?
Most student loans will not be considered default until you have missed 270 days of payment or around nine payments. This amount differs from loan to loan, so knowing the specific loan types you have taken out is important.
Each student loan will have a different number of missed payments or days of non-payment that result in a defaulted loan. Many private student loans, and even some federal student loans, can default in less than 270 days. Just 90 days of non-payment, or missing around three payments, can lead to your private student loans defaulting.
After one missed payment, student loan delinquency occurs. If you continue to be delinquent on your student loans, they will default. Contact your student loan servicer if you cannot meet the minimum payment for the month. The loan servicer will advise you of your options, whether that is adjusting your repayment plan or applying for a deferment or forbearance. Continuously missing student loan payments has serious consequences. Learn more about what happens if you don't pay student loans.
How Late Can You Be on Student Loan Payments?
Making late payments on your student loans is not the end of the world, but the later your payments are, the harsher the consequences will be. If you struggle to make your loan's monthly payment, the best option is to apply for loan deferment or forbearance or choose a new repayment plan. Save yourself from further financial stress by planning ahead and reworking your monthly payments.
If you have missed payments for more than 90 days and have not made any other arrangements with your loan servicer, then your loan servicer will report the missing payments to credit bureaus. Once your failure to pay is reported, your credit rating will drop. A low credit score makes it harder to do things, like getting approval to rent an apartment or take out a home or car loan. If you still have not made a student loan payment or other arrangements after this point, you risk your loan going into default.
Defaulting on your loans means your loan can accelerate, and the entire unpaid loan balance is immediately due. You will also lose eligibility for additional federal student aid, and your credit score will further drop.
When a loan is considered in default depends, so how late you can make a payment also varies. For a William D. Ford Federal Direct Loan or Federal Family Education Loan, your loan will not default until 270 days pass. Though some private loans and Federal Perkins Loans can default after only one missed payment. In just 15 days after payment is overdue, a letter can be sent notifying the borrower of the overdue status and any late fees incurred.
For most loans, you can be 270 days late on your student loan payments before your loan defaults. Before you let your payments get so far behind, it's best to contact your loan servicer to see what other options are available. Even though most student loans default after 270 days, many negative consequences still occur before then. Late payments can make your credit score drop, and you can also get charged late fees if you fail to make your monthly payment on time.
Understanding the details of student loans and paying for school doesn't have to be complicated. Explore the world of student loans, scholarships, and everything else related to college through our Scholarship Blog.
What Happens If You Miss a Student Loan Payment by 270 Days?
Missing a student loan payment by 270 days often worsens your financial situation. Most student loans will go into default after 270 days of missed payments. Defaulted loans can cause you to lose eligibility to receive federal student aid, among other serious consequences.
A collection agency is often used to collect the remaining balance of defaulted loans. This means that in addition to the full loan balance, borrowers will be expected to pay for the collection agency's costs. Student loan default can be an expensive mistake with the added price of late payment fees and collection costs.
Defaulted student loans show up on your credit score report and can prevent you from getting approved to rent an apartment or take out other loans. Defaulting on your student loans can also result in wage garnishment and having tax refunds withheld in order to repay the loan.
What to Do if Your Student Loans Go Into Default?
If you continue to miss student loan payments, you will default on your student loans. You can take a few courses of action to get your student loans out of default. The most straightforward method to get out of default is to pay off your student loans, but this is easier said than done. Two other methods of getting your loans out of default are loan rehabilitation and loan consolidation, but not every loan is eligible for these programs.
The loan type you have further determines which options are available after defaulting on student loans. While some private student loans might offer loan rehabilitation, only federal student loans are required to offer loan rehabilitation to borrowers. Getting private student loans out of default can be harder, as private student loan lenders have no legal obligation to offer programs like loan consolidation and rehabilitation.
Though private loans have other benefits when compared with federal student loans. Unlike under many federal loan programs, private lenders often have complete flexibility to refigure a loan's interest rate and payment timeline.
What Is Loan Rehabilitation?
Loan rehabilitation is the process of clearing student loan default by making a certain number of monthly payments. The loan servicer sets the timeframe and amount of these payments. Payments must be voluntary, so wage garnishment and withheld government payments cannot be used toward the total number of monthly payments for loan rehabilitation.
Rehabilitation is a one-time opportunity. If you rehabilitate a defaulted loan and then fall back into default, you cannot rehabilitate it again. To rehabilitate defaulted direct loans or Federal Family Education Loans, you must agree to make nine monthly payments over a period of 10 months.
Student loan rehabilitation removes the default from your credit report and stops the collection of payments through wage garnishment. Once the default status is removed from your student loan, you will regain eligibility for federal student aid and eligibility for deferment, forbearance, and loan forgiveness programs.
Learn tips for paying off student loans to avoid defaulting!
What Is Loan Consolidation?
Student loan consolidation combines multiple student loans into a single loan with one monthly payment. Federal student loans can be consolidated into a Direct Consolidation Loan if the borrower agrees to enroll in an income-driven repayment plan or makes three consecutive, voluntary, on-time, full monthly payments on the loan before consolidation. If the borrower chooses to make three monthly payments, they would not be limited to the income-driven repayment plan.
Consolidating your loans will cause you to lose any benefits specific to your current loans, such as interest rate discounts. Loan consolidation will allow you to again be eligible for federal benefits like forbearance and student aid, but it will not remove your default status from your credit report. Weigh these positives and negatives to determine if you should consolidate your loans.
Learn about refinancing a student loan to explore options for repaying your student loans!
How to Prevent Student Loan Default?
Student loan default is preventable. Many student loan borrowers can avoid a defaulted loan through careful financial planning and budgeting. The first step to preventing student loan default is to fully understand the terms of your student loan. You should be aware of the loan type, interest rate, as well as what repayment plans will be available to you.
Can I Prevent Student Loan Default by Choosing a New Repayment Plan?
All federal loans, and even some private loans, will allow you to switch repayment plans at any time. Switching repayment plans can be beneficial if you are struggling to repay your student loans. A new repayment plan can lower the monthly amount you pay toward your student loans, but this can lead to a longer repayment term and increase the interest you will eventually pay.
Income-driven repayment plans are a great option if you are a loan holder, as your monthly payments can only be a certain percentage of your discretionary income. Income-based repayment plans help keep private and federal student loans affordable.
Can Loan Consolidation Help Me Avoid Student Loan Default?
Consolidation is another method to prevent student loan default. Loan consolidation can help simplify student loan repayment by combining multiple student loans into one loan with a set interest rate.
If you are experiencing a significant financial hardship, then you might need to request student loan forbearance or deferment. Both allow you to make smaller payments or temporarily stop making payments toward your student loans, but deferment stops interest from accruing during this pause. Many private lenders do not offer options for forbearance or deferment, so it is best to contact your loan providers for specific advice on repaying student loans.
Some circumstances will qualify you for student loan forgiveness, cancellation, or discharge. In these cases, you will no longer be required to make payments toward your student loan debt. If you work as a teacher for the government or for a non-profit, you might qualify for student loan forgiveness. To figure out if you qualify for student loan forgiveness, check out this blog on student loan forgiveness qualifications.
How Do Student Loans Affect Credit History?
Student loans influence your credit score in negative and positive ways. When you miss student loan payments or default on your student loans, your credit score can be negatively impacted. However, making student loan payments on time can positively influence your credit score. Credit reports will show when you are late on student loan payments and when you default on student loans.
Student loans are a long-term commitment, and often the longer you have a credit line open, the stronger your credit score will be. Paying your student loans by the due date can help maintain a good credit history with a strong credit score.
Check out this guide on how a student loan can build credit to determine the effects of student loans on credit history.
Frequently Asked Questions About Missing Student Loan Payments
Can you get student loan forgiveness if you are in default?
To qualify for student loan forgiveness and other student debt relief programs, you need to be out of default. You can get out of default and regain access to student loan forgiveness through loan rehabilitation and consolidation. Read through the Ultimate Guide to Student Loan Forgiveness to learn more about student loan forgiveness.
Will one late student loan payment affect my credit?
Just one late payment can show up on your credit report and negatively impact your credit, but this does not usually happen. How a late student loan payment affects your credit depends. Loan servicers will wait to report late payments to credit bureaus until at least 30 days past the due date. If you pay before your lender reports the late payment, you can prevent your credit report from being affected by the missing payment.
Can scholarships be used toward student loan payments?
A great way to prevent student loan debt is through scholarships. Scholarships are a form of financial aid that does not have to be paid back, so they offer students a less financially straining alternative to student loans. Even if you've already taken out student loans, scholarships can still help you.
Many scholarships are available to help relieve student debt and pay off student loans. You don't even have to be a current student to benefit from scholarships for student loans. Bold.org has plenty of scholarships to pay off student loans that can help student loan borrowers get out of debt.
A simple way to find hundreds of scholarships is by creating a free account on Bold.org. Once you create your account, you can easily find scholarships that are relevant to you. Use the scholarship search feature to search for scholarships based on keywords and filter through the results by education level, category, and essay requirements.
Wondering if you can get a student loan with bad credit? Check out this blog to learn more!