Do I qualify for student loan forgiveness?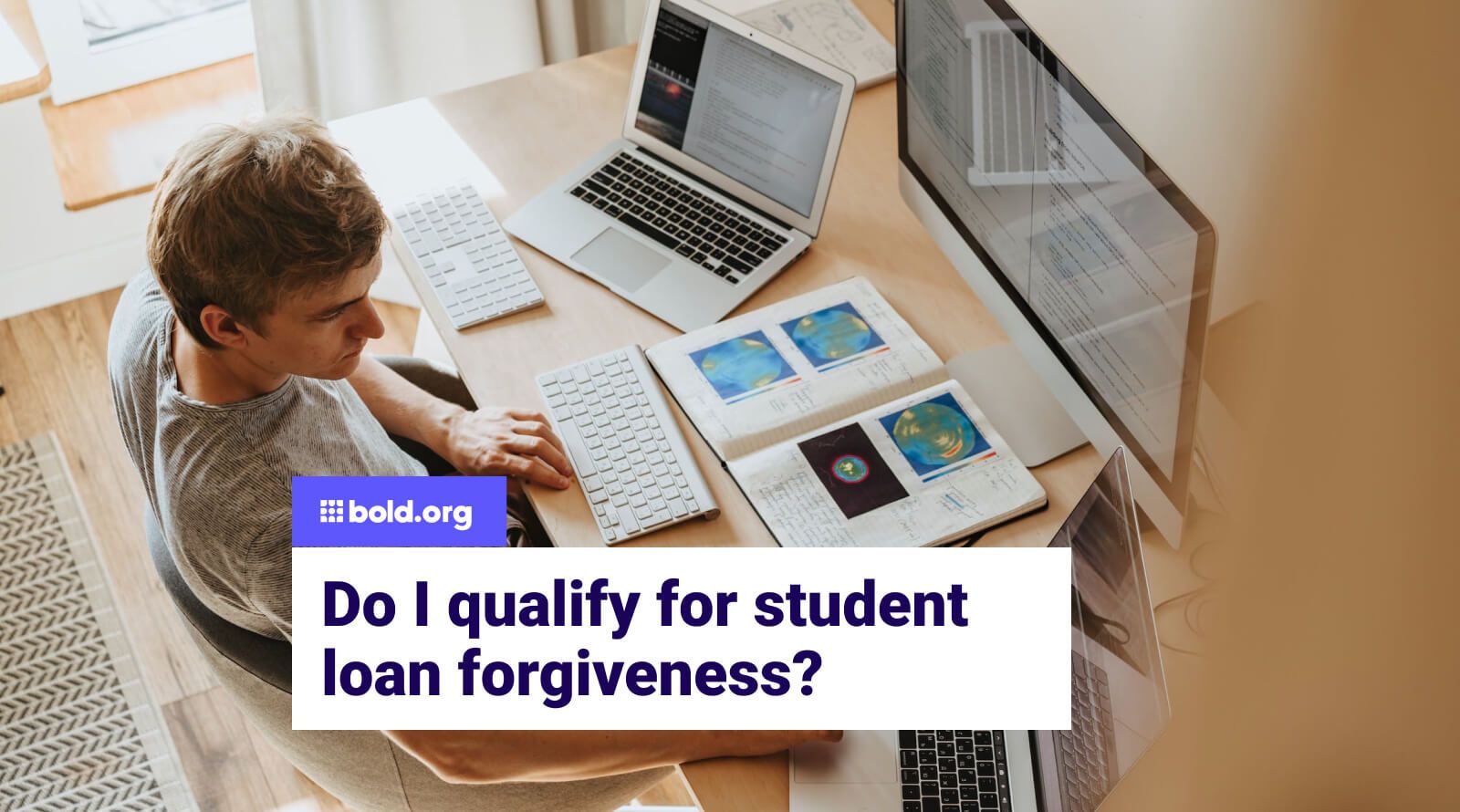 Top scholarships with upcoming deadlines
For federal student loans, students may qualify for a number of loan forgiveness programs. While federal loans have loan forgiveness programs, borrowers with private loans can only get relief when they become disabled or die, but even in that case, their cosigner may still have to pay the remaining balance.
Borrowers may be eligible for the Public Service Loan Forgiveness (PSLF) program if they are employed full-time in the public service industry. If you work full-time for a non-profit, for the military, or in any level of government, you may be eligible to have all of your Direct Loans forgiven. You can only receive forgiveness after you have made 120 monthly payments under a qualifying repayment plan.
Get Matched to Thousands of Scholarships
Create your Bold.org profile to access thousands of exclusive scholarships, available only on Bold.org.
Create Free Profile
You may also be eligible for teacher loan forgiveness. If you teach full-time for five complete and consecutive academic years in a low-income elementary school, secondary school, or educational service agency, you may be eligible for forgiveness of up to $17,500 on your federal student loan payments. This program only applies to Direct Loans and FFEL Program loans.
Additionally, in 2o22, President Biden, Vice President Harris, and the U.S. Department of Education announced a student loan debt relief plan to help working and middle-class federal student loan borrowers.
In addition to a student loan payment pause until January 2023, The U.S. Department of Education will provide up to $10,000 in debt relief to student loan borrowers. For Pell Grant recipients, the student loan forgiveness goes up to $20,000 in debt relief. The only requirement for this program is that your individual income must be less than $125,000 or your household income must be less than $250,000.
If you don't qualify for student loan forgiveness, though, there may be scholarships that can help you with your debt. On Bold.org, grants like the @ESPDaniella Debt Grant or the
Forget Your Student Debt. No-Essay Grant help any students or former students with student loan debt. You can find others through the scholarship page on Bold.org. To get started today, create your free profile and start applying!
Is student loan forgiveness automatic?
Nearly 8 million borrowers may be eligible to receive relief without applying under the Biden-Harris Administration plan unless they choose to opt-out. Because relevant income data is already available to the U.S. Department of Education, most people will automatical