Do NAIA schools give athletic scholarships?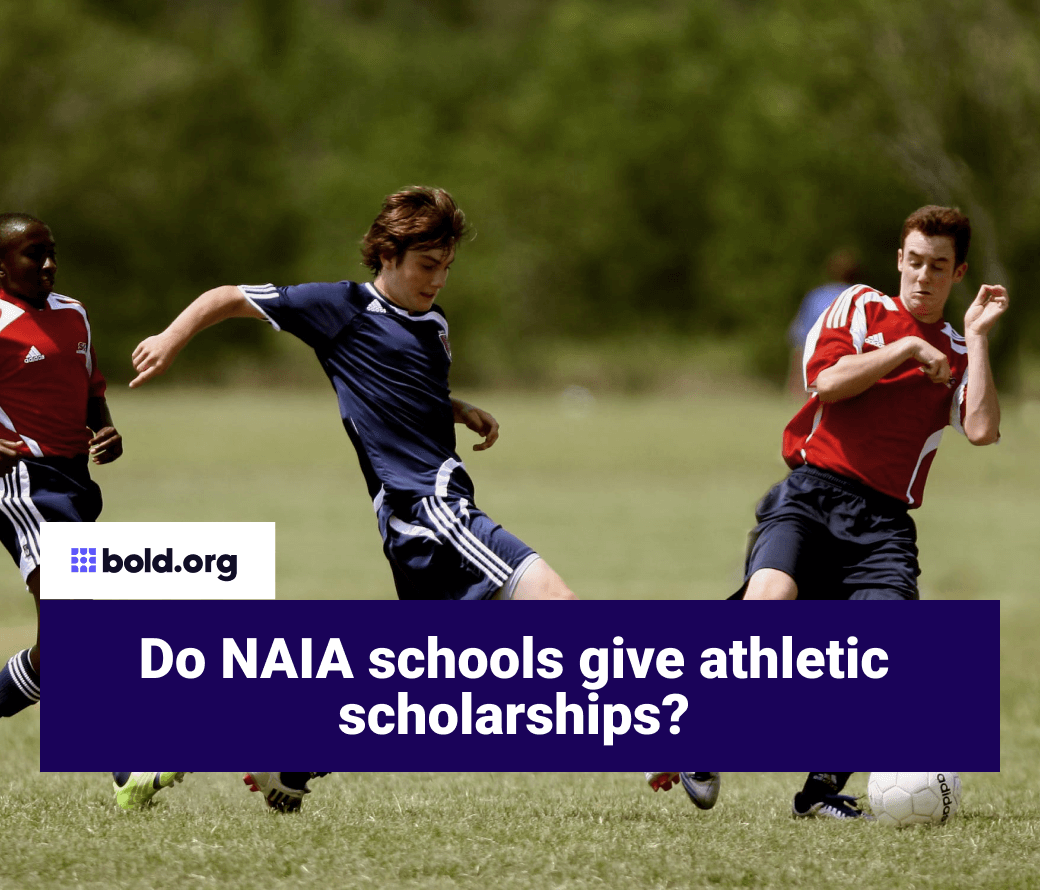 Top scholarships with upcoming deadlines
If you're an athlete interested in financial aid in college, it's important to be aware that NAIA schools give athletic scholarships.
While NAIA athletes have the potential of receiving full-ride scholarships, many NAIA athletic scholarships are only partial awards, leaving leftover financial need in many cases. Luckily, there are many other scholarships available for student-athletes through private sources like the Bold.org scholarship platform. Bold.org is home to hundreds of exclusive scholarship opportunities - sign up today to start applying!
If you are a high school student interested in college sports and being a student-athlete, it is important that you consider what types of financial aid would help you earn your degree. The National Association for Intercollegiate Athletics (NAIA) is the oldest college athletics governing body, founded in 1937.
Get Matched to Thousands of Scholarships
Create your Bold.org profile to access thousands of exclusive scholarships, available only on Bold.org.
Create Free Profile
The NAIA consists of 300 schools and 13 sports. The other governing body of college athletics is the National Collegiate Athletic Association (NCAA), which has around 1200 schools. The NCAA has 3 divisions (Division I, II, and III) and manages 23 sports.
In terms of intercollegiate athletics programs, NCAA and NAIA schools offer plenty of financial aid for their students. While NCAA schools may be more competitive at the Division I and Division II levels, NAIA schools also provide student-athletes with a great athletic experience and direct financial assistance.
How many athletic scholarships are given at NAIA schools?
$800 million is awarded in scholarship money each year at NAIA colleges and universities. This money is split between teams. Since NAIA scholarships are equivalency scholarships, athletic scholarship money can either be full-ride scholarships or partial scholarships.
Each sport has a certain number of full or partial scholarships that they can offer. Football offers 24 scholarships. Soccer, Baseball, Track and Field, Lacrosse, and Competitive Cheer offer 12. Softball, Wrestling, and Competitive Dance offer 10. Basketball, Men's and Women's Volleyball, and Swimming & Diving offer 8. Golf offers 6 scholarships, and Cross Country, Tennis, and Bowling offer 5.
Do NAIA athletes get free gear?
Yes, NAIA athletes receive free gear, but the amount varies by school and program. Additionally, because of their funding, NAIA schools may be able to give out less free gear than schools that are part of the NCAA's highest divisions.
Can you get a full-ride scholarship in the NAIA?
Yes, you can get a full-ride athletic scholarship to an NAIA member school! However, it's important to note that full-ride scholarships are competitive. Luckily, NAIA schools also give out partial athletic scholarships. If you've received only a partial scholarship, consider scholarships from outside sources like these athletic scholarships on Bold.org to make up the difference.
Frequently asked questions about NAIA athletic scholarships
Which is better: NCAA or NAIA?
NAIA programs are pretty closely comparable to NCAA Division 3 schools, and some competitive NAIA programs match the talent found at high-level NCAA D2 schools. There are benefits and drawbacks to both programs, it all depends on your level and what you're looking for in a team!
If you are deciding between NCAA and NAIA schools, there are a few factors that could help you decide. NAIA schools typically offer more playing time for athletes. NAIA schools also offer more free time and less traveling time, as they have fewer practices and competitions. Additionally, the NAIA does not restrict when and how college coaches can contact recruits, distinguishing the recruiting process from that of NCAA schools.
Finally, NAIA scholarship opportunities allow athletes to receive full or partial scholarships rather than only full scholarships as many NCAA division schools have, meaning that coaches can divide up their scholarship budget between multiple athletes. This allows more students to get scholarship money.
While the NAIA has these benefits, it's also important to keep your ultimate athletic goals in mind when choosing a school and program. If you're competitive at the NCAA Division I level, you'll likely get more recognition and opportunities for future professional work on a D1 team than on an NAIA. However, if you're at the D1 skill level but your goal isn't to go pro and you'd rather have more free time and a more typical college experience, an NAIA program may be right for you.
Is NAIA better than D2?
Division II athletes can be at a similar level as NAIA student-athletes. While D2 schools may offer prospective student-athletes better facilities and gear, they often compete at the same level. The exact translation between NAIA and NCAA skill level depends on the specific school and program, so do your research before committing to a team.
To learn more about the scholarships offered by NCAA Division II schools, read this guide.
Is NAIA better than D3?
NAIA students can also be at the same level as Division III student-athletes. Like D2, depending on the funding at the school, college students can often get better quality programs at D3 schools, but most NAIA coaches and players are at a similar level as D3, depending on the team. You can learn more about NCAA Division III scholarships in this guide!
Regardless of what team you end up on, you may end up with some unmet financial need. To ensure all of your expenses are covered and that you're able to complete your degree with minimal loans, check out the hundreds of scholarships available on Bold.org!