How Many Scholarships are There for D1 Football?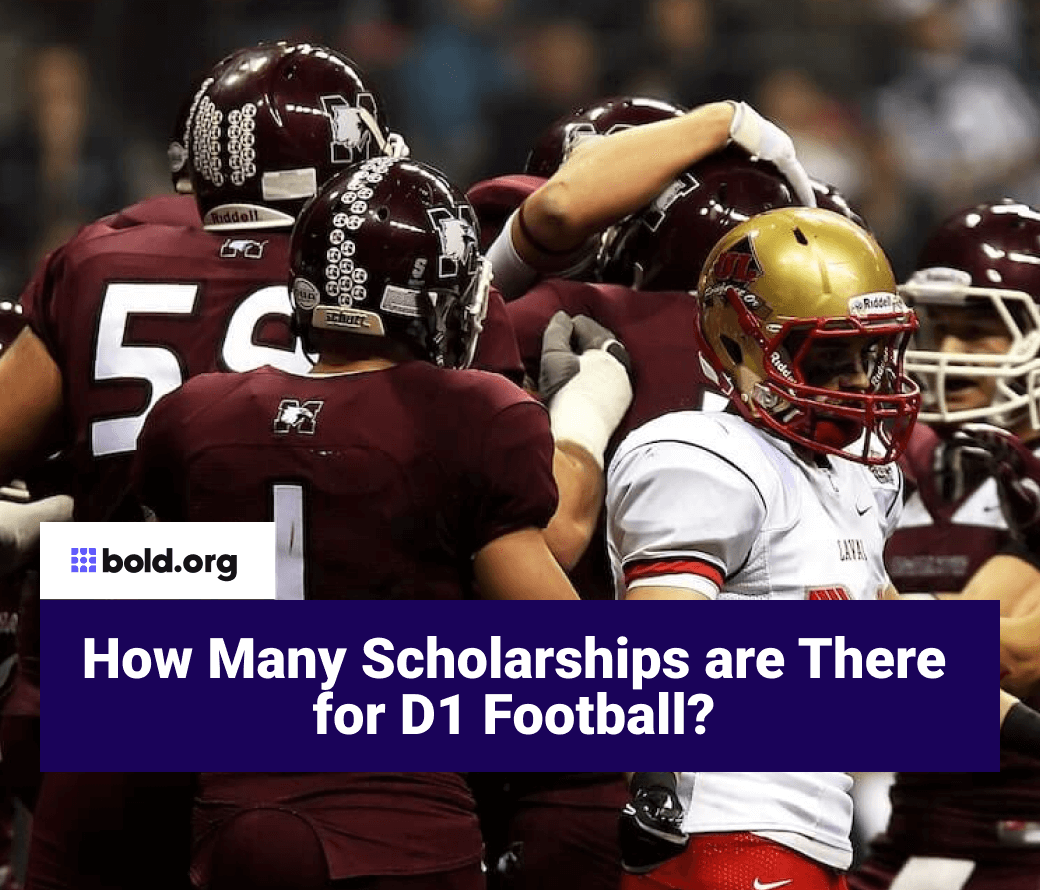 Top scholarships with upcoming deadlines
There are 254 NCAA Division I colleges and universities in the United States. At each of these schools, only the most exceptional high school players will have access to scholarship money. The NCAA division has a limited number of full-ride and partial tuition scholarships, so if you are thinking of playing college football, it is crucial that high school football players know how many scholarships there are at the D1 level.
Apply to Bold.org and access hundreds of exclusive scholarships.
There are two subdivisions among NCAA Division 1 schools, FBS and FCS. A school's subdivision changes the number of scholarships available for college football players. Division 1 FBS teams can give out a maximum of 85 full-ride scholarships to athletes.
These scholarships are headcount scholarships, which means every athlete who receives a scholarship at the DI FBS level gets a full-ride scholarship. Division 1 FCS programs can provide a maximum of 63 total scholarships. These scholarships are equivalency scholarships, which means a coach can divide these scholarships up and give more athletes partial scholarships.
Get Matched to Thousands of Scholarships
Create your Bold.org profile to access thousands of exclusive scholarships, available only on Bold.org.
Create Free Profile
Although Ivy League schools are Division 1, they are restricted by their own rules when offering athletic scholarships. Additionally, some colleges and universities are not part of the NCAA. The NAIA organization consists of 250 schools, but only 96 of these schools compete in football. NAIA football scholarships work differently. Unlike the NCAA, NAIA Division 1 schools are smaller and can offer 24 scholarships per team.
In the football recruiting process, a verbal scholarship offer is non-legally binding. Once you get an official offer by signing a National Letter of Intent, or NLI, the scholarship is official. It's up to college coaches to award a football player with a scholarship. In order to get a scholarship, athletes must show that they have the ability or potential to make an impact on their team. Athletes must also meet academic criteria in order to get a football scholarship.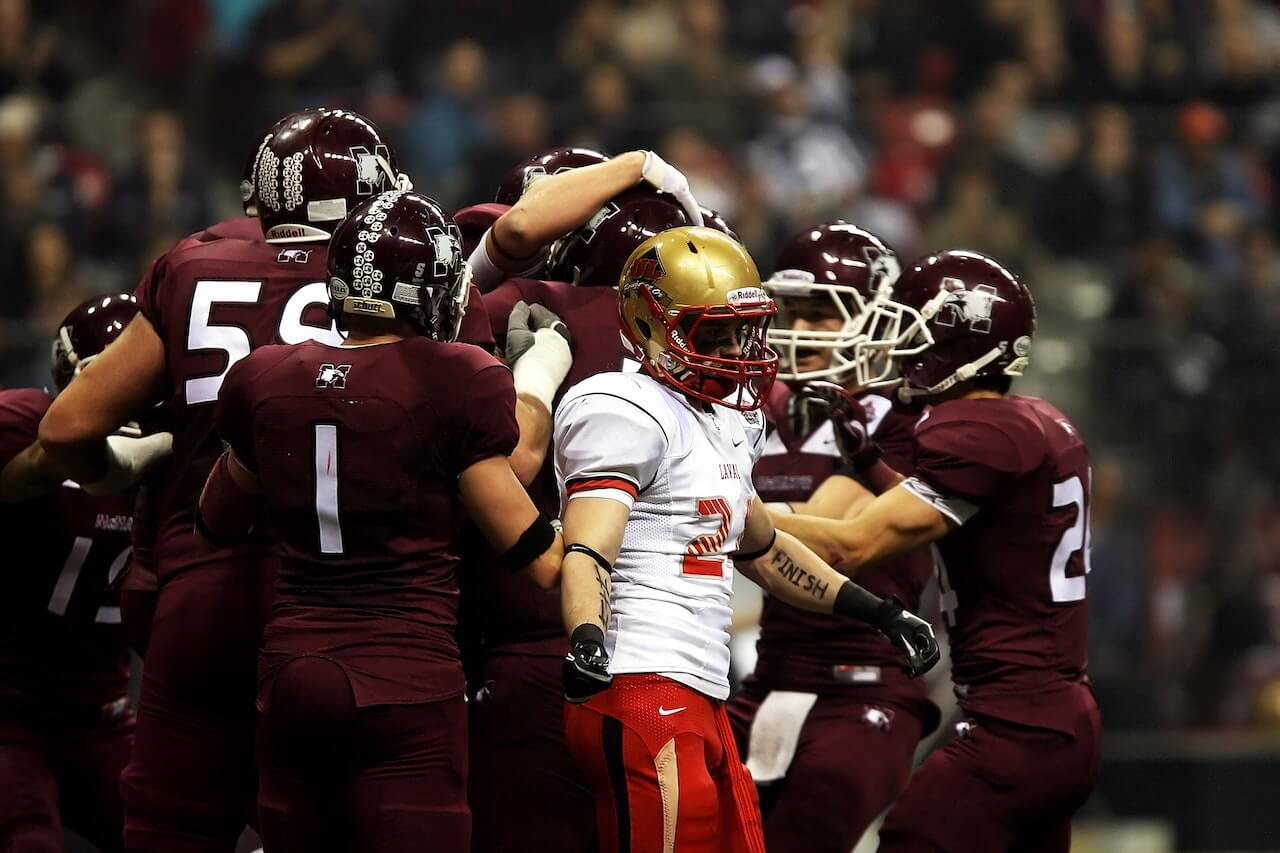 Frequently asked questions about D1 football scholarships
How many scholarships does D2 football get?
D2 football teams get 36 athletic scholarships. These scholarships are equivalency scholarships, meaning that a coach can divide these scholarships up and give more athletes partial scholarships.
As a result, D2 scholarships may be easier to earn than headcount scholarships at D1 schools since more students have the potential to earn at least a partial scholarship. It is also important to note that it may be easier for you to get recruited to a D2 or even D3 team since there is less competition. Lower division teams are also known for being less intense than D1 teams, which may be a better option for you if you're looking for more of a school-life balance.
Is every D1 offer a full ride?
If you receive a scholarships offer from a Division 1 FBS football team, it is guaranteed to be a full-ride scholarship. For FCS teams, it may be a full or partial scholarship. Make sure to research your school to ensure you know which subdivision it falls into and what level of scholarship you can expect if you make the team.
If you receive only a partial scholarship for college football, don't be discouraged! Even partial scholarships can go a long way in helping you complete your university education. It's also important to know that students who don't earn full rides can apply for additional scholarships. Look into the other types of scholarships offered by your college or university, such as merit scholarships and athletic scholarships that aren't directly handled by the NCAA or NAIA. You can even speak with your financial aid office to find as many opportunities as possible.
It can also be beneficial to apply for scholarships offered outside of your school. Private scholarships can come from a variety of sources, such as your parents' employers, community organizations, businesses, etc. You can also take advantage of scholarship programs like Bold.org, a free independent scholarship platform offering hundreds of scholarships to a variety of students.
There is no maximum number of scholarships you can earn on Bold.org, meaning you have the opportunity to earn multiple scholarships to cover any costs that are unmet by your football scholarship. Bold.org even has scholarships exclusively available to student-athletes, which can be found here!
Regardless of if students attend NAIA schools, NCAA division schools, or any other type of higher education institution, they can benefit from Bold.org scholarships.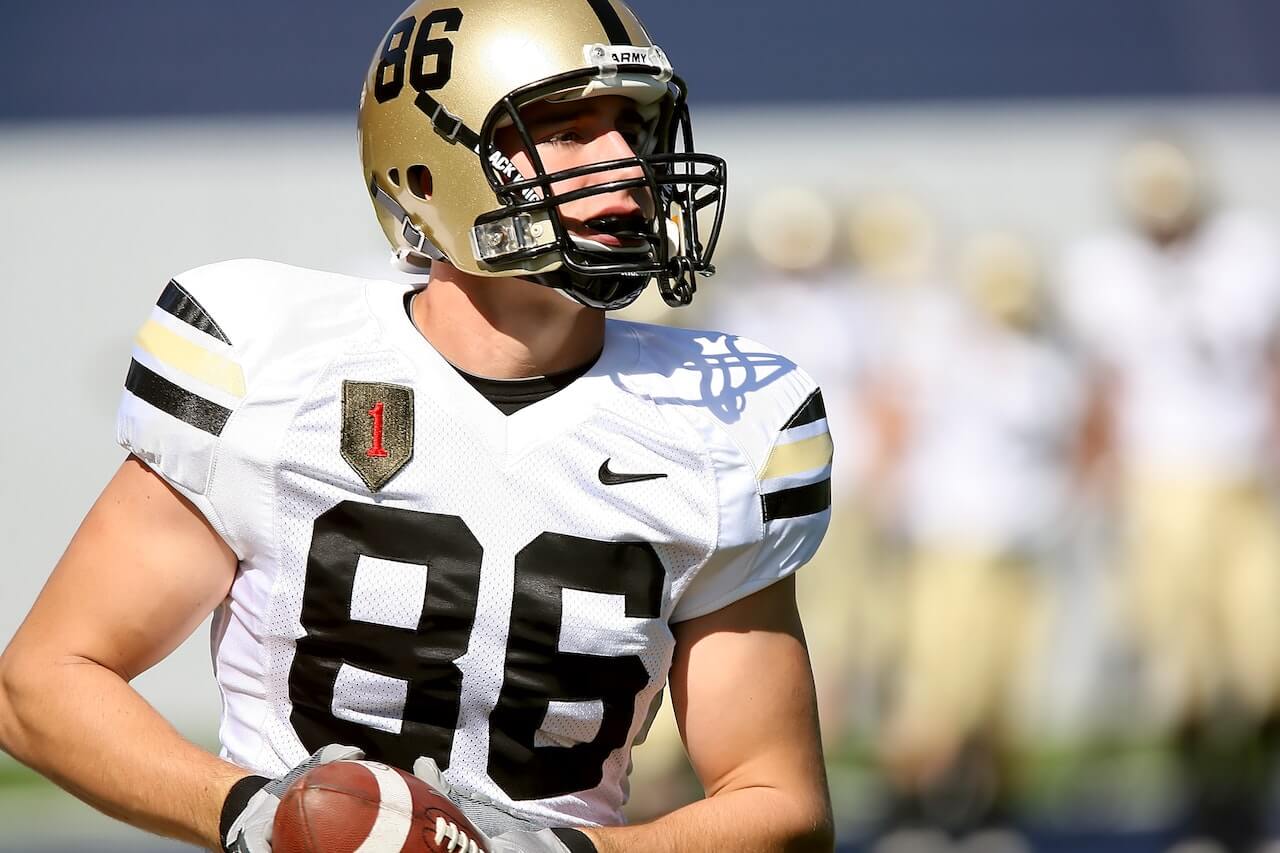 How much is the average D1 football scholarship?
The average athletic scholarship for all men's sports in Division I is approximately $14,270 a year. For football scholarships, depending on the subdivision, a total of $53,946,000 was sent to Division I conference football teams to provide financial aid to student-athletes or their families.
Since this average award doesn't cover full expenses at every school, college football players should consider applying for additional scholarships through their schools and through Bold.org. Students from low-income, first-generation, or minority backgrounds can even unlock exclusive scholarships open to underserved students. These scholarships can range from $500 to tens of thousands of dollars and can be used to pay for tuition, course fees, and/or book expenses.
Many athletes don't consider scholarships offered outside of their athletic program, leading them to miss out on many opportunities for aid. To maximize your financial aid and avoid student debt, consider applying for more than just football scholarships. You can search by category to find scholarships specific to your hobbies, skills, or background!
It's important for students to be aware of any rules that come with receiving scholarships from their football programs. These scholarships may require students to maintain a certain GPA and there may be additional rules that players have to follow to maintain their scholarship eligibility. When applying for outside scholarships, make sure you're not breaking any rules or risking your scholarship eligibility.