How to Get a Football Scholarship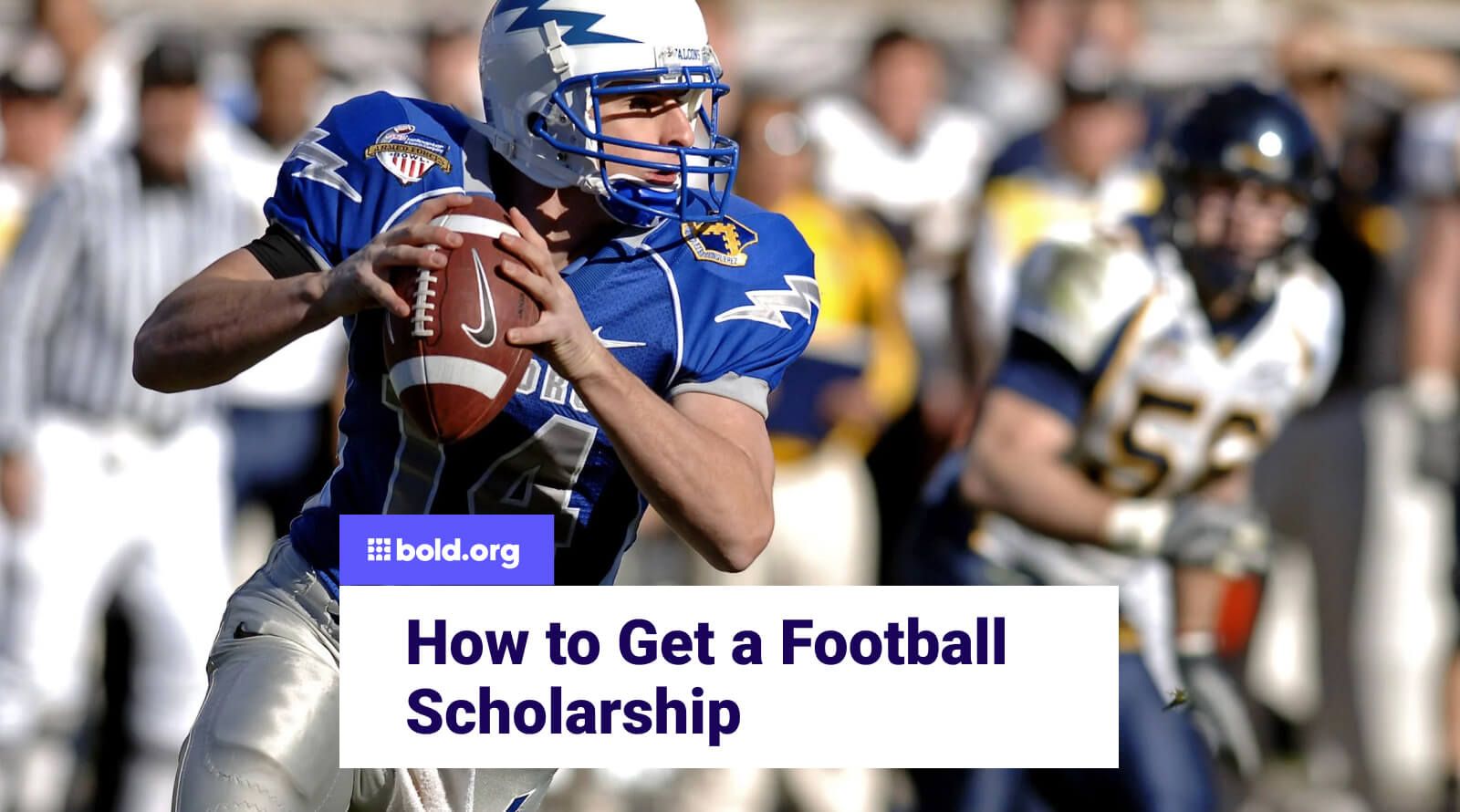 Top scholarships with upcoming deadlines
Do you want to play college football? Playing football builds strength, stamina, and speed. A football player trains their brain, promotes teamwork, and improves their coordination and concentration, all while boosting their confidence. College is becoming increasingly expensive, if you're here you're likely interested in getting a football scholarship.
High school athletes who want to play in American football during college, or the professional league, must research the recruiting process, coaching staff, NCAA eligibility center, athletic programs, and college football scholarships.
College coaches greatly influence scholarship opportunities for student-athletes. You may wonder how to get a football scholarship. Speaking with a college coach is a great way to get a football scholarship!
You can also talk to your high school football coach and request that they give honest evaluations to send to college coaches. High school coaches may be able to open doors to college coaches.
Attending football recruiting events is the best way to stand out from other student-athletes. College football teams scout players that have reached out to them at these events to see them in person. You can also stand out on Bold.org by crafting a polished profile that you can continually edit and improve to share across all scholarship applications.
On Bold.org, student-athletes can apply for football scholarships to tackle their college expenses and enjoy their football programs. You can find a wide range of football scholarships on this list!
What Are the Requirements to Get a College Football Scholarship?
The National Collegiate Athletic Association (NCAA) regulates athletic scholarships in the United States. The NCAA governs numerous intercollegiate athletics. Nearly 3.5 billion scholarships are awarded annually by the National Collegiate Athletic Association, boosting the graduation rates of student-athletes. You can learn more about the availability of college football scholarships in this guide.
The NCAA schools consist of three divisions. There are generally more students enrolled in NCAA Division I schools, and their athletic budgets are more significant, allowing them to award more athletic scholarships. In NCAA Division II, students compete at the highest level, have opportunities for academic success, and are actively involved in their communities. NCAA Division III offers college athletes competitive athletic programs and does not offer athletic scholarships.
It is a requirement that students have their eligibility checked by the NCAA Eligibility Center to obtain a scholarship or compete at an NCAA Division I or II institution. It is highly recommended that high school athletes register at the beginning of their junior year.
At the college level, football players are given more full-ride scholarships than any other sport. Athletes should maintain a healthy balance between academics and athletics to qualify for football scholarships. You must meet the admissions requirements of the school you are interested in to receive a college football scholarship. Academics are just as important as athletic ability!
Athletic scholarships are a wonderful resource for student athletes. Browse now!
Get Recruited for College Football
Recruitment is a significant factor in receiving scholarship money. It is one of the fastest ways to get a football scholarship. It is a common misconception that recruiting starts only during senior or junior year; this is not true. You may be too late if you wait until senior year to look for football scholarships or apply to your dream college football team. College coaches strive to get the best players from each recruiting class and begin looking at many athletes during their freshman and sophomore years of high school.
To get recruited for football, athletes first need to determine which schools they are interested in and which divisions they athletically qualify for. Once a target list is created, high school athletes must proactively reach out to college coaches.
A vital football recruiting tip: take charge of your recruiting process and do not wait for college coaches to scout you out. It's essential to send a highlight video and demonstrate your interest in the team and the college.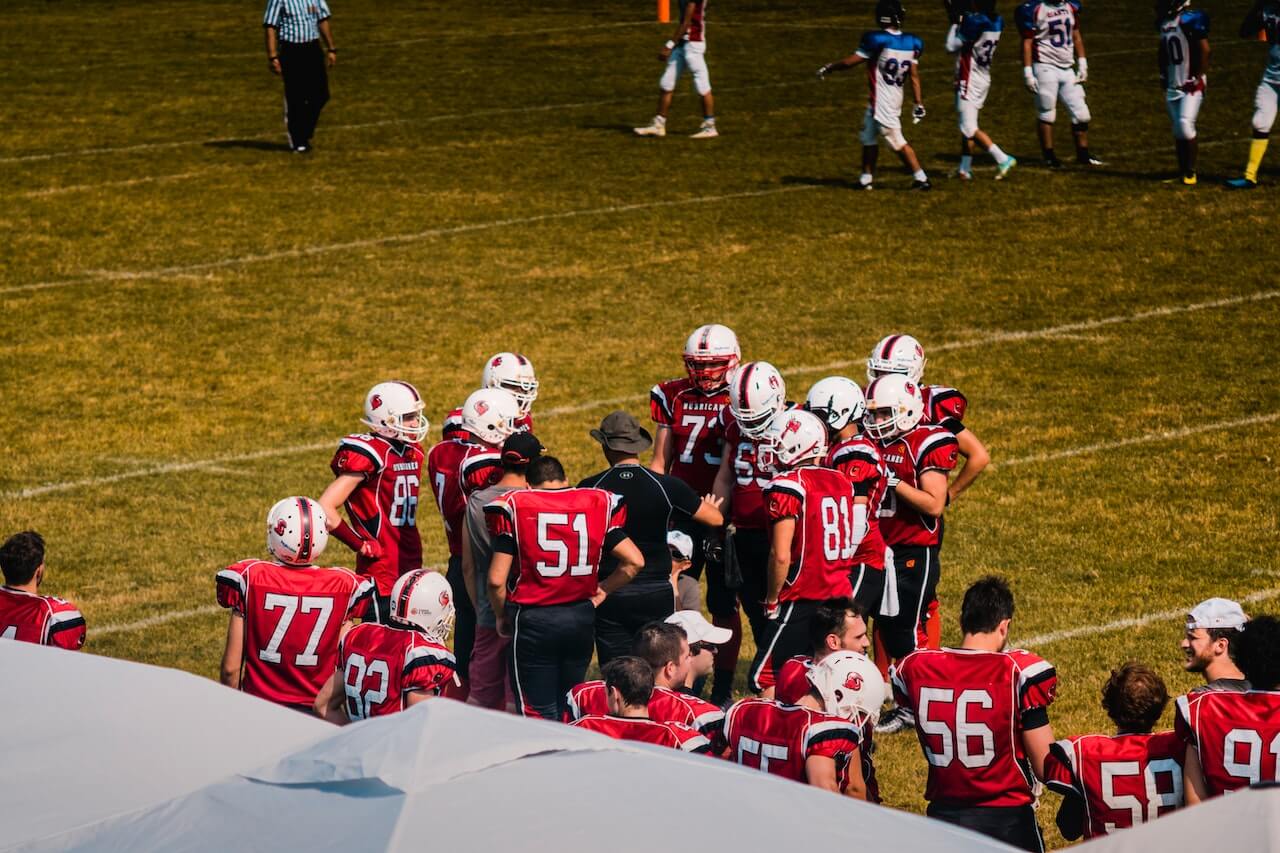 Create an Eye-Catching Highlight Video
In your stellar highlight video, you must include the best plays to hook the college coaches early on.
Have someone record you as you play on the field during football camps, football programs, or high school football games and even practice. There is bound to be some great footage to create the perfect highlight video. Most high school football players can benefit from their high school recording the games, and even some high school coaches may arrange for footage to be filmed in different parts of the game.
It's best not to have a long highlight video; coaches do not have time and will most likely skip through your video. Keep it short and sweet, about 3-5 minutes, and highlight your best plays on the field.
It is essential to add the following information to your film:
First and last name
Height and weight
Position(s) played
Contact information
Your head coach's name and contact information
Cumulative GPA, ACT, or SAT scores
Be sure to make it clear who you are in the film so coaches can focus on your greatness and see how the plays unfold. Remember, less is more; try placing the best part in the first minute.
With technological advances, several apps and programs can be used to create your highlight video. Researching the tools available will help you choose what applications best suit you.
How to Contact College Football Coaches
You should start contacting college coaches after collecting some high school highlights and stats. Craft a solid subject line, introduce yourself, and include basic information and a call to action from the coach.
When you contact college football coaches, the first thing you should be providing them with is your highlight video. A link to your highlight video should always be attached so that coaches can quickly assess your abilities.
High school athletes should also include a CV to showcase their athletic career and academic profile. While promoting yourself, do not forget to show interest in the football program and the school. Do your research!
At the end of the email, be sure to call the coach into action and include when you will follow up. Provide contact information not only for you but also for your head coach.
What Are the Qualifications College Coaches Look for?
College football coaches are searching the recruiting class for football players with extensive varsity experience, an intense highlight video, a good physique, extensive football knowledge, and good academics. The head coach and the assistant coach prepare for the college football season by looking for talented athletes. However, the NCAA created college football recruiting rules and calendars to show when and how college coaches can reach out to athletes, including elite players.
Check out the NCAA Recruiting Resources to learn more about the recruiting process. Understanding the recruiting process can help you recognize what is expected and explain the difference between an official and an unofficial visit. After speaking with a college coach, campus visits signify great interest as a recruit and allow you to experience the campus culture and training facilities.
The qualifications will vary dependent on college coaches and their football teams. A student-athlete can have different requirements depending on their football position as a player. Ultimately college coaches look for a team player with stellar athletics and good grades.
What GPA Do You Need for a Football Scholarship?
To play college football, student-athletes must have a minimum grade point average in core courses and test scores. To be academically eligible at a Division I school, you need at least a 2.3 GPA in core classes. In Division II Schools, the minimum GPA required is 2.2 in core courses. The NCAA states that if you have a low core-course GPA, you will need a higher test score (SAT/ACT) to be eligible.
For Bold scholarships, hundreds of award opportunities do not require a minimum GPA that can be applied to your education so you can join your favorite college football team and not worry about finances.
Frequently Asked Questions About Football Scholarships
Are football scholarships easy to receive?
Approximately 2% of high school athletes are awarded some form of an athletic scholarship to compete in college football. While these scholarships are competitive, do not be discouraged and remember the encouraging words from Vince Lombardi, "Obstacles are what you see when you take your eye off the goal."
Scholarships are awarded more frequently to football players, including full-ride scholarships. At Bold.org, a wide variety of scholarships are available including football scholarships. Don't forget to check out how many D1 scholarships are available!
What are the chances of scoring a football scholarship?
Playing college football is a dream for many student-athletes, but what are the odds of scoring a football scholarship? Approximately 57% of football players in Division I are awarded some level of scholarship and roughly 63% in Division II are awarded funds.
In comparison, 80% of Division III students only receive financial aid in place of an athletic scholarship. Aside from the NCAA, the National Association of Intercollegiate Athletics (NAIA) schools also offer scholarship awards.
Can you be a college football player without a scholarship?
Many athletes play college football without being in a fully-funded program or receiving full-ride scholarships. You do not have to get a scholarship to play college football. A student-athlete can try out without receiving an athletic scholarship by walking onto a team. Walk-on athletes have a lot of ambition and drive. Walk-on means you are on the college football team but received no form of an athletic scholarship.
Bold.org simplifies and streamlines the application process so you can create a polished profile and directly apply for scholarships on the website. Begin browsing the available awards today!