Private College Tuition Discounts at All-Time High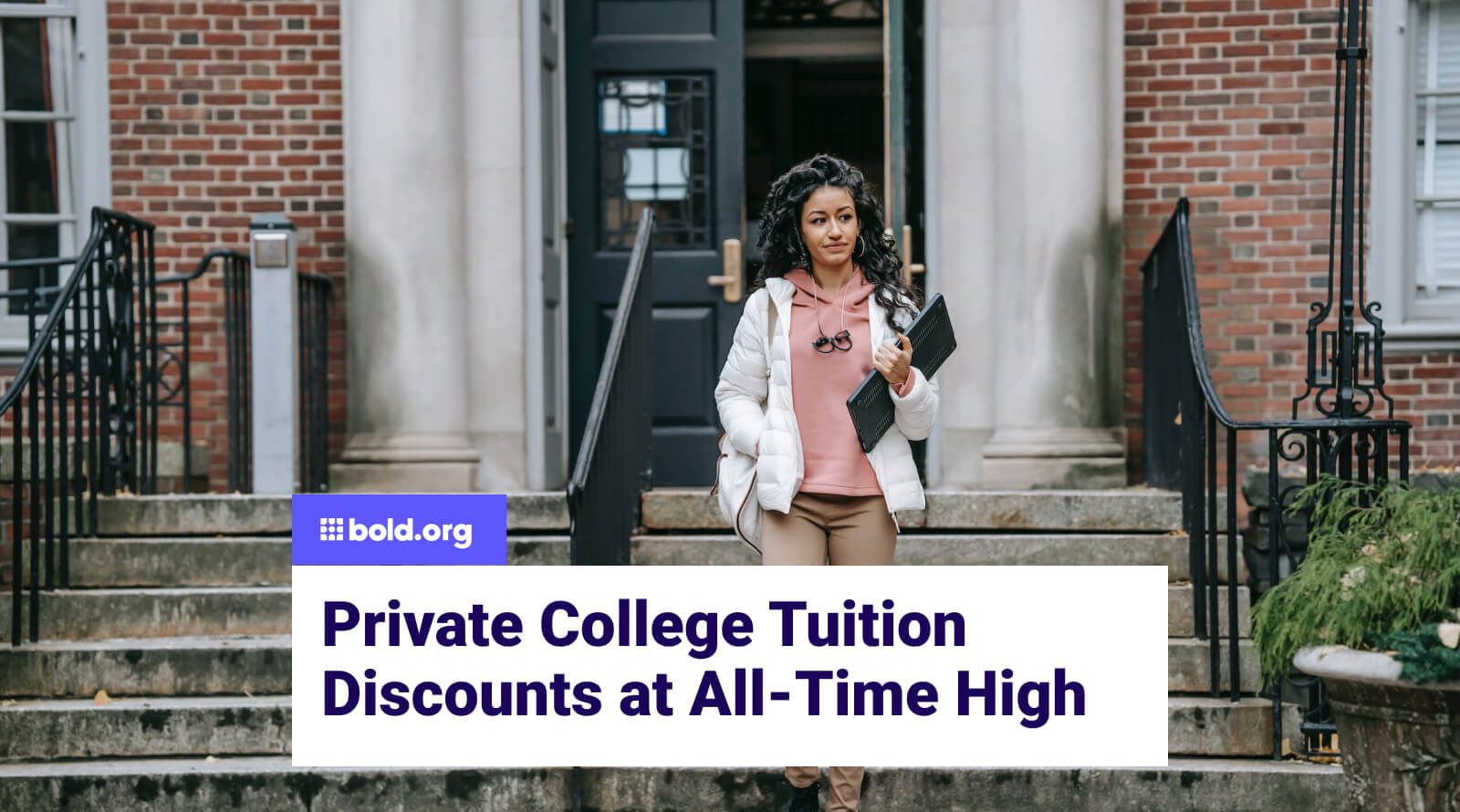 Top scholarships with upcoming deadlines
Each year, thousands of students are discouraged from applying to private institutions due to their rising costs. As these tuition prices continue to rise students feel hopeless about being able to afford higher education without accumulating thousands in student debt.
This idea that tuition is on a runaway path and private college affordability is out of reach is perpetuated by mainstream media to prospective college students. As a result, many students are forced to sacrifice attendance at their dream programs with the hopes of saving money.
Fortunately, upon analyzing the facts one might realize that there is a more holistic representation of private college tuition trends and that it is a lot more affordable than one might think.
This article will also highlight resources that are readily available to make college affordable, one of which includes Bold.org scholarships. Obtaining a degree should not be exclusive, and with the diverse array of scholarships surrounding the website, there are opportunities for everyone.
Mining government databases and reputable information will help provide an unbiased and realistic view of the cost of going to college. Let's jump into a few critical pieces of data to help current and prospective students understand the landscape of higher education.
Private College Tuition Rates
It is no surprise that tuition rates are increasing at colleges and universities across the country, especially among those that are most desired. These trends show that private colleges are not completely alone in their rising costs.
A recent survey produced by the College Board reflects this truth but in a new limelight. Upon further examination of the trends within the three different college groups: private colleges, public 2-year colleges, and public 4-year colleges, it seems that the numbers dispute the global understanding of private college expenses in relation to the other options.
The rate of tuition increase for public 2-year colleges and public 4-year colleges from 1986 to 1996 was 3.9% and 4.5% on average, respectively.
Simultaneously, the tuition increase at private colleges was only 3.1% - significantly less than its public counterparts. Furthermore, the following reporting period showed public 4-year colleges increasing tuition by 4.2% while private colleges dropped to 2.9%.
In the most recent reporting period, 2006 through 2016, both public 2-year and public 4-year programs outpaced the tuition increases at private colleges.
While expensive tuition rates are often associated with private colleges, it might be important to begin looking at public universities as well. Every public and private university implements its own financial resources, and sometimes one can be far cheaper than the other.
Whether private or public, the end-of-the-year cost will mainly be contingent on first-year students. Avoid falling into the trap and assuming that dreams at private colleges are unattainable due to their expenses because circumstances can change depending on the institution.
Tuition Discounts at Private Colleges
Additionally, with greater financial aid resources including grants, scholarships, and work-study, private institutions might be more within your reach than you initially thought. These external resources have the capability to change the trajectory of your academic career and make more colleges fit a reasonable payment window.
A recent study published by the NACUBO reveals the rate of institutional tuition discount rate at private colleges that helps bring the net cost of college at private colleges into better focus.
Approximately 88% of all college freshmen and 79% of college undergraduates received grant aid for the 2016-2017 school year. In fact, the grant aid received by undergraduate students covered more than half of college tuition and fees, on average.
As you can readily see from the data below, tuition discounts at private schools have steadily increased over time reaching a peak this past school year. Suffice it to say, the tuition discounts are substantial. With an average tuition discount of 49.1% for first-time, full-time students are the benefactors of private university financial aid.
Although tuition rates continue to rise, there are also more financial resources that are available to students. Particularly, The Free Application for Financial Aid (FAFSA) has become a pivotal part of the college application process so that students can apply for financial assistance at the universities where they are accepted into.
Here at Bold.org, you can discover hundreds of scholarship opportunities. Sign up now to find out which scholarships you're eligible to apply for today.
The Cost of Not Attending College
As college costs continue to exponentially rise, it seems fair to question the benefits of attending college. Among the wide variety of paths taken after high school graduation, college remains to be the most popular option. Yet, we fail to consider why these costs increase and what it says about the worthiness of college.
Lower Salary
The United States Census Bureau released information this month that helps shed light on the opportunity cost of not attending college. The data reveals that the average earnings in 2016 for citizens of the United States with a high school diploma is $35,615.
Compare that to the average income for a citizen with a bachelor's degree at $65,482 a year and $92,525 a year on average for advanced degree holders.
Quick math shows the value of earning a bachelor's degree is nearly $60,000 compared to a worker with a high school diploma.
Career Restrictions
Since most jobs now require an undergraduate degree, there are certain careers that high school graduates will not qualify for.
Particularly, medicine and law, two of the most sought-after jobs are unattainable without making up equivalent bachelor's degree requirements. Oftentimes, this is similar to other technical jobs as well.
Without a secondary education, one has greater limitations and constraints on the jobs one can work for.
Less Job Promising Prospects
One of the added advantages of attending college is the skill sets you accumulate through experience. Most employers understand this and seek those who have vast knowledge in order to bring a lot of expertise to the specific role.
This results in applicants with a bachelor's degree being substantially more competitive for the role and ultimately favored in the decision-making process. It is rare for jobs to be given to High School graduates over college graduates.
Further, there are greater benefits and perks in job opportunities for those with a Bachelor's degree. On the baseline, there is greater autonomy over one's career choice with a magnitude of more to choose from.
Less Diverse Professional Network
As a college student, you might constantly hear the importance of making connections, as these relationships broaden your network. With time, accessible opportunities will depend on how big your network is.
By fostering friendships, networking builds a strong foundation for the future. Having a professional network instills a positive reflection on you, and encourages future employers to work with you.
Diversity is especially important in your network because you want to be able to communicate with people from different backgrounds, areas, and expertise. Exposing yourself to those with new perspectives will contribute to your growth as an individual.
The distinctive experience that college provides definitely makes growing your social network a lot easier. Within four years, you will come across a magnitude of people whether that be your peers, professors, and guest speakers.
Unfortunately, it can be a lot harder to bridge meaningful connections without that added layer. With college, you just have access to thousands more people.
Taking all pieces of data together, you can easily see the raises in college tuition compared to tuition discount increases along with a widening wage gap between people with and without a college degree.
College opens doors to unique experiences that prove to be beneficial. To receive more information, explore our guide articulating the importance of college.
Finding the Best Opportunities
To decide the best program for you, read our guidelines on how to choose a college. It outlines crucial factors to consider to streamline the application process.
Furthermore, you can quickly find a list of Bold.org scholarships within the states of schools you are applying to via the list below.
Feel free to also search through an abundance of other scholarships offered on the website to find opportunities that fit your criteria. With the added benefits of college, it is extremely important to pursue resources that work to alleviate financial burdens.
Students looking to gather additional information can do so with thousands of resources across Bold.org's platform. Analyzing private colleges is only the start. Access our blog posts for useful advice to guide you through your collegiate journey. Get plugged in and get started on your academic journey.