What Does a College Application Look Like?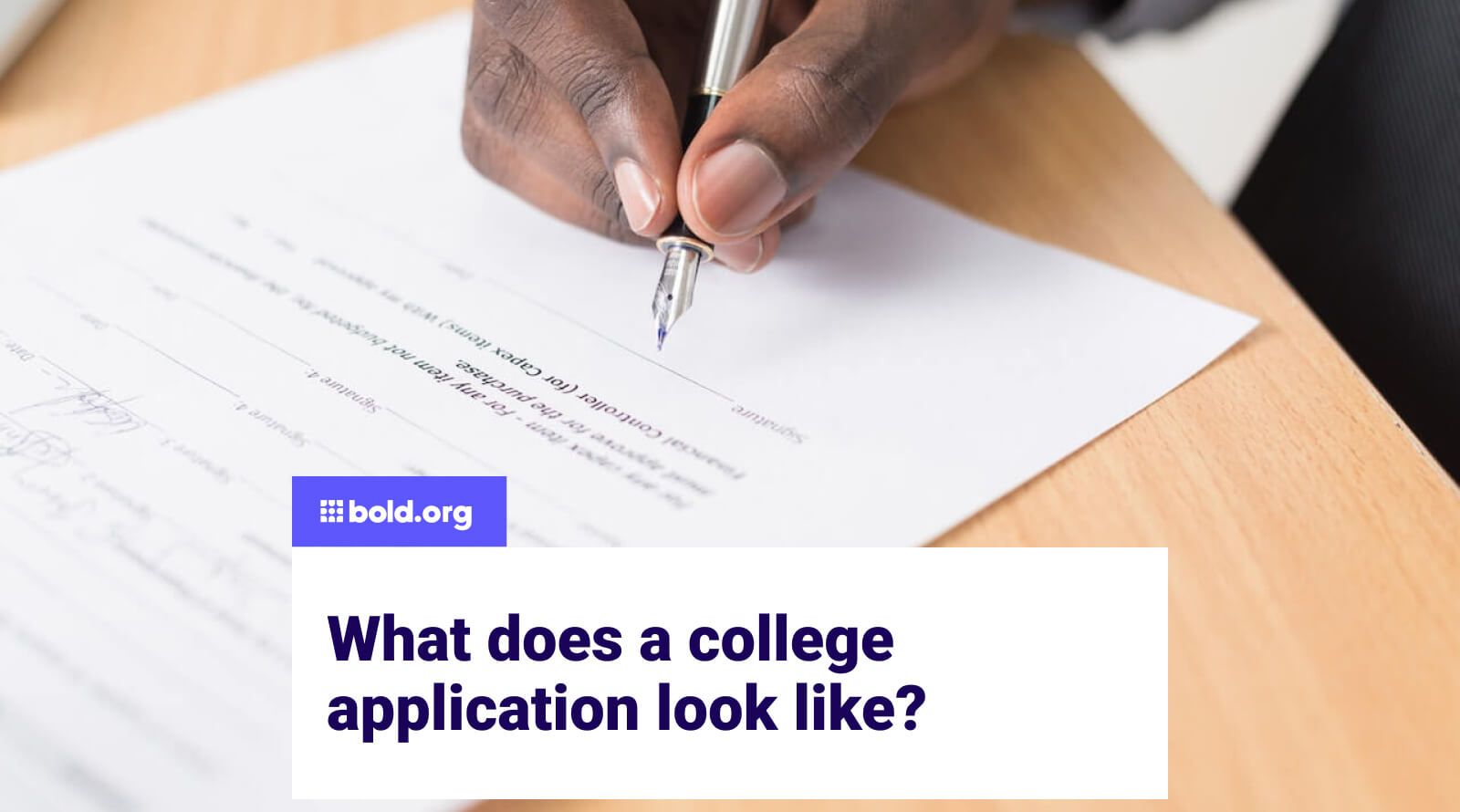 Top scholarships with upcoming deadlines
The college application can be one of the most stressful parts of high school. A student's schedule in their junior and senior years of high school is typically consumed with planning for the college application process.
With so many factors that go into your college applications, it's important to make sure that you put effort into each area and create a well-rounded application. It's important to plan ahead so that you have enough time to put together a good application. Read our guide on when to apply for college to help you budget your time.
Students who may have trouble paying for college or need to raise money for application fees should consider applying for scholarships. Browse through this list of scholarships to find opportunities that match your financial needs.
Make a profile with Bold.org for more resources on the college application process.
The sections of the college application are as follows:
Application forms
Application fees
High school transcript
Final transcript
Standardized test scores
Extracurricular activities list
Essays
Letters of recommendation
Auditions or portfolios
Interviews
To get started with your college application, students will need to fill out application forms with their personal information. Students must provide their parents' contact information, date of birth, ethnicity, and other details.
Many colleges require an application fee. Depending on the school, this fee can range from $30 to $80. Make sure to do your research so that you aren't surprised by the price of the application fee.
Students should talk with their school counselor to send their official high school transcript to the colleges they want to apply to. The transcript provides colleges with a record of the applicant's classes and showcases their grade history.
Get Matched to Thousands of Scholarships
Create your Bold.org profile to access thousands of exclusive scholarships, available only on Bold.org.
Create Free Profile
Most applications will be submitted by January of a student's senior year. The final transcript is sent at the end of the school year so colleges can see how a student's academic performance ended in the spring. As a result, students must ensure they continue to work hard in high school even after receiving acceptance letters. Colleges will see your grades from the third and fourth quarters.
Regarding standardized test scores, some colleges require the SAT or ACT. For most colleges, these test scores are now optional but encouraged. SAT subject tests and AP exam scores also fall under this category. Make sure to fill out the AP exam section if you want to test out of college classes or receive credit.
Colleges will also want to know how you spent your time outside of college. The extracurricular activities list gives colleges an idea of who you are and what matters to you outside of class. In addition, this is a good area to list any awards or achievements you may have received.
When applying through the College Board, students must write a personal statement to send to each school. Colleges will also have their individual shorter essay prompts students must answer.
Most schools require students to include one or two letters of recommendation with their application, usually from high school teachers that know the applicant well.
Auditions and portfolios only apply to art or music students. Applying to a creative major means you will need to provide a sample of your previous work. Ask your art or music teacher to help you pick which samples to send.
Some colleges require interviews, while others do not. The interview is a chance for students to showcase their personality, which can be hard to get across in the written college application. Consider asking for an interview if one is not offered to you.
For more details on each of these sections, read our complete guide to college admissions. In addition, it's hard to start the college admission process when you aren't sure which schools you want to apply to. If that's the case, check out this guide on how to choose a college. A clear idea of what schools you want to attend will also help you write better essays.
What's the most important part of a college application?
Each part of the college application is important. Students should make an effort in every section instead of expecting one section alone to get them into a good school.
However, as applications become more and more well-rounded, the college essay becomes increasingly important. In addition, this is likely where students in their junior and senior years of high school will need to do the most work.
Prior to starting the college application process, students should already have taken the SAT or ACT if they choose to submit standardized testing. The other sections, like the letters of recommendation, will require help from others.
The essay section is the only part that will require effort and creativity by the time you fill out your college applications. The essay may be the most difficult part of the application. Additionally, the essay questions are what admissions offices use to get a sense of what kind of person you are.
Colleges receive thousands of applicants who have the numbers— students with good grades and excellent test scores. However, most colleges aren't just looking for smart applicants. They also want driven, sincere, passionate, and kind candidates.
There are two parts to college application essays. First, students must write a longer personal essay, which is submitted to every college. Students can submit the same personal statement to every college, or they can write a different statement for each school.
In the interest of time, most students submit one personal statement to every school. Reusing the personal statement will not hurt your chances of acceptance. Extremely dedicated students may choose to tailor the personal statement for each school— this shows passion and interest but is not required.
Secondly, every individual college will have its own short essay prompts. The short essays will likely be a few paragraphs long and typically ask students to explain their interest in the school. Most colleges want to see that students have researched the school they are applying to.
For the shorter essays, you should not reuse the same essay for multiple schools. Most colleges will have different prompts anyways, making this impossible. For more tips on how to write a personal statement and answer the shorter prompts, read this guide on how to write a college essay.
What GPA do colleges look for when you apply?
The GPA and test scores admissions offices look for are different for each college. Research the admissions requirements of the schools of your choice to get an idea of what test scores you need.
Remember that while test scores are important, you can still try to apply to schools that are out of your test range. Admissions officers will look at several scores: your SAT or ACT, GPA, high school grades, and SAT subject tests.
Though you may have opted out of one or two of the above scores, you will likely have at least two or three scores to submit. Even if your scores are low in one area, you can compensate in others. For example, if your SAT scores weren't up to standard, having better high school grades can still show colleges that you are a good student.
Students with a strong GPA should consider applying for merit scholarships. Merit scholarships are scholarships given to students who demonstrate outstanding or above-average academic performance.
In addition, a high GPA may qualify you for financial aid. Research the financial aid packages available at the schools you are applying to. Receiving financial aid from your college will greatly lower the costs of tuition.
How long does a college application take?
The college application process is quite time-consuming, largely due to the short essay prompts students will need to write for multiple schools. It can be difficult to find time to fill out the college application during your senior year, which is why it's a good idea to get all your standardized tests done in your junior year of high school.
Students having trouble with their college applications should ask their high school counselor for help. In many cases, your English teachers will also be willing to provide you feedback on your college essays.
Students should roughly estimate that they will spend around an hour filling out all the forms— personal information, parental information, extracurricular lists, and self-reported test scores. Though these sections are easy to put together, it will still take time to get through them.
Time spent on the essays will vary between students, but give yourself enough time to write all required essays, edit them, and rewrite them as needed.
Frequently Asked Questions
Do colleges actually read application essays?
Yes, admissions officers do read the application essays. Students who obviously did not put in the time to write a good essay will likely not be considered at more prestigious colleges.
In addition, since the personal statement will be sent to every school, sending a poorly written essay will hurt your chances at multiple schools. If you're unsure whether your application essay is good enough, ask your school counselor or a high school teacher to read it.
What should you not write about on a college application?
Though the point of the college application is to show schools what kind of person you are, some topics are unsuitable for the college essay. Some examples of unfit topics are romantic relationships and breakups, relisting your test scores or activities, or strong political opinions.
Certain overly personal or controversial topics can be okay to write about, but you need to be careful about how you frame the story. For example, it can be risky to write about a family tragedy. However, writing about a tragedy from your past and how it has shaped you or how you overcame it can show your strength of character.
The key is treating difficult subjects respectfully and avoiding becoming overly emotional. Those who come across as bitter or volatile are only hurting their chances. Students should not attempt to appeal only to the admissions officers' emotions.
It can be difficult to write a balanced essay about this kind of topic— if you are unsure, talk to a school counselor or stay on the safe side and write about a less emotional or polarizing topic.
For more details on college applications, read our guide on when college applications open.