How long is a college essay?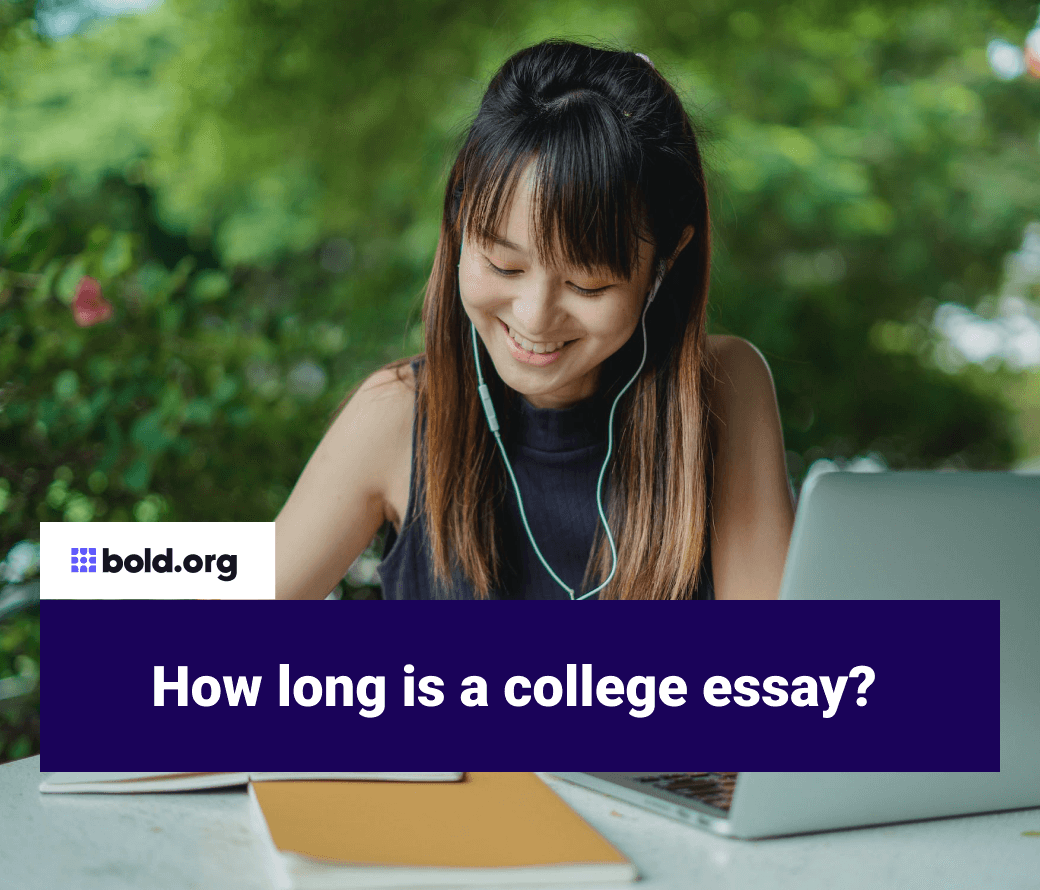 Top scholarships with upcoming deadlines
After years of anticipating college applications, the process during your senior year can prove to be overwhelming. Most students have a long list of colleges that they are interested in attending, which usually include a mix of safety, target, and reach schools. To begin earning funding for college, create a Bold.org profile today to unlock exclusive scholarship awards!
Unfortunately, colleges do not always align their deadlines or their essay requirements. Usually, students find themselves writing numerous essay prompts in a variety of word count limits. While there is no strict college essay length that all colleges abide by, there are similarities within each that will help guide you in writing applications.
Common Application
Over 1,000 universities and colleges nationwide use the Common App, a platform that streamlines the application process, to gather students' personal statements. Applications completed through the Common App require a central common app personal statement, which is the main resource for college admissions officers to get a deep glimpse at your identity, life story, and goals for the future. While students have leniency to choose between 7 prompts, the essay must be between 250-650 words. Since this is the standard essay that is sent to all obliging schools, it is usually among the longest word count students are required to hit.
Coalition Application
Similar to the Common App, the Coalition Application which has 150 participating schools, includes a centralized essay that works as the main insight into your application. The association recommends students keep their word count near 500-650 words, but essays can be as short as 250 words.
Supplemental Essays
In addition to the personal statement, highly selective colleges ask for a few supplemental essays. While much shorter in length, they provide colleges with further clarity of who you are. Topics may include but are not limited to reasons behind applying to the school, extracurricular activities, and hardships.
Get Matched to Thousands of Scholarships
Create your Bold.org profile to access thousands of exclusive scholarships, available only on Bold.org.
Create Free Profile
These questions differ for each particular school depending on their specific missions to assess whether or not a student is a good fit for their student body. The word limit on these essays is usually 250 words, but some colleges such as the University of Pennsylvania ask for 450-600 words.
College Specific Applications
Other college application platforms are geared toward a particular institution or university system. This means that they have different expectations of how many essays and how long an applicant's essay should look.
The University of California schools application is where students can apply to the nine UC campuses such as UCLA, UC Berkeley, and UC Davis. Instead of the main application essay, the UC system incorporates a personal insight section, requiring students to answer 4 out of 8 essay prompts. These answers have a specific word count limit of 350 words, which together leaves the total college essay length at 1,400 words.
Another example of this is the Apply Texas program, with all Texas universities taking part in utilizing three essay prompts with schools requiring all or some. These essays usually fall between 350 - 650 words each.
Other institutions that are on neither the Common App nor the Coalition Application will use their own website for students to apply. While there can be differentiations, most universities will ask for one or two main personal statements with a few supplemental essays maximum. Generally, the word limit for these easy essay prompts does not exceed 700 words.
Bold.org Scholarships
In addition to college essays, Scholarship applications should also be at the top of your priority. Most students begin applying for scholarships during their senior year so that they have a bigger choice of where they will ultimately attend college. Bold.org is an amazing source as it features a vast array of scholarships that students can take advantage of. While not all scholarships require essays, those that do are usually looking for between 400-600 words. Feel free to browse through the website to find any worth applying for!
How do I start my college essay?
Preliminary organization
Together, these essays can pile up and completely drown out your to-do list. The best way to strategize your college application journey is to start writing them early! A longer preparation time allows students a chance to refine multiple drafts to ultimately create a well-developed essay.
Being organized is key in the early process of applying. To avoid being overwhelmed, students should create some sort of organizational document that highlights all the schools being applied to as well as their respective deadlines and essay requirements. This makes it easier to conceptualize the impending important dates and ensure that all necessities to each university are turned in on time.
It is best to consistently update the document to reflect your current standing in the college application journey to provide constant clarity of what needs to be done.
Reflect on essay topics
After familiarizing yourself with the various prompts it is best to take some time away and brainstorm potential topic ideas. These essays are essentially meant to demonstrate your entire life up until this point to the undergraduate admissions reading your application; so it might be beneficial to think closely about the best narrative you hope to portray. With so much content to cover, it might take time to extract what is most important. This planning can even inspire new perspectives.
Feel free to do whatever helps with bringing those creative ideas to life. Whether it be discussing them with pivotal friends and family members or indulging in meaningful outlets, allow yourself the comfort to refine your focus and tweak your ideas.
Begin writing!
Once those ideas are finalized, you are ready to begin writing a college admissions essay! As long as those final deadlines are met, students can write their essays in whatever order works for them. While most begin with the main essay (or longer) others lean towards supplementals first (often the shorter ones).
Although college application programs have their own text boxes for essays to be submitted, students are free to write their drafts on another medium such as Google Docs or Microsoft Word before submitting.
There is a misconception for students to think that their writing needs to be perfect from the first draft and that there should not be any difficulty in completing these tasks - but that is not true. Oftentimes, there are multiple drafts preceding the final draft. The best essays are often written with the guidance of mentors, teachers, educational consultants, and parents as they encourage continuous growth.
College application essays do not have to be isolating or strenuous as they can be quite exciting! These essays provide more depth into your life story, so have fun, stay true to yourself and let your personality shine.
What are colleges looking for in essays?
There is no strict checklist articulating everything a college is looking for upon reading your response, but there are important things to consider to capture the admissions officer's attention.
The most successful essays are those that provide purposeful insight into an applicant's backstory. The admission officers reading these applications are concerned with learning about who you are and what makes you unique from all the other students in the applicant pool.
Furthermore, these colleges want to picture the potential impact you could make at their school, and your essay should give them a glimpse of what that would appear like. Essay topics should highlight your growth as an individual, inspiration for future career choices, and everything else that makes you, you.
Think of your college essay as an argument on your behalf. The narrative that is brought forward should come together to advocate for your accomplishments, goals, and strengths to study at that school - and that is what colleges are essentially looking for.
What makes a strong college essay?
On the forefront, a strong college essay should follow directions asked by the college. In addition to adding to your personality, these essays are also meant to reflect how you are as a student and your ability to pay attention.
It is important to ensure that both the personal statement and supplemental essays are rid of any grammatical errors and that the actual writing makes logical sense. While it will not completely disqualify your application, it will only be beneficial to have your writing skills refined.
That also means double-checking that the response fully answers the prompt at hand, and abides by the word limits. Admissions officers want to see that you put a lot of time and care into crafting this essay, as they are spending time reading it.
Despite it seeming like a lot, the word range can be filled pretty easily. To make use of the word limit, write concisely. There are thousands of other applicants officers have to get through, so try to keep your message clear.
Although it can be tempting to reuse an essay from one college to another, try to avoid the temptation. Each school has its own unique traits and will assess your decision based on how you fit those criteria for them. One essay might be good for one school, but not the other. Your essay must articulate why they should accept you, and that should encourage you to include research about the school's resources to answer that question.
Most importantly, a strong college essay is one that humanizes the applicant behind their test scores/numbers. It gives you a chance to vouch for yourself directly to undergraduate admissions.
Do college essays need a title?
No, college essays do not need a title!
The most exciting thing about college essays is that unlike other writing assignments there is no mandated format. Students are free to write in whatever structure feels right to them, and there is no necessity to have a title accompanying their essay.
That being said, if a title adds an important element to the essay then students are encouraged to include one. However, the title characters will be deducted from the total essay word count.
Due to the limited word limit, it is always best to focus more on the actual essay itself than stress over the title. Rarely ever does it make a large amount of impact, as the admissions officer will be familiar with the prompts beforehand.
Can I swear in my college essay?
While swearing is allowed, it is best to avoid it in your college essay.
Although the college application essay is personable, it should still embody a respectful and appropriate tone. Vulgar profanity can deter from positive aspects of your application.
Depending on the audience it can have the potential to harm your applications. Most schools have many applicants, meaning that these officers are reading numerous applications a day. Unnecessary use of curse words can leave a negative first impression, leaving them less inclined to review the rest of your material.
However, there are some exceptions to this rule. It can be used if the word is critical to the topic or quote, but it is safer to avoid it altogether. The person reading your essay will impact a major direction of your life so use your words wisely and make them matter.
Throughout this process, you should be honestly proud of how far you have come to be here. In your pursuit of applying to colleges and universities, do not forget to begin applying for potential scholarship opportunities. Bold.org gives access to endless scholarships catering to most students, and helps numerous afford their dream colleges! Start researching scholarships today to begin earning funding!