When do college applications open?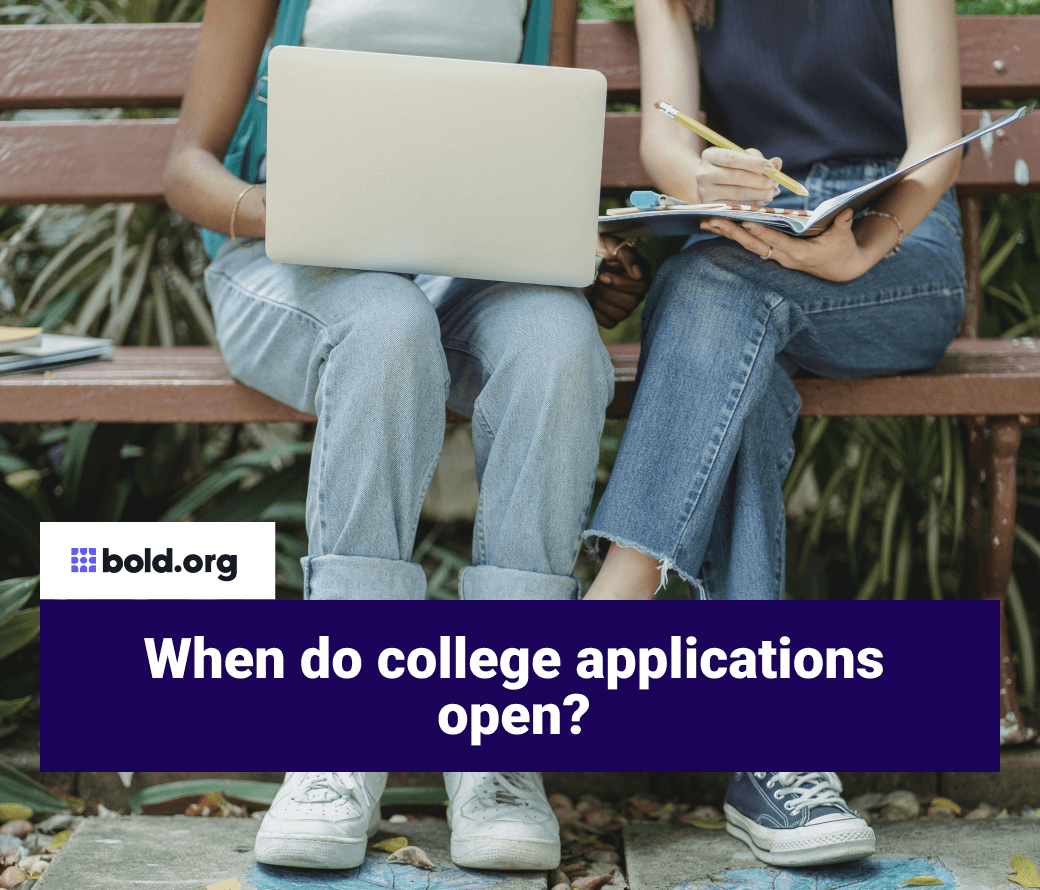 Top scholarships with upcoming deadlines
The greatest pieces of advice one can give to high school seniors applying to college is to know when college applications open and to begin their applications early. A longer preparation time gives more opportunities to brainstorm, write, revise, edit and finalize applications.
Compared to the other writing assignments you write up until this point, college applications hold a huge impact on your future. These essays require a lot of time and effort, but you can find essay-writing tips in this guide! Oftentimes, students go through multiple drafts before deciding on the final one.
Get Matched to Thousands of Scholarships
Create your Bold.org profile to access thousands of exclusive scholarships, available only on Bold.org.
Create Free Profile
The majority of schools typically open their college applications on August 1st every year so that students can apply early. With most college application deadlines falling in January/February, it gives students the entire fall semester of their senior year to complete everything. It's important to research the specific schools you're interested in, as some applications or early decision submissions are due in November.
Schools that include this timeline are:
All UC schools
Common application schools
Colleges utilizing the ApplyTexas applications
Coalition applications
Unless applying as an Early Decision or Early Action, the students get around 4 -5 months until the end of the college application process.
It is possible that other colleges may have slight alterations to their timeline, so look at their websites to make sure.
Financial aid
Another equally important component of the college application process is financial aid. The financial resources are pivotal in helping students attend their dream school each year.
The Free Application for Student Financial Aid (FAFSA), the leading form of receiving financial aid through the federal government, opened its applications on October 1st. Regardless of deadlines, it is crucial that students apply for gift aid early to ensure maximum opportunities.
Thousands of colleges and universities rely on the student's FAFSA application to assess financial aid eligibility. It is encouraged to have these finished before the decision deadline because it is harder to qualify once accepted into the university.
Scholarships
Bold.org offers a diverse array of scholarships available to students from different backgrounds and educational levels. Every scholarship has its own respective deadline, which students can apply to beyond their senior year. You can read more about when scholarship applications are due in this post!
To ensure financial stability prior to entering college, begin applying while working on college applications.
What is the earliest date to apply to college?
Students can technically turn in their applications the day they are released. For most schools, August 1st, during the summer before a student's senior year, is the earliest date a student can apply to college.
Generally speaking, applicants are allowed to finalize their requirements before they are explicitly due. You can set your own deadlines and apply anytime within the application window.
However, decisions will still come out at the allotted time, and not earlier unless applied via early decision or early action. These two options are great for students who are already committed to a particular school and interested in receiving early admission.
Additionally, applying through early action or early decision can improve your chances of receiving an acceptance letter in the spring. The earlier the application is received, the earlier it is read by the admissions office. Usually, the initial round of applicants gives students an opportunity to display immense dedication to their first-choice school. These changes can be incredibly helpful in the ultimate admission decision.
Early decision I (ED)
Unlike other deadlines, early decision is a binding agreement where students applying agree to matriculate to the university upon receiving an acceptance. They are prohibited from applying to or attending another institution after the decision is made.
This opportunity is beneficial for students that are 100% devoted to a specific school, and do not need to compare certain factors such as a financial aid offer with other schools.
Early November is typically the early decision deadline. Applicants can expect to hear back around mid-to-late December.
Early Decision II
Although less frequent, some schools also offer another early decision opportunity. Similar to Early Decision 1, applicants are still anchored to a binding agreement, but the deadline is pushed back.
It gives students more time to work on their application while still catering to those passionate about that particular school. This early decision deadline is usually at the beginning of January with decisions being released in mid-February.
Early action
Many schools utilize early action deadlines, where students can receive the benefits of applying early without being bound to an institution. Unlike Early decisions, students can choose to forge their path somewhere else without any consequences.
However, some schools such as Harvard, Yale, and Stanford, only offer a restrictive early action plan. This means that while students can wait until the national response deadline to make their decision, they are not allowed to apply early to any other college.
The deadline for early action is also due in early - mid-November. These dates usually fall on either November 1 or November 15. College admissions will alert decisions in mid-December.
Regular decision
Regular decision is just that - the regular way to apply to college. It is traditionally how most applications are accounted for, and where more than half of the upcoming class is decided.
It is usually the best option for students unsure of where they want to spend the next four years, as it gives students the opportunity to decide upon hearing back from them all.
The most common regular decision deadlines are generally in early January, but some have them earlier or later. For example, the UC schools do not offer any early applications but their regular decision deadline is on November 30th.
Since regular decisions can vary between colleges, it is best to double-check the deadlines administered by every school you are applying to.
Rolling admissions
Rolling admission essentially means that there is no set application deadline, so students can apply anytime within a certain time frame. It is more flexible than the other deadlines, giving applicants more freedom with their time.
Rolling applications usually open in early September up until the spring semester. Regardless of this large timeframe, avoid procrastinating the application. Applying earlier is especially better in rolling applications because admissions officers read them as they come.
There can be many different deadlines to look out for during the application process so organization is key! Gather all your materials early including recommendation letters, standardized test scores, and transcripts, to avoid a missed deadline.
What month is best to apply to college?
In the application process, there is no singular month that qualifies as the best time to apply to college. Every month is pivotal in the overall timeline.
It truly depends on which college is being applied to and its respective application deadline. Depending on the schools being applied to - some might require materials earlier than others.
In a general sense, the months of August-October should be dedicated to gathering application materials, and finalizing essays. Be attentive to ensure that everything required is accounted for.
If you are applying to any early decision or early action schools, applications must be submitted by November. All early decision deadlines will hover around this month, so it is best to be prepared beforehand.
As regular decision deadlines range from early November to February students can apply anytime until the specific date. For applications with an impending due date, do not worry too much about time. Prioritize the content so that it portrays an accurate description of you.
However, Time does play an important factor in the rolling admissions process. These applications are read as they come, so students should apply sometime between September- November. The chances of acceptance are higher for earlier applicants.
Do colleges care when you submit your application?
Any preference, in this case, depends on the school and the system they operate on. In most cases, the order in which applications were submitted rarely makes a huge difference. Admission officers are expecting the bulk of applications to arrive closer to the deadline date whether that be early or regular, so they are read alongside everyone else.
For most college applications, submitting an early application will not necessarily boost your chances immensely as the admissions office will focus on the materials presented to them. Do not focus too much on a specific date, because as long as it is turned in on time you will be on an equal playing field.
However, rolling admissions are quite different, and time does play a more critical role in the decision. Admission officers begin reading applications as they come, giving more opportunities to earlier applicants.
In the beginning, there are more spots to fill so it will be less competitive to land a spot at the institution. Late applications risk limited availability or similarity with another applicant.
Can you apply for college in 11th grade?
In order to apply for college, one must be nearing the end of their secondary education, and ready to begin college in the fall. This usually means that a student must be in their senior year of high school to apply.
Unless in advanced standing that meets the institution's qualifications, students may not apply for college in the 11th grade due to incomplete graduation credits.
However, there are some things that students can do during their junior year to benefit their college application journey the following year.
Narrow down your school search
Visit potential universities
Find teachers to write your letters of recommendation
Brainstorm article topics
Additionally, students can apply for scholarships reserved for high school juniors through Bold.org during this time. Exploring Bold.org's scholarship resources early can provide more financial freedom and make more colleges accessible to you!
Do colleges look at senior year grades?
Yes, colleges do weigh senior-year grades.
High school transcripts create a picture of how students may perform at a college. Admission officers will look for patterns in your academic record to ensure that the student is capable of keeping up with their work and performing at their peak.
Additionally, colleges have set GPA requirements, and slacking off during your senior year can impose detrimental impacts on your acceptance. Do not allow senior year grades to diminish all your hard work throughout high school.
To start taking charge of your financial freedom so you can expand your list of college options, start browsing scholarships on Bold.org today!