How to avoid scholarship scams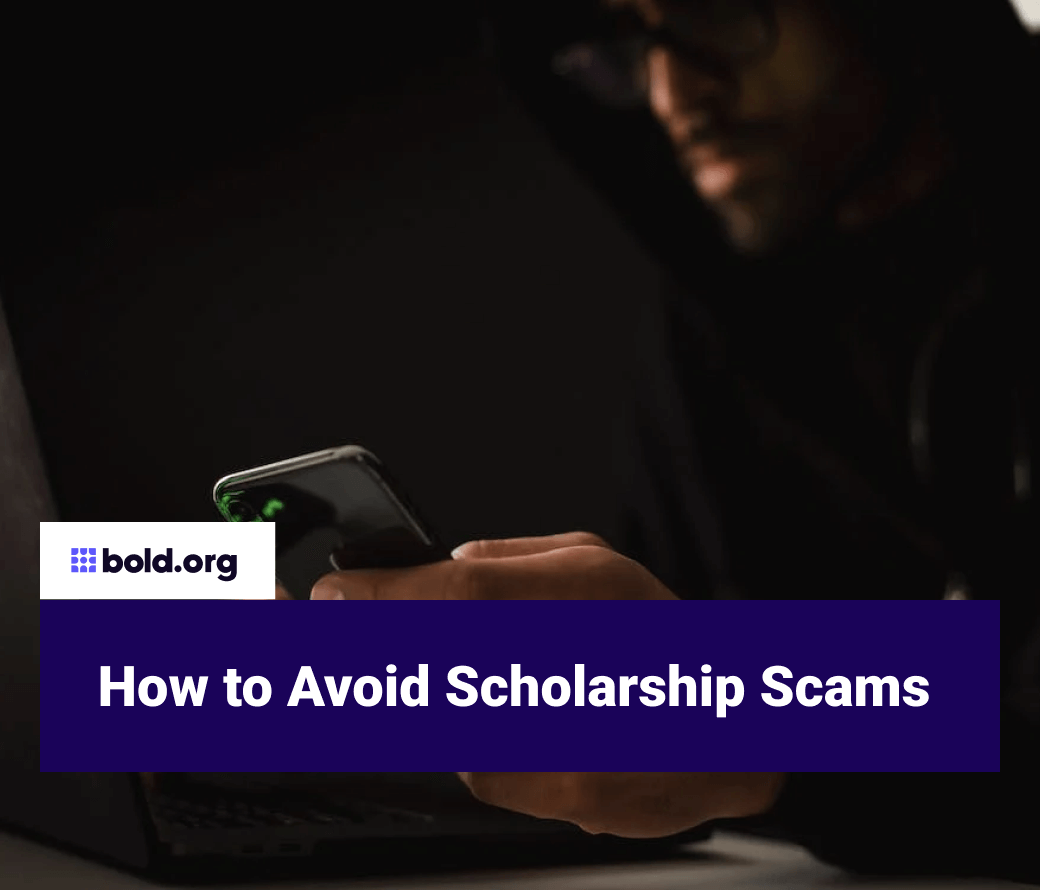 Top scholarships with upcoming deadlines
While scholarships are a great form of financial aid to help students pay for college, not all scholarships being offered online are safe. Many students have unfortunately fallen victim to financial aid fraud, also known as scholarship scams.
It is critical for you to be able to spot legitimate scholarships from scams. After years of research, our education experts have assembled a simple list of tell-tale signs for you to look out for during your college scholarship search. The simple tips below can help you avoid scholarship fraud and make the most of your time.
Here at Bold.org, you can discover hundreds of scholarship opportunities. Sign up now to find out which scholarships you're eligible to apply for today.
Spotting a scholarship scam
With the various scholarship websites and the sheer number of scholarships on the internet, what is the best way to stay away from con artists? Below, we have detailed things to look for and things to avoid to help you best navigate the scholarship landscape.
According to The Federal Trade Commission (FTC), they receive complaints about fake scholarship sites and have suggestions on key phrases to avoid that include:
You are a finalist in our scholarship
You have been selected by our foundation to receive
The college scholarship will cost you X upfront to apply
We will complete the application on your behalf
We will take care of all the paperwork
Please provide your credit card or bank account information
College scholarship money guaranteed
Money back guarantee for your scholarship application
These are a few of the most common phrases that scammers are using to snare unsuspecting college applicants. There are hundreds of iterations on these phrases so be very wary when it comes to applying for a college scholarship that provides any sort of guarantee, asks for money, or insists they will apply for you.
The most common scholarship scams involve paying an application fee when you try to apply for a scholarship. Some scams may even utilize the pay-to-search model. While scammers will make you pay a service fee in order to provide scholarship matching, there are legitimate scholarship providers that let you use their secure scholarship search service for free.
Remember, you should never have to pay an upfront payment for matching services or scholarship applications. The vast majority of scholarship scams may not ask for money outright. Instead, they may ask for other personal information as a form of identity theft. Be careful in providing any detailed information; avoid giving away personal information like your social security number.
Scammers may falsely claim to be a foundation, 501(c)(3) tax-exempt charity, or affiliation with another reputable organization. You can verify this yourself by checking whether the scholarship donor is listed in IRS Publication 78.
These are only a few of the most common scholarship scams you may come across out there. If you believe that something is amiss, trust your instincts!
Safeguarding against scholarship scams
The best way to safeguard yourself against scholarship scams is to remain vigilant. During the course of a valid college scholarship, you will be asked to provide a variety of information about yourself including standardized test scores, letters of recommendation, transcripts, interviewing acumen, and video documentation of you and/or your talents.
Tips for avoiding scholarship scams
Anyone can fall victim to scholarship scams, but that shouldn't stop you in your search for financial aid! If you know what to do and what to avoid when considering a scholarship offer, you'll be able to cash in a legitimate scholarship check in no time. Follow these key tips to avoid falling for scholarship scams in the future:
Never provide credit card information— you should never have to pay money for an upfront fee or processing fee.
Do not provide your username or password credentials to a third party
Never provide your bank account number and information
Ask for written documentation of any online application
Give priority to scholarships offered by the federal government— federal financial aid shouldn't need any prerequisite information through third parties. If a scholarship provider claims to offer such a product as a prerequisite to receiving federal student aid funds, then it's likely a scam!
Apply for scholarship opportunities from legitimate companies or reputable organizations— the FTC and Better Business Bureau can help identify whether a scholarship provider is legitimate or a scam.
Do not apply for a scholarship if you have to provide detailed information in order to confirm eligibility— whether that's personal or financial information.
Be wary of any scholarship scams that promise scholarships after you pay a redemption fee, application fee, or any other upfront fee— If you are losing money before ever receiving money, then it's not a legitimate scholarship.
Do not be rushed by a first-come, first-served tactic of high-pressure sales pitches. Follow the prescribed deadlines but awards are provided to the most qualified candidate, not the first.
Don't attend any "exclusive scholarship seminar" or one on one interview! A free financial aid seminar is too good to be true. Hosts for such scams have ulterior motives, pressuring you to withdraw money or send money to them. If you attend such a scholarship seminar, do not spend any money on any services they offer!
Important scholarship takeaways
Retain any and all documentation regarding your college scholarships. Regardless of whether you were awarded the scholarship or not, this provides a paper trail for future use. Should you need to report a scholarship scam, you can quickly do so given the paperwork in your file.
Report scholarship scams to the Federal Trade Commission, National Consumer Leagues Fraud Center, or Better Business Bureau. Make notations about any conversation you have with a scholarship provider including their name, contact information, and employer. Retaining this information will help you follow up with them if the scholarship is legitimate or file a complaint if they are not above board.
If you have any questions or concerns, also talk to your college financial aid administrator, financial aid office, or guidance counselor about the best practices to avoid scholarship scams.
At the end of the day, trust your instincts and request help when needed. Being awarded a college scholarship may be challenging but a single application is not worth being snared by shady businesses.
Resources to Help you From Falling Prey to a Scholarship Scam
Finding the best place to start your college scholarship search can be an agonizing task. Sometimes a scholarship looks legitimate, too good to be true, or a bit sketchy. What if the email address or phone number yields no response? The key: keep your wits about you and do your due diligence.
To better avoid scholarship scams, it helps to study the basics of scholarships and to find out where it's safe to apply for a scholarship. Check out these Bold.org blogs and resources to get started on your search for real financial aid:
For additional resources, make sure to visit the Bold.org Blog to find more blogs like these, create your profile for the latest in college information, or utilize our world-class scholarship search tool today.