How are student loan payments calculated?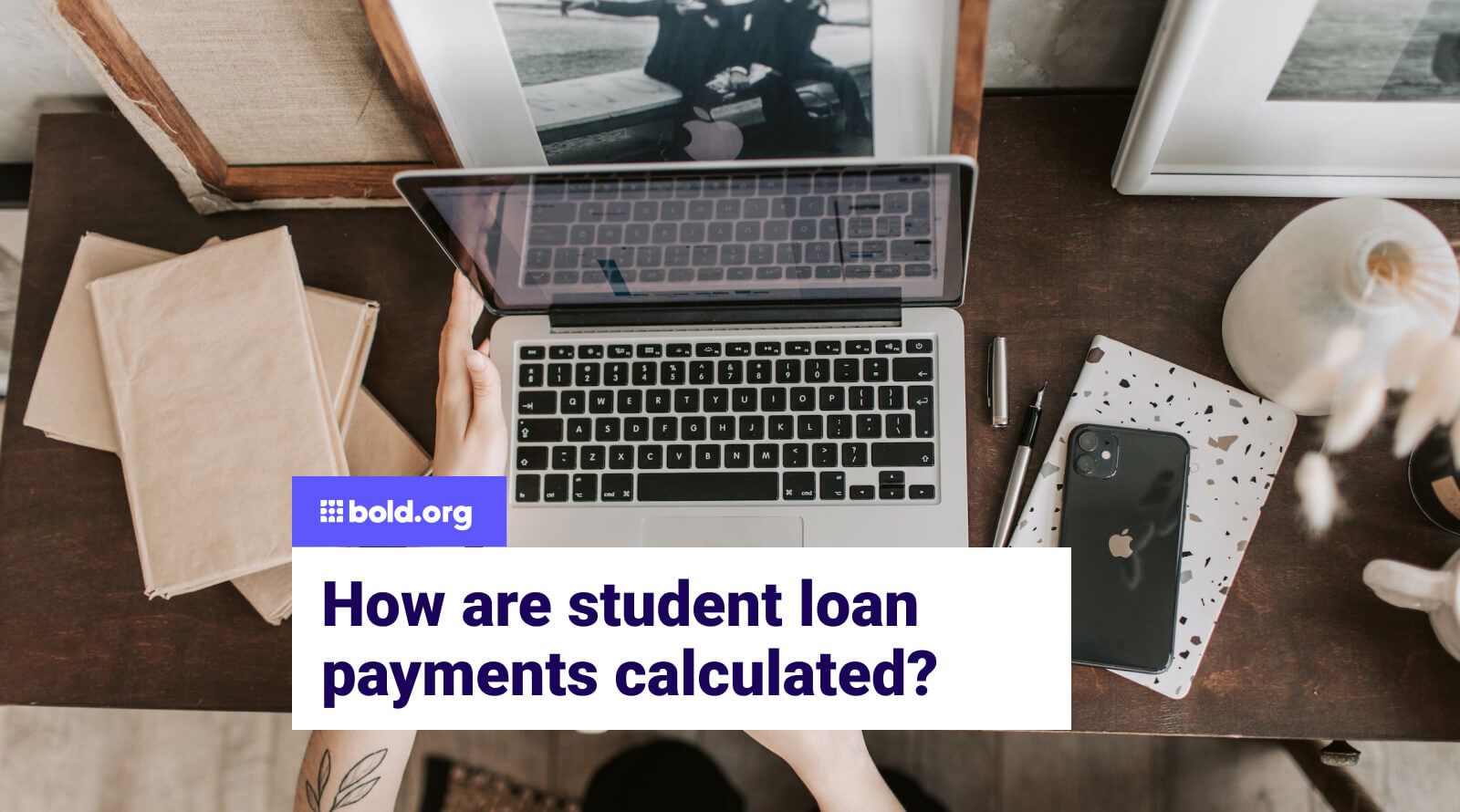 Top scholarships with upcoming deadlines
After taking out federal student loans, it's important to stay on track with your student loan payments. The monthly payment a borrower makes for their federal or private student loans is dependent on a few factors, such as how much money was included in their student loans.
Student loan payments refer to how much money the borrower needs to allot for their monthly payments. Federal and private student loans are paid off over several years, or even decades. The borrower and the lender will need to agree on an interest rate and how much the monthly payment will be until the student loan is completely paid off.
For more resources on student loans and college finances, visit Bold.org and sign up to make a free profile. Bold.org offers users access to hundreds of scholarships, which can be an effective way to mitigate student debt and help pay for higher education.
Users can easily browse through scholarships with the scholarship search feature, which narrows down results based on major, grade level, and more. The student resources blog offers several guides on how to navigate college, how scholarships can pay for college, and other helpful finance articles.
The interest rate on the student loan will play a significant role in calculating how much money the borrower needs to repay in total and how much the monthly payments will be. Federal student loans typically offer lower interest rates that are much more favorable to the borrower.
In some respects, the interest rate is the most important factor in determining whether a student loan has favorable terms for you, and in calculating how much your monthly payment will be. Typically, student loans with a higher interest rate will result in higher monthly payments. This is also true of the loan balance— the more money you take out in a student loan, the higher the monthly payment will be.
Interest rates are typically fixed when taking out federal student loans, meaning the interest rate will stay the same over the time period it takes to repay the loan. Private student loans may have fluctuating interest rates, but it depends on the lender. To make sure you understand the difference between federal student loans and private student loans, read this guide on how to take out a student loan.
Get Matched to Thousands of Scholarships
Create your Bold.org profile to access thousands of exclusive scholarships, available only on Bold.org.
Create Free Profile
Step 1: Private student loans vs federal student loans
A good first step in determining what your student loan balance will be is to figure out whether your loans are private or federal. As mentioned above, federal student loans often offer fixed and more favorable interest rates than private student loans. Check out our guide on how to apply for federal student loans.
However, this may be situational. Certain borrowers may be able to find private loans that have better terms for them than federal student loans. Most private student loans are credit-based. This means that the interest rate of the loan will be dependent on the credit history of the borrower (or the history of the cosigner). Borrowers who have good creditworthiness may consider taking out loans from private lenders.
For those that have not borrowed yet, make sure to find out which federal student loans you are eligible for. It wouldn't hurt to look at a few private student loan packages and compare the rates of each different loan you find.
Deciding whether to borrow from a private lender or a federal student loan program will help you figure out what your interest rate is. As mentioned, the interest rate of your student loan will greatly influence student loan monthly payments.
Step 2: Decide the size of your student loans
Aside from the interest rate of your student loans, the total amount you borrow will have a significant effect on how much the monthly payments are. How much you need to borrow will depend largely on the price tag of your college or university.
Choosing a cheaper college to attend is, of course, one of the first things to consider when trying to decrease the amount of student loan debt you will incur. If it's possible to attend a cheaper university without sacrificing the quality of education you will receive or the program you intend to study, consider it.
However, for a variety of reasons, choosing a different university is not a good option for many students. In this case, make sure to apply for financial aid through your university. Most schools offer some kind of need-based financial aid package, which can greatly decrease the number of student loans you need to take out to pay for school.
In addition, no matter what grade level you are, consider applying for scholarships. Scholarships can help fund your college education so that you don't need to take out as many loans. Alternatively, for those who have already borrowed student loans, scholarships can help you pay back those loans. For example, there are many grants for paying off student loans available on Bold.org.
After considering the price of your university, the amount you are eligible to receive in financial aid, and the amount you receive in scholarships, you will have a better idea of the size of your student loan. For those who have already borrowed, university financial aid and scholarships may be able to help you pay back your loan.
For those who have not taken out a loan yet, considering these factors can make sure you don't take out a larger loan than necessary. Once you have accounted for all the other possible sources of income, you will be able to more accurately estimate how much money you will need to borrow in student loans.
This number will be instrumental in determining the size of your monthly payments. The more your student loans add up to be, the more money you will need to pay toward your monthly payments.
Step 3: Federal student loan repayment options
For those who have borrowed federal student loans, consider your different repayment options. Most federal student loans run on repayment plans that aim to have the loan completely repaid within 10 years. Those who have consolidated multiple loans may have a longer repayment period. Visit the federal student loans website for more details on loan repayment plans.
Graduated repayment plan
With a graduated repayment plan, monthly payments will be smaller amounts at first before gradually increasing. Typically, with this plan, your monthly payments will be increased every two years. The amount you start with and the rate at which the monthly payments increase are calculated so that the loan will be paid off within 10 years.
It's important to remember that because all loans come with interest rates, the longer it takes to repay the loan, the more money you will need to pay in total. Paying off your student loans in a timely manner will help you avoid wasting unnecessary money on interest rate charges.
Extended repayment plan
In the extended repayment plan, borrowers who have more than a $30,000 balance in Direct loans will be eligible for much lower monthly payments. Consequently, however, under this plan loans will likely take a longer amount of time to pay off. Extended repayment plans typically aim to have loans paid off in under 25 years instead of 10.
Monthly payments might be either fixed or graduated, meaning you should discuss with your service provider whether the payments will increase with time or not. Borrowers should note that monthly payments in the extended plan will be lower than in the graduated repayment plan.
Income-based repayment plan
This monthly repayment plan is specifically designed for borrowers whose student loan debt is extremely high, relative to their income. In this plan, your income level will significantly affect the monthly payments you make toward your loan.
Monthly payments will be between 10% and 15% of the borrower's discretionary income. Discretionary income is essentially the amount of money you have left after accounting for taxes and necessities like food.
One caveat with the income-based repayment plan is that monthly payments cannot be more than what you would have paid under a standard 10-year repayment plan. As a result, this plan may be a good option for borrowers who struggled with the original standard repayment plan they were given.
As your income and family size change, your repayment plan may change as well. Payments will be recalculated each year with the expectation that your income may have changed. It's important to note that married borrowers will need to factor in their spouse's income if they file a joint tax return.
Step 4: Use a student loan payment calculator
It's unlikely that any borrowers will want to calculate their student loan monthly payments by hand. A student loan payment calculator may not be completely accurate, since interest rates vary between lenders.
However, it can be a useful tool for loosely estimating the amount your monthly payment will be. Consider using this federal student loan calculator to get an estimate of your monthly payment. Having an idea of what your monthly payment will be can help you plan for the future and decrease your federal loans.
Frequently asked questions
Is student loan forgiveness based on net or gross income?
Student loan forgiveness is based on adjusted gross income. Your gross income is the total amount of money you earned. Adjusted gross income is your total income minus eligible expenses. One type of eligible expense, for example, is student loan repayments.
Student loan forgiveness is available to borrowers who took out federal student loans and have an annual adjusted gross income of under $125,000 for individuals and $250,000 for households. If these terms apply to you, make sure to fill out the application for student loan forgiveness. Read our guide on student loan forgiveness for more details.
How much do you pay off student loans per month?
The amount you pay off your student loans per month is dependent on several factors, mainly your principal balance, interest rate, and income. The principal balance refers to the total amount of money you took out from a loan; as you start to pay off your student loan the balance will gradually decrease.
Your interest rate will be set by the lender, so make sure to compare private student loans and federal student loans to find the most favorable terms for your situation. Income matters in the sense that the more money you make, the faster you may be able to pay off your student loan. In addition, certain repayment plans, such as the income-based repayment plan, will use your income to calculate your monthly payments.
Monthly payments will vary depending on the financial situation of the borrower. On an income-based repayment plan for a federal student loan, for example, borrowers will pay 10-15% of their discretionary income each month.
Sign up today with Bold.org to take control of your financial future.