Best Law Schools in Georgia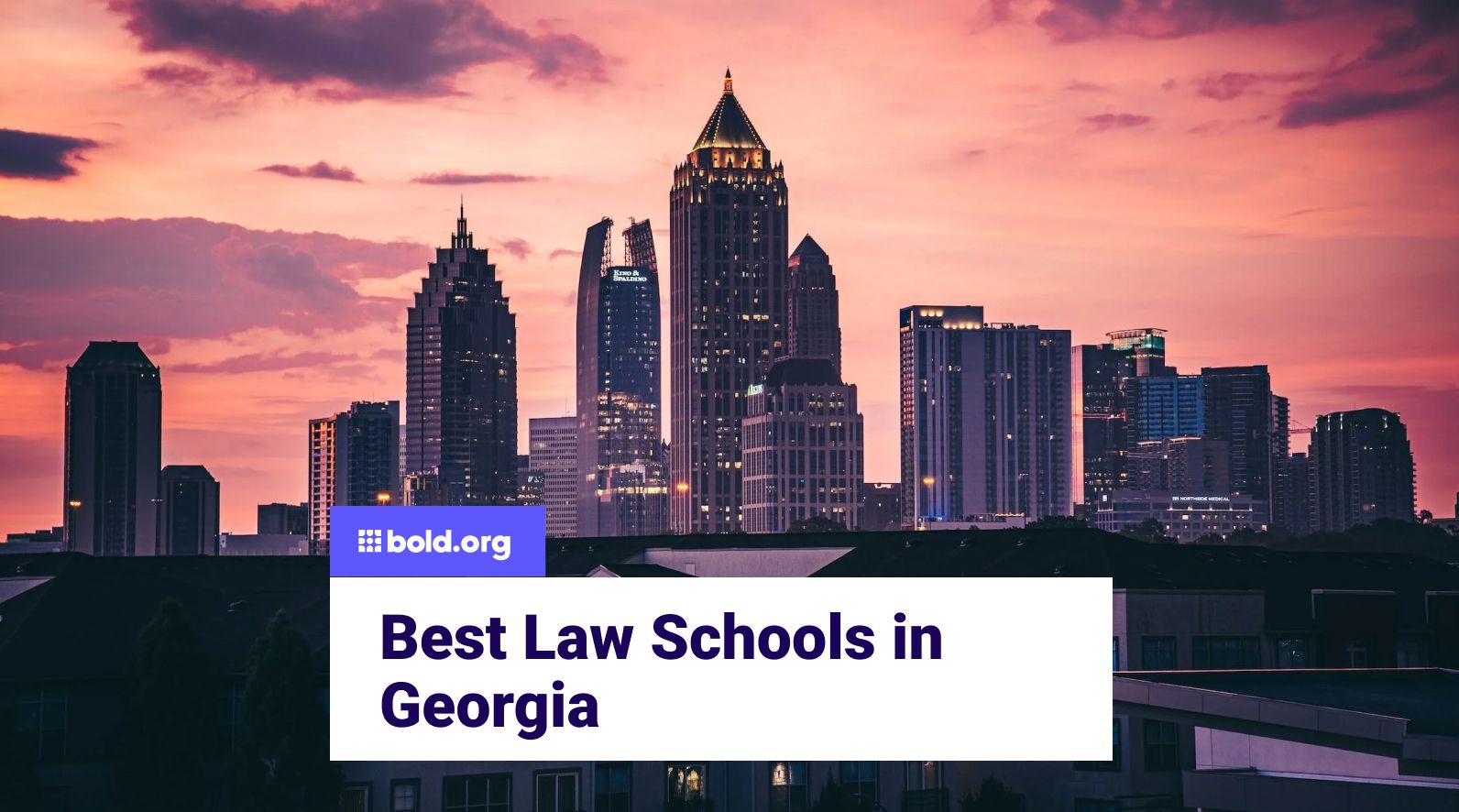 Top scholarships with upcoming deadlines
Georgia, a state known for its southern hospitality, peaches, rich history, diverse culture, and thriving economy, is also home to some of the finest law schools in the United States. Aspiring lawyers and legal scholars flock to Georgia to pursue their dreams of a legal career, and the state offers them a plethora of options when it comes to choosing the best law school.
In this article from Bold.org, we'll explore the top law schools in Georgia, their unique offerings, and why these schools stand out as centers of legal excellence.
The cost of law education is a common concern for aspiring law school students, who typically take on massive student loan debt to pay for their schooling. Applying for scholarships for law students is one way to reduce the financial pressure of attending law school.
Create a free Bold.org profile and apply for law scholarships and other academic scholarships!
The Best Law Schools in Georgia
Located in the vibrant city of Atlanta, Emory University School of Law is widely regarded as one of the premier law schools in Georgia and the entire Southeastern United States. Established in 1916, Emory Law boasts a rich history and a commitment to producing outstanding lawyers who are well-equipped to tackle complex legal challenges.
Emory Law offers diverse programs, including a Juris Doctor (JD) program, joint degree options, and various specialized LL.M. (Master of Laws) programs. Students benefit from a top-notch faculty, cutting-edge research centers, and a strong emphasis on experiential learning. The law school's close proximity to major law firms, corporations, and government agencies in Atlanta provides students with unparalleled networking and internship opportunities.
Furthermore, Emory Law is renowned for its commitment to public service and social justice. The school's "Commitment to Public Service" program encourages students to engage in pro bono work and community service, instilling a sense of responsibility and civic duty in its graduates.
The University of Georgia School of Law, located in Athens, Georgia, has a rich legacy dating back to 1859. With a strong focus on academic excellence and community engagement, UGA Law is consistently ranked among the top law schools in the nation.
UGA Law offers a rigorous JD program and specialized LL.M. and Master in the Study of Law (MSL) programs designed for non-lawyers. The law school is renowned for its comprehensive legal research centers and institutes, covering various areas, from environmental law to business and economic development.
UGA Law's strong commitment to public interest law and experiential learning sets it apart. The school's Public Interest Practicum allows students to work with nonprofit organizations, government agencies, and legal aid providers to address pressing legal issues facing underserved communities. UGA Law's commitment to diversity and inclusion is also evident through its various student organizations and initiatives to foster a more inclusive legal profession.
Get Matched to Thousands of Scholarships
Create your Bold.org profile to access thousands of exclusive scholarships, available only on Bold.org.
Create Free Profile
Georgia State University College of Law, located in the heart of downtown Atlanta, offers a dynamic and accessible legal education. The College of Law, established in 1982,  has quickly risen to prominence and is known for its innovative approach to legal education.
GSU Law offers a JD program with various concentrations, including health law, intellectual property law, and urban and environmental law. Additionally, the school offers specialized LL.M. programs in health law and taxation. GSU Law's proximity to government agencies, law firms, and corporate headquarters in Atlanta provides students with numerous opportunities for internships and externships.
One of the key strengths of GSU Law is its emphasis on experiential learning. The school's innovative experiential programs, such as the Philip C. Cook Low-Income Taxpayer Clinic and the HeLP Legal Services Clinic, allow students to gain real-world legal experience while serving the community. GSU Law is also committed to diversity and inclusion, with several student organizations and initiatives dedicated to promoting social justice and equity.
Learn more about Georgia colleges to find the best school for you!
Mercer University School of Law, located in Macon, Georgia, is known for its small class sizes and personalized approach to legal education. Established in 1873, Mercer Law has a strong tradition of producing ethical and skilled lawyers.
Mercer Law offers JD and LL.M. programs in federal criminal practice and procedure. The school's commitment to practical legal training is evident through its Legal Writing Program and comprehensive Legal Research and Writing Center. Mercer Law also provides students opportunities to gain practical experience as legal professionals through clinics, externships, and moot court competitions.
What sets Mercer Law apart is its strong sense of community. With a close-knit student body and accessible faculty, law students receive individualized attention and support throughout their legal education. The school also emphasizes the importance of ethics and professionalism, instilling these values in its graduates.
Atlanta's John Marshall Law School (AJMLS) is a prominent institution in Georgia's legal landscape, known for its dedication to producing practice-ready lawyers. Established in 1933, AJMLS has a long history of providing a high-quality legal education.
AJMLS offers a JD program and LL.M. programs in employment law and estate planning. The school's Practical Skills Program equips students with the practical skills necessary for success in the legal profession, including legal research, writing, and advocacy. Additionally, AJMLS offers a variety of clinics and externship opportunities, allowing students to gain hands-on experience in different areas of law.
The law school's location in the heart of Atlanta provides students access to a thriving legal community, making it an excellent choice for those seeking to establish a legal career in the city.
Bold.org offers students the opportunity to apply for Georgia scholarships!
Applying to Law Schools in Georgia
Applying to law schools in Georgia, like any other state, requires careful planning and attention to detail. Whether you're a prospective JD or LL.M. student, the application process can be exciting and challenging. This step-by-step guide will help you navigate the application process effectively.
1. Research Your Options:
The first step in applying to law schools in Georgia is to research the schools you're interested in. Consider factors such as location, program offerings, faculty expertise, cost, and reputation. Create a list of schools that align with your career goals and values.
Build your school list with our scholarship blog articles on the best law schools in California and Texas!
2. Take the LSAT (Law School Admission Test):
The LSAT is a standardized test required for admission to most law schools in the United States, including those in Georgia. Register for the LSAT well in advance, prepare thoroughly, and aim for a competitive score. Your LSAT score plays a significant role in the admission process.
3. Gather Application Materials:
Each law school may have specific requirements, but generally, you'll need the following documents:
Transcripts: Request official transcripts from all undergraduate and graduate institutions you've attended.
Letters of Recommendation: Typically, you'll need two to three letters of recommendation from individuals who can speak to your academic or professional qualifications.
Personal Statement: Write a well-crafted personal statement that explains your reasons for pursuing law and your qualifications.
Resume: Prepare a detailed resume that includes your academic, professional, and extracurricular experiences.
LSAT Score: Submit your LSAT score as part of your application.
Application Fee: Pay the application fee for each school you apply to, or explore fee waiver options.
4. Complete the Online Application:
Most law schools in Georgia use online application platforms like LSAC (Law School Admission Council). Create an account, complete the application forms, and upload your documents. Be sure to follow each school's specific application instructions.
5. Write a Strong Personal Statement:
Your personal statement is your opportunity to showcase your passion for law and your unique qualities. Be concise, articulate, and honest about your motivations and experiences. Tailor your personal statement to each school's specific prompts, if applicable.
6. Request Letters of Recommendation:
Approach individuals who can write compelling letters of recommendation on your behalf. These individuals could be professors, employers, or mentors who know you well and can speak to your qualifications and character.
7. Submit Your Applications:
Carefully review your applications for completeness and accuracy before submitting them. Pay close attention to deadlines, as missing a deadline can negatively impact your chances of admission.
8. Prepare for Interviews, If Required:
Some law schools may request an interview as part of the admission process. Prepare for interviews by researching the school, practicing common interview questions, and demonstrating your genuine interest in their programs.
10. Wait for Admission Decisions:
Be patient while waiting for admission decisions. Law schools typically send out notifications in waves, so the timing may vary. It's crucial to stay organized and promptly respond to any requests for additional information.
Frequently Asked Questions About Law Schools in Georgia
What are the admission requirements for law schools in Georgia?
Admission requirements can vary among schools, but generally, you'll need a bachelor's degree from an accredited institution, a competitive LSAT (Law School Admission Test) score, letters of recommendation, a personal statement, and a strong academic record.
Are there any part-time or evening programs available for working professionals with full-time jobs?
Yes, several law schools in Georgia offer part-time or evening JD programs to accommodate the schedules of working professionals. Schools like Atlanta Law School and Woodrow Wilson College of Law are known for their flexible program options.
How do I choose the right law school in Georgia for my career goals?
Choosing the right law school depends on your personal and career goals. Consider factors such as location, program offerings, faculty expertise, financial aid options, and the school's reputation. It's essential to visit campuses, attend information sessions, and reach out to current students or alumni to gather insights and make an informed decision that aligns with your aspirations.
Now that you've learned about the best law schools in Georgia, it's time to take the next step in your law school journey! Create a free Bold.org profile to apply for graduate school scholarships that can help you pay for law school!
And don't forget to check out our scholarship blog to learn about the best law schools in the United States and more!