10 Best Law Schools in Texas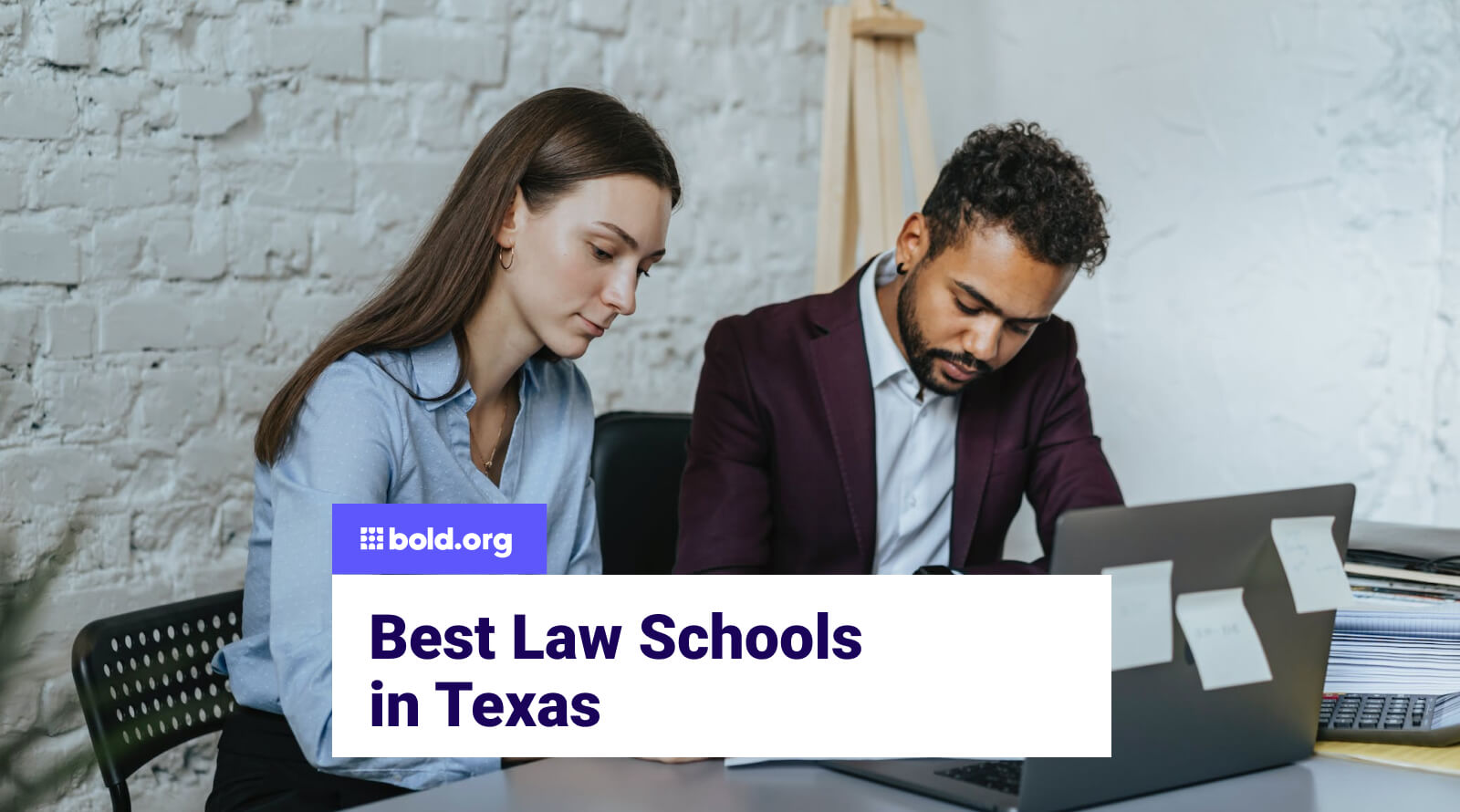 Top scholarships with upcoming deadlines
If you're considering law school in the future, your dream school might just be in Texas! Whether you're hoping to serve communities in need as a public defender or work in "big law" as a corporate attorney, earning a law degree from an accredited law program in Texas can help you get one step closer to actualizing your dream career.
The Lone Star State is home to fast-growing cities with diverse career opportunities in numerous sectors and some of the best - and most affordable! - law programs in the country.
Get Matched to Thousands of Scholarships
Create your Bold.org profile to access thousands of exclusive scholarships, available only on Bold.org.
Create Free Profile
Many students associate prestigious law schools with the financial sector in New York City or the reputable Ivy League schools on the East Coast. However, Texas' unique location at the US-Mexico border and rich history has made it an excellent place for prospective lawyers, prosecutors, and judges to earn their law degrees, as demonstrated by the many distinguished alumni who studied law in the state.
With so many Texas law schools to choose from, it can be overwhelming to figure out which law programs are truly the best. To help you with your law school research, Bold.org has organized a list of the Top 10 Law Schools in Texas, including information about which institutions offer law school scholarships.
As you prepare for your law school journey, check out this list of the Top 40 Law School Scholarships to Apply for in 2023. And don't forget to create a Bold.org profile to access our scholarship search engine and find more ways to finance your law education while reducing your student loan debt.
How To Choose the Right Law School
There is no one "best law school" that will ultimately fit every person's unique goals, budget, and preferences. Here are a few things to keep in mind as you consider which institution you should attend to earn your law degree:
Tuition and Fees:
It's no secret that law school is expensive! Tuition and fees can vary greatly from school to school depending on whether you choose to attend a public institution or a private one and whether you are paying in-state tuition or attending as an out-of-state student.
Additionally, some law schools may offer more generous financial aid packages and scholarships than others if they have more funding or if they support students with specific interests, such as working in the public sector. Make sure to thoroughly research the total cost of attendance as you're considering which law school to attend.
If you're looking for student loans to help fund law school, federal student loans from the Department of Education for graduate students will usually be your best option.
Law Fields and Specializations:
Every law school's curriculum and the fields of study they offer will vary, so keep in mind the field of law that you hope to practice after you graduate and start working in the legal field. Browse the course offerings and academics on law schools' websites to learn more about which specializations schools are known for and how different law schools rank in specific fields of law.
Employment Outcomes:
Look into which law schools have the best hiring outcomes among their graduates and the highest bar exam pass rates to get a better sense of career preparedness. Reaching out to alumni from a particular school and connecting with a school's career center are great ways to learn more about employment outcomes and plan for your future.
GPA and LSAT Scores:
You'll likely have a higher chance of being accepted to a law school where the average LSAT score and average college GPA of accepted students align closely with your own statistics.
While GPA and LSAT score are not the end-all-be-all of law school applications, researching statistics will help you narrow down which schools to apply to and classify different schools as "matches," "reaches," or "safeties."

Top 10 Law Schools in Texas in 2023
#1 University of Texas School of Law - Austin, TX
Bold.org has ranked the University of Texas School of Law as the number one law school in Texas! The University of Texas School of Law is located at the University of Texas's flagship institution of UT Austin. It offers a three-year Juris Doctor program and an L.L.M. program for lawyers seeking to specialize further or foreign lawyers seeking to practice law in the United States.
U.S. News and World Report Ranks Texas Law as the law school with the best starting salary-to-student debt ratio in the country. For the J.D. degree, students spend their first year studying foundational topics in our legal system. And in their second and third years, J.D. candidates can design a course of study that best fits their interests and career goals.
Dual degree programs are also available, combining a Juris Doctor degree with anything from a Master's in Social Work to a Master's in Latin American Studies.
First-year non-residents can expect to pay $77,420 in tuition and fees, while Texas residents will pay just under 60k at $59,753. Full-tuition scholarships are available for students interested in a career in public interest law through the William Wayne Justice Center for Public Interest Law Scholarships.
#2 Texas Tech University School of Law - Lubbok, TX
Texas Tech University has been ranked as number 12 by the American Bar Association for the percentage of graduates who are hired into full-time employment after graduation, and we've ranked it as the number 2 institution to get a law degree in Texas.
90% of the class of 2021 at Texas Tech University accepted positions before the release of bar results, and 95% were employed by the end of their graduating year. Dual degree programs are offered, so you can earn a J.D. along with an M.B.A. or an M.D. at Texas Tech.
Tuition and fees are $43,702 for Texas residents and $55,072 for non-residents. All admitted law students are automatically considered for any scholarship funds for which they are eligible, including merit scholarships.
#3 University of Houston Law Center - Houston, TX
The University of Houston Law Center is located, fittingly, in Houston, TX - the fourth largest city in the United States and home of one of the world's largest legal markets.
The Law Center offers both a regular, full-time J.D. program as well as a part-time evening program for prospective lawyers who have work or family obligations that may inhibit them from attending law school full-time. For the part-time program, students attend law school classes from 6 PM to 9 PM, Monday through Thursday.
Dual degree programs are offered at the Law Center as well, including MBA, MA, and Ph. D opportunities, and tuition costs $34,930 for Texas residents and $49,748 for non-residents. Unlike many other law schools, the University of Houston houses a financial adviser specifically within the Law Center to assist law students with navigating financial aid, student loans, and scholarships.
#4 Texas A&M University School of Law - Fort Worth, TX
Texas A&M University's School of Law ranks 10th in the nation and 2nd in Texas for full-time employment rates after graduation and bar passage, and Bold.org has ranked Texas A&M as 4th among law schools in Texas.
All J.D. applicants to Texas A&M are automatically considered for merit scholarships upon admission with no additional application, and non-residents can receive an exemption from paying out-of-state tuition through the Non-Resident Tuition Waiver program for Competitive Scholarship Recipients.
As a public institution, Texas A&M provides lower tuition rates compared to private law schools. Residents can expect to pay $32,634 in their first-year and non-residents will pay $48,618. In your first year, you'll build a solid foundation in law through core classes and support programs.
In 2L and 3L thereafter, you'll have the opportunity to develop a flexible curriculum by pursuing a general course of study or concentrating in becoming a business lawyer, regulatory lawyer, or an expert in litigation and dispute resolution.
#5 Southern Methodist University Dedman School of Law - Dallas, TX
SMU Dedman is located in the 9th largest city in the nation in Dallas, Texas, and offers J.D. candidates a small school experience with close-knit classes. You can earn a J.D., a J.D. and M.B.A. dual degree, or an L.L.M. degree from Dedman.
All applicants are automatically considered for scholarships. However, the Hatton W Sumners and Sarah T Hughes scholarships for entering law students require separate applications. Through the Sumners Foundation Scholarship, students can earn a full ride with all tuition and fees covered, including a living stipend, for permanent residents in Arkansas, Kansa, Louisiana, Missouri, Nebraska, New Mexico, Oklahoma, or Texas.
The 2021 bar exam pass rate is 85.94% for first-time takers among graduates from SMU Dedman. Tuition costs $59,286 for full-time students.
#6 St. Mary's University School of Law - San Antonio, TX
St. Mary's University Law School is the only law school to be located in a Catholic, Marianist institution in Texas. St. Mary's also offers the first fully online J.D. program accredited by the American Bar Association, so you're able to earn a law degree while taking classes in a virtual setting through St. Mary's.
The Law Success Program utilizes data-driven assessments and other methods to assist students with legal skills development, individual academic counseling, and bar exam preparation. This predictive modeling approach empowers St. Mary's to calculate factors that most contribute to bar pass rates and help effectively prepare for the bar.
St. Mary's undergraduate students are guaranteed admission first-year school, given that they meet GPA benchmarks and other requirements. Qualified undergraduates can earn a bachelor's and a law simultaneously through an accelerated program called the Nelson Wolff Law Early Admission Program.
Full-time students can expect to pay $51,058 to attend St. Mary's University School of Law.
#7 Baylor University Law School - Waxo, TX
Baylor Law School is one of the smallest law schools in the nation, with just 427 students total and 77 students entering in Fall 2022. Baylor offers a unique quarter system with four full quarters available throughout the year, including the summer. Law students are given the flexibility to begin their studies at any point in the year.
Baylor Law School has a competitive admissions rate of 30%, and Baylor law students passed the bar at a rate of 93.5% on their first attempt in 2019. Tuition and fees cost $61,877 per academic year.
#8 University of North Texas at Dallas College of Law - Dallas, TX
Among the several law institutions located in the city of Dallas, the University of North Texas is the only public law school.
UNT Dallas College of Law prides itself on offering engaging experiential learning opportunities that prepare law students to work in the field by learning both inside the classroom and out. Real-world practice abilities such as preparing an argument and managing a practice are prioritized in the curriculum alongside legal theory.
The school offers great value, with full-time Texas resident tuition costing only $18,744 in the 2020-2021 school year. Non-resident tuition was $31,314 in the same year. Financial aid is available, as are scholarships, including scholarships available to new freshmen.
Through UNT Dallas's Presidential Scholars Program, for example, freshmen can earn $66,800 over four years in scholarship money.
#9 South Texas College of Law Houston - Houston, TX
South Texas College of Law Houston is the oldest law school in Houston, Texas, dating back to 1886. The institution originally began as a law school that offered night classes for working professionals, and they now offer both a full-time and a part-time J.D. program.
Tuition costs $62,958 for full-time students and $50,000 for part-time students. Scholarships are available, and you can view the various scholarships offered on their academic works website page.
#10 Texas Southern University Thurgood Marshall School of Law
The Thurgood Marshall School of Law at Texas Southern University has a robust student body of Texas residents, with 73% of TSU students being in-state students.
Tuition costs $16,446, and merit scholarships are awarded for six semesters to students who remain enrolled and in good standing after receiving a scholarship. All admitted students are considered for scholarships on a rolling basis, so applicants are encouraged to apply by April 1st each year for the best chance at winning a merit scholarship.
Frequently Asked Questions
What Degree Programs are Offered at Law Schools in Texas?
Texas Law schools offer the traditional Juris Doctor or J.D. degree that most law firms and legal jobs require to practice law. Select institutions may also offer L.L.M. or Legum Magister (Master of Laws) degrees for lawyers who want to further specialize in a particular field or foreign lawyers hoping to practice in the United States after attending law school in another country.
Finally, dual degree programs allow law students to earn a J.D. alongside a Master's, Ph.D., or even M.D.
Now that you've learned about the best law schools in Texas, you're ready to start preparing for law school applications! Don't forget to search for law school scholarships on Bold.org and read more blog posts like these to learn about paying off student loans.