ACT Tutors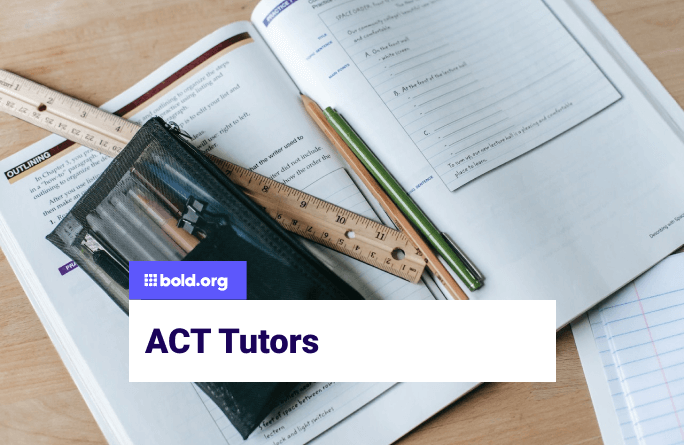 Top scholarships with upcoming deadlines
Though more and more colleges are making standardized tests optional, ACT prep and your ACT score can still greatly impact your college admissions. Many resources are available to students looking for ACT prep materials, such as Youtube videos, workbooks, and more.
However, ACT tutors can be one of the most effective ways to improve your ACT score. ACT tutors can tailor lessons to your needs, helping you study for the ACT in a more focused manner. Unlike general one size fits all ACT prep books, an ACT tutor can answer questions in real time and spend more time reviewing the ACT sections you find the most difficult.
In addition, going over ACT test-taking strategies and tips can also help boost your ACT score. Every student can learn different tricks and test-taking strategies to help them decide between similar answers and more.
Just as there are test-taking strategies for the ACT, there are also strategies for improving your chances of getting scholarships or financial aid. Bold.org offers free resources for all students, including helpful financial aid articles on the scholarship blog and access to hundreds of free scholarships.
Get the ACT score you need to achieve your college dreams with Learner's specialized ACT tutoring services. Take control of your future and schedule your session today to start your journey toward success!
Similar to the SAT, the ACT is a standardized test meant to help judge a student's academic capabilities. The ACT consists of four parts, which are all multiple-choice. These sections cover English, mathematics, reading, and science.
Unlike the SAT, ACTprep will require students to study scientific subjects to do well on the ACT science test. In this sense, the ACT provides a broader overview of a student's mastery over various academic subjects. Read about the two tests here for more information on how the SAT and ACT differ.
Students may want to take a few ACT practice tests and SAT practice tests before deciding which standardized test they want to put their time into. Spending weeks studying for both tests may not be a good use of your time, as any schools that require a test score will only require one or the other. Many students often feel more comfortable with the ACT or the SAT, so figuring out which one suits you more is a good first step before investing hours into ACT prep.
Are you ready to conquer the ACT and unlock your dream college? Let Learner's top-tier ACT tutoring be your guide you! Book your session now and make your dream a reality!
Is it worth it to get an ACT tutor?
Students may want to invest in improving their ACT or SAT scores because standardized test scores may affect their college admissions. Though the ACT and SAT are no longer mandatory at many universities and colleges, sending in an above-average score can still positively impact your chances of getting into your dream college.
As a result, it may be worthwhile for many students to work with an ACT tutor. A good ACT tutor can help you save time and improve your ACT score. An experienced ACT tutor can recommend a personalized study plan after reviewing a few of your ACT practice tests.
Taking many ACT practice tests can familiarize you with the exam and help you practice various questions. However, your practice exams can also show you which areas you need the most help with. General study tools will often spend equal time on each area of the exam, but your ACT tutor can focus more on the difficult sections and skip over the question types you perform well on.
This study method is often more effective than reviewing every question type and subject as often as possible. High school students often have limited time to spend on ACT prep, meaning every session with your ACT tutor counts.
In regards to how much of an impact your ACT score may have on your college admissions, an above-average ACT score can still help convince admissions officers that you belong at your dream college.
Especially for students planning to attend academically competitive schools, showing that you have the raw numbers with high test scores and a good GPA will look very good on your application.
Most college admissions teams will not penalize students in any way for choosing not to send in their standardized test scores but will take note of students who do send in an above-average ACT score.
Standardized tests aren't the only thing that matters when applying for college. Admissions officers consider many other factors as well, and beyond that, students should also educate themselves on how to transition from high school to college. Read here to learn how to prepare for college.
How much do ACT tutors charge?
The amount an ACT tutor charges depends on the tutor. Some factors may increase the cost– for example, if the ACT tutor you want works with a more prestigious company like the Princeton Review, they may charge more than a freelance ACT tutor.
An ACT tutor may charge anywhere from $50 to $200 an hour. Budget is often an important factor to consider when deciding which ACT tutor you want to work with, so be sure to contact them for their exact rates if the costs are not listed on their website.
How do I find a good ACT tutor?
There are many factors to consider when looking for a good ACT tutor. Their qualifications and credentials, teaching style, and improved margins are all good indicators of whether an ACT tutor is a good fit for you.
Generally, ACT tutors that have been teaching ACT prep for a long time will be more experienced and better equipped to provide you with effective test-taking strategies. Some ACT tutors work as freelance tutors, while others work as part of a reputable tutoring group such as Learner.
Learner may be the right choice if you are looking for reliable, experienced, and flexible tutors. With Learner, you can benefit from personalized tutoring sessions designed to meet your specific needs and learning style. Their expert tutors deeply understand the ACT and are passionate about helping students achieve their academic goals. Their online tutoring platform offers convenience and flexibility, allowing you to schedule sessions that fit your busy schedule. Whether you need help with a specific topic or require more general guidance, Learner's tutors can provide the tools and support you need to succeed.

So why wait? Book a session with Learner today and start your journey toward academic success!
In either case, positive reviews or working with a respectable tutoring group can help you judge whether an ACT tutor has the qualifications and experience to help improve your test score. It may seem as though any ACT tutor, as long as they have the right qualifications, will be a good fit for you. However, the most effective learning environment is comfortable for both the student and the teacher. No matter how smart your ACT tutor is, looking for a good personality match is always a good idea.
Students learn differently and, therefore, can also benefit from different approaches to ACT prep. Taking notes may work for one student, while flashcards may work for another. A student who has at least some idea of how they learn best can effectively identify ACT tutors that might work for them.
Improvement margins are another important factor in deciding which ACT tutor you want to work with. Some tutors will have an improvement guarantee— for example, if a student works with them for four weeks, they will experience a three-point gain in their test scores.
Other ACT tutors list examples of how much their past students have improved, giving you a general idea of how much your test score can improve if they don't list a guarantee or specific number.
It's important to note, however, that the point gain will ultimately depend on how much work the student puts in. Improvement margins are just one of several factors to be aware of when looking for the right ACT tutor.
How many hours should you study for the ACT?
How many hours you should study for the ACT depends on the student's capabilities, test date, and learning style. Ultimately, while students need to put in the time and effort to improve their test scores, time spent studying does not always directly correlate with your test score.
Naturally, students who study more will do better on the ACT than students who don't spend as much time preparing. However, no magic number for how many hours will get you a perfect score.
The amount of time students need to study depends on their target score. Most students will start their ACT prep by taking a few practice tests.
If the practice test scores are already close to their ideal score, they won't need to study as much. Students whose practice tests are far from their ideal performance will need to spend more time studying for the ACT.
In addition, students should be aware of their ACT test dates. Students who have an ACT test coming up soon may need to study for more hours each day, while students whose ACT test dates are further in the future can study for fewer hours a day over a longer period.
Sign up for a free profile with Bold.org today to learn how to write scholarship essays and more. Scholarships are a free form of financial aid that students can use to help pay for college fees.
Frequently asked questions
Do colleges still care about the ACT?
It's true that more and more universities are making standardized test scores optional and adopting a more holistic approach to college admissions. However, just like your GPA, a test score can help admissions officers determine how good your academic capabilities are.
Most students are accepted into colleges based largely on their academic performance and personal statement. The exceptions may be gifted athletes or artists who are judged on nonacademic performances. However, for the average student, submitting a strong ACT score can prove to admissions officers that you are capable of doing well at your school.
In addition, students whose high school GPAs are not as strong as they would like can consider submitting a high ACT score to counterbalance their GPA. Though one score will not cancel out the other, submitting both in your college applications can help admissions officers develop a more accurate picture of who you are.
There are many factors that go into submitting a strong college application, not just your ACT score and GPA. Read here for the complete college admissions guide to better understand how the process works.
What is a good ACT score?
A good ACT score depends largely on what college you want to get into. Academically competitive colleges, like the Ivy Leagues, will likely want to see a score that's close to perfect.
From there, a good ACT score varies from college to college. In general, researching the average ACT score at your target university is a good way to figure out what score you should aim for. Students should try to submit an ACT score that is on par with other students at that college or above average.
For more information on what a good ACT score is, read this article.
Is a private ACT tutor worth it?
ACT tutoring can take the form of larger classes, with lecturers and homework, or one on one sessions. Both methods have their pros and cons.
A private ACT tutor can give you more attention and focused feedback than an ACT prep class can. Students who don't have a lot of time to set aside for ACT prep may benefit from highly focused, effective sessions with a private ACT tutor.
Students who have upcoming test dates or want to drastically improve their ACT test score may also want to seek one-on-one help with a private ACT tutor to make their ACT prep the most effective.
On the other hand, students who just need a little extra help will likely be able to improve with a larger ACT prep class. In addition, signing up for an ACT prep class as opposed to a private ACT tutor may be less expensive, helping students save money.
For more tips on managing your student finances, applying for college, and getting scholarships, visit Bold.org's scholarship blog!