What Is the Interest Rate for Federal Student Loans?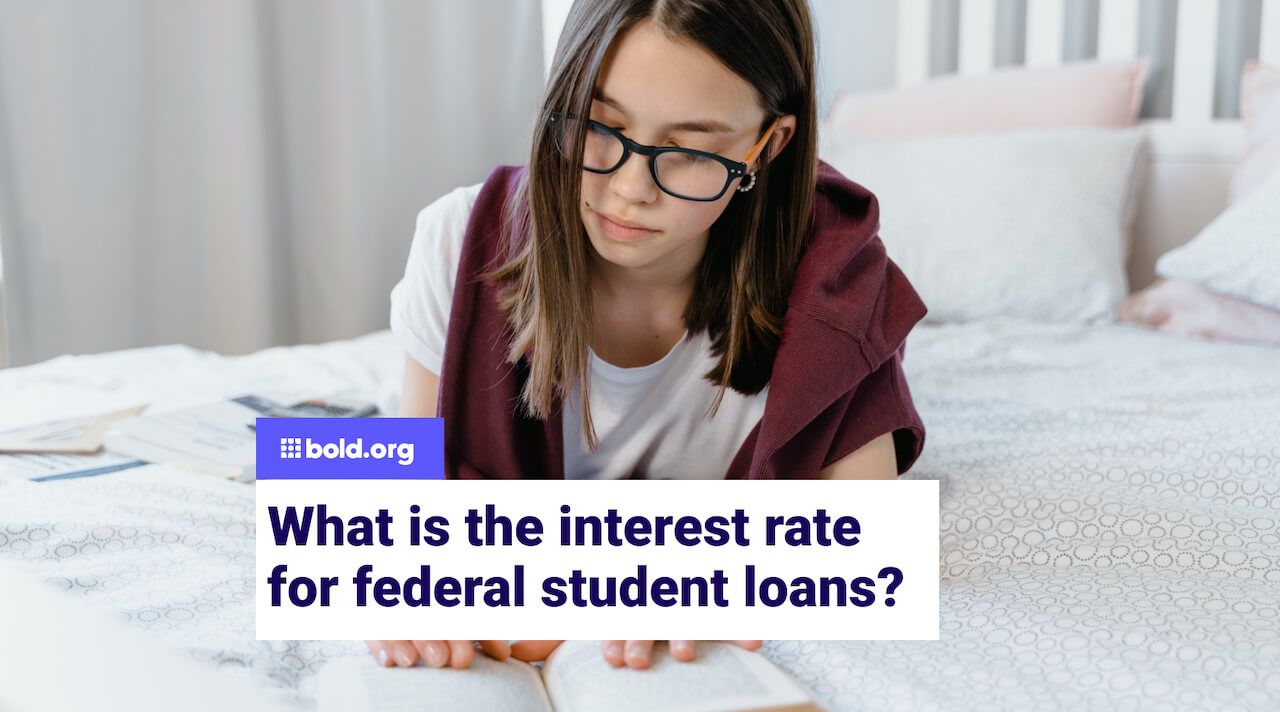 Top scholarships with upcoming deadlines
Student loan payments can be difficult to keep up with, but by understanding all the requirements of student loans, you can make smarter financial decisions as you go through college and even after you graduate.
On top of paying money towards their monthly student loan payments, students also have to pay interest on their federal and private student loans. The time when interest rates start for federal student loans depends on your loan type.
Direct subsidized loans have lower interest payments than other federal loans because the US department of education covers interest during school enrollment. Direct subsidized loans also have a 6-month grace period upon graduation, meaning you don't have to worry about payments right after graduation.
Direct unsubsidized loans have interest rates that start to accrue as soon as the day they receive the loan until the balance is fulfilled. Because interest accrues as soon as the funds are disbursed, these interest rates are much higher compared to subsidized loans.
Parent PLUS loans are exclusively for parents and guardians who cover the cost of college for their children. Similar to unsubsidized loans, a parent plus loan accrues interest the same day it is lent out to the borrower.
Create a Bold.org profile and use the scholarship search feature to access hundreds of exclusive scholarships before exploring student loans.
The U.S. Department of Education sets the interest rates for federal student loans every year. These standardized, fixed interest rates are usually better than the variable interest rates because they stay the same throughout the loan period.
For undergraduate students, direct subsidized loans and direct unsubsidized loans have a 4.99% interest rate on their student loans. Direct unsubsidized loans have a 6.54% interest rate for graduate or professional students. Finally, direct PLUS loans for parents and graduate or professional students have a 7.54% interest rate.
Get Matched to Thousands of Scholarships
Create your Bold.org profile to access thousands of exclusive scholarships, available only on Bold.org.
Create Free Profile
Among all existing student loan borrowers, 5.8% is the average interest rate. Federal loans may be the best option for undergraduate and graduate students. Interest rates through a private lender can be helpful, but it is important to pay attention to interest rates, as they can carry throughout the term of the loan.
If you are unsure if student loans would be the right choice to fund your college education, there are also plenty of other financial aid options that you can explore, including private scholarships. On Bold.org, we have scholarships that cater to every kind of student, including those struggling to pay their student loans after graduation.
Are federal student loans better than private student loans?
In terms of interest rates, federal student loans can be helpful for students who may not have built up a lot of credit. Federal student loans have fixed, standardized interest rates. The interest rates aren't based on your creditworthiness or financial background. Everyone who qualifies for a federal student loan receives the same interest rate.
But, private student loans can have benefits as well if you need more loans than federal student aid offers you. If you are a student with excellent credit and a high income or a co-signer with those qualities, you may qualify for lower rates on private loans.
Federal student loans also have other options for students, like income-driven repayment plans, more flexible forbearance and deferment options, and opportunities for loan forgiveness or cancellation. These options can help students deal with student loan debt and interest rates.
What is the current federal student loan interest rate?
In the 2022-2023 year, the federal government has given student loan borrowers an opportunity for relief. If your federal loans are eligible, the U.S. Department of Education automatically paused loan payments and set interest rates to 0% starting March 13, 2020. This payment pause continues until 60 days after President Joe Biden's student debt relief plan is resolved or after June 30, 2023.
If you're still borrowing for your education, the federal student loan interest rate for undergraduates is 4.99% for the 2022-23 school year. The federal interest rate for unsubsidized graduate student loans is 6.54%. For Direct Plus Loans, the rate is 7.54%. These rates go into effect on July 1.
What are the predictions for federal student loan interest rates for the next five years?
The federal student loan interest rates reflect the economic needs of the United States government and the students that need the loans. While it is pretty unpredictable how much the federal interest rate is going to change, looking at past changes can help. In the past five years, the interest rates for student loans have gone from 3.75% in the 2017-2018 period to 4.99% in the 2022-2023 period.
If interest rates follow this pattern, interest rates could reach almost 6% or 7% by the 2027-2028 school year. The federal government's focus on student loan relief could decrease interest rates.
Frequently asked questions about interest rates for federal student loans
Is 7% interest high for student loans?
Since the average interest rate for private and federal student loans is 5.8%, 7% interest is just above average. Although there may be student loans with lower interest rates, loans with a 7% interest rate, if it is fixed, could be a great option for students. Private loans, on the other hand, have interest rates that average around 6% to 7%. If you have good credit, you may be able to get a great offer for private student loans.
What is the highest student loan interest rate?
In 2022-2023, the highest student loan interest rate was reported for private loans, with a high of 12.99% interest. For federal student loans, though, the highest interest rate reported is 7.54% for Direct Plus Loans.
Why is it so hard to pay off student loans?
Interest rates make it extremely difficult to pay off student loans because the longer they are not paid, the more interest is accrued. In addition to large monthly payments, interest rates exponentially add to the total due every month. By paying off your loans quickly or using payment plans to spread out payment.
Check out these grants now to pay off student loans!