How to get a scholarship for baseball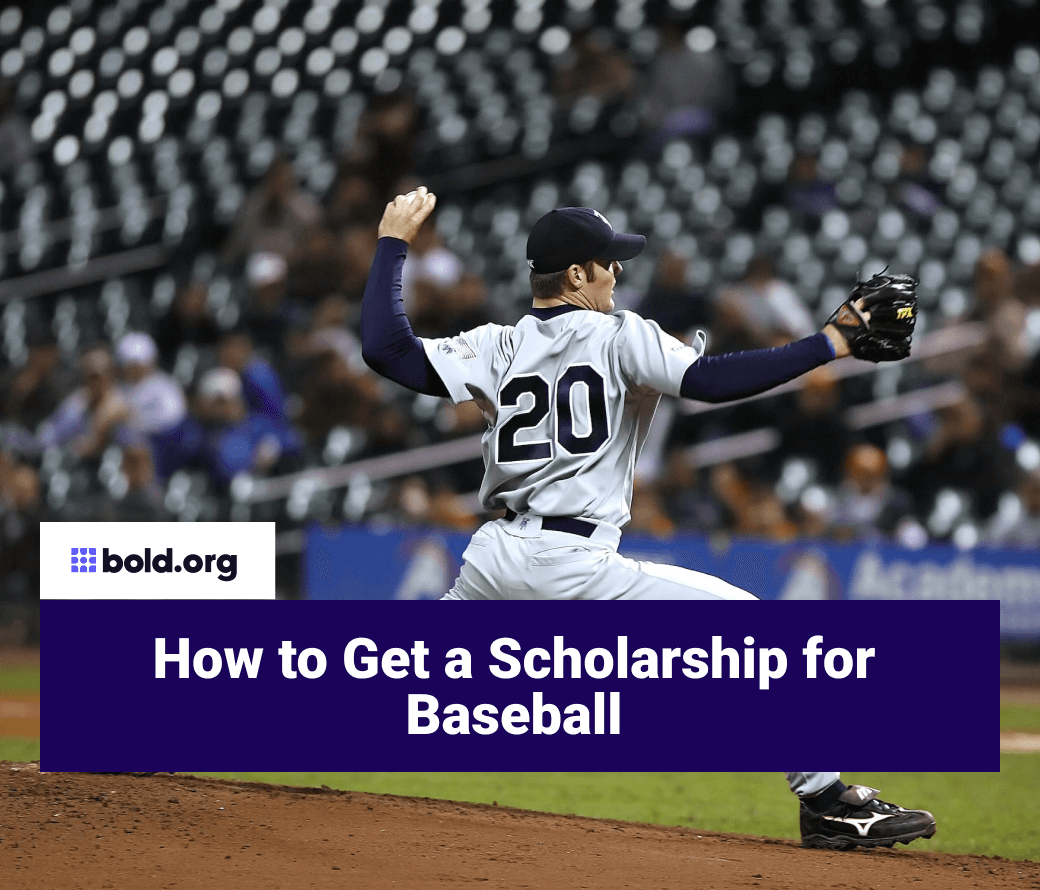 Top scholarships with upcoming deadlines
Many students who display an aptitude for baseball may be interested in baseball scholarships or other general athletic scholarships. Winning athletic scholarship money for college baseball can be very helpful for student-athletes who are looking for ways to finance their college education. A baseball scholarship can, in some cases, be easier to win than an academic scholarship if the candidate displays greater talent in athletics than academics.
Bold.org allows students to access hundreds of scholarships right at their fingertips. Sign up today to make a free profile and find scholarships that are right for you.
Baseball is an equivalency sport, meaning that college coaches can divide baseball scholarships among student-athletes. One scholarship can be split between multiple players. Because baseball is an equivalency sport, this also means that full-ride college baseball scholarships in college are extremely rare.
However, high school baseball players may have a decent chance at getting a full-ride scholarship, or close to it, if they attend a junior college. Junior colleges are typically used as an opportunity for high school baseball players to improve their grades and athletic skill before transferring to a four-year college or university.
There are 189 NCAA Division I junior college baseball programs that offer at most 24 full-ride baseball scholarships per team.
The availability of baseball scholarships may also depend on the NCAA division students compete in. In Division I, for example, there are 298 baseball programs that recruit student-athletes. There are a total of 11.7 baseball scholarships maximum available in each program. Students should consider which NCAA division they are most likely to get a scholarship in and research the availability in that division.
Lastly, many college baseball scholarships are single-year contracts. This means that college baseball players will need to renew their athletic scholarships each year. While baseball scholarships that cover several years of college do exist, most college coaches will hand out more single-year baseball scholarships than multi-year scholarships.
Visit the athletic scholarships page to see some of the best and currently available scholarships for student-athletes.
Qualifying for athletic scholarships
One of the easiest ways to get a baseball scholarship is to attract the attention of a college coach or recruiter. Many colleges will offer athletic scholarships to promising student-athletes as an incentive for them to join their baseball team.
There are some things high school baseball players should keep in mind if they want to be recruited. First, though grades may not matter in terms of how well a student plays, high school transcripts may be a factor in earning a scholarship. For example, most Division I scholarships will only be given to student-athletes with a 2.3 GPA or higher. Read this guide on division I scholarships to learn more. Students must also have competed for a certain number of English, Math, and Science courses to be considered for a scholarship.
For students who are academically ambitious as well as athletically inclined, the page on Ivy League athletic scholarships may be of interest to you.
Student-athletes should research the scholarship requirements for the division they hope to compete in and the schools they are considering. As such, student-athletes should make sure to complete the corresponding coursework during high school so that they will be able to receive scholarships in college.
High school baseball players should also research the athletic markers that college recruiters look for. Depending on the position a student-athlete plays, this could be a player's pitching speed, height, or other factors. Students should check to see what the benchmarks are for recruiters from their schools of interest and make sure they measure up by the time they graduate high school.
College coaches will also observe your behavior before and after the game. High school baseball players must demonstrate a strong work ethic and a dedication to practicing the sport if they want to be taken seriously at the college level. Good teamwork and collaboration are also valuable traits.
Research schools and college baseball programs
The earlier students begin this process, the better. High school students should look into a wide variety of schools and decide on a list of schools they would like to apply to. This list can continue to grow and change as students research more.
In order to increase their chances of being recruited, student-athletes should get in touch with the college coaches or staff at each school they are interested in. Students can film a video demonstrating their skills or write an email introducing themselves and explaining their interest in that school's baseball program.
Making unofficial visits to college campuses or sending follow-up emails are good ways to remain in touch with the coaching staff at your target schools. Students should continue to update their skills videos to show their progress and improvement throughout high school.
Apply to schools for college baseball
Finally, students should apply to the schools that they think best fit their skill level. By now, student-athletes should have a decent idea of how likely they are to be offered a spot on a school's baseball team through their correspondence with the coaches.
High school baseball players should consider the offers they receive from various schools and decide which offer will be most advantageous for them. Students should consider how much athletic scholarship money they will receive and what NCAA division the program is in, among other things.
After committing to a college baseball program, students should maintain contact with the college coaches over the summer to find out their new baseball team's summer workout schedule.
Frequently Asked Questions
Can you get a full scholarship for baseball?
There are very few full scholarships available for high school baseball players looking to earn a full ride for college baseball. Most scholarships will only partially cover a player's college education.
However, full scholarships are more readily available in junior college. Student-athletes may have a better chance of getting a full baseball scholarship if they apply to a junior college instead of a four-year institution.
What baseball position gets the most scholarships?
This is mostly dependent on what specific college coaches need to build a good team. A college baseball team may need student-athletes that fulfill different positions each year. Typically, the college baseball positions that get the highest priority when it comes to baseball scholarships are pitchers, catchers, shortstops, and center fielders.
For help with finding good baseball scholarships and accessing other free scholarship resources, sign up with Bold.org today.