How Much Financial Aid Can You Get?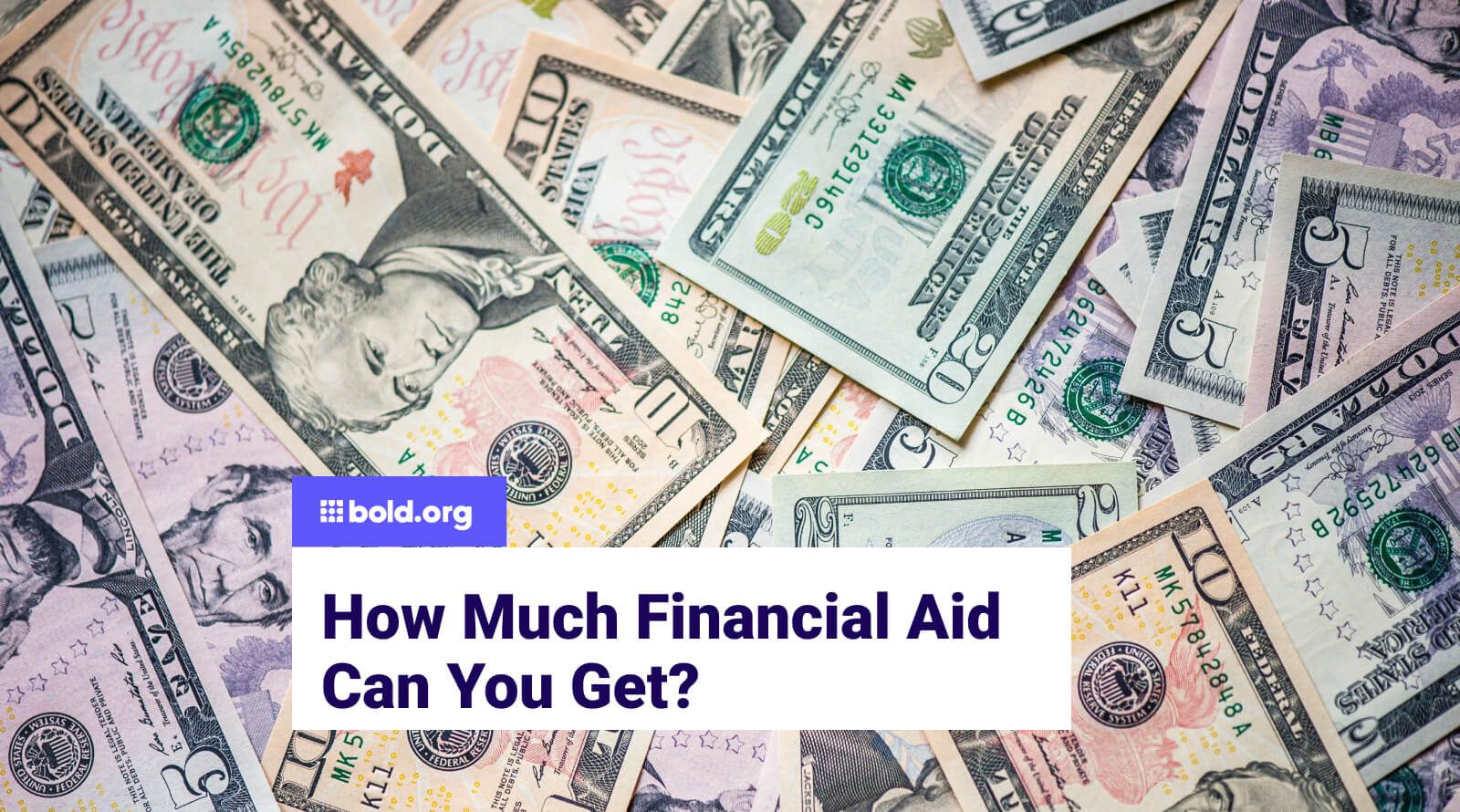 Top scholarships with upcoming deadlines
Without financial aid, many students would be unable to afford the cost of attendance at their respective Universities or Colleges. As college costs rise disproportionately to the household income, the lack of information regarding the extent to which financial aid can help may discourage students from pursuing higher education altogether.
When discussing financial aid, it is important to acknowledge that financial aid comes in a variety of different forms - all of which can work in conjunction with each other. To determine the maximum amount of aid you can receive, you must first explore which avenues are available to you.
The most common types of financial aid will be in terms of grants, scholarships, work-study programs, and loans. These resources for both undergraduate and graduate students are all provided by different organizations. In this article, we explore how these sources differ in terms of funds and long-term expenses on your financial health.
Create a Bold.org profile and use the scholarship search feature to access hundreds of exclusive scholarships now!
Federal government
Each year, the federal government opens up the Free Application for Federal Student aid (FAFSA) for students seeking postsecondary education to apply for their forms of financial aid. The application prompts questions pertaining to the applicant's household income.
If a student is still financially supported by parents(dependent student), then it may ask for the family members' personal information as well as their Expected Family Contribution. Most schools believe that parents should be responsible for paying the majority of the price tag for their children, if not independent students.
This information will be then assessed by the student's respective institution's financial aid office to determine a financial aid package, including the assistance of pell grants, work-study, and student loans. Although there is a maximum award amount, federal aid will prioritize students demonstrating exceptional financial need by giving them more money.
How much aid you receive will be fully contingent on your earnings, the school's cost of attendance, and enrollment status, with full-time students more favored for higher aid.
Get Matched to Thousands of Scholarships
Create your Bold.org profile to access thousands of exclusive scholarships, available only on Bold.org.
Create Free Profile
Pell Grant
The federal pell grant provides students with financial assistance to fund academic expenses. Unlike loans, they are not required to be paid back unless the student withdraws from the university before the academic year is over or in other certain circumstances.
While it fluctuates yearly, the maximum pell grant a student could receive within the 2022 to 2023 academic year is $6,495. The exact amount you are eligible to receive will vary based on the factors discussed above.
This grant is meant to help cover the full year, so if you were to qualify for the maximum award, then you would obtain $3247 for each semester.
Work-Study
Work-study is a federal program offering students jobs on or off campus. While regular employment may diminish your financial aid package, work-study does not! It only helps provide further funds on top of that already awarded.
Eligibility is determined by filling out the FAFSA, and your college must award you work-study to partake in it. Participating jobs typically include working at the bookstore, library, dining hall, or cafe, but they can vary based on your school.
It is important to note that being eligible for work-study does not guarantee a job; the student must apply and be accepted for the role. Similarly, the aid package will outline the maximum you can receive through this program.
The maximum is typically between $2000 to $5000. Students are not permitted to earn more than the amount outlined. Students are not allowed to take extra shifts or work more than one job if it means exceeding this amount.
Furthermore, all undergraduate students will be paid minimum wage hourly. These payments will be sent out on a bi-weekly or monthly basis directly to your bank account. It may be used for academic and living expenses.
Federal Student Loans
Although student loans are expected to be paid back upon graduation, it is still a form of college financing that aids students in covering their college costs. The amount you can borrow will depend on the loan and enrollment status.
The federal government provides two types of loans: Direct unsubsidized and Direct subsidized. Direct subsidized loans are more favored between both because the department of Education covers interest rate payments until the grace period ends.
Read our blog post to learn more about federal student loans.
In most cases, the student's school will determine loan eligibility using the information indicated in the FAFSA and your dependency status. There are limits on how much you can receive each academic year, and it may not be enough to cover desired financial need.
As with other federal financial aid, the amount given may be less than the annual limit. It is all indicative of determining which students need it the most.
Undergraduate students:
First-year Undergraduate Annual Loan Limit: $5,500 (Max $3,500 in subsidized loans)
Second-year Undergraduate Annual Loan Limit: $6500 (Max $4,500 in subsidized loans)
Third-year Undergraduate Annual Loan Limit: $7500 (Max $5,500 in subsidized loans)
Fourth-year Undergraduate Annual Loan Limit: $7500 (Max $5,500 in subsidized loans)
Graduate + Professional students
$20,500 (Subsidized loans only)
While these include the maximum amounts received through federal financial aid, remember that your awards might look a little different. To be eligible for the most amount possible, apply soon after the FAFSA is released in early October. Waiting too late can lose you thousands in aid!
Private student loans
Private student loans come from various sources, including credit unions and state-affiliated organizations. It is up to each of these individual sources to dictate their rules and regulations of how much a borrower can be eligible to take out and at what interest rate.
Instead of the FAFSA, private lenders will often use other factors such as a credit check, future projected income, co-signer information, and the total federal loan amount borrowed. This information will determine the amount of money they can trust you with.
While the answer can vary for every student, the maximum limit for undergraduate students is usually between $75,000 - $120,000 and $150,000-$300,000 for graduate students.
Reach out to lenders near you to figure out how much you qualify for.
Bold.org Scholarships
Bold.org is a platform that offers an abundance of scholarships catering to students from different backgrounds and expertise. Students are free to apply for as many scholarships as they qualify for and are not financially limited to a certain amount.
Students can fund their entire education by winning one big scholarship or accumulating the earnings of smaller ones. They can also apply as early as age 14, giving them more time to prepare and greater liberty in choosing schools.
Can you lose federal financial aid?
Yes, certainly. Student aid is a privilege authorized to be taken away if a student fails to uphold the expected conditions. It is important to be mindful when navigating your academic journey because it is difficult to regain your eligibility after losing access to financial aid.
Low GPA
To remain eligible for financial aid, students are expected to maintain at least a 2.0 on a 4.0 scale or C+ average. The U.S. Department requires that students demonstrate satisfactory performance and make valiant efforts to excel in their education.
Remember that this money is taken from another student to be given to you. Providers want to ensure that this higher education opportunity is being utilized.
Enrollment Status
Your financial aid award might be adjusted if you fall below the required full or half-time enrollment minimum. In most cases, this will result in the award being further assessed and divided accordingly.
Change in income
Federal student aid is awarded using the information included in FAFSA as they try to prioritize students with greater financial aid. Since a pivotal part of the application is accounting for Expected Family Contributions, this change might prompt a modified award.
Unfiled federal taxes
The FAFSA requires every applicant to provide their parent's tax documents. An application may not be completed until these required forms are sent in, thus making federal financial aid inaccessible.
Incomplete FAFSA form
The FAFSA is intended to be renewed every year, so failure to fill it out adequately and on time could diminish your eligibility. Make sure to double-check that it is completed by the priority deadline because turning it in too late could result in limited funds in aid.
Defaulted loans
A defaulted loan occurs when the borrower fails to pay the student loan repayment during the agreed-upon time frame. This usually occurs when a payment is delinquent for over 270 days. If this persists, you can be disqualified from receiving financial aid and receiving more student loans in the future, hindering your ability to pay for college.
Freshman Financial aid
To incentivize incoming students, your school's financial aid office might offer more college aid than when you were a freshman. The financial aid package might shift to account for more student loans instead of grants as you complete more years at the institution.
If any of these circumstances apply to you, consider contacting your financial aid office. It is easier to shift things around before the award is adjusted.
Do scholarships change the amount of aid?
The general rule implemented by most schools is that the amount of financial aid you receive may not exceed the cost of attendance. So, if you receive a scholarship from an outside source, such as Bold.org, for over $300, your financial aid package will be adjusted accordingly.
This does not necessarily mean that you owe more but that your scholarship will replace the funds provided by the financial aid package. Your school will decide whether that money is deducted from either the federal grants or loans.
If the scholarship supplements student loans, it will benefit your financial health in the long run. Communicate with your financial aid office upon being awarded a scholarship to see how it will affect your package.
All scholarships must be brought to their attention. Otherwise,  you could be "over-awarded." The exceeding amount then becomes your responsibility to repay.
List of Frequently Asked Questions
Can you appeal your financial aid award?
If you feel as though your financial aid office has not provided you with enough financial aid, then you may ask to have it reconsidered.
Most schools across the country consider appeals and encourage students to send them in if they need more financial aid. However, in order for the appeal to be approved, you have to submit additional information that was not indicated in the already submitted financial documents.
Potential examples may include recent unemployment, income change, or the death of a parent, among other factors.
At the end of the day, schools do not want their students bound by financial constraints. There is no harm in reaching out, but remember to be respectful even if the outcome is not desired.