Creating a budget for college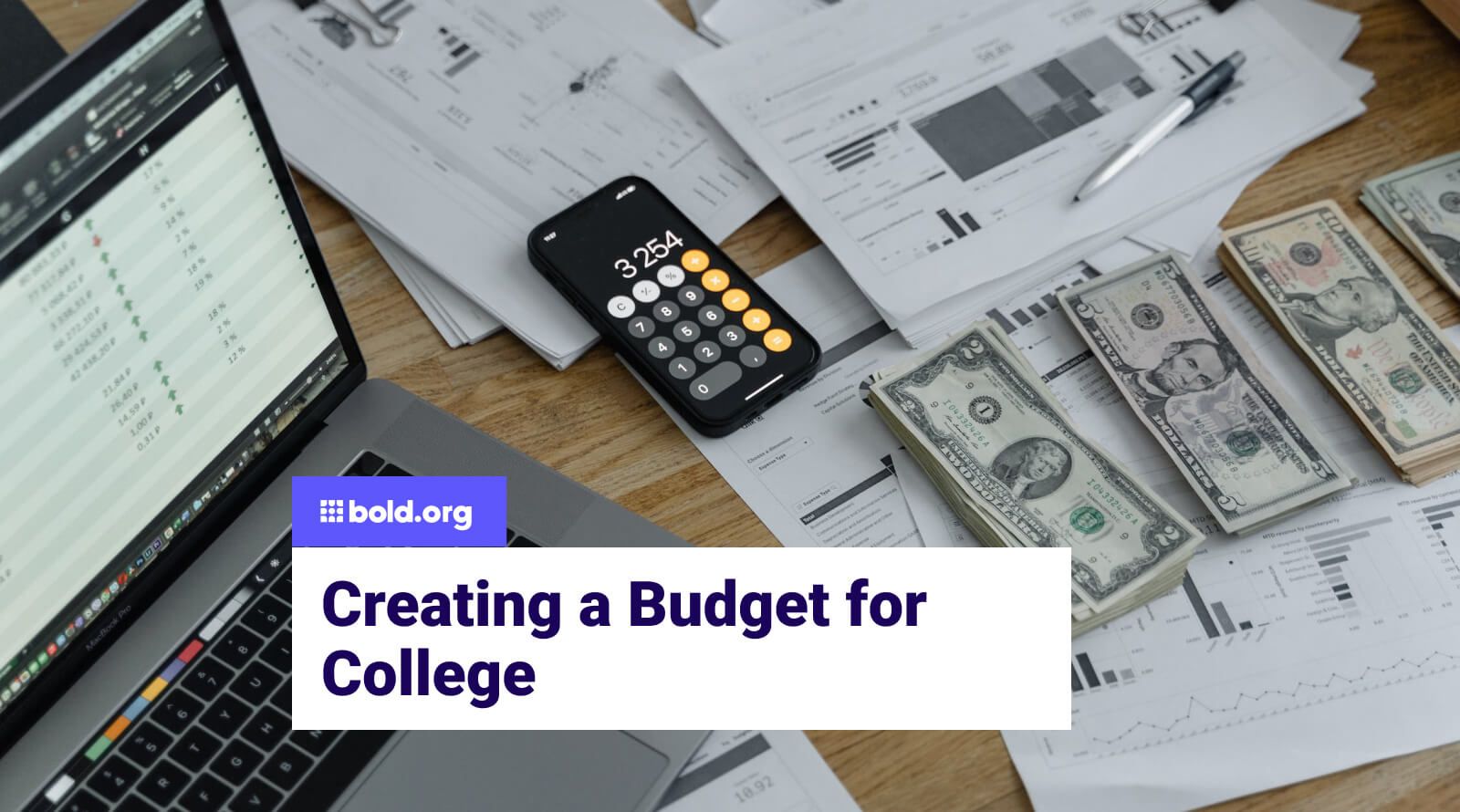 Top scholarships with upcoming deadlines
Building a college student budget is something all college students should consider. How students spend money, what their monthly income is, and how it affects their monthly budget are all factors college students should consider.
If you are not sure where to start when creating a budget for college, you are not alone. Managing finances while in college can be a great stress, but with proper planning and an eye for detail, you can effectively create a workable budget. Below you will find a guide for college students and adults to help build and keep a budget to keep your finances in check.
Sign up for a free profile with Bold.org today to gain access to hundreds of scholarships and free college finance resources. Scholarships are a great way to reduce the cost of college, which can be very helpful to students living on a limited monthly budget.
Applying for scholarships is easy, free, and can ease the strain of college finances for many students. For more resources on how to live on a college student budget, check out this guide on how to save money in college.
What is your timeframe for your college budget?
College students should think about whether they are budgeting for a month, a quarter, or an academic year. Most college students find it easiest to manage a monthly budget while keeping a twelve-month cycle in the background. Creating a timeframe is an effective starting point when making a college budget. When building your twelve-month budget, make sure to keep in mind various time-based expenses (books at the beginning of each semester, holidays, seasonal changes, travel, etc.).
What are the tools for making a college budget?
In other words, how do you bring a college student's budget to life? Some college students are most comfortable with paper and pencil while others prefer to use an online template like a spreadsheet. There is no universal answer for budgeting but attempting to keep it all in your head is a surefire way to set yourself up for failure.
College students should test out a few different ways to keep track of how often they spend money. Whichever method is easiest for you is the one you should consider sticking with for your college student budget.
What are the components of building a college student budget?
As simple as it sounds, it really comes down to how much money is flowing into your bank account and how much money is being spent from your bank account. The influx of money into your account, or income, can come from a variety of sources: a job, tax refund, support from family, financial aid credits, scholarships, grant, work-study, and other sources.
As you look at your total income for a given year, it is now important to assess the timing. In other words, you may only have a tax refund applicable in a single installment in April while a job will provide income throughout the year. When building your budget, determine a realistic income number and the timing of those deposits as a primary step in the process.
Several universities offer work-study programs, which can help mitigate fixed expenses like tuition costs. Check and see if this program would be plausible for you, and if your school offers it. Read this guide on what work-study programs are for more information.
Next, you will want to examine your known expenses or expenditures. Recording everything you currently spend along with likely expenses will help you mesh your college budget with your known income. This will help college students predict how often they can spend money.
If you are building a budget leading up to a transition to college, you will need to understand any and all specific expenses associated with college life that needs to be taken into consideration. Common expenses that need to be considered may include tuition, fees, books, supplies, equipment, home furnishings, utilities, food, entertainment, travel, rent, transportation, insurance, and discretionary spending.