Can I Get a Student Loan With Bad Credit?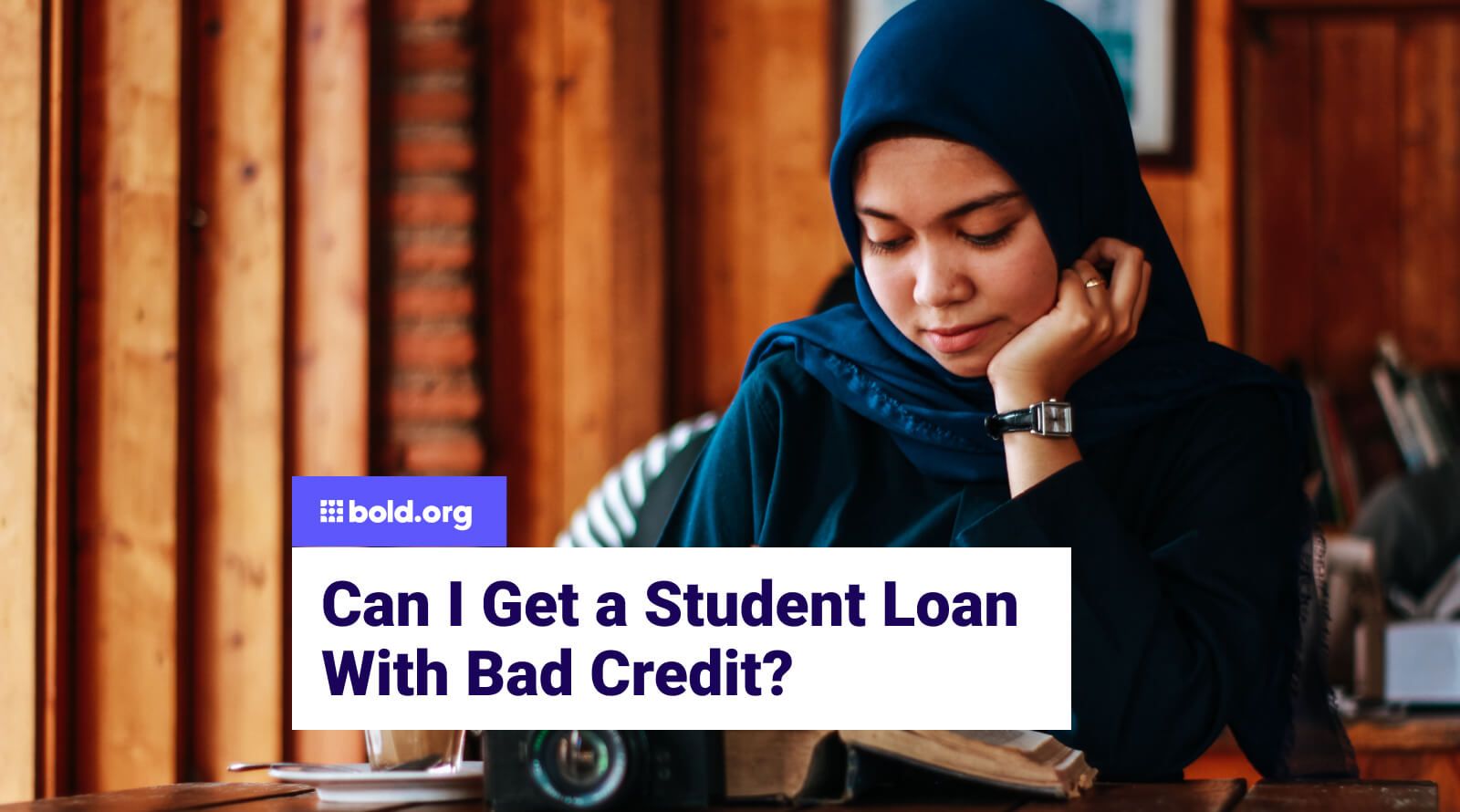 Top scholarships with upcoming deadlines
When discussing big financial purchases as costly as student loans, you might be prompted by loan lenders to present your credit score. This number indicates how reliable you are on paying loan payments on time which is calculated by past payments listed on your credit history.
With this in mind, poor credit scores can deter some lenders from trusting you with their money. Consequently, it can hinder any future investments toward a home, future rent, as well as taking out a student loan. However, exceptions exist, and a low credit score does not automatically disqualify you from obtaining a student loan.
All scholarship lenders implement different rules and regulations for eligibility criteria. Whether the credit score will be asked for depends on the lender. While it can difficult in certain circumstances, it is still possible to be approved for a student loan with a poor credit history.
Create a Bold.org profile and use the scholarship search feature to access hundreds of exclusive scholarships now!
Most federal student loans do not account for credit scores and primarily use the Free Application for Federal Student Aid (FASA) to evaluate applicants. Given the low-interest rates, grace periods, and exclusive benefits, students are encouraged to apply for federal student loans before exploring other options - especially if they have poor credit.
In cases where federal loans are insufficient to cover college costs, students will turn to private student loans to fund the remaining amount. Although most private lenders require a credit check, there are still ways to demonstrate your candidacy.
Get Matched to Thousands of Scholarships
Create your Bold.org profile to access thousands of exclusive scholarships, available only on Bold.org.
Create Free Profile
Ask Families and Friends to be a cosigner
More private student loans will be accessible with a co-signer that meets the minimum credit score requirement to share the financial responsibility of the loan. Co-signer responsibilities include legally agreeing to take over the remaining debt if the borrower fails to comply with the monthly payments on time. All missed payments will show up on their credit history, affecting their score.
Communicate this information with potential co-signers beforehand to ensure that this decision is feasible for both parties.
Find private student loans for bad credit
Many lenders understand that not all undergraduate students have opportunities to build their credit properly. While searching, look for student loans that accept applicants with bad credit and have lower eligibility requirements.
Make sure to properly assess different student loans and their interest rates prior to settling on one.
Consider refinancing Student Loans
Stay up to date with your student loan payments to build your credit report. A higher rate will make you eligible for refinancing your loan to one with a lower interest rate in the future. In the long run, this can save you up to thousands in monthly payments.
In order for this to work, it is important that your credit score is higher than it was upon taking out the student loan.
Apply to Bold.org scholarships
A good alternative to student loans are scholarships. They do not require any credit history nor repayments upon graduation and are the most sought form of financial aid. Bold.org offers abundant scholarships suitable for all students. You can apply as early as 14 during any point of the school year.
Your credit score is just one aspect of your financial health. It's a good idea to focus on building a strong financial foundation, which includes making timely payments, managing your debt responsibly, and building a good credit history.
How to improve your credit score?
As mentioned earlier, a bad credit score can affect more than just student loans. It can hinder you from getting a good credit card and affording a place to live. Given the magnitude of purchases that are dependent on your credit history, it is important to take steps to improve it.
While being a student with bad credit is certainly far from ideal, implementing a game plan can get you back in the running before you know it.
Pay bills on time
Payment history is the majority of information that is used to calculate credit scores. All payments that are paid late have the capacity to lower your score. If remembering to pay on time is difficult, consider enrolling in automatic payments.
Keep your credit utilization ratio low
The credit utilization score is among the most impactful factors in your credit score. It is determined by dividing your total debt by your available credit. Avoid overspending or unnecessarily utilizing your credit cards. A low ratio is indicative of your saving habits and how trustworthy you are with loans.
In addition to cautiously spending, you can ask your bank for a credit limit increase. Despite the increase, keep your spending habits the same as they were before.
Ask to be put on an authorized bank account
Building good credit is a process that can sometimes take years. A way to get a quick boost is by asking a relative or a friend with a high credit score and consistent patterns of making on-time payments to be an authorized user.
By doing this, the length of their payment history is factored into your credit score, which should boost it up by a couple of points. The extent will rely on the experiences indicated on your credit report. The newer you are, the greater the impact it will have.
Make sure your Credit report is Correct
Undetected mistakes on your credit record could be anchoring your score down. Double-check your credit history to ensure that the information is accurate.
What Can I Use My Student Loans For?
Upon receiving a student loan, the borrower legally agrees to use the money to fund appropriate expenses. Otherwise, you risk getting the student loan taken away and are required to pay it back in full.
Student loans can be used for all educational expenses including but not limited to:
Tuition
Books
Transportation
Study Abroad costs
Groceries
In short, student loans are there to help you attend college, so if it is a purchase, you need to live comfortably as a student then it should be covered. Reach out to your lender before buying anything you are unsure of.
Frequently Asked Questions
Can I pay student loans off early?
Yes, certainly. There are no penalties for paying off student loans early, and this might actually be beneficial in the long run. As student loans accrue interest, the longer time you are in debt will equate to how much you are paying.
If you have the financial means to pay it off early, you could save yourself thousands in monthly payments. It is just important to remember that you will most likely have other expenses on top of student loan monthly payments.
You should consider paying off student loans early after all your other financial obligations and high-interest debt have been accounted for. Otherwise, you could find yourself in serious financial trouble that can negatively impact your future income as well.
What if I cannot afford monthly payments?
If you are having a difficult time with repayment, it might be time to reach out to your lender. Often, waiting too long can result in serious penalties that are difficult to fix. Most federal and private lenders will try their best to accommodate your concerns, given the resources they have.
Federal student loans typically offer flexible repayment terms and allow for deferred payments or forbearance. This is only allowed for loans that are neither delinquent nor defaulted, so make to contact them before having financial difficulties. Every private lender will establish their own assistance agreements, so reach out to them and see what they can offer to help navigate any troubles.
Browse Bold's Scholarship Blog for more information about student loans!