Best Colleges in Minnesota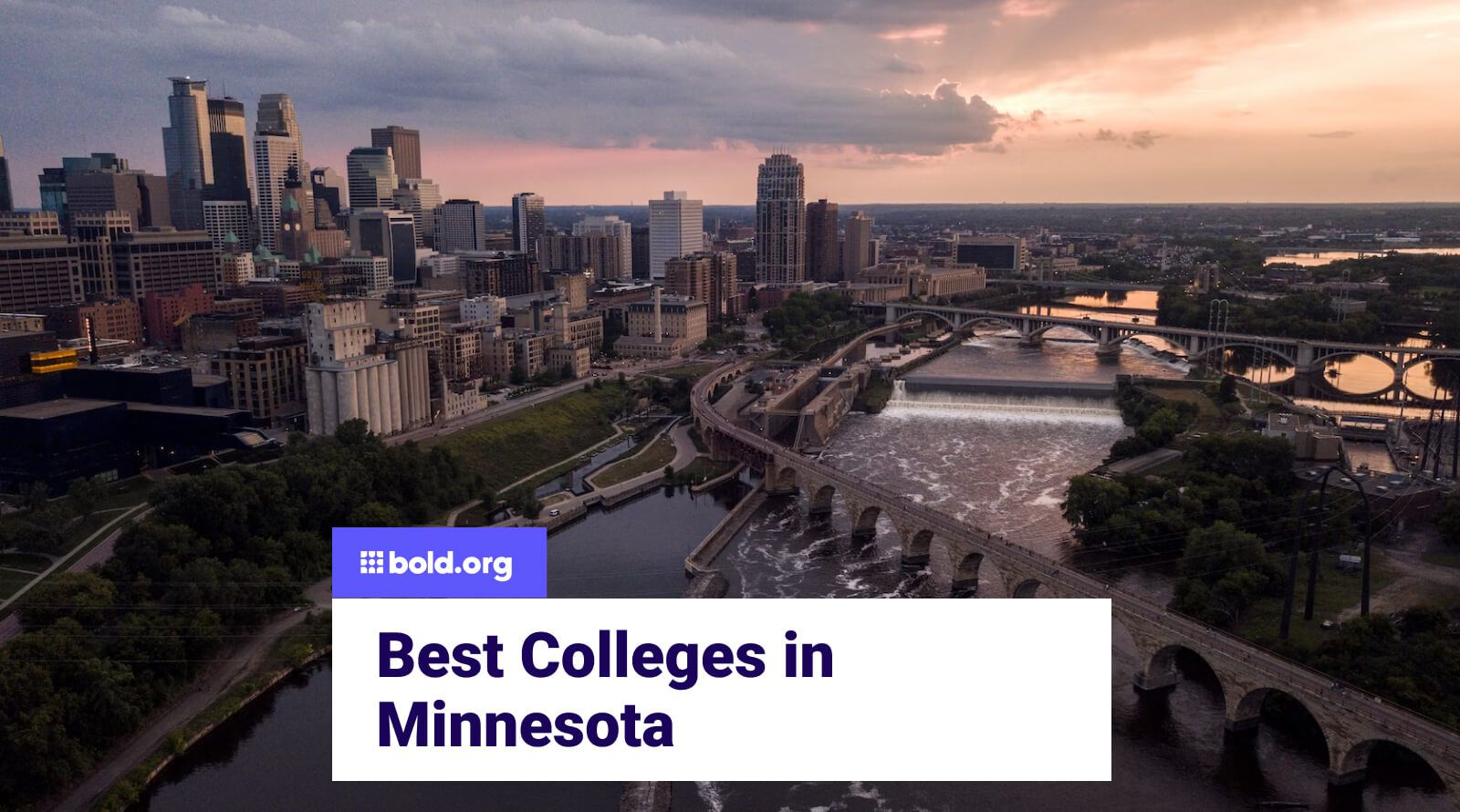 Top scholarships with upcoming deadlines
Around 402,729 students are currently enrolled in colleges in Minnesota. The North Star State has much to offer undergraduate students in terms of higher education since Minnesota is ranked in the top 15 of the best states for college students by Bold.org. Known as the Twin Cities, Minneapolis and Saint Paul are the biggest cities in the area. The Minnesota Twin Cities is home to many of the state's top colleges with academic diversity.
Be prepared to brace for the chilly weather from early November to early March. With over 10,000 natural lakes and places like the Mall of America in Bloomington— the largest mall in the United States— students fond of outdoor activities like hiking, camping, fishing, and winter activities can find them all here. The state of Minnesota is dense with many cultural landmarks and can be the ideal place to attend college and experience student life.
If you want to pursue higher learning in Minnesota, consider this list of some of the best colleges in Minnesota during your college search.
Create a Bold.org profile and use the scholarship search feature to access hundreds of exclusive scholarships!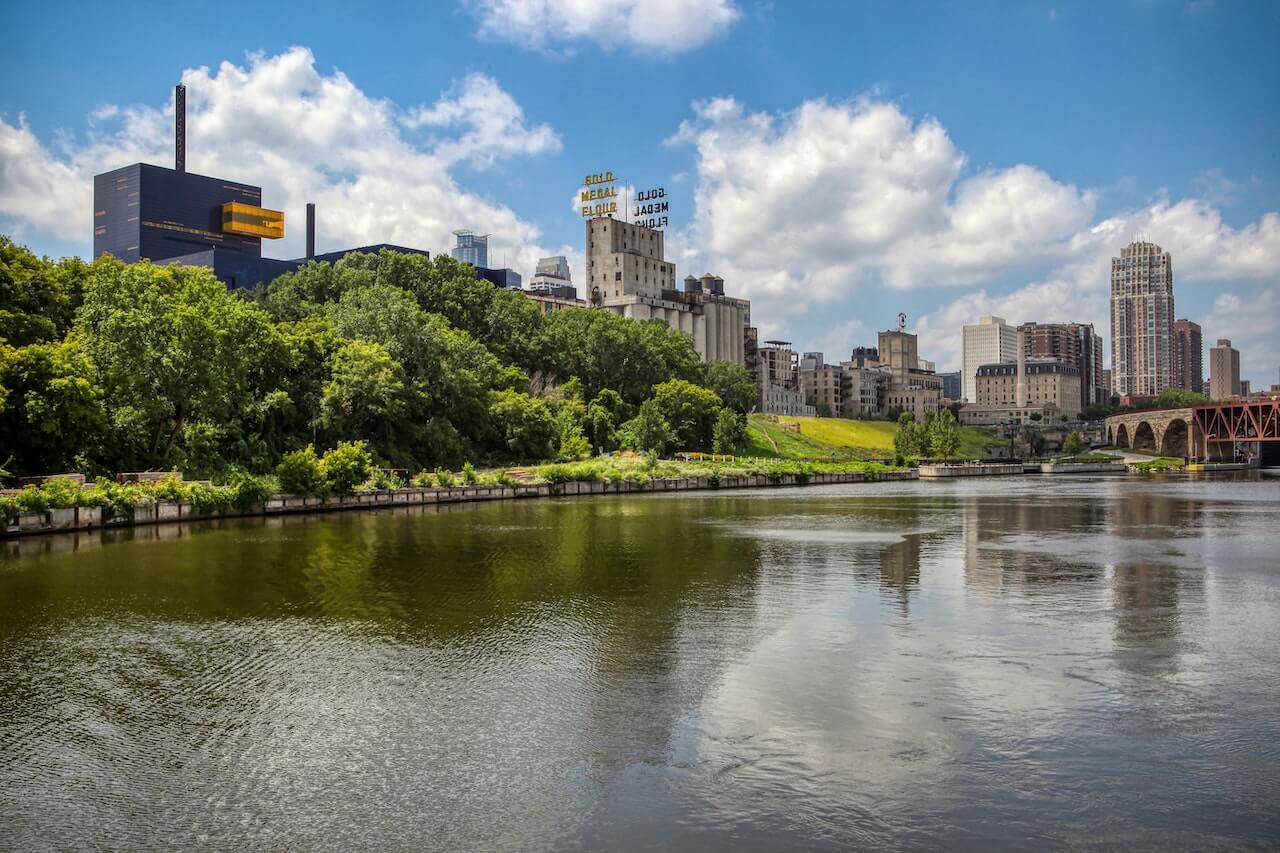 Best Public and Private Colleges in Minnesota
When listing the best colleges in Minnesota from nearly 200 public and private institutions, there are many things to consider. We factor in the school's reputation and acceptance rate. We also look at campus life and the academic excellence of current students. If you choose to complete a bachelor's degree, we want to make sure you get the best value in Minnesota for your undergraduate education. These top colleges are the best overall and are sure to be repeated in the other lists of Best Colleges in Minnesota for several majors.
University of Minnesota - Located in Twin Cities, this public university is the largest college in Minnesota and ranks 9th in the country out of a total of 500 public research institutions. The U of M is a prestigious choice with over 150 areas of study and is nationally recognized as one of the top public institutions in the entire country.
Minnesota State University - As the unofficial flagship of the Minnesota State system, the Minnesota State Mankato campus holds over 130 undergraduate programs of study and is recognized as one of the top 20 universities in undergraduate research in the United States.
Winona State University - Winona State University holds the #1 Student Success Rate in the Minnesota State system. It has also held the title of best public institution in Minnesota. It is also among the "Best in the Midwest" by the Princeton Review since 2003.
University of St Thomas - This private, non-profit university is the largest private institution in Minnesota where students have access to 21 Division I sports teams. This Catholic institution was listed top #11 best Catholic colleges in America. It ranked top 10 nationally and #1 in Minnesota for percent of undergraduates studying abroad.
Concordia College - Rated the #1 most affordable private university in Twin Cities. With over 5,000 students attending, it has one of the most diverse campuses in the area. Concordia College is affiliated with the Evangelical Lutheran Church and has the only NCAA Division II athletics program in the Twin Cities.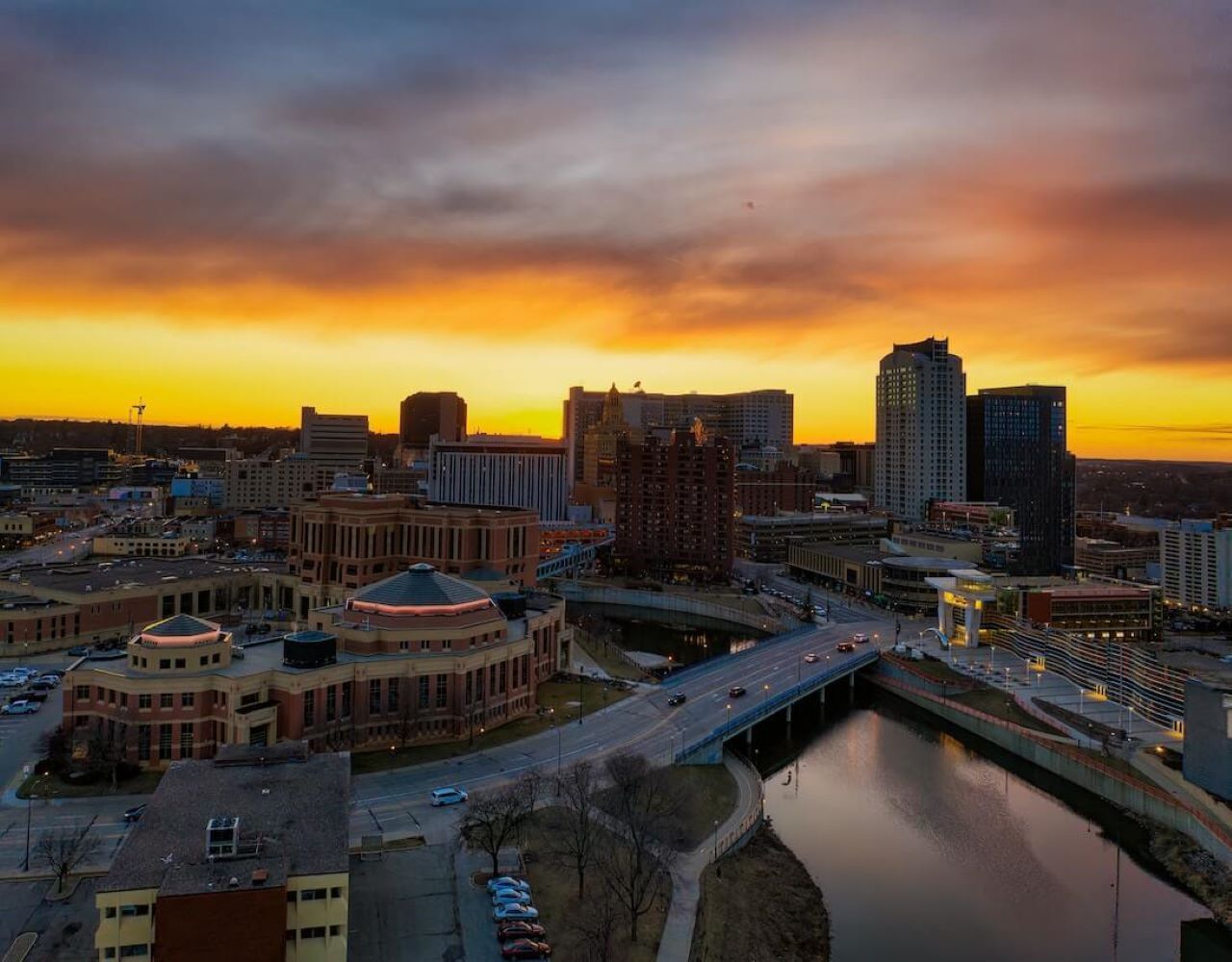 Saint John's University - Recently ranked #1 among the best colleges in Minnesota for getting a job. Washington Monthly also listed it among the top 100 national liberal arts colleges. Enjoy recreational activities on over 3,000 acres of woods, lakes, prairies, and even a private beach. While SJU is a college for men, its counterpart college for women, the College of Saint Benedict, is equally consistent in academic performance.
St. Catherine University - One of the nation's largest private women's universities. This Catholic liberal arts college values women's leadership and inclusivity, with BIPOC women making up 44% of the student body. St. Catherine University has many internship opportunities, with over 600 partners.
Macalester College - A private liberal arts college in the Minnesota Twin Cities that was in the #12 slot of best national liberal arts colleges by Washington Monthly. Due to their high rates of volunteer participation from students, Macalester College took the #2 spot on Princeton Review & Business Insider's top 25 best colleges for students who want to change the world.
St. Olaf College - In affiliation with the Evangelical Lutheran Church, this college is a leading national liberal arts college. The 95% of enrolled students that live on campus can enjoy 350 acres of restored wetlands, woodlands, and native tallgrass prairie in the surrounding area.
Carleton College - This private liberal arts college located in a historic river town is known for its academic rigor and its faculty that is committed to providing higher learning with even higher quality, which is how it earned the #1 spot for undergraduate teaching in the country.
Get Matched to Thousands of Scholarships
Create your Bold.org profile to access thousands of exclusive scholarships, available only on Bold.org.
Create Free Profile
Best Community Colleges in Minnesota
If you prefer learning through online programs or the idea of college for the full four years just doesn't sit right with you, rest assured that you can find options for associate-level degrees in Minnesota. Whether you plan to complete a technical certificate or transfer to a four-year institution down the road, these two-year colleges offer vigorous courses at low costs. If you plan to earn your associate's degree in Minnesota, check out these top community colleges in the state:
Ridgewater College - Ridgewater is proud to be ranked the #1 Minnesota Community College for 2020 and 2021. You'll find more than 100 degrees, diplomas, and certificates to explore. Enjoy a flexible associate education through hundreds of online programs.
Saint Paul College - This 2-year college was listed as #9 out of the top 50 community colleges in the United States. The perfect place for nontraditional students, who make up 44% of enrolled students. Students of color also make up 65% of the student body, making it one of the most diverse colleges in MN.
Anoka-Ramsey Community College - Despite having the lowest cost of tuition in Minnesota, this community college still offers quality education to students from two campuses in Cambridge and Coon Rapids. Choose from over 100 transfer courses and programs.
Minnesota North College - Originally named the Hibbing Community College, this public school is one of the country's oldest two-year colleges. As a long-accredited school, this reliable institute gives a transferrable education in a dynamic learning environment.
Lake Superior College - With over 90 associate degree programs, LSC offers affordable training for a wide range of in-demand careers. LSC also boasts a beautiful location in Duluth on a majestic 97-acre wooded lot overlooking its namesake, Lake Superior, and St. Louis River bay.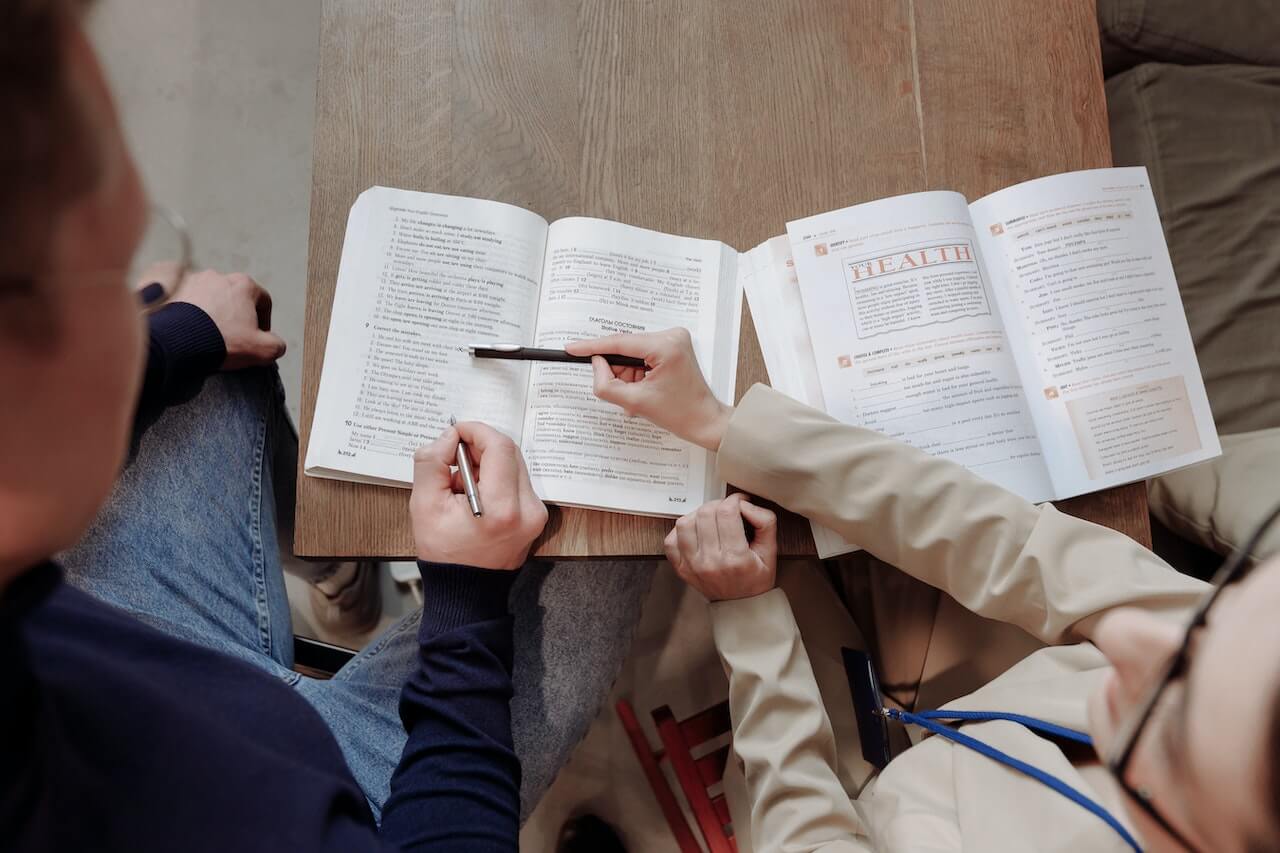 Best Small Colleges in Minnesota
Small colleges are defined as schools with less than 2,500 students. A smaller student-to-faculty ratio means a more interactive class and a stronger sense of community. You may benefit from more one-on-one interaction with your professors and enjoy more leeway in meeting your individual interests in the curriculum. The natural beauty of Minnesota can only enhance the small college life. The community you can find in these small colleges in Minnesota is worth looking into!
Carleton College - Carleton College took the #1 spot on The Wall Street Journal's list of the top 10 small colleges in the Midwest, and we understand why. Located in a historic river town, Carleton College is where you'll find a close-knit student body and a sense of community.
Saint John's University - Money Magazine ranks SJU and its counterpart, College of Saint Benedict, among the Top 50 small colleges in the nation. Set amid 2,700 acres of varied terrain, the Saint John's campus is remarkable in its natural beauty and recreational value.
Macalester College - The Wall Street Journal ranks it #2 among the top 10 small colleges in the Midwest. With its small 10:1 student-to-faculty ratio, you'll enjoy a welcoming community with the benefits of being in the Minnesota Twin Cities.
Gustavus Adolphus College - This small college joins the others as the top 10 small colleges in the Midwest by The Wall Street Journal, rounding off the list at the #10 spot.
Augsburg University - Community is a big deal for this small college. Listed as one of the best value schools in Minnesota for 2020, Augsburg ranked #3 overall for contribution to the public good in Washington Monthly 2019 College Rankings.
Best Technical Colleges in Minnesota
Technical colleges focus on preparing students to land entry-level jobs. A technical school boasts shorter duration programs to quickly land in-demand jobs. You'll focus more on career skills than on general education requirements at technical colleges, while still getting a quality education. Here's our list of the best technical colleges in Minnesota:
Pine Technical & Community College - Located in Pine City, MN. While enrollment at other postsecondary institutions in Minnesota has been trending downward, there was a 20% gain in enrollment from 2010-2018 at Pine Technical and Community College.
Hennepin Technical College - Through partnerships with employers, over 500 industry partners hire students and graduates from this technical school to jumpstart careers. It earned the Readers' Choice Award from the local Sun Current Newspapers for "Best Technical College."
Alexandria Technical & Community College - When comparing its tuition cost, reputation, and student success rate to other community colleges, ATCC was ranked #1 in Minnesota by several career experts.
Dakota County Technical College - This affordable, two-year school boasts 41 Associate's Degree Programs and 55 Certificate and Diploma Programs.
Minnesota State College Southeast - With over 100 majors and some available 100% online, MSC stands out with the inclusion of unique majors such as Band Instrument Repair, Guitar Repair & Building, Violin Repair, Bicycle Design & Fabrication.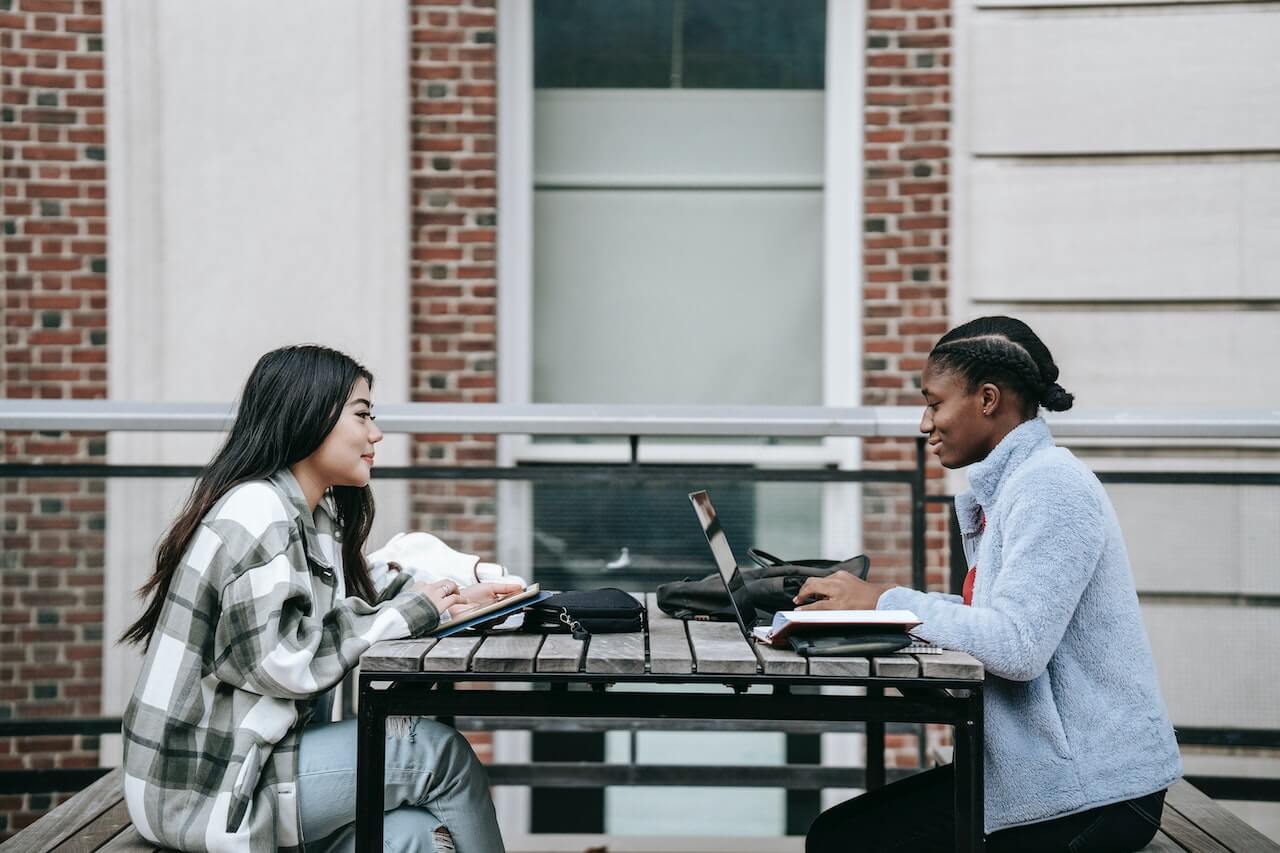 Best Pre-Med Colleges in Minnesota
Undergraduate students in Minnesota have access to internship opportunities at Mayo Clinic, which was named the best hospital in the United States in 2020-2021. Graduates in pre-med can continue their education at the graduate level at the Mayo Clinic College of Medicine and Science.
The following pre-med colleges are the best in Minnesota for preparing students to enter the workforce or to build a strong medical foundation before moving on to earn their master's degree or doctoral degree.
Carleton College - This well-rounded college is dedicated to preparing graduates for medical school through its Pre-health program. Students can also find meaningful networking through the Carleton Pre-health Association (CPA).
University of Minnesota Twin Cities - The campus boasts a robust pre-professional preparation, leading to a medical school acceptance rate significantly higher than the national average.
Macalester College - The Ruth and Vernon Taylor Fellowship Program allows students to job shadow in a healthcare setting to prepare for careers in healthcare professions.
Saint Cloud State University - Its pre-med program is distinctive, with a high success rate in admission to professional schools.
Bethel University - Bethel's pre-med and pre-health professions program offers 11 paths to a variety of healthcare careers.
Best Colleges in Minnesota for Science
"Turn on the science: Inspire learning. Inform policy. Improve lives." This mission statement by the Science Museum of Minnesota perfectly captures what you can do with a bachelor's degree in science. When you attend college in Minnesota, turn your interest in science and math into a career you'll love. Expand your higher learning at some of the best colleges in Minnesota for science.
Carleton College - Carleton has enjoyed a reputation as a science powerhouse for decades. In its STEM fields, 40% of students participate in mentored research.
University of Minnesota - At the College of Science and Engineering, choose from 20 undergraduate majors.
University of St Thomas - Through its College of Arts and Sciences, pick from 38 academic departments and interdisciplinary programs across four divisions.
Gustavus Adolphus College - Gustavus' program features rigorous science departments, research opportunities, and chances for employment.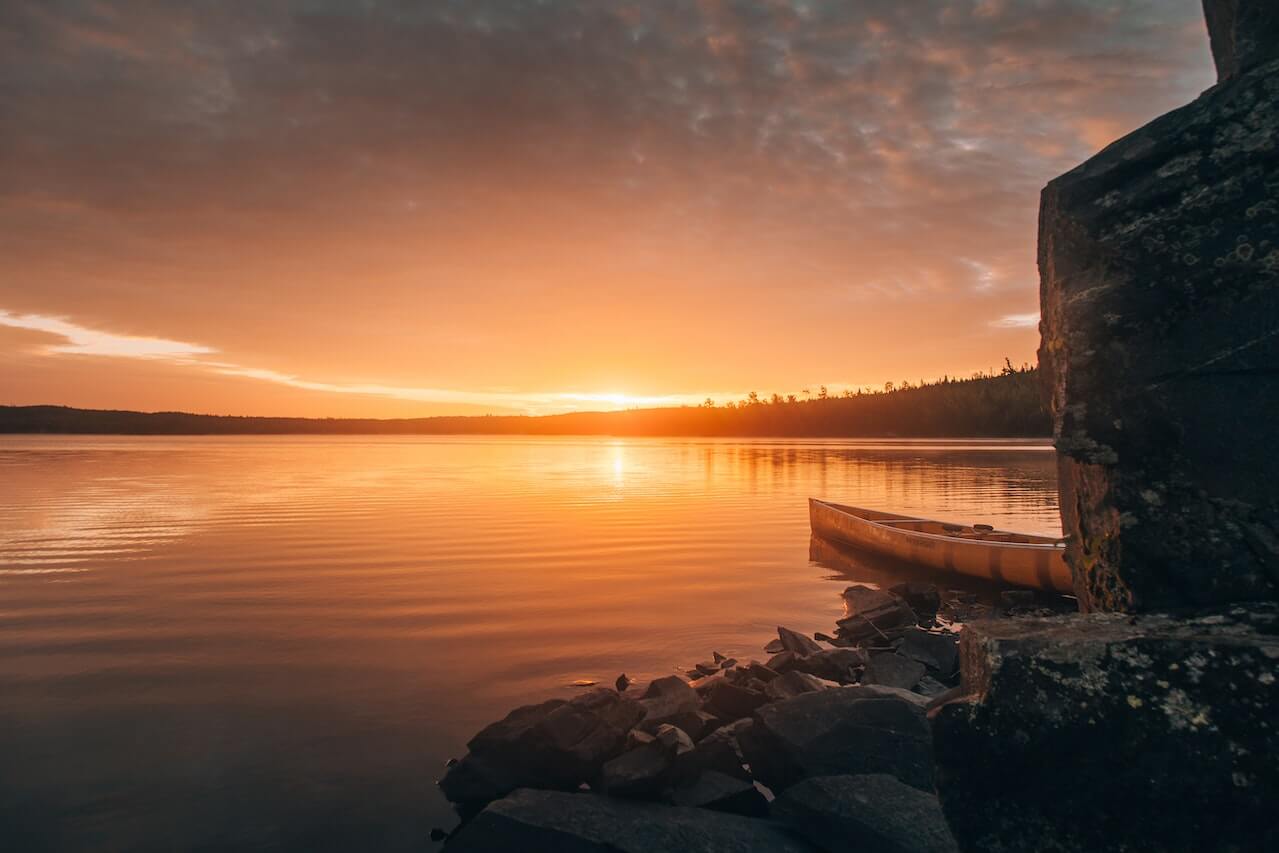 Best Art Colleges in Minnesota
The Minnesota Twin Cities are artistic hubs for those seeking creative careers, with internationally renowned institutions such as the Walker Art Center, The Minneapolis Institute of Art, and the Weisman Art Museum. Those with bachelor's degrees in art can be nurtured in Minnesota.
Minneapolis College of Art & Design - Named one of the top 5 art schools in the Midwest, MCAD is the place to be if you want to study art in Minnesota.
University of Minnesota - The Regis Center for Art is 145,000 square feet of space solely intended for creating and showcasing art. The art department offers four areas of study.
Minnesota State University - Both the Mankato and Moorhead campuses offer art programs and hold ten student exhibitions annually.
St. Olaf College - This college offers two separate majors in Art & Art History. You may be interested in their Fifth-Year Emerging Artist Program, a fifth-year art apprentice program providing a post-graduate year of studio experience.
Saint Mary's University - The Lillian Davis Hogan Galleries presents 6-8 exhibitions per calendar year. Spend time creating and exploring mediums in its various art facilities.
Winona State University - WSU offers four majors in Art Teaching, Graphic Design, I-Design, and Studio Art. The department also offers two minors in History of Art and Studio Art.
Best Business Colleges in Minnesota
Business is the most popular college major in Minnesota as a whole, which makes sense when seeing how much business majors can thrive in this area. For the corporate-minded student, Minnesota is home to 19 Fortune 500 companies. A bachelor's degree in business is highly valued in the Twin Cities, which offers many opportunities for jobs and internships among major employers where students participate in essential networking to build their careers.
Here are some of the best colleges in Minnesota with top-tier business programs:
University of Minnesota - The Carlson School of Management was listed in the top 10 of the best Executive MBA programs in Minneapolis. Its undergraduate business programs were also ranked among the top 20 by U.S. News & World Report and Poets & Quants.
Saint Mary's University - Listed #1 in Minnesota for its online program in Business Administration and #3 for the largest MBA programs in Minnesota, Saint Mary's University is best known for its undergraduate programs at its business college and has many programs tailored especially for nontraditional students. Business degrees earned from here are some of the best-valued degrees in the state.
University of St Thomas - St Thomas has one of the top 25 entrepreneurship undergraduate programs nationally by Princeton Review. It also makes the top 100 best business schools nationally by the Poets & Quants.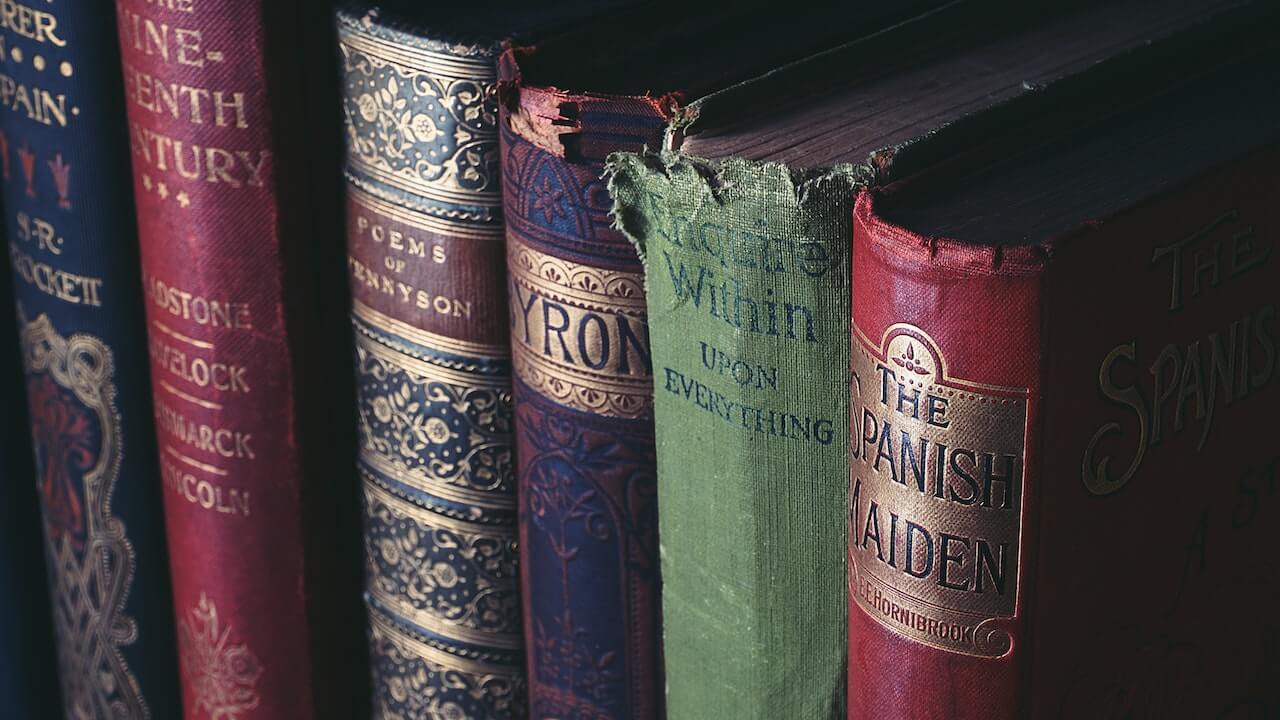 Saint Cloud State University - In 1976, the Herberger Business School became one of the few accredited business schools in the country. Today it is one of only seven AACSB accredited business schools in Minnesota and one of 935 programs in the world.
Hamline University - As Minnesota's first university, Hamline paved the way by educating the state's earliest leaders. The Hamline School of Business has a variety of business programs for both bachelor's degrees and graduate degrees.
Walden University - Enroll in a certificate program, or earn as high as a Ph.D. in business all online! Flexible learning allows you to tailor your education toward your career goals.
Best Colleges in Minnesota for Computer Science
You can get far with a bachelor's degree in computer science, and Minnesota schools have a long history of teaching it. Data centers and other industries where CompSci professionals can excel comprise some of Minnesota's largest industries. CompSci related careers in Minnesota are in demand and offer competitive salaries, which typically prove higher for degree holders from in-state.
St. Olaf College - The courses span national expectations for Computer Science curricula, with resources for students to conduct summer research projects and find internships.
Carleton College - This school is highly competitive, being one of the finest schools to earn your CompSci degree. It was the highest-ranked college to study CompSci in Minnesota.
University of Minnesota - In 2020, the U of M was the #26 computer science university in the United States (11th among U.S. public universities and #40 in the world).
Saint John's University - Career experts put the bachelor's program at the school solidly in the top 15% of all colleges and universities in the country for CompSci. It also ranked #6 in Minnesota.
Discover valuable insights, tips, and inspiration by immersing yourself in Bold.org's Scholarship Blog!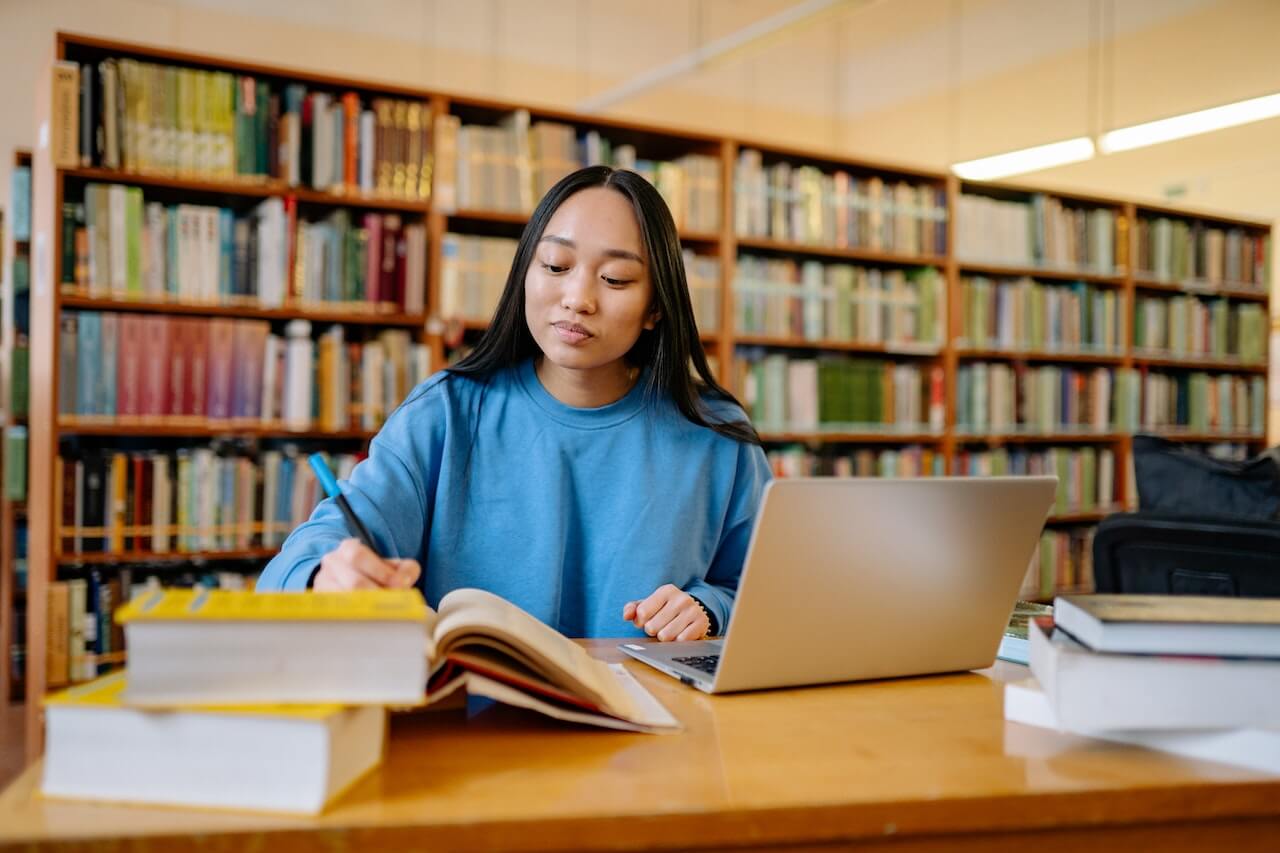 Frequently Asked Questions About Minnesota Colleges
How many colleges are in Minnesota?
There are nearly 200 public and private institutions. From this total, the Minnesota State system has 30 Minnesota State Colleges and seven universities serving over half of the state's student body. The University of Minnesota system has five campuses across the state in the Twin Cities, Crookston, Duluth, Morris, and Rochester. The average cost of MN tuition and fees from these colleges is $11,748, with an above-average 36% graduation rate.
How many community colleges are in Minnesota?
Minnesota has just over 30 community colleges and technical schools where you can pursue a two-year education.
Is community college free in Minnesota?
In 2015, Minnesota took the first step in the right direction. Minnesota Senate Bill 5 created the College Occupational Scholarship Pilot Program, which lasted through 2018. Although tuition for community college is not currently free in Minnesota, many residents and representatives are pushing to support debt-free community college.
As of 2022, a state grant program has been proposed to cover tuition and fees after deducting federal aid for state residential students within certain income brackets. While free community college in Minnesota is still just an idea, there are still many opportunities for financial assistance.
You can visit this How Much Does College Cost? guide to learn more!
Can I receive financial aid while attending a Minnesota college?
In Minnesota, 64% of college students graduate with student debt, and 16% of graduates take private student loans that they now have to pay off. Many opportunities for financial aid are available when choosing to attend colleges in Minnesota. The first step in applying for financial aid is to complete and submit the Free Application for Federal Student Aid (FAFSA), which is used to apply for federal and state student grants, work-study aid, and loans.
Many of these colleges listed above have campus-based and merit-based financial aid opportunities. Check with your university's financial aid office to explore and apply for these opportunities.
Bold.org is also a great resource to have under your belt. New scholarships are constantly added that Minnesota students may be eligible for. Check out Minnesota Scholarships, exclusively available on Bold.org.