Bold.org Scholarships Blog
Most Popular College Majors in 2022
Choosing what you study in college is a big deal. It can be a determining factor in what career field you work in and what you end up doing for the rest of your life.
We wanted to know what fields students are most interested in, so we took a look at our database of over 1.5 million students to find out what majors are the most popular in the United States. Take a look at what we found out!
Breaking down the most popular college majors in 2022
---
Most popular college major by state
After analyzing the preferences from our user database, there were a few commonalities that were found. Specifically, here's what was discovered when it came to the most popular college major in each state: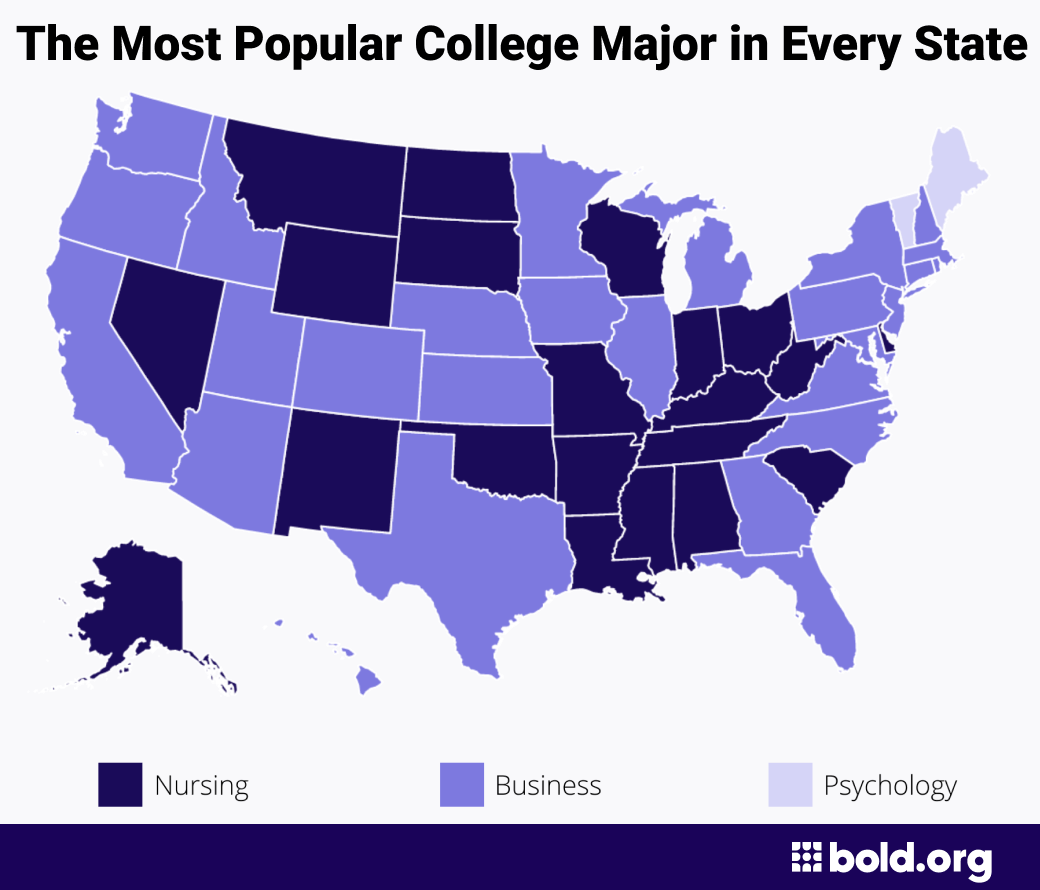 Top Ten College Majors in the United States
Check out the top ten majors in the nation! Each of these majors is important in its own way and we'll likely see many more students entering careers in these fields in the upcoming years.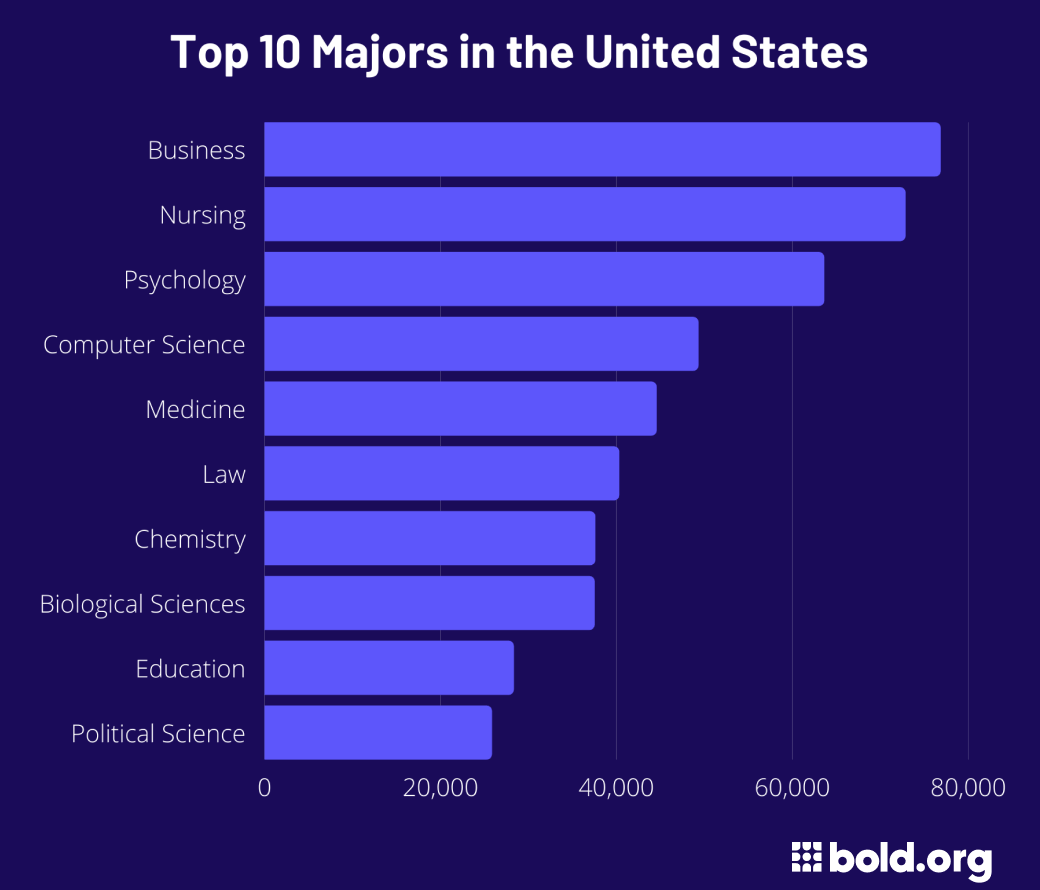 Business, Management, Marketing, and Related Support Services topped the list at number one. This may not come as a surprise to many with the number of new startups and companies popping up all over the country.
Nursing-related majors came in second, and we've seen just how important nurses are over the last few years and what kind of difference they make in the overall health of our nation.
Other majors that made the top ten list are psychology, computer science, medicine, law, chemistry, biology-related majors, education, and political science and government.
Most popular college major by graduation year
Have the most popular majors always been the same over the years? Or have they shifted with each graduating class?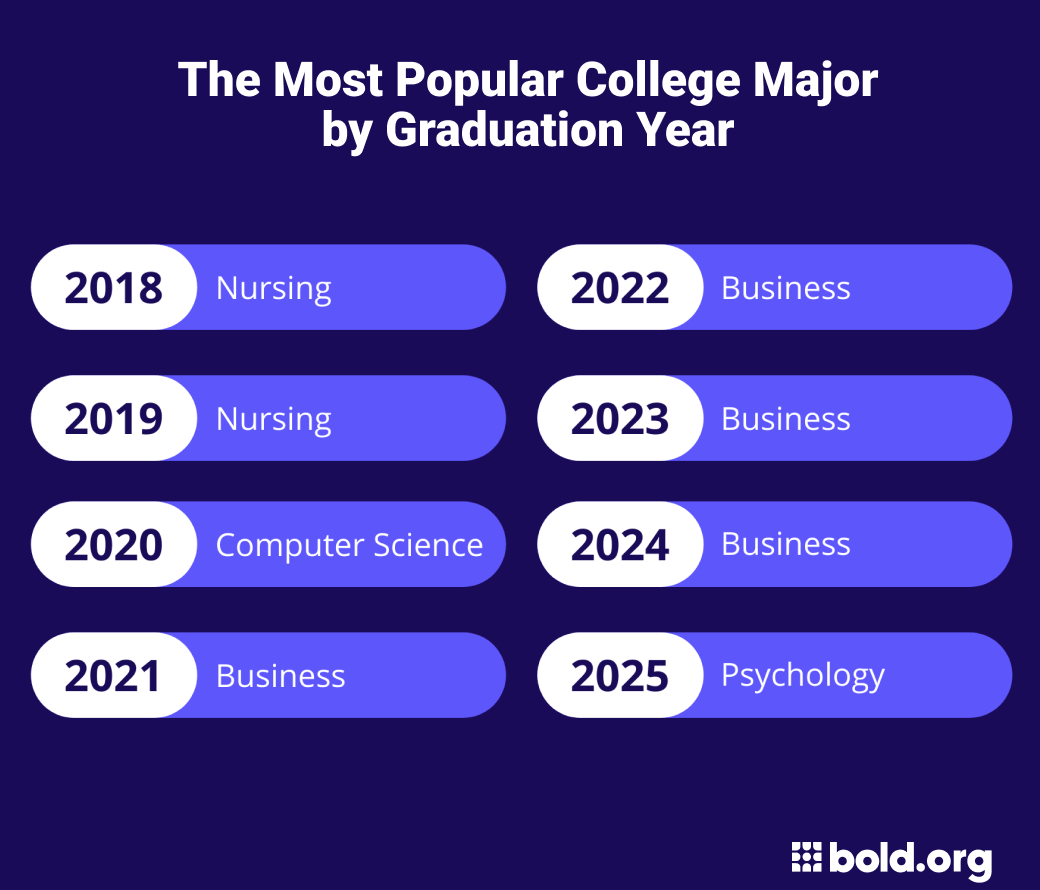 Over the recent years, we've seen the most popular majors shift from nursing to computer science to business-related majors. But the most recent class is shifting their interest to psychology—could this be influenced by the mental health impacts of events these students have experienced recently?
Methodology
We analyzed our database of more than 1.5 million students and the college majors they are interested in to find out which college major is the most popular in every state. We also found which majors are the most popular overall and broke down the data by graduation year.