Ultimate Cheer Challenge - Earn $1,000 Cash for Learning a Cheer!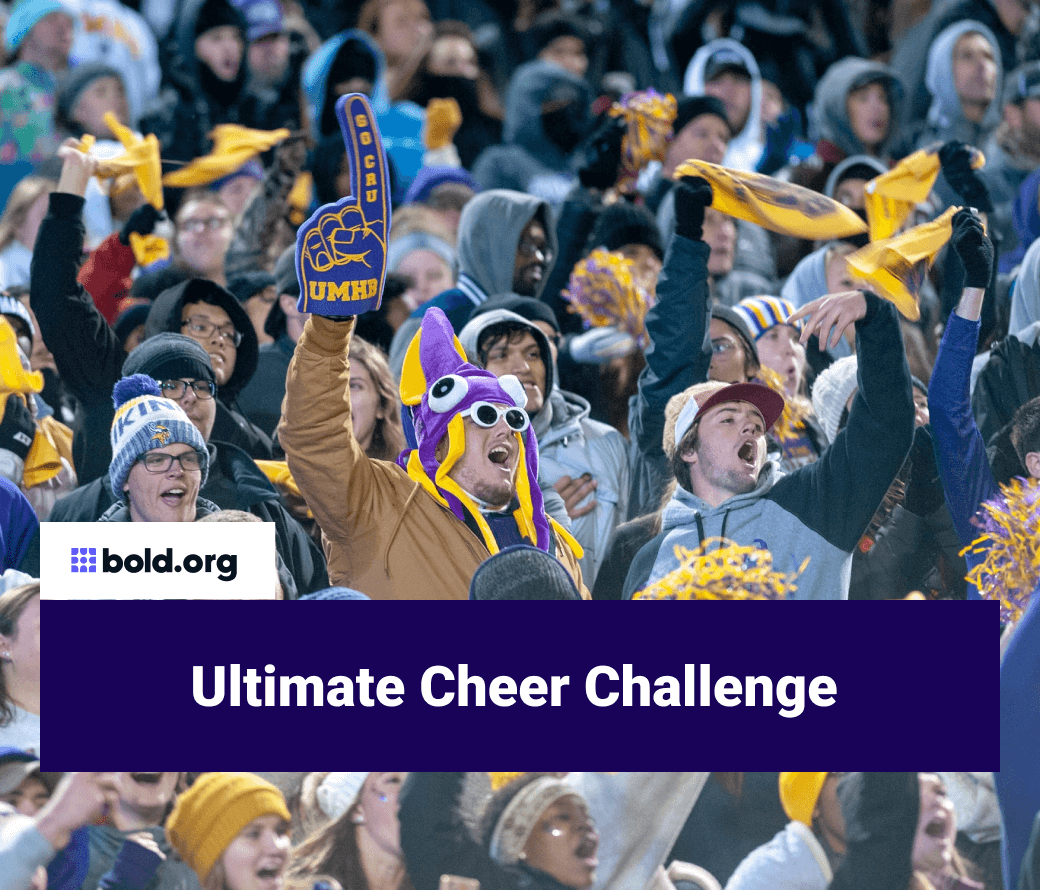 Top scholarships with upcoming deadlines
We're looking to hire our first-ever Cheer Captain to show their school spirit! Learn your favorite university's cheer and earn $1,000 cash!
With the semester starting up for college students, we want to celebrate the beginning of the academic year by supporting our favorite colleges and universities during their homecoming weeks!
You can show support for your favorite schools, even if you're not currently attending. You may be a fan of a certain university sports team or you may have attended college 25 years ago and remember the good times you had and all that you learned. Now's your chance to cheer for your favorite school—and get paid $1,000!
Get Matched to Thousands of Scholarships
Create your Bold.org profile to access thousands of exclusive scholarships, available only on Bold.org.
Create Free Profile
Bold.org is hiring our first Cheer Captain. We want to hire someone to show pride in their favorite college or university by learning its school cheer! Aside from you earning an easy $1,000 cash, we'll match your winnings by creating an exclusive $1,000 Bold.org scholarship dedicated to the school of your choice!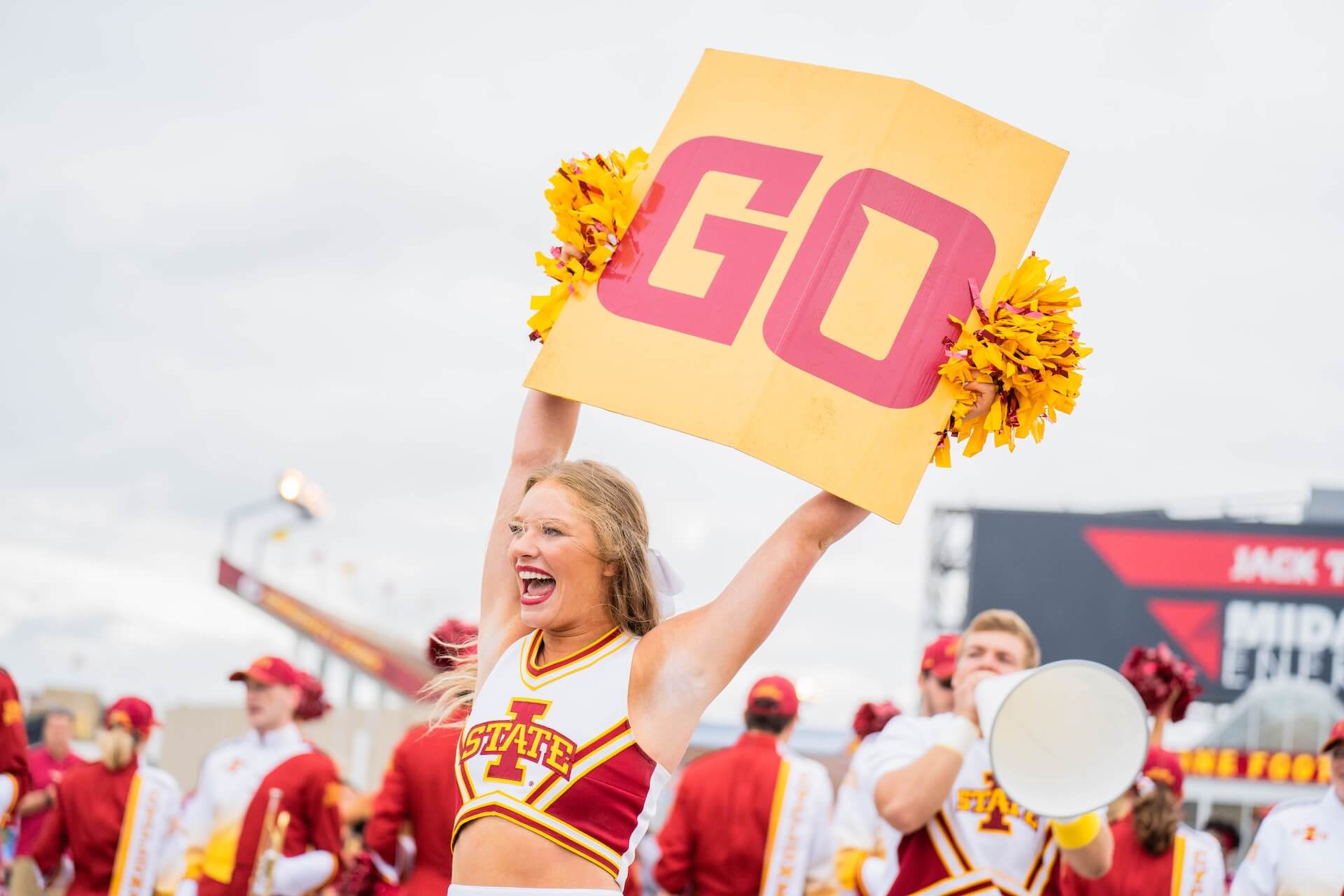 Bold.org is always finding ways to help you pay for college. Create your profile now so you never miss out on opportunities like this.
Who We Want to Hire
The Cheer Captain is someone that has pride in a college or university and is ready to show it! That can mean you and your family have attended the school for generations or that you just love watching their basketball team compete in March Madness. They're a fanatic in every sense of the word.
Applicants do not need to be in school at all! Anyone that's at least 18 years of age and has a favorite college or university is eligible to apply. So if you're ready to learn something like the one-minute cheer in this video, then get your application in!
What You'll Be Doing
Our Cheer Captain will be responsible for learning their favorite college or university's school cheer. Simple as that—it's easy and it's fun!
What You'll Get
The chosen candidate will receive $1,000 cash for completing the job requirements. In addition to the cash earnings, a $1,000 scholarship will be created on Bold.org exclusively for students who attend the winner's school of choice.
How to Apply
If you think you'd make a great Cheer Captain, just fill out the application below! Applications are open now through September 12, 2022.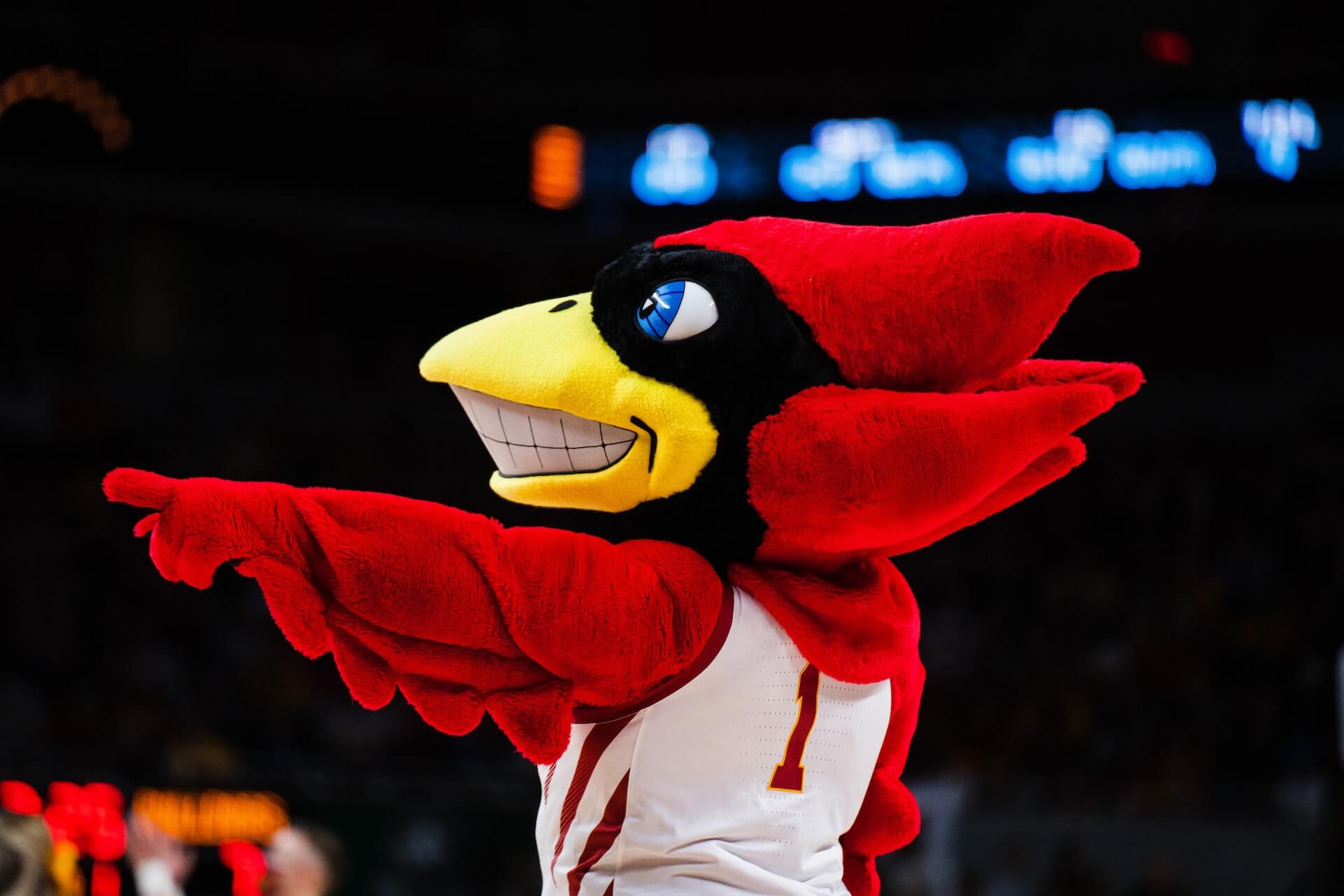 FAQ
How do I know if my application was received?
Please check your email for your submission confirmation. Be sure to check your spam folder if you don't see it!
How do I submit/attach additional info?
We do not accept additional attachments outside of the video option on the submission form. We apologize for any inconvenience.
How will I know if I got the job?
The winner will be notified by email and/or letter within 14 business days of the closing date (September 12, 2022). If the winner cannot be contacted or does not claim the prize within 7 days of notification, we reserve the right to withdraw the prize from the winner and pick a replacement winner.
Help! The submission form isn't working.
Fill in all of the required fields.
Ensure that you're using a valid US zip code. Only US residents aged 18 and older can enter.
Write at least 100 characters (approximately 12 words) on why you're the perfect fit for this job. Emojis are acceptable, but please omit emojis from your answer if you continue to face technical issues.
Please only enter numbers into the phone number field; e.g. 8010001919 instead of 801-000-1919.
Try refreshing your screen if the application form doesn't load. If you are on a mobile device, consider using a laptop or computer to access the application form.
When is the deadline?
The deadline to submit your application is September 12, 2022.
I live outside of the US, can I still apply?
Unfortunately, our challenge is open to US residents only.
Can I submit on behalf of a minor?
Sadly, no. A parent or guardian cannot submit an application for a minor. All applicants must be at least 18 years old.
I'm a member of the media and have a question.
If you're a journalist looking for more information, please email media@mvdigitalpr.com.
Terms & Conditions
Terms & Conditions

THE DREAM JOB CONTEST DESCRIBED HEREIN IS ONLY INTENDED FOR PARTICIPANTS FROM THE UNITED STATES. DO NOT PARTICIPATE IF RESIDING OUTSIDE THE UNTIES STATES OR IF YOU DO NOT OTHERWISE MEET THE ELIGIBILITY CRITERIA BELOW AT THE TIME OF ENTRY. INTERNET ACCESS IS REQUIRED TO PARTICIPATE. VOID WHERE PROHIBITED OR RESTRICTED BY LAW. SUBJECT TO ALL APPLICABLE FEDERAL, STATE, AND LOCAL LAWS AND REGULATIONS. ARBITRATION NOTICE: BY PARTICIPATING IN THIS CONTEST, YOU AGREE THAT DISPUTES BETWEEN YOU AND THE ENTITIES SPONSORING AND ADMINISTERING THIS CONTEST WILL BE RESOLVED BY BINDING, INDIVIDUAL ARBITRATION, AND YOU WAIVE YOUR RIGHT TO PARTICIPATE IN A JURY TRIAL, CLASS ACTION LAWSUIT, OR CLASS-WIDE ARBITRATION. SEE DISPUTES/ARBITRATION PROVISION CONTAINED IN SECTION 25 HEREIN. 1. The promoter of the School Fight Song Challenge (the "Dream Job") contest is Bold.org ("Promoter"), whose principal office is located at 3700 Tennyson St #12237 Denver, CO 80212. 2. Dream Job consists of learning the fight song to an agreed upon college or university and taking a video recording of the performance of the song. 3. This Dream Job is conducted by Promoter and is in no way endorsed, administered by, or associated with any third parties or third party products mentioned or their affiliates. 4. Employees of Promoter, those involved in the production, development, implementation, or handling of the Dream Job contest, and any agents acting for the above providers, prize suppliers, or any other person associated with the Dream Job contest, and family members and persons living in the same household as any of the foregoing persons, are not eligible to enter. 5. There is NO ENTRY FEE AND NO PURCHASE NECESSARY TO APPLY FOR THE DREAM JOB. Any purchase or consideration otherwise given by applicants will not improve one's chances of being selected for the Dream Job. 6. The Dream Job contest is open only to legal residents of the 50 United States and District of Columbia, who on the date of entry are 18 years old or older, or have otherwise reached the age of majority under the state's laws where they reside. 7. DREAM JOB VOID OUTSIDE THE UNITED STATES AND WHERE OTHERWISE PROHIBITED BY LAW. All applicable federal, state, and local laws, rules, and regulations apply. 8. LIMITATION OF LIABILITY: By entering the Dream Job contest, all applicants agree to release and hold harmless Promoter (and any parent, subsidiary, or otherwise related entities of Promoter) from any and all liability resulting or arising from the Dream Job contest, to release all rights to bring any claim, action, or proceeding against them, and hereby acknowledge that they have neither made nor are in any manner responsible or liable for any warranty, representation, or guarantee, express or implied, in fact or in law, relative to a prize. Promoter (and any parent, subsidiary, or otherwise related entity of Promoter) shall not be liable for any injury, damage, loss, expense, accident, delay, inconvenience, or irregularity that may be caused or contributed to by (1) any wrongful, negligent or unauthorized act or omission on the part of the prize supplier or any of its agents, servants, employees, representatives, or independent contractors, (2) any wrongful, negligent, or unauthorized act or omission on the part of any other person or entity not an employee of Promoter, or (3) by any other cause, condition or event whatsoever beyond the control of Promoter or its parents, subsidiaries, and affiliated companies. The failure of Promoter to comply with any provision of these Terms and Conditions due to an act of God, natural disaster, hurricane, war, fire, riot, earthquake, terrorism, act of public enemies, action of governmental authorities, or any other cause outside of the control of Promoter (excepting compliance with applicable codes and regulations) or other force majeure event will not be considered a breach of these Terms and Conditions. Applicants waive all right to and hold the Promoter harmless from any claim, liability, loss, injury, damage (including punitive, exemplary, incidental, and consequential damages), and expense (including attorneys' fees) arising out of or in connection with their participation in this Dream Job contest or the acceptance, use, or misuse of the Dream Job. SOME JURISDICTIONS DO NOT ALLOW THE LIMITATIONS OR EXCLUSION OF LIABILITY FOR INCIDENTAL OR CONSEQUENTIAL DAMAGES, SO THE ABOVE MAY NOT APPLY TO YOU. Promoter will not be responsible for: late, incomplete, or incorrect applications; an applicant's failure to receive prize notices due to applicant's spam, junk e-mail, or other security settings or for applicants' provision of incorrect or otherwise non-functioning contact information; technical, hardware, or software malfunctions, lost or unavailable network connections, or failed, incorrect, inaccurate, incomplete, garbled, or delayed electronic communications whether caused by the sender or by any of the equipment or programming associated with or used in this Dream Job contest; by any human error which may occur in the processing of the applications in this Dream Job contest; or any typographical, technological, or other error in the publishing of the offer, administration of the Dream Job contest, or announcement of the recipient of the Dream Job ("Recipient"). 9. In no event shall the Promoter's aggregate liability arising out of or relating to this Dream Job contest, whether arising out of or related to breach of contract, tort (including negligence), or otherwise, exceed three (3) times the amounts to be paid to Recipient pursuant to the Dream Job. 10. Promoter reserves the right, in its sole discretion, to cancel, modify, or suspend the Dream Job contest and Dream Job should viruses, bugs, unauthorized human intervention, technical failures, or any factor beyond Promoter's reasonable control corrupt the administration, security, fairness, integrity, or proper operation of the Dream Job contest. In such event, Promoter reserves the right to award the Dream Job from among the eligible entries received up to the time of impairment. Promoter reserves the right, in its sole discretion, to disqualify any individual it finds to be tampering with the entry process or the operation of the contest or to be acting in violation of these Terms and Conditions or any other promotion or in an unsportsmanlike or disruptive manner. Any attempt by any person to deliberately damage Promoter's website or undermine the legitimate operation of this Dream Job contest may be a violation of criminal and civil laws, and should such an attempt be made, Promoter reserves the right to seek damages from any such person to the fullest extent permitted by law. Promoter's failure to enforce any term of these Terms and Conditions shall not constitute a waiver of any right or remedy. 11. The route to enter the Dream Job and details on how to apply are available at https://bold.org/school-fight-song-challenge/. Individuals may apply for the Dream Job by filling out the application form found at https://bold.org/blog/school-fight-song-challenge/. Each applicant may submit only one (1) application for the Dream Job. Any attempt to submit more than one application will void that applicant's applications and that applicant may be disqualified. 12. Promoter will start accepting applications on July 26, 2022 at 9 a.m. EST. The closing date for entry will be August 15, 2022 at 5 p.m. EST]. After this date and time, no further applications for the Dream Job will be permitted. Promoter's database tracking system is the official time-keeping device for the Dream Job contest. 13. Applicants will be evaluated without regard to mental or physical disability, race, color, religion, gender, national origin, age, genetic information, military or veteran status, sexual orientation, marital status, or any other protected federal, state/province or local status unrelated to the performance of the work involved. 14. Promoter shall select one (1) Recipient from the entire pool of eligible applicants. Recipient will be selected based on Promoter's scoring and judgment of the applications based on the following criteria: (i) creativity of the application (20%), (ii) presentation of the application (20%), (iii) the applicant's story (20%), (iv) alignment with Promoter's brand (20%), and (v) applicant's social media accounts and activity on social media (20%). Recipient must comply with all of these Terms and Conditions, and winning is contingent upon fulfilling all requirements. 15. Recipient will be notified by email, through their email submitted with their application, within fourteen (14) business days of the closing date for the contest. Except where prohibited, each potential Recipient must complete and return to Promoter, within seven (7) days of being notified, an electronic Affidavit of Eligibility, Liability and Publicity Release ("Affidavit") via postal mail or email to media@mvdigitalpr.com or other email address designated by Promoter, or other digital transmission method acceptable to Promoter, in order to claim the Dream Job. If Recipient cannot be contacted, is not eligible, or does not claim the opportunity to participate in the Dream Job within five (5) days of notification, Promoter reserves the right to withdraw the offer from Recipient and pick a replacement Recipient. Recipient may be required to show identification in order to receive the Dream Job. 16. INDEPENDENT CONTRACTOR ACKNOWLEDGMENT: Recipient acknowledges that participation in the Dream Job will be as an independent contractor. No agency, partnership, joint venture, or employee-employer relationship is intended or created by acceptance of the Dream Job. Recipient has no authority to bind Promoter to contracts, or make any agreement or representations without Promoter's written consent. Recipient shall not be eligible to participate in any vacation, group medical or life insurance, disability, profit sharing, or retirement benefits, or any other fringe benefits or benefit plans offered by Promoter to its employees. Promoter is not responsible for withholding or paying any income, payroll, Social Security, or other federal, state, or local taxes, making any insurance contributions, including unemployment or disability, or obtaining worker's compensation insurance on Recipient's behalf. Recipient acknowledges that the sums received pursuant to this Dream Job are subject to all applicable taxes. Recipient is solely responsible for all such taxes or contributions, including penalties and interest. 17. Upon completion of the Dream Job, Recipient will receive a one-time payment of $1,000 and a $1,000 scholarship will be created for students attending the college or university that Recipient and Promotor agree upon. Promoter shall distribute funds no later than ninety (90) days following Recipient's completion of the Dream Job requirements. 18. No cash alternative to the Dream Job will be offered. Recipient's opportunity to participate in the Dream Job is not transferable. 19. By accepting the opportunity to participate in the Dream Job, Recipient agrees to the use of their name, likeness, voice, image, and biographical information in any of Promoter's publicity material without further compensation, unless prohibited by law. Any personal data relating to Recipient or any other applicants will be used solely in accordance with current federal and state data protection legislation. Promoter will not share your information except insofar as to fulfill the purposes for which you submitted your information. Promoter likewise will not sell your information, but Promoter may use third party services to help facilitate and administer this scholarship. By submitting an application, you agree that Magellan may share your information with third parties to facilitate and administer the Dream Job. For more information see Promoter's Privacy Policy located at https://www.magellantv.com/privacy_policy. 20. Where legally required, Recipient's name will be available upon request twenty-eight (28) days after the closing date for the contest, but no later than one (1) year after the closing date for the contest. To request Recipient's name, please send the request in a stamped addressed envelope to the following address: Bold.org 3700 Tennyson St #12237 Denver, CO 80212. 21. Promoter reserves the right to cancel or amend the Dream Job and these Terms and Conditions without notice. 22. Promoter's decision in respect of all matters to do with the Dream Job will be final. 23. The Dream Job and these Terms and Conditions will be governed by [STATE] law. 24. By submitting an application for the Dream Job, applicants unconditionally accept and agree to be bound by these Terms and Conditions and all discretionary decisions of Promoter, which are final and binding in all respects. Should an applicant win the Dream Job, they must be available at the email address in the enrollment to receive their win notification and instructions on how to claim their dream Job. Promoter is not responsible for changes to applicants' email addresses. 25. Applicants agree that: (1) any and all disputes, claims, and causes of action arising out of or connected with this Dream Job contest and any Dream Job shall be resolved individually, without resort to any form of class action, and exclusively by JAMS for final and binding arbitration under its Streamlined Arbitration Rules & Procedures, to be held in Denver, Colorado before a single arbitrator, who shall be a retired judge. The arbitration shall be a confidential proceeding, closed to the general public. The arbitrator shall issue a written opinion stating the essential findings and conclusions upon which the arbitrator's award is based. The parties will share equally in payment of the arbitrator's fees and arbitration expenses and any other costs unique to the arbitration hearing (recognizing that each side bears its own deposition, witness, expert and attorneys' fees and other expenses to the same extent as if the matter were being heard in court). Neither party shall be entitled or permitted to commence or maintain any action in a court of law with respect to any matter in dispute until such matter shall have been submitted to arbitration as herein provided and then only for the enforcement of the arbitrator's award. Nothing in this paragraph shall affect either party's ability to seek from a court injunctive or equitable relief at any time; (2) any and all claims, judgments and awards shall be limited to actual out-of-pocket costs incurred, including costs associated with entering this Dream Job contest, but in no event attorneys' fees; and (3) under no circumstances will any applicant be permitted to obtain awards for, and applicants hereby waive, all rights to claim, punitive, incidental, and consequential damages and any other damages, other than for actual out-of-pocket expenses, and any and all rights to have damages multiplied or otherwise increased. SOME JURISDICTIONS DO NOT ALLOW THE LIMITATION OR EXCLUSION OF LIABILITY FOR INCIDENTAL OR CONSEQUENTIAL DAMAGES, SO THE ABOVE MAY NOT APPLY TO YOU. 26. Promoter and its parents, subsidiaries and affiliated companies, assume no liability and are not responsible for, and participants hereby forever waive any rights to any claim in connection with, errors and/or ambiguity: (a) in the Dream Job contest; (b) in any related advertising or promotions of the Dream Job contest; and/or (c) in these Terms and Conditions. In the event of any ambiguity(s) or error(s) in these Terms and Conditions, Promoter reserves the right to modify these Terms and Conditions for clarification purposes or to correct any such error(s) without materially affecting the terms and conditions of the Dream Job contest. 27. The Dream Job contest is in no way sponsored, endorsed, or administered by, or associated with Facebook, Instagram, Twitter, YouTube, Google, or any other social media or similar platform where the Dream Job contest may be promoted, advertised, or otherwise used to disseminate information relating to the Dream Job contest. You understand that all information is being provided to Promoter, and not to Facebook, Instagram, Twitter, YouTube, Google, or any other social media where the Dream Job contest may be promoted, advertised, or otherwise used to disseminate information relating to the Dream Job contest. Promoter is not responsible for practices, terms, or actions taken by any of these or other social media and web services sites. You understand that you are required to comply with terms and conditions of those social media platforms. This Dream Job contest is administered by Bold.org and is not affiliated with, sponsored by, or endorsed by any of the parties mentioned above.
Want to see more challenges that help pay for college? Create your profile now to never miss out on opportunities like this.