IRS Guidelines for Starting a Scholarship Fund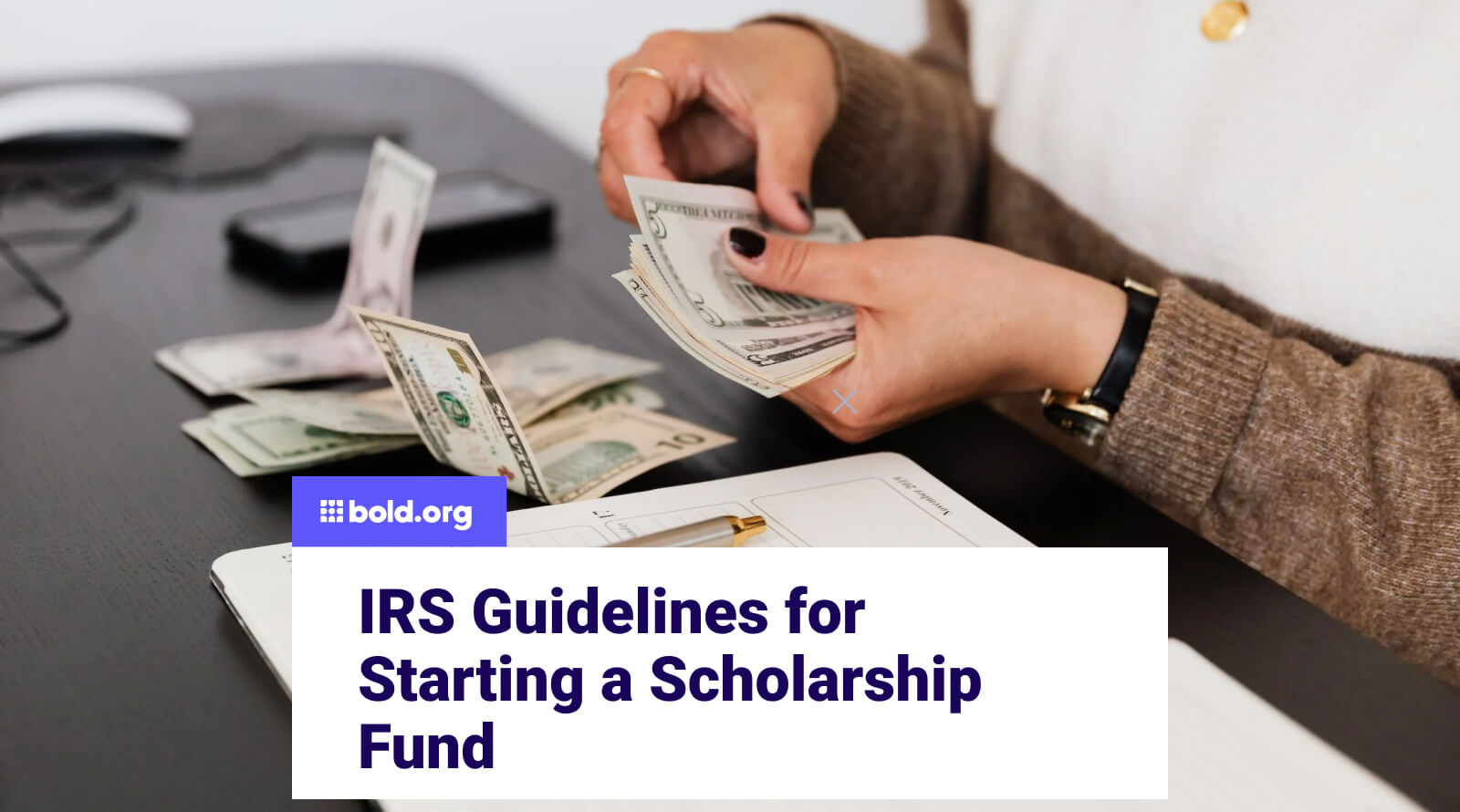 Top scholarships with upcoming deadlines
If you're deeply passionate about creating a positive impact and empowering students within your community, setting up a scholarship fund could be a rewarding opportunity. When starting a scholarship, you're making lasting impact on students' lives. After all, scholarships help students pay for higher education and ultimately give them access to a lifetime of opportunities.
Creating a scholarship program on your own is expensive and time-consuming. You'll have to jump through a maze of legal hoops to understand the Internal Revenue Code (IRC) and complete the necessary paperwork to establish a tax-exempt organization.
Fortunately, at Bold.org our team members are skilled scholarship experts who provide comprehensive support to donors throughout the entire scholarship creation process. From crafting eligibility criteria to carefully selecting scholarship finalists, we are here to guide you every step of the way!
In this Bold article, you'll find all the information you need for creating your own scholarship, including a memorial scholarship and following the IRS rules for tax-deductible scholarship funds. Our expert team will be glad to assist you in setting up your scholarship fund.
Start making a difference today by creating a donor profile on Bold.org!
What Is a Scholarship Fund?
A scholarship fund is a charitable grant that assists students with paying for necessary educational expenses, such as tuition, fees, and textbooks. Scholarship funds are tax-deductible, given that they meet IRS guidelines.
To be eligible for tax-exempt status, the IRS requires that scholarships are awarded on a nondiscriminatory and objective basis. Scholarship funds can award scholarships to students at all grade levels, and they commonly accept applications from high school students, undergraduate students, and graduate school students.
Is a Scholarship Fund Tax-Deductible?
Scholarship funds are classified as tax-deductible donations, given that they meet the following IRS guidelines:
The scholarship must go toward helping students pay direct educational costs. Direct educational costs include tuition, fees, and required course materials.
The scholarship must be awarded on an objective and nondiscriminatory basis. This means that your eligibility criteria need to be broad enough that a scholarship recipient can be classified as part of a charitable class.
A charitable class is a group that is large enough such that providing assistance to a select few members will benefit the entire community.
Setting up a scholarship fund for a specific person or insiders - such as members of the selection committee or employees of the donor company for company scholarship programs - is in direct violation of this principle.
Don't miss out on the valuable insights about Tax Deductible Donations! Learn how you can make a bigger impact while enjoying tax benefits.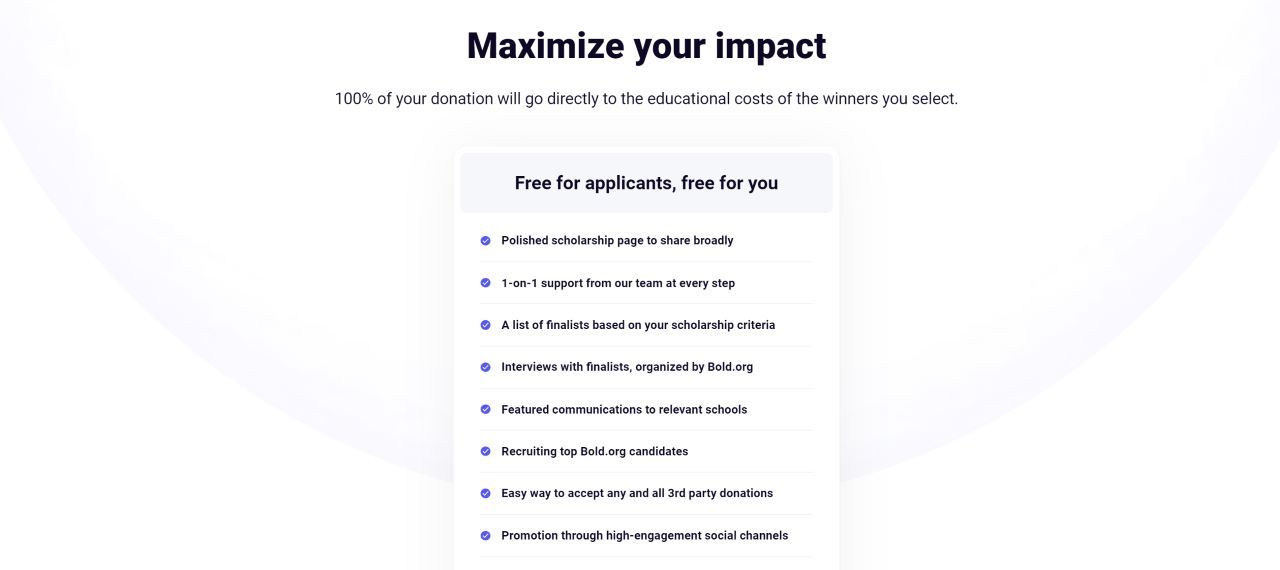 IRS Guidelines for Starting a Scholarship Fund
In order to set up a scholarship program on your own, you will need to create a private foundation and complete the appropriate paperwork with the IRS.
Firstly, figure out what type of foundation you are going to create. There are multiple categories of tax-exempt organizations that the IRS recognizes, and scholarship funds can usually be classified as grant-making foundations.
The next step is to make sure that your foundation meets the requirements to apply for tax-exempt status and gather the necessary legal documents.
The procedure for setting up a private foundation scholarship fund can vary depending on the type of organization, the size of the foundation, and the amount of the scholarship fund. Hiring a lawyer or legal adviser to assist you with the process is necessary to make sure that you meet all the necessary requirements.
Finally, you can file your paperwork with the IRS and your local state government. This process of creating a scholarship on your own is usually time-consuming and costly. You will need to hire a lawyer and a financial advisor, pay for website costs, and incur a number of legal fees.
Working with an established scholarship management service like Bold.org is an easy solution to ensure that your scholarship fund qualifies for favorable tax treatment. Bold.org allows donors to create a scholarship for free, so all of your money can go towards deserving students, rather than the cost of setting up a foundation.
Check out our award features for scholarship donors and discover how you can create a stand out scholarship that truly makes a difference.
Basics of Starting a Scholarship Fund
Find Out Who You Want to Help
The first step to setting up your scholarship fund is to determine the amount of money that you want to dedicate to your scholarship program.
You do not need to spend tens of thousands of dollars to set up a scholarship! It's true that creating an endowed scholarship at a university may require tens of thousands of dollars. However, establishing a scholarship fund can cost as low as $500, especially if you leverage the scholarship management services from Bold.org.
Creating a nonprofit organization on your own without the help of scholarship management organizations will be much more costly, since you need to pay for legal fees, advertising, and the cost of setting up a professional website.
Luckily, Bold.org is an established, tax-exempt organization. Any scholarships you create through our platform will be classified as tax-deductible donations to the Bold Foundation, 501(c)(3) non-profit.
Effortlessly set up scholarships, grants, and more on Bold.org. Create new awards in minutes  while we handle the heavy lifting.
When planning your budget for a scholarship fund, think about the type of scholarship you want to create: one-time, renewable, or an annual scholarship. For instance, you can create a scholarship that accepts applications during specific months or a renewable scholarship that provides funding for each year.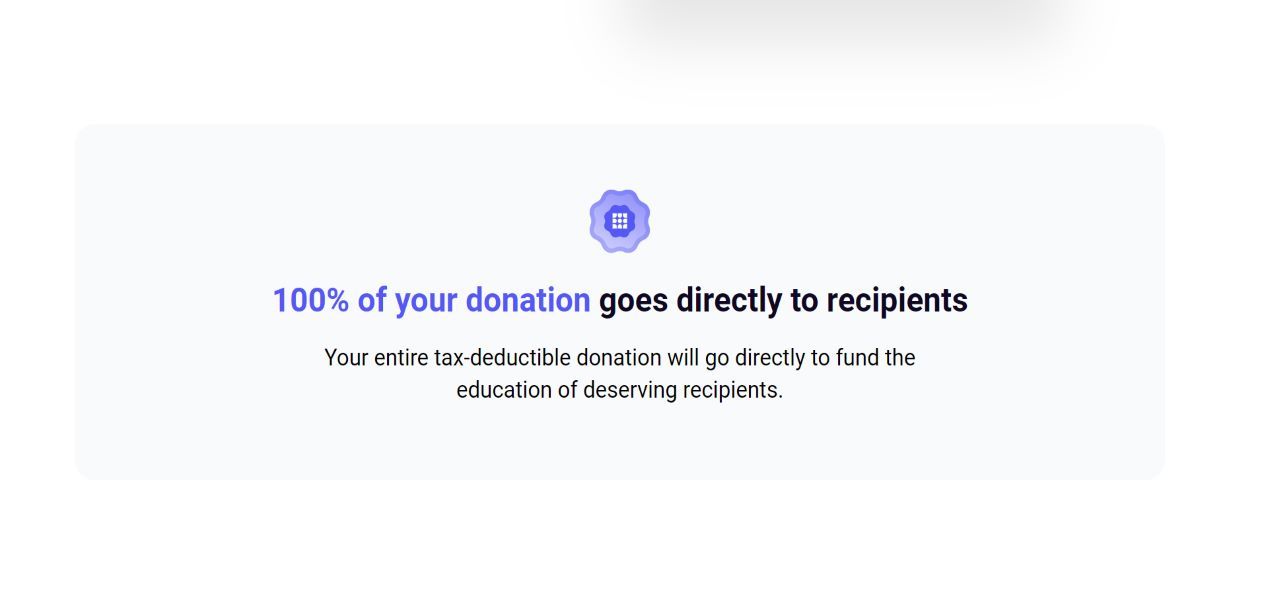 Find Out Who You Want to Help
Once you've determined how much money you plan to allocate towards your scholarship fund, the next step is to figure out which students and communities you want your scholarship program to go towards.
For example, you may want to create a memorial scholarship in honor of family members or friends and draft eligibility requirements that align with their career path or interests.
View the G.A. Johnston Memorial Scholarship  for a fantastic example of the scholarships you can create. Get inspired and see how you can make a difference with your own unique scholarship fund.
You may also want to create a scholarship for younger generations of your community, such as minorities, women, or low-income, first-generation college students who share your experiences.
Setting up a scholarship for members of your community or students who are underrepresented in higher education can make the process of creating a scholarship even more rewarding, since you know that your money is going toward those who will benefit the most.
Choose Your Scholarship Eligibility Criteria
After you've figured out your budget and the type of scholarship you'd like to create, you can begin drafting the specific eligibility requirements for your scholarship.
Think about the following areas when determining your specific criteria for eligibility:
Education Level: Is your scholarship fund for high school seniors who will matriculate to university in the fall? For current undergraduate students? Graduate students?
Decide what grade level and types of schools are eligible for your scholarship fund. Community colleges and trade schools are other kinds of institutions to consider in addition to four-year universities that offer bachelor's degrees.
Academics: Are there GPA requirements to apply for your scholarship? Should students be interested in a specific field or intending to major in a particular discipline?
Leadership and Extracurricular Activities: Do you want to focus on students in athletics? Students who have volunteered during high school? Students who have demonstrated exceptional leadership or community service?
Demographic Information: Is your scholarship fund intended for African American college students? Students with financial need? Students of color?
Submission Requirements: Finally, what materials do students need to submit to apply to your scholarship fund? Is there a required essay or letters of recommendation? A video submission?
Complete Necessary Paperwork
After you've determined the eligibility criteria for your scholarship fund, you can finally create your scholarship!
There are three routes that you can take when setting up a scholarship fund:
You can create your own nonprofit organization. This is usually the most expensive and time-consuming process, and you will need a lawyer, a professional website, and legal fees.
You can also create an endowed scholarship by donating to a particular institution. Most institutions have minimum requirements for endowed scholarships, so unfortunately this is only an option for those who have extensive wealth to spare.
The third option and best option is to create a scholarship through scholarship management organizations like Bold.org which will handle the administrative work, legal fees, and advertising for you. Creating a scholarship fund on Bold.org is easy and free and gives you free access to our world-class team of scholarship creation experts, as well as our database of millions of students.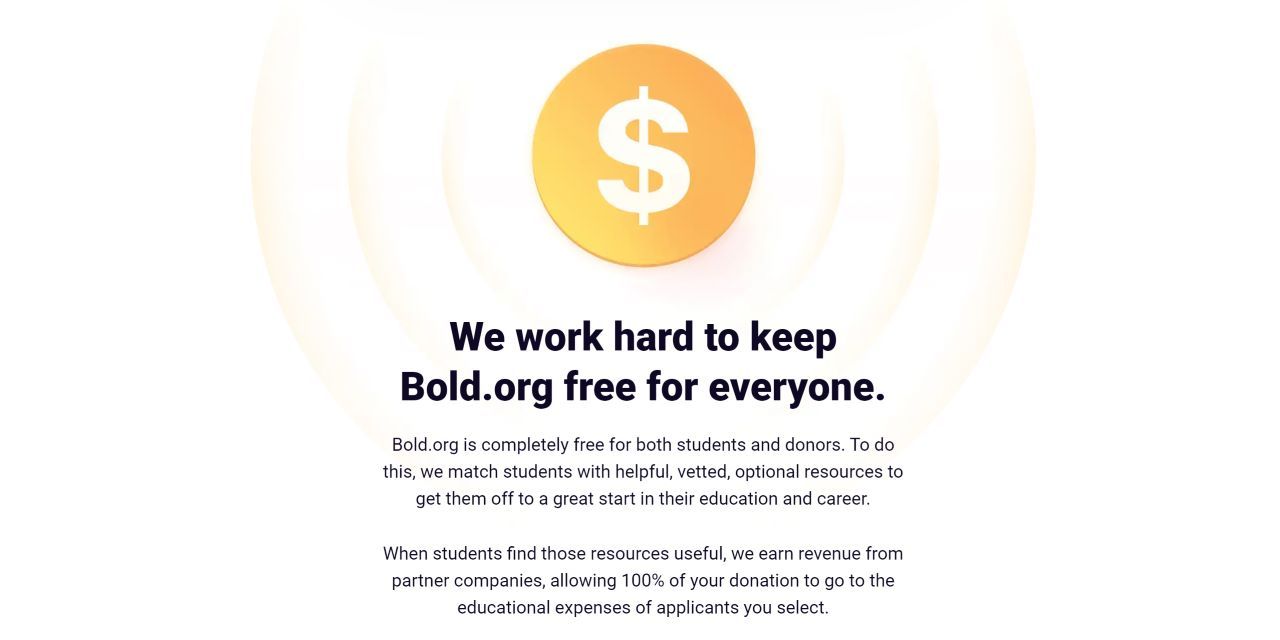 Set Up A Scholarship
Ready to make a difference? Head over to Bold.org and create a donor profile to kickstart your scholarship. Once you're verified as a donor, you can submit a proposal for a scholarship or grant. Our philanthropy team will promptly reach out to you, scheduling a call to provide more details about the scholarship creation process on our platform.
Once your proposal is revised and finalized, you can fund your scholarship! Within just an hour, it will go live on Bold.org. Students can easily find your scholarship through our scholarship search feature and begin applying.
With Bold.org, you can raise funds for your scholarship program by seeking charitable contributions from friends, family, and the community. This allows you to make a significant contribution towards students' education.
Create a scholarship fund that makes a meaningful impact on current and future students and graduates. Start financing you scholarships today!
Advertise Your Scholarship
After you've finished setting up your scholarship and accepting applications, you can start sharing your scholarship to attract more applicants!
When it comes to advertising your scholarship and reaching the most deserving applicants, using our management service at Bold.org makes it incredibly easy. With a vast database of millions of students, we curate lists of scholarship funds that cater to students from various demographics.
You can also share your scholarship fund on your social media, with schools, student organizations, or other groups that could assist with outreach.
Choose the Winners
Finally, the fun part! Once your scholarship's deadline has passed and you've stopped accepting applications, you can review submissions and determine your scholarship recipients.
At Bold.org our team is here to help support you in selecting scholarship recipients, making the overwhelming process much easier. We review applications on an ongoing basis and provide you with a curated list of the top 10-50 applicants. From there, you have the final say in choosing the lucky scholarship recipient from this pool of finalists.
Once you've selected the winner, Bold.org will notify the student and make sure that they safely receive the scholarship money.
Don't forget to check out our Donor FAQs to get more information about funding and how Bold.org chooses the best candidates to receive your scholarship.
Frequently Asked Questions About Scholarship Funds
How much money do you need to start a scholarship fund?
Establishing a scholarship fund does not have to be a costly expense! You can set up a scholarship for as little as $500 when you use a platform like Bold.org, which allows you to skip the paperwork and set up a scholarship fund for free.
Who can start a scholarship fund?
Anyone can start a scholarship fund! It's a myth that you need to be exceptionally wealthy or come from a certain background to create a scholarship. Even if it is your first time creating a scholarship, here at Bold.org our team will help you with every step of the process.
Now that you understand the IRS rules for creating scholarship programs and how to set up a scholarship fund, you're ready to create your own scholarship in three easy steps!