How to Qualify for Financial Aid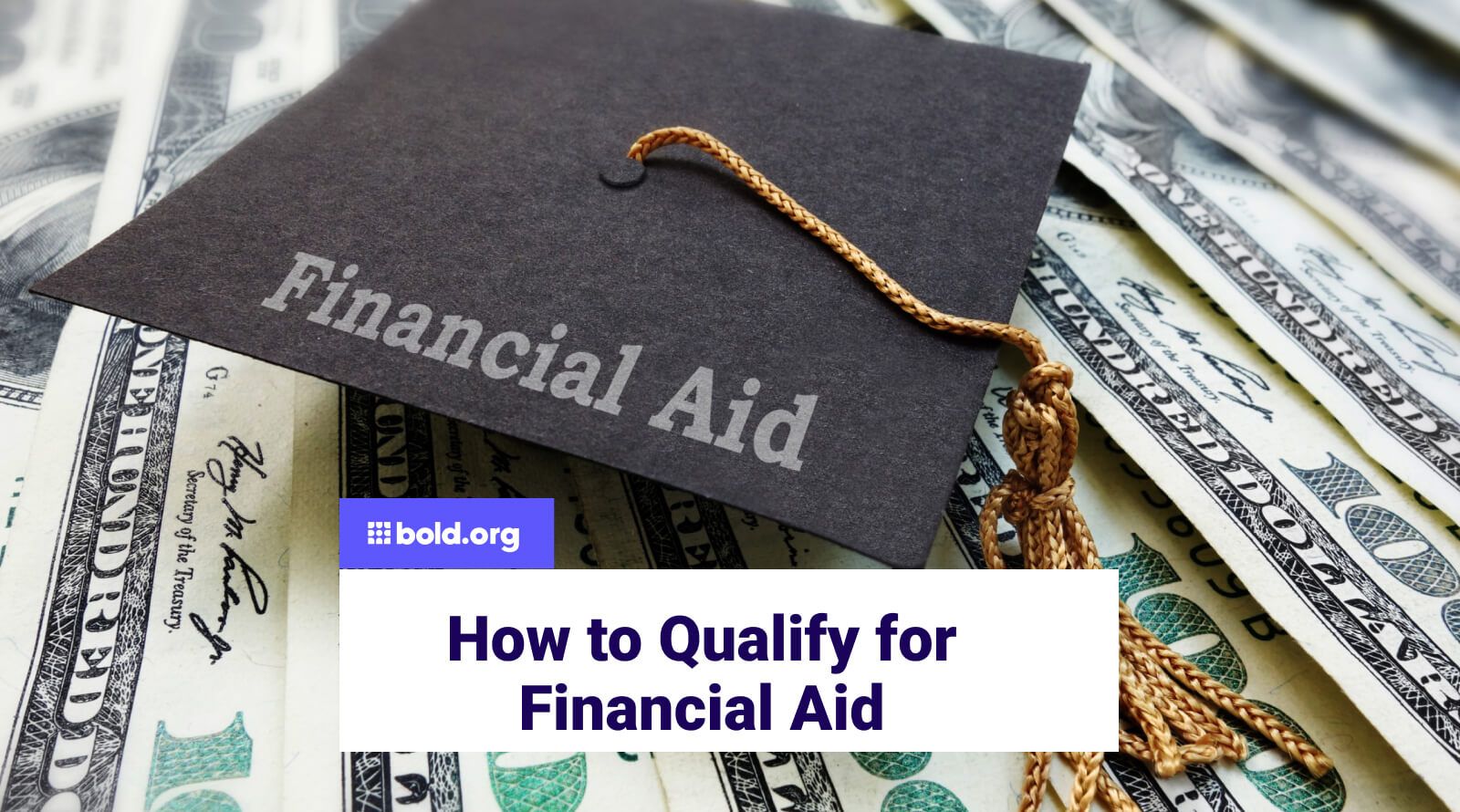 Top scholarships with upcoming deadlines
Are you wondering how to foot the bill for your college or career school? Making the collegiate dream a reality depends in large part on financial aid. Not sure what that means? Financial aid gives students and their families financial assistance to afford the expensive costs associated with attending college.
College costs can be outrageous, even discouraging, but financial aid options are a great way to counter the costs. Federal aid is a form of financial support through the government, and basic eligibility criteria must be met to receive this form of financial aid. All college students enrolled in an eligible degree or certificate qualify to submit the Free Application for Federal Student Aid.
Work-study programs and scholarships are another excellent way to pay for college. Scholarships are essentially free money to help you attend college. Bold.org offers a plethora of scholarships to students pursuing post-secondary education.
Create a Bold.org profile now and use the scholarship search feature to access hundreds of exclusive scholarships!
How to Qualify for Federal Student Aid
The general eligibility criteria for federal financial aid require demonstrating financial need, being a citizen or eligible noncitizen, and being enrolled in an eligible degree- or certificate-granting program at your college or career school to qualify for FAFSA eligibility requirements.
More eligibility requirements include having a valid Social Security number, being enrolled or accepted for enrollment as a regular student, being enrolled at least half-time for Direct Loan funds, maintaining satisfactory academic progress, and other factors. For more federal financial information, read the eligibility criteria on FAFSA's website.
Additionally, you are typically ineligible for the Federal Pell Grant or the Federal Supplemental Educational Opportunity Grant once you have earned a bachelor's degree or your first professional degree.
How to Qualify for Federal Student Loans
The U.S. Department of Education offers federal student loans through Direct Subsidized Loans and Direct Unsubsidized Loans, which may be a part of your financial aid package if you qualify for federal aid. Of course, these federal loans have eligibility requirements and will differ depending on the loan type.
Each academic year, your school determines the loan type(s), if any, and the actual loan amount you qualify for. Undergraduate and graduate students may apply for Direct Unsubsidized Loans; proof of financial need is unnecessary. Something to consider is student loan debt is at an all-time high, and the number of people with student loans is increasing.
What Disqualifies You From Financial Aid?
Not Filing for the FAFSA
Not filing a free application for federal aid is like throwing away money. Most students meet the basic eligibility requirements for need-based aid because they demonstrate financial need. Not filing automatically disqualifies you from receiving financial aid. For an interesting read, check out why students do not apply for financial aid.
Criminal Activity
You lose eligibility by having a certain criminal record. If you are in a federal or state institution, you do not qualify for a federal student grant or federal loan.
Unsatisfactory Grades
If you are not in good academic standing, you risk being ineligible for federal financial assistance.
Not a US Citizen / Permanent Resident
You must be a US citizen or eligible noncitizen to qualify for financial aid. At Bold.org, there are exclusive scholarships for international students to apply for.
Not Having a High School Diploma or GED
If you do not have a high school diploma or GED, then you aren't able to receive financial aid.
How to Maintain Satisfactory Academic Progress
If you are pursuing a degree or certificate program and receiving federal financial aid, you must meet your school's standards for satisfactory academics to continue receiving aid. Each school has a satisfactory academic progress policy. Be sure to check with your administration to ensure you continue to stay eligible.
What GPA Makes You Eligible for Financial Aid?
One of the eligibility requirements is to have at least a 2.0 GPA on a 4.0 GPA scale to receive funding. Scholarships on Bold.org have their own eligibility criteria, including GPA. Read the requirements before applying to ensure you meet the GPA eligibility.
Frequently Asked Questions About Qualifying for Federal Student Aid
During your college life, you may have questions about qualifying for federal student aid or how Bold.org can help you. Below you will find answers to some of the most frequently asked questions about financial aid.
How is financial aid calculated?
Your eligibility is based on a number of factors, including your Expected Family Contribution, the year you have been enrolled, your enrollment status, and the cost of attending the school you plan to attend. Moreover, your college or career school's financial aid office will decide how much financial aid you are qualified for.
However, scholarships like those on Bold.org come in various amounts, and you can apply for as many as you wish to increase your financial aid.
At what income level do you not get financial aid?
Parents and students frequently believe that they are not eligible for financial aid because of their home income. However, there is no income limit for submitting the FAFSA.
Does FAFSA run a credit check?
Federal loans and other forms of monetary assistance often don't have a credit criterion. However, private loans have their own requirements and often run credit checks to determine eligibility.
For more financial information, browse Bold's Scholarship Blog now or read this article to learn how to save money in college!