The 2022 Bold.org College Showdown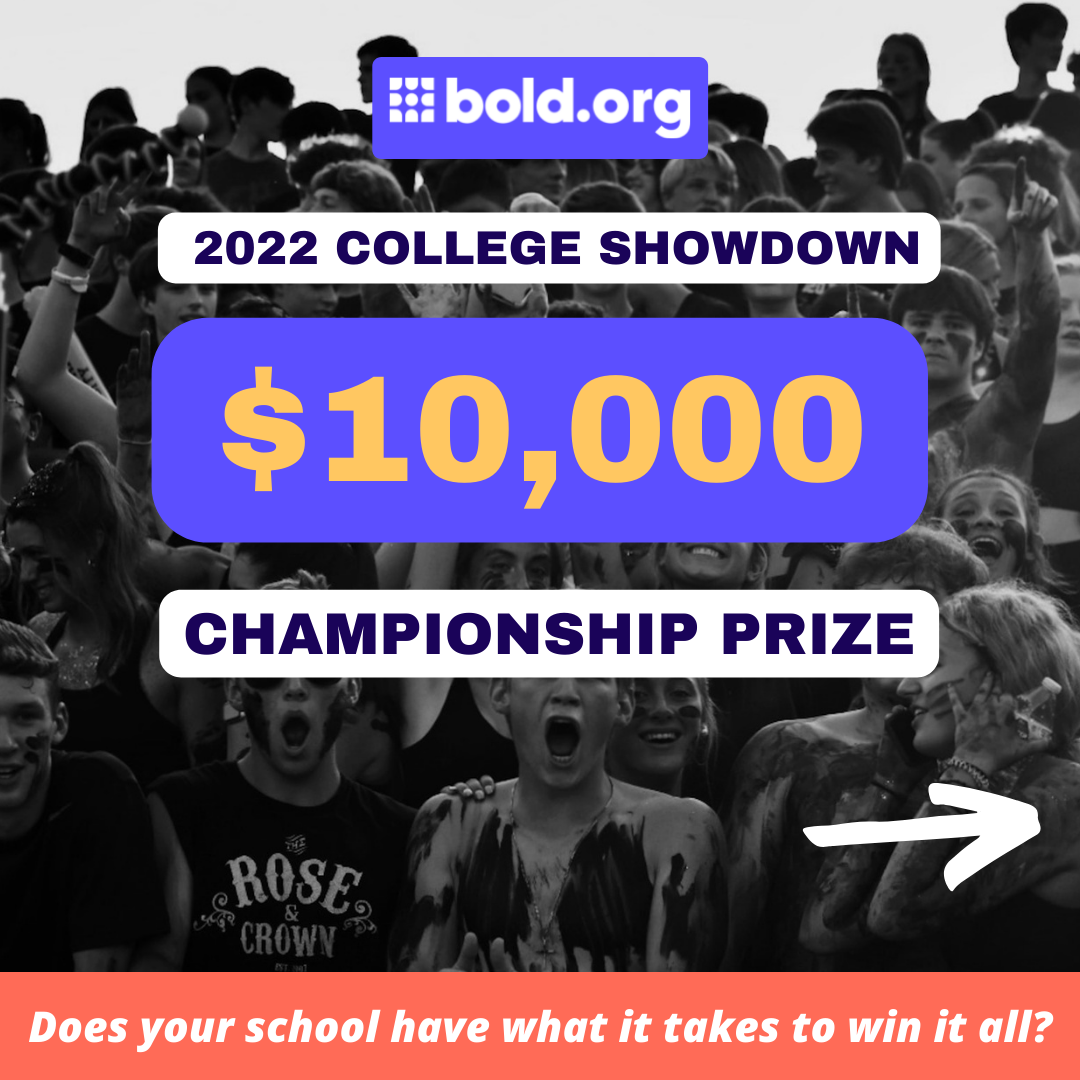 Top scholarships with upcoming deadlines
We're hosting our own version of March Madness: the Bold.org College Showdown.
Following the structure of March Madness, we'll be pitting the most popular universities against each other - but there's a catch!
Get Matched to Thousands of Scholarships
Create your Bold.org profile to access thousands of exclusive scholarships, available only on Bold.org.
Create Free Profile
The most popular universities will be decided by your votes on Instagram! From there, we'll have head-to-head voting to discover the winner.
The best part? If your school wins, so do you! A student from the winning school will win an EXCLUSIVE $10,000 scholarship funded by Bold.org!
Click below to learn more:
How does the Bold.org College Showdown work?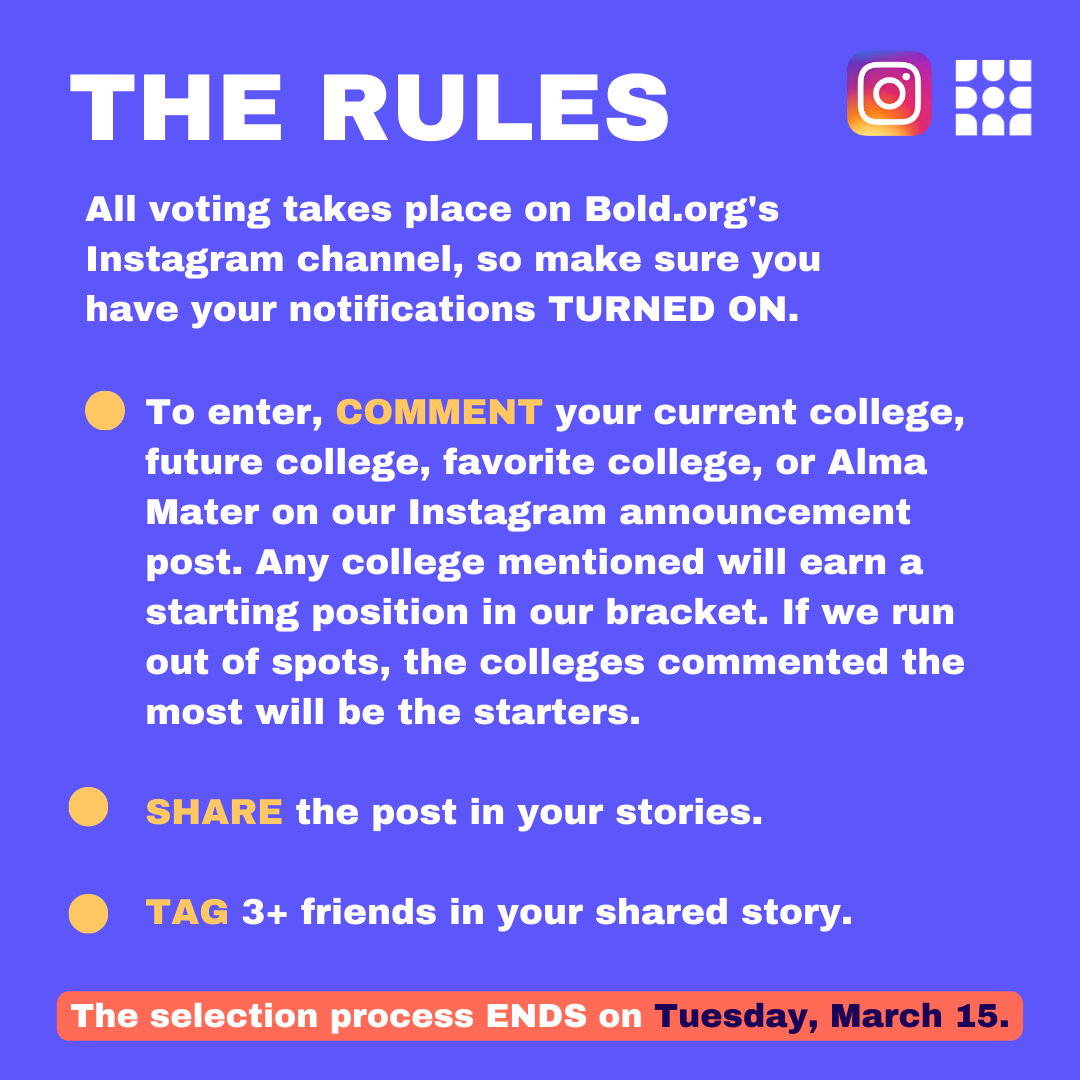 Schools will be decided via Instagram. On our announcement post, comment your current college, future college, favorite college, or Alma Mater. Any college mentioned will earn a starting position in our bracket. If we run out of spots, the colleges commented the most will be the starters. The selection process ENDS on Tuesday, March 15.
The bracket results will then be released on Wednesday, March 16.
After the bracket has been chosen, voting will be conducted on our Instagram story on the days corresponding to the real March Madness rounds.
What you could win
$10,000 Scholarship - Bold.org will fund an EXCLUSIVE $10,000 scholarship that will ONLY be open to the students from the winning scholarship. This includes current students, former students, and current high school seniors who will be attending the winning school in the fall.
250 Bold Points - On top of the exclusive $10,000 scholarship, every student from the winning school on the Bold.org platform will receive 250 Bold points. Bold points help students' profiles stand out and can be used to apply to certain scholarships.
Important dates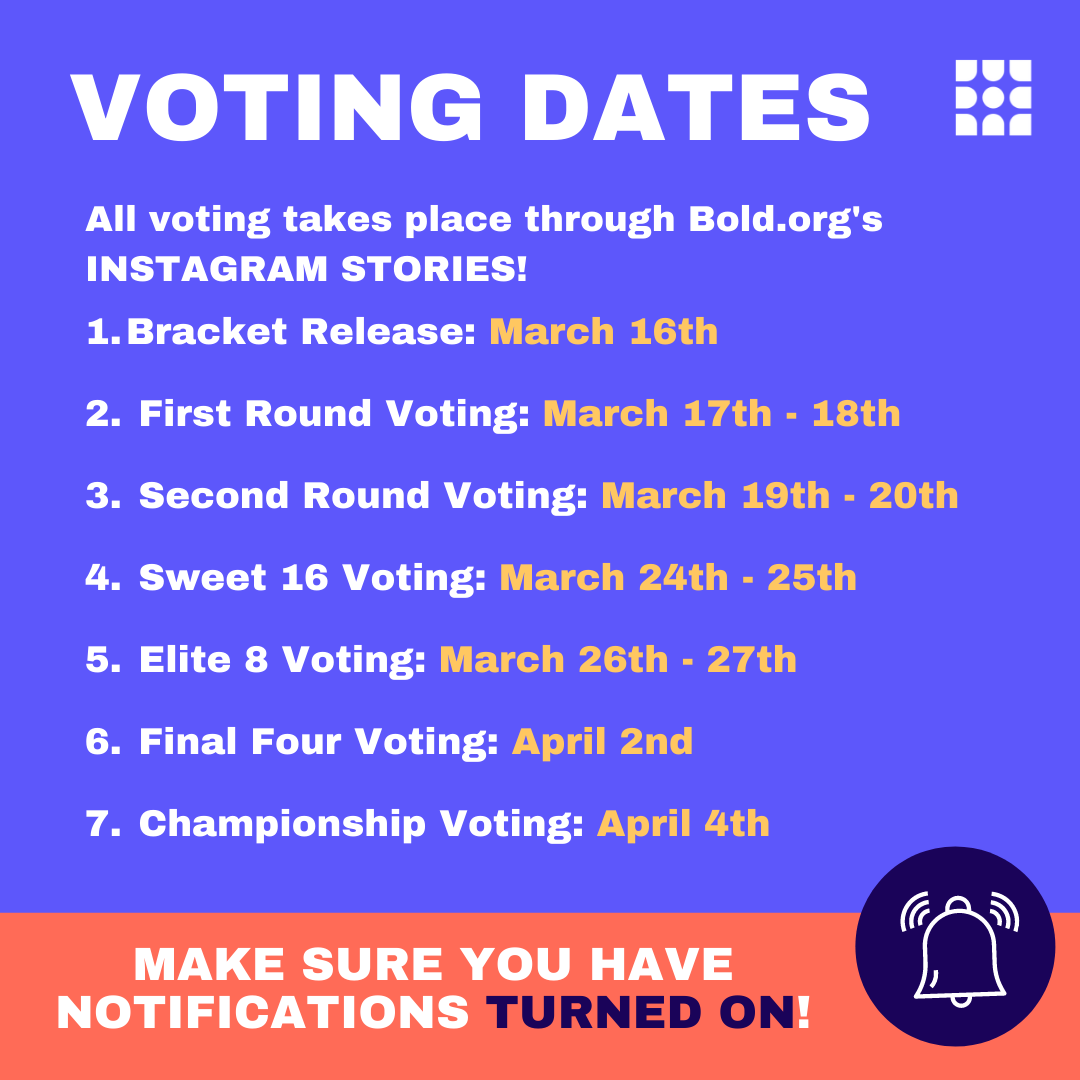 They call it March Madness for a reason! Don't let your school slip through the cracks. Here are the dates to keep in mind:
March 14 - 16: Initial voting will take place
March 16: 64-team bracket will be finalized
March 17 - 18: Round 1 of head-to-head voting
March 19 - 20: Round 2 of head-to-head voting
March 24 - 25: Sweet 16
March 26 - 27: Elite 8
April 2: Final Four
April 4: Championship round voting!
April 5: Winning school will be announced
April 22: 250 Bold points awarded to students from the winning school
April 25: Championship scholarship will be created
August 5: Championship scholarship application deadline
August 26: Championship scholarship winner chosen