What Are the Ivy League Schools?
College
September 1, 2023
10 min read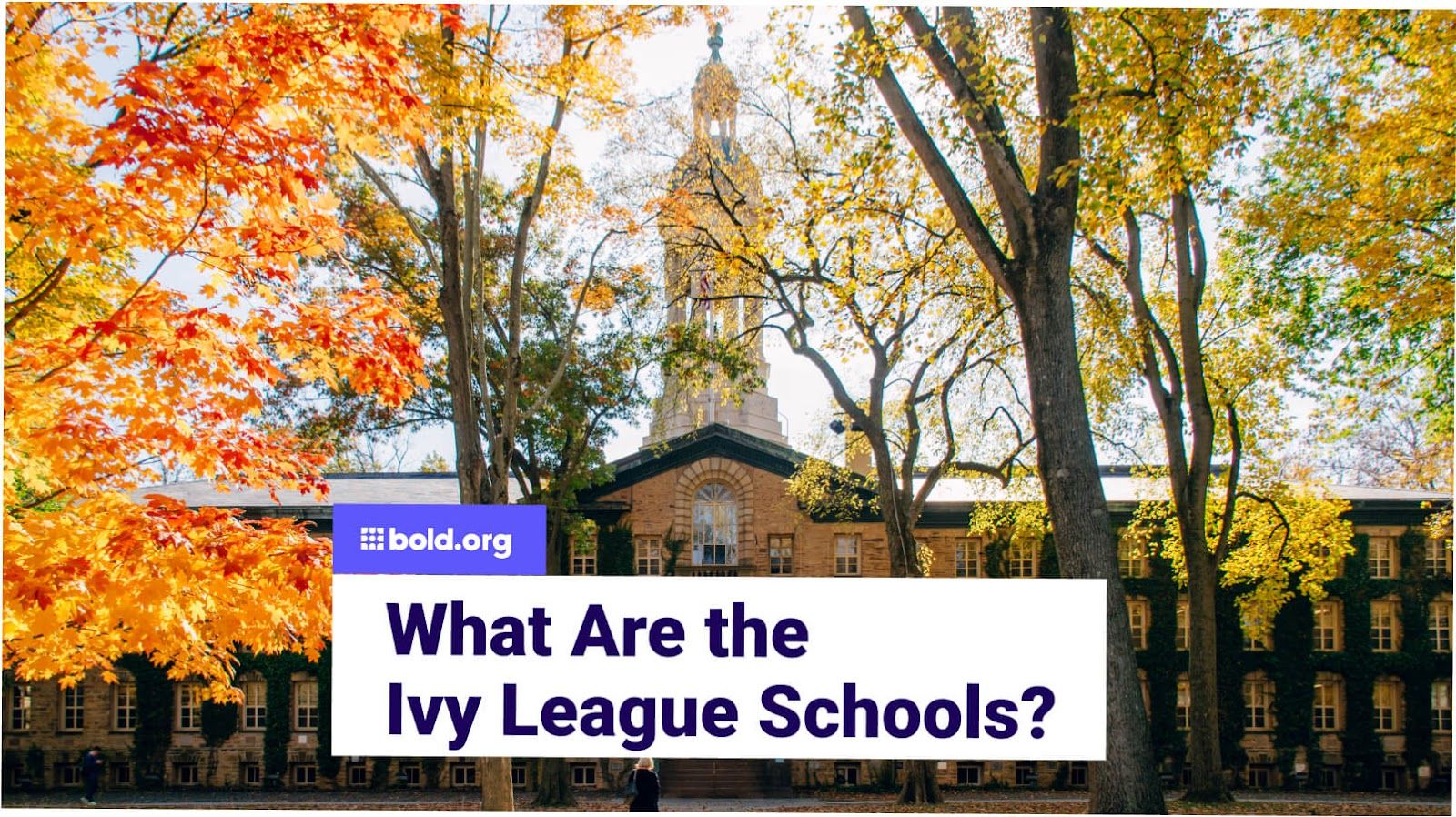 Top scholarships with upcoming deadlines
The Ivy League Schools have established a reputation as some of the most challenging and prestigious institutions to gain admission to. Many students dream of pursuing higher education at an Ivy League school for its esteemed status and available resources.
Fortunately, eight Ivy League schools are available for students to select from, each characterized by unique campus cultures, student demographics, curricula, opportunities, and more. All students who plan to attend one of these colleges are urged to research their backgrounds.
The Ivy League is a prestigious group of eight private colleges and universities in the northeastern United States. This Bold blog will explore what exactly the Ivy League is, delve into the history of these schools, examine their distinguishing features, provide a brief overview of each institution, compare them with each other, and discuss their impact beyond academics.
Create a Bold.org profile and use the scholarship search feature to access hundreds of exclusive scholarships for undergraduate and graduate students!
Understanding the Ivy League
To fully grasp the significance of the Ivy League, it is essential to understand its origins and the reason for its creation. The colleges and universities that comprise the Ivy League are recognized for their stellar education opportunities, but the purpose for their emergence was quite different.
Established in 1954, the Ivy League is an athletic conference. It has since evolved into a symbol of academic excellence, as the universities continue to be among the most sought-after in the world. The term "Ivy League" began in the 1930s and was used to describe an elite group of colleges based on their prestigious reputation, selectivity, and the sense of camaraderie among them.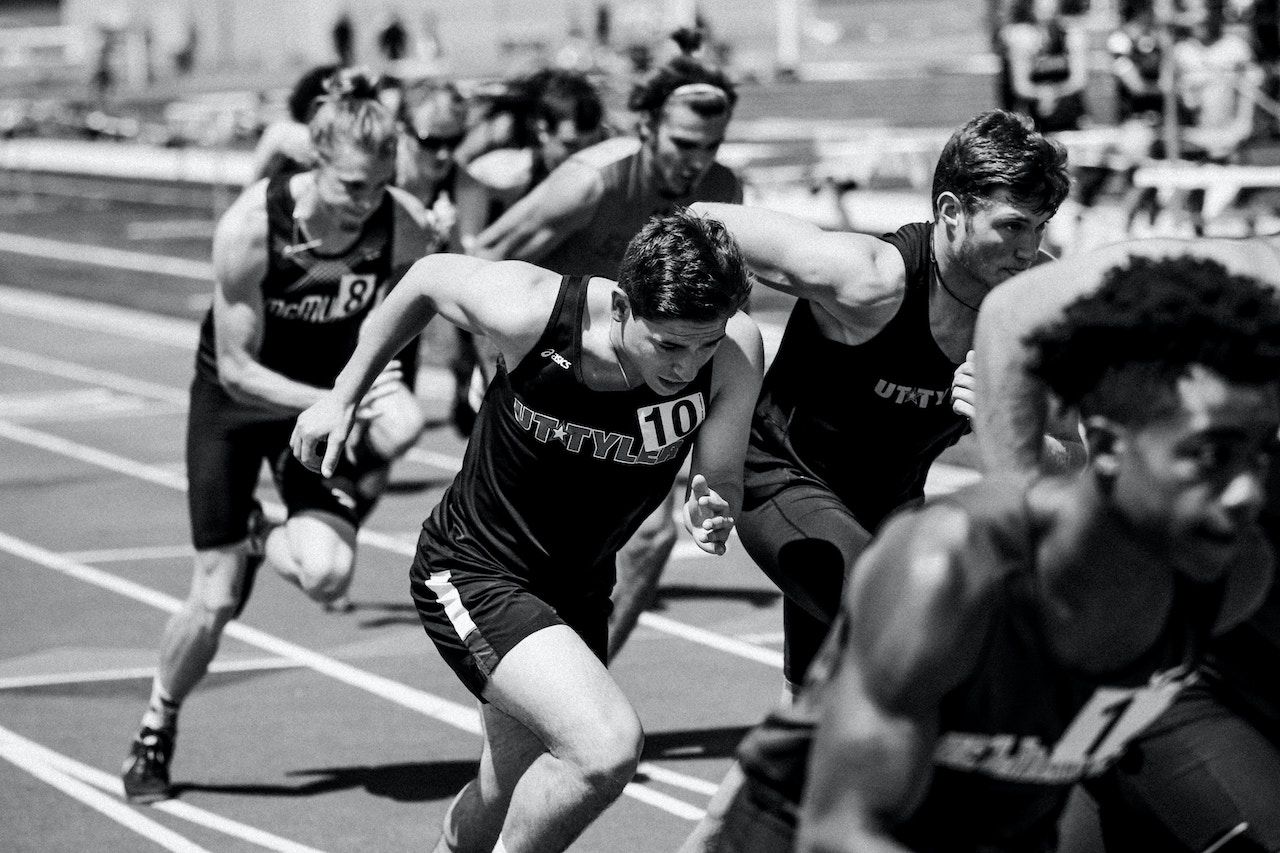 The History of the Ivy League
The Ivy League's foundation can be traced back to colonial times. The oldest of these schools, Harvard University, was founded in 1636, making it the earliest established higher education institution in the United States. The remaining 7 Ivy League schools were built shortly thereafter.
During these early years, the Ivy League schools shaped the intellectual and cultural landscape of the nation. They were a hub for learning and innovation, attracting scholars and intellectuals with diverse talents. These schools encouraged curiosity and critical thinking, grounding the pursuit of knowledge shared amongst institutions today.
Since its roots, the Ivy League has gone through immense improvements. Initially, the Ivy League schools catered to the children of wealthy families and kept opportunities limited to men. As times evolved, the Ivy League Colleges became more inclusive and diversified their student bodies. Today, they foster a diverse and inclusive learning environment, allowing students from all backgrounds to thrive.
What Makes a School an Ivy League?
Several factors make a school a part of the Ivy League. First, admission to these institutions is exceptionally competitive, with each school receiving thousands of applications for a limited number of spots. Every Ivy League institution's acceptance rate is currently below 8%.
Expanding upon academics, Ivy League schools pride themselves on their extracurricular offerings. With an emphasis on producing well-rounded individuals, they encourage students to participate in sports, the arts, community service, and various student organizations. This approach to education cultivates unique leadership skills and encourages personal growth.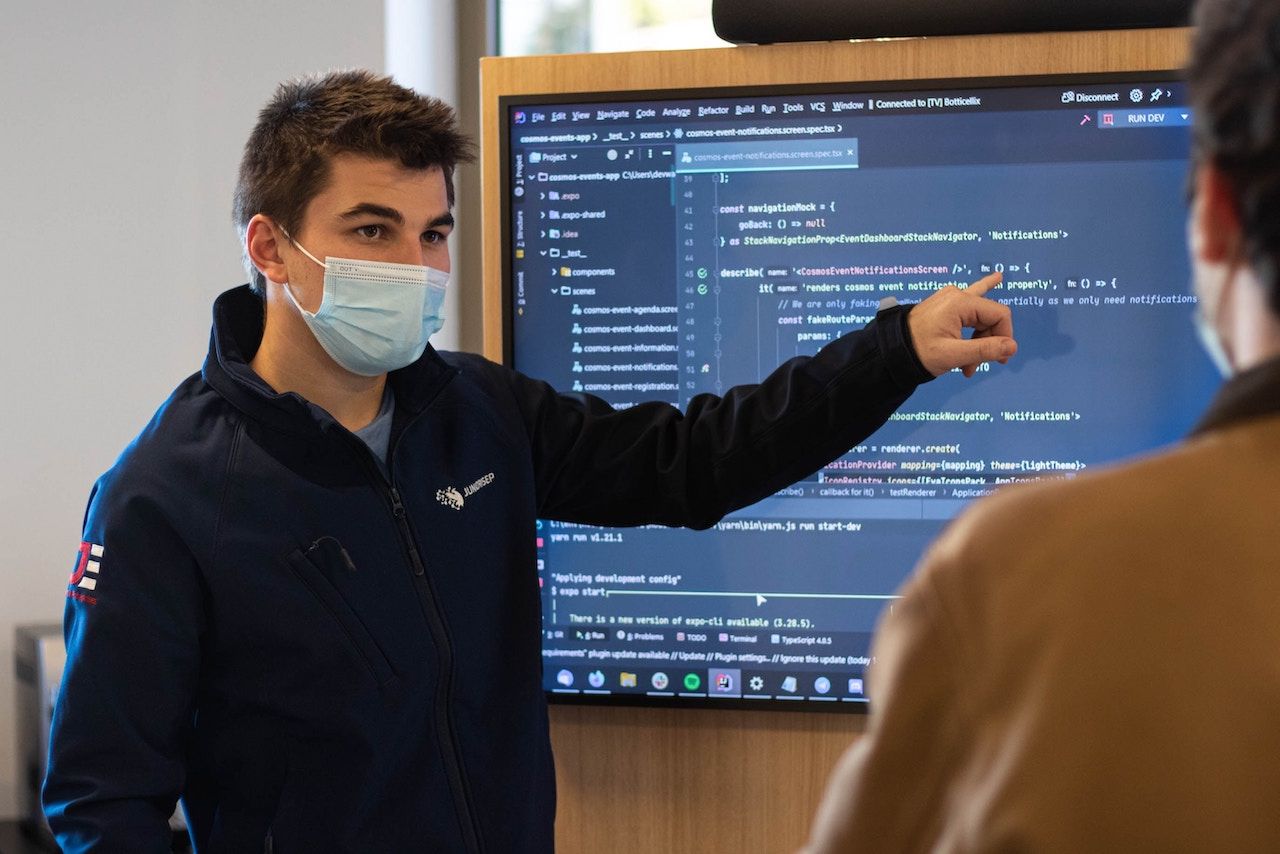 Furthermore, given its prestige, the Ivy League schools have continued to boast notable faculty members who are experts in their respective fields. The professors are renowned for their research, publications, and contributions to their respective academic disciplines. These notable faculty ensure a high-quality education where students can learn from some of the brightest minds in their fields.
It is also worth noting that these schools are reputable due to their investments in the best resources and facilities that assist their students' learning and research endeavors. State-of-the-art libraries, laboratories, and other academic spaces are a fraction of the tools students need to explore their interests and push the boundaries of knowledge.
Get Matched to Thousands of Scholarships
Create your Bold.org profile to access thousands of exclusive scholarships, available only on Bold.org.
Create Free Profile
The Ivy League Schools: An Overview
Eight prestigious universities in the United States comprise the Ivy League. While these schools are under the same umbrella, each has its unique culture, traditions, and areas of academic focus. Below is a list of each university in the order they were established. Let's take a closer look:
Harvard University (1636), located in Cambridge, Massachusetts, has claimed the title of one of the most prestigious universities in the world. Known for its rich history and academic excellence, Harvard offers a wide range of programs across various disciplines.
As a center of intellectual activity, Harvard University attracts renowned scholars and experts worldwide. The Ivy League Institution goes beyond the classroom. Students have access to state-of-the-art facilities, extensive libraries, and a vast network of alumni who have significantly contributed to various fields.
If you are or will be a Harvard University student, consider applying to these Massachusetts scholarships.
Yale University (1701), located in New Haven, Connecticut, is another Ivy League school renowned for its comprehensive liberal arts education. The university offers diverse programs across various disciplines and strongly emphasizes critical thinking and intellectual growth.
With its rich history and commitment to academic excellence, Yale University provides students with a rigorous and interdisciplinary education. The university's renowned faculty members and extensive resources enable students to delve deep into their areas of interest and pursue independent research projects.
If you are or will be a Yale University student, consider applying for these Connecticut scholarships.
The University of Pennsylvania (1740), located in Philadelphia, is renowned for its interdisciplinary approach to education. The university offers programs in fields such as business, law, medicine, engineering, and the arts. You might have heard immense praise around Wharton, the business school.
With its strong emphasis on research and experiential learning, UPenn allows students to join forces with faculty members on groundbreaking research projects. The University's location in a vibrant and culturally rich city opens doors to more internships, networking opportunities, and a diverse range of extracurricular activities.
If you are or will be a UPENN student, consider applying for these Pennsylvania scholarships.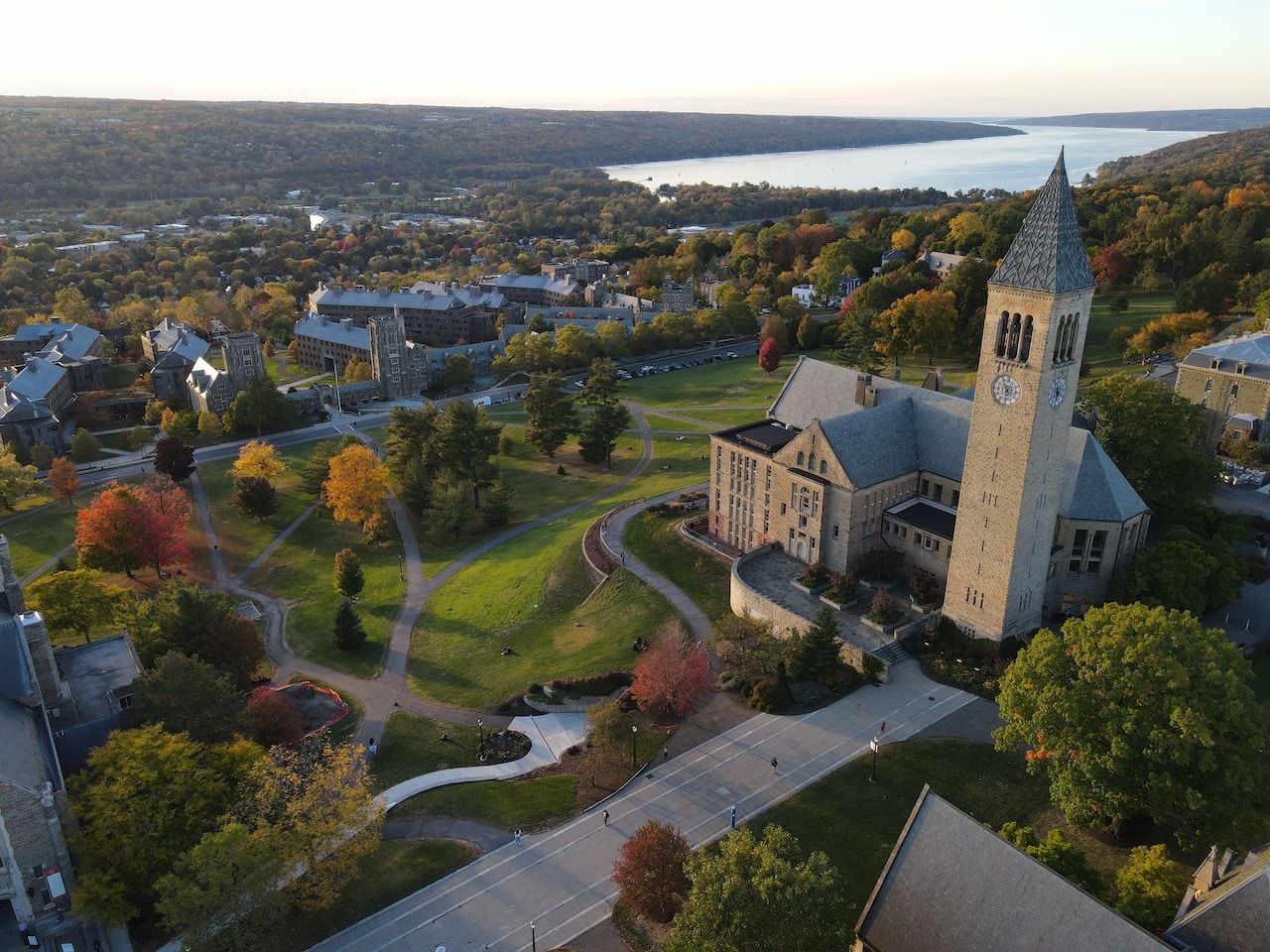 Princeton University (1746), located in Princeton, New Jersey, has a distinct approach to an undergraduate education. The university offers programs across the board in the humanities, social sciences, and STEM fields and provides a strong emphasis on research opportunities for students.
Known for its beautiful campus and intimate class sizes, Princeton University offers students a close-knit and supportive community. The university's commitment to undergraduate research allows students to work closely with faculty members on cutting-edge projects, fostering intellectual curiosity and critical thinking.
If you are or will be a Princeton University student, consider applying for these New Jersey scholarships.
Located in New York City, Columbia University (1754) offers various academic programs across its various schools and colleges. Columbia University has been administering one of the nation's most prestigious awards, the Pulitzer Prize, since 1917.
There is a career path and opportunity for every student to find what sparks their passion. The university is particularly renowned for its journalism, international affairs, business, and arts schools. Among the world's leading research institutions, Columbia University provides students with rich opportunities to engage in groundbreaking research and collaborate with renowned faculty members.
If you are or will be a Columbia University student, consider applying for these New York scholarships.
Brown University (1764), located in Providence, Rhode Island, is most recognized for its unique open curriculum, which allows students the full autonomy to customize their education based on their interests. This lenient approach encourages students to explore various subjects and fosters intellectual curiosity. Brown University is most renowned for its humanities, social sciences, and STEM programs.
With a vibrant campus community and a commitment to promoting diversity and inclusion, Brown University fosters a supportive and collaborative environment. Students may engage in research, community service, and extracurricular activities that align with their passions and goals.
If you are or will be a Brown University student, consider applying for these Rhode Island scholarships.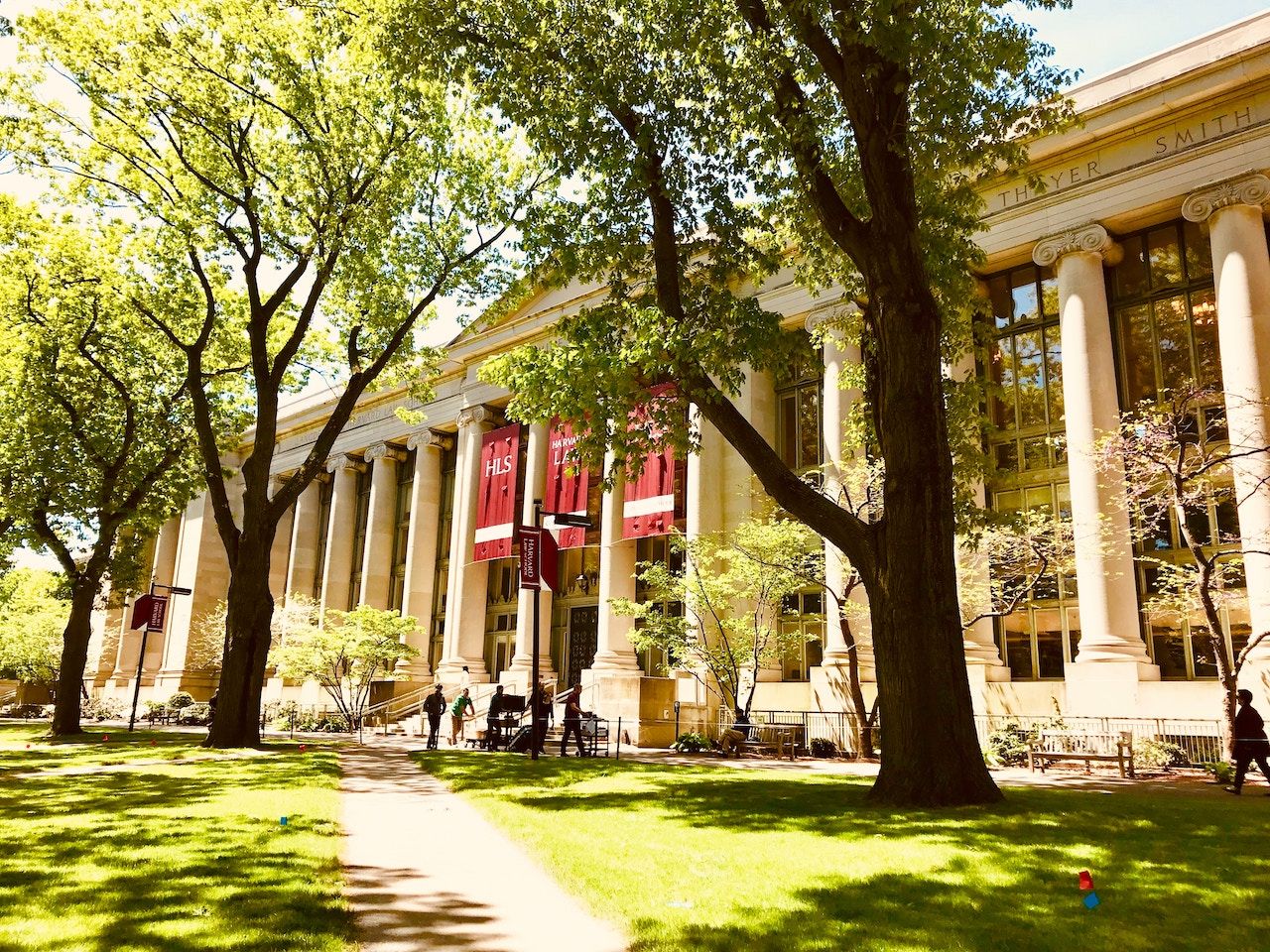 Dartmouth College (1769), located in Hanover, New Hampshire, offers a liberal arts education in its commitment to undergraduate teaching. The college offers many programs, particularly emphasizing the social sciences, natural sciences, and humanities.
Most known for its close-knit community and strong school spirit, Dartmouth College provides students with a supportive environment to engage in intellectual discourse and collaborative research. In addition to a rigorous education, the college's location in a picturesque New England town provides students with a tranquil and inspiring backdrop for relaxation.
If you are or will be a Dartmouth University student, consider applying for these New Hampshire scholarships.
Cornell University (1865), situated in Ithaca, New York, is known for its unique research and practical education blend. The Ivy League university offers a wide variety of programs in areas such as agriculture, engineering, business, and the arts.
The beautiful campus is nestled in the Finger Lakes region of New York, surrounding Cornell University in a picturesque setting. The institution's commitment to experiential learning allows students to apply their knowledge in real-world settings, preparing them for successful careers in their chosen fields.
If you are or will be a Cornell University student, consider applying for these New York scholarships.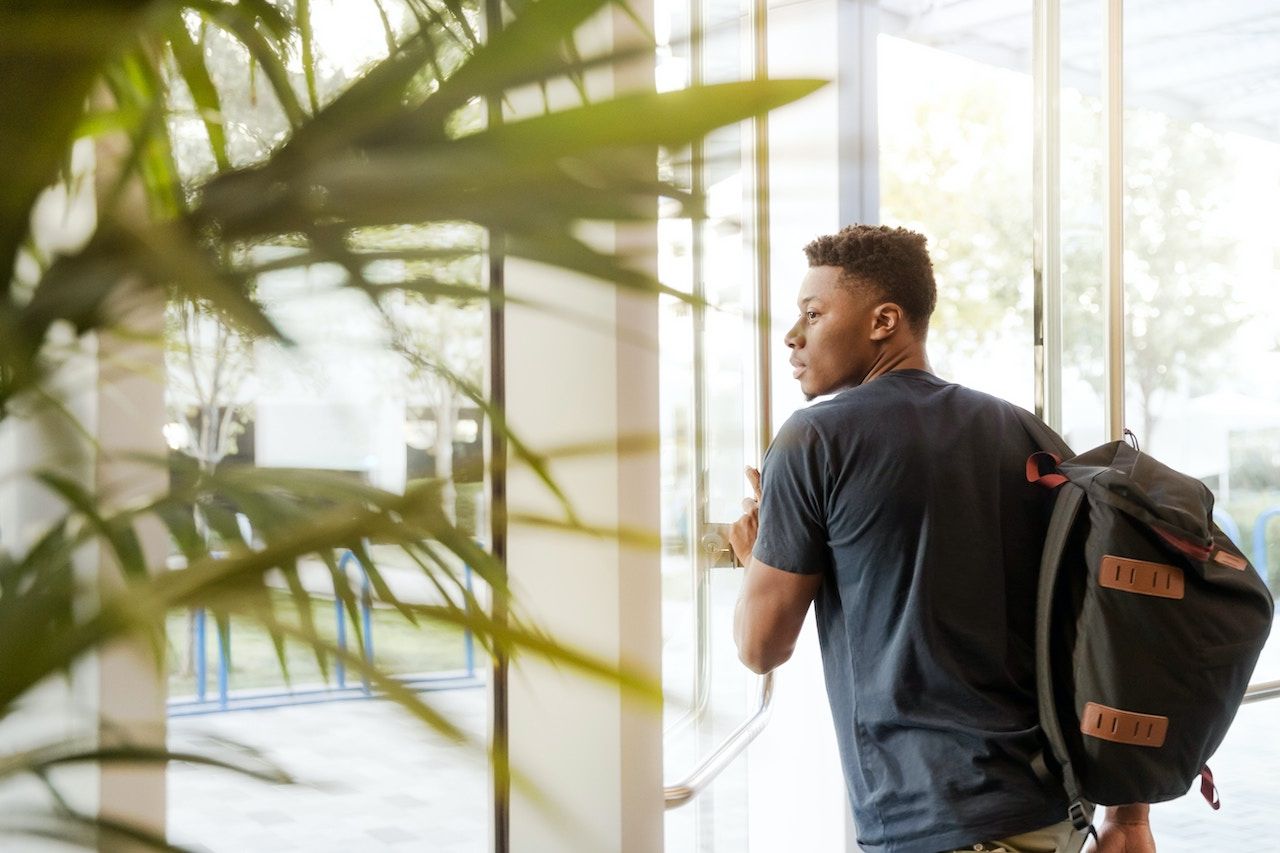 The Ivy League Beyond Academics
When it comes to the Ivy League, academic excellence is often the first thing that comes to mind. However, these prestigious universities are much more valuable than a top-notch education. Given their athletic conference, the Ivy League schools also hold a reputation for having some of the best athletic teams in the age group.
Athletic Programs in the Ivy League
Each year, these schools compete against each other in various sports, showcasing their rich athletic traditions. The student body can express their outside passions without sacrificing their education.
Although Ivy League schools do not offer athletic scholarships, they continue to attract highly talented student-athletes committed to excelling in their academic and athletic pursuits. These individuals embody the true spirit of the "student-athlete," demonstrating their dedication to their studies and chosen sports.
Recognizing the importance of balancing academics and athletics, Ivy League schools provide comprehensive support systems for their student-athletes. From academic tutoring to specialized training facilities, these universities ensure their athletes have the necessary resources to succeed in both areas.
Notable Alumni and Achievements
The Ivy League schools are known to produce exceptional graduates who become experts and influence significant contributions across varying fields. From Nobel laureates to Pulitzer Prize winners, influential business leaders, to esteemed political figures, the capacity of these notable alumni knows no bounds. The success that these institutions construct is truly impressive.
All-time Hollywood favorite Meryl Streep earned her MFA at Yale School of Drama in 1975.  Nobel laureate and economist Paul Krugman earned a BA in Economics in 1974 at Yale. President Franklin D. Roosevelt obtained a BA in history in 1903 and an honorary LLD in 1929 at Harvard.

Noam Chomsky, a prominent philosopher, linguist, and political theorist, is among Penn's distinguished alumni. He obtained all his degrees (BA, MA, and PhD) from Penn, specializing in politics and linguistics. American entrepreneur and Amazon founder Jeff Bezos achieved an exceptional feat by earning two bachelor's degrees with honors, one in electrical engineering and the other in computer science at Princeton.

Amelia Earhart attended Columbia University's School of General Studies but didn't graduate. Presidents Theodore Roosevelt, Dwight D. Eisenhower, and Barack Obama graduated from Columbia University. Ted Geisel, Class of 1925—aka Dr. Seuss—graduated from Dartmouth College.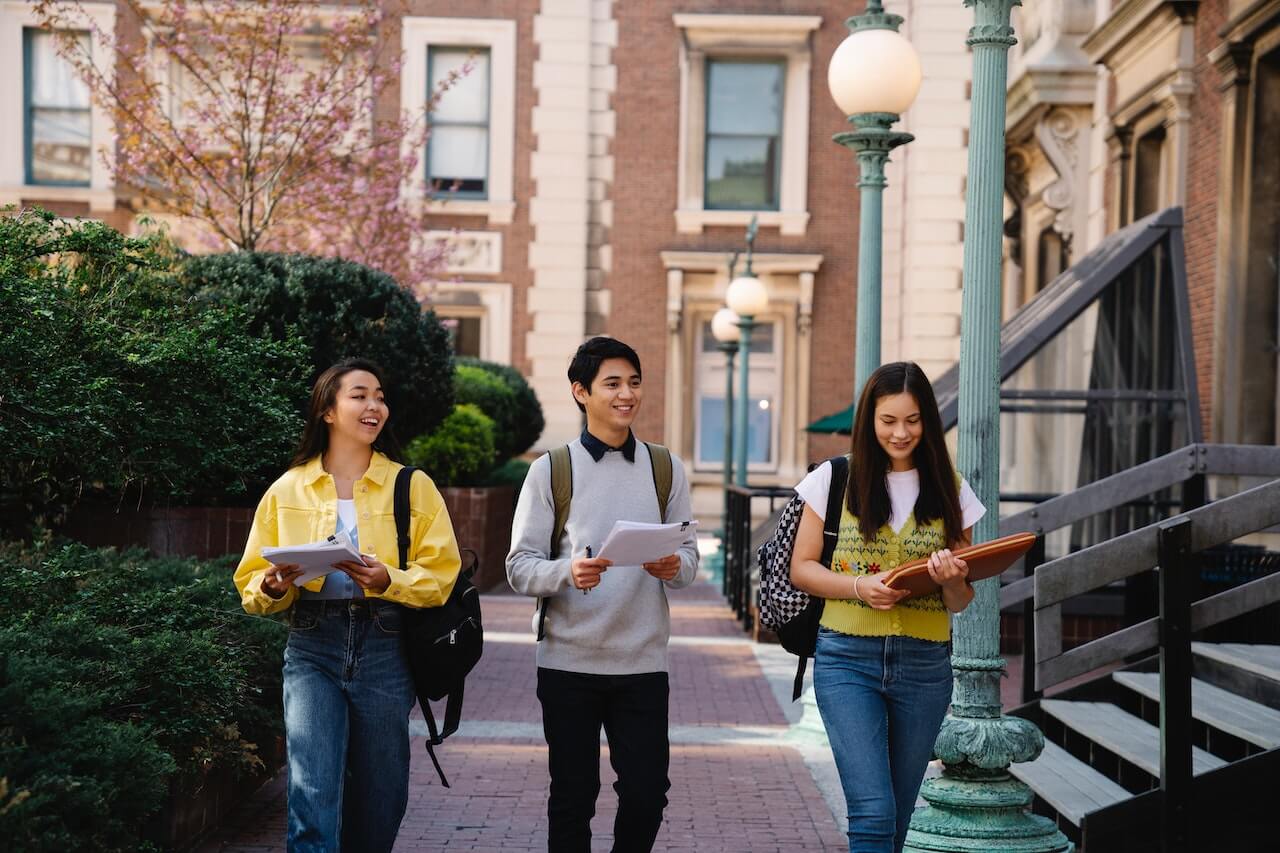 Bill Nye, also known as 'the science guy,' and Toni Morrison, an American novelist, graduated from Cornell University. John D. Rockefeller and Emma Watson graduated from Brown University.
These accomplished individuals serve as inspirations and mentors for current and future generations of students. Their successes emphasize the transformative power of an Ivy League education and the opportunities it provides for personal and professional growth.
Moreover, the Ivy League schools create an environment fueled by a sense of intellectual curiosity, critical thinking, and leadership among their alumni. Most of these prominent figures credit their education and experiences at these institutions as vital tools in shaping their career paths and preparing them for success in their respective fields.
By nurturing a culture of excellence, Ivy League universities continue producing graduates who have a lasting impact on society. Their patterns of achievements shared by past classmates testify to the exceptional education and opportunities in the Ivy League.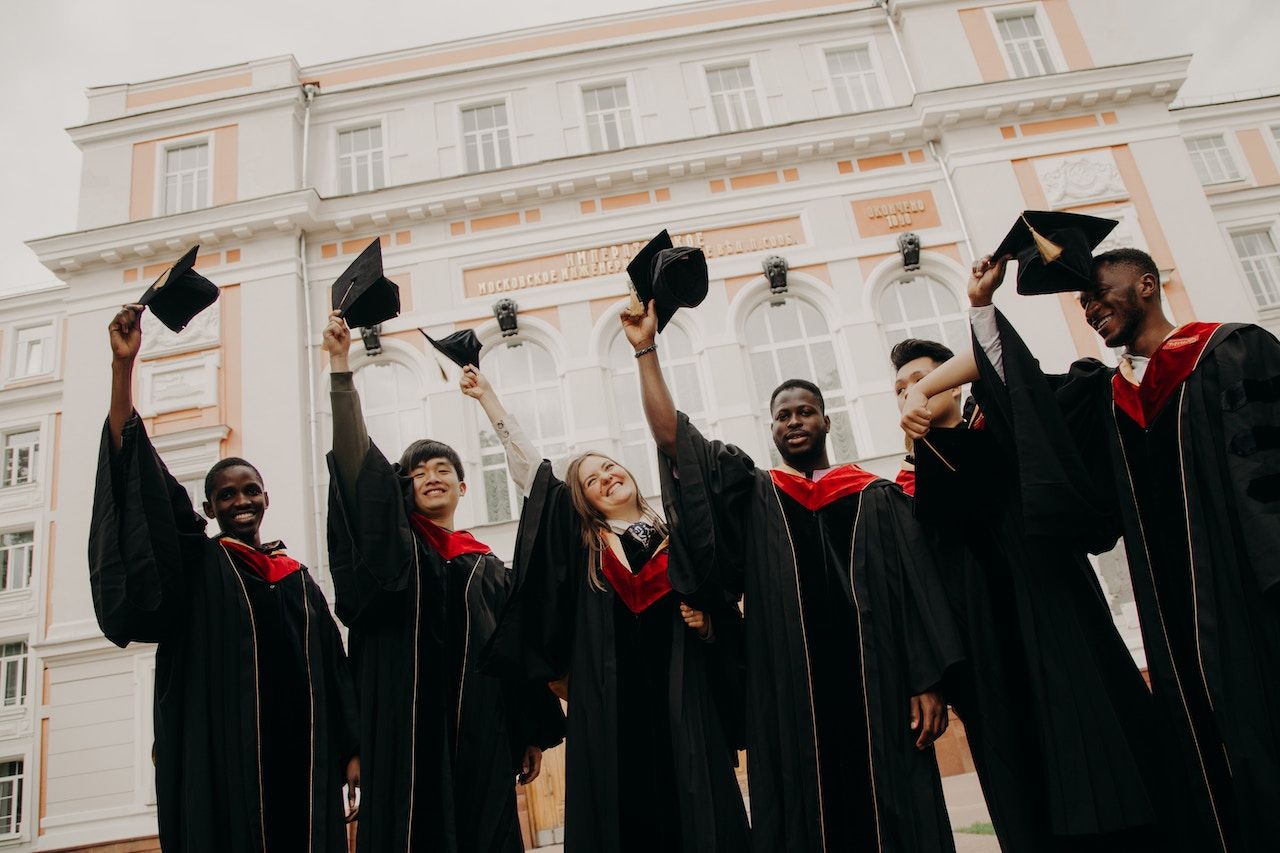 Frequently Asked Questions About Ivy League Schools
Is financial aid available for students attending Ivy League schools?
Yes, students can take advantage of various financial aid opportunities. Students may consider applying for need-based grants and scholarships through the Free Application For Federal Student Aid (FAFSA). Additionally, students have a multitude of scholarships to apply for on Bold.org. The platform refreshes new scholarships daily, opening doors for Ivy League students to apply. It is always best to begin the process early, but if not, students can apply while simultaneously in school.
Are Ivy League schools the best in all fields of study?
While the eight Ivy League schools are among the top universities in the country, they comprise only a fraction of the amazing programs out there. Avoid restricting your college search to these schools because many other schools provide stellar programs. Some may even be considered equally competitive to an Ivy League. If you are already aware of which career path you want to attend, conduct research on all the opportunities out there. Always keep your options open.
Are Ivy League schools expensive?
All Ivy League Institutions are private, so their tuition will be quite high. While the price tag will vary depending on the school and financial aid, it can be expensive. This is why applying for scholarships might be in your best interest. Find some that fit your expectations to cut down on college costs.
Curious to learn more? Answer all your questions regarding college, student credit cards, scholarships, student loans, and more on Bold.org's Scholarship Blog. Keep up to date on everything you need to know.