Top 10 Dental Schools in the US in 2023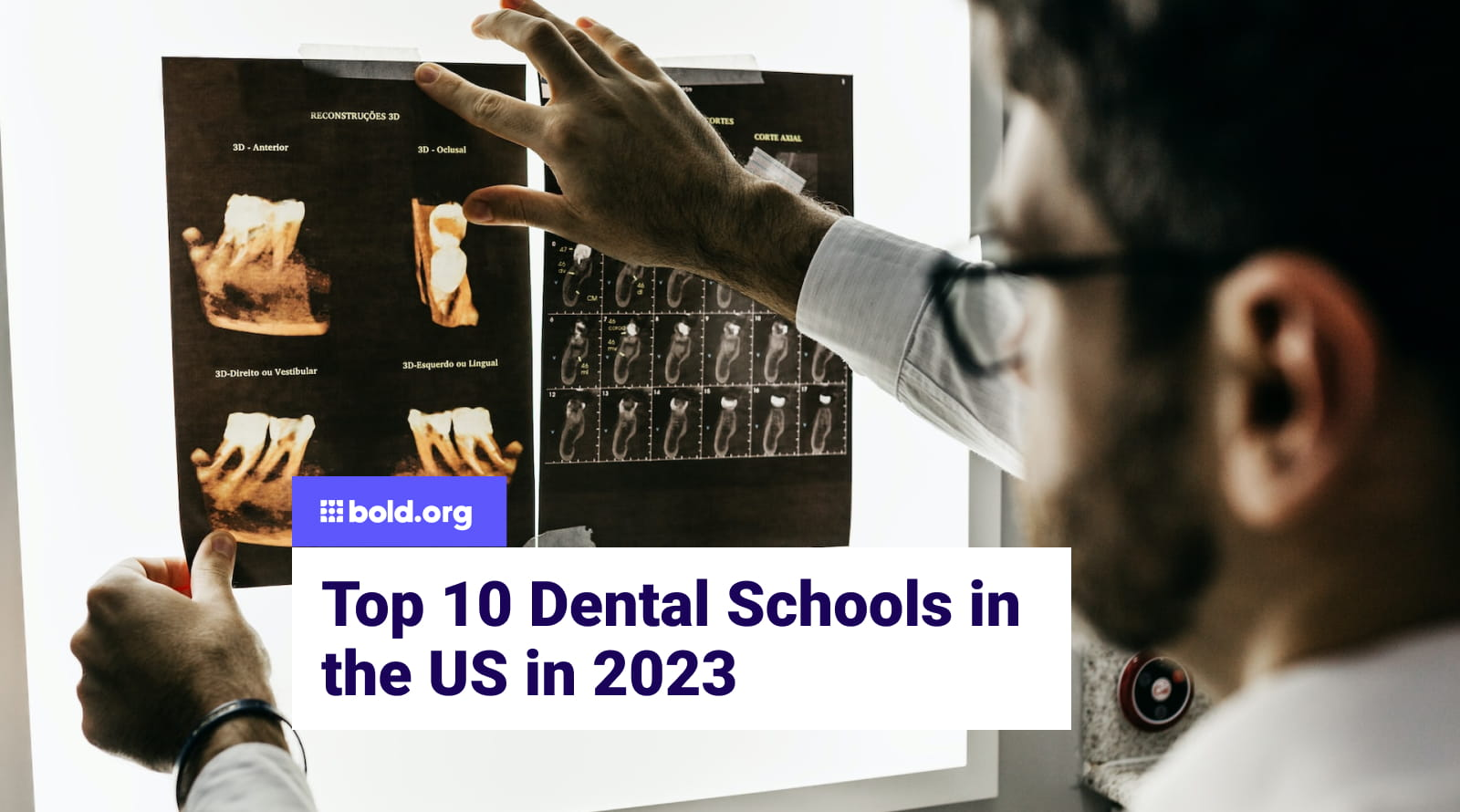 Top scholarships with upcoming deadlines
Obtaining a degree from a dental school and being a dentistry student is an exciting step in the process of becoming a dentist.
If you are considering a dental school, you may wonder where to start and what school to attend. There are dental schools all over the country, and choosing the right dental program can seem like an impossible task.
There are many factors to consider aside from dental school rankings when it comes to choosing a dental school, but it is important to be informed about the most prestigious schools. This article has compiled a list of the top dental schools in the US.
Create a Bold.org profile and use the scholarship search feature to access hundreds of exclusive scholarships.
Bold.org has 10 Exclusive Dental School Scholarships for students interested in dentistry like the Future Dentist Scholarship!
What is dentistry?
According to the American Dental Education Association, dentistry - also known as dental medicine or oral medicine - is the branch of healthcare that deals with maintaining the health of people's teeth, gums, and other areas in and around the mouth.
Dentists have many duties when it comes to patient care, including but not limited to:
Evaluating patients' overall health while advising about oral health care
Performing clinical procedures, such as exams, fillings, corrective surgeries, and more
Identifies, diagnoses, and treats oral conditions
Performs general dentistry or practices one of the nine dental specialties
Get Matched to Thousands of Scholarships
Create your Bold.org profile to access thousands of exclusive scholarships, available only on Bold.org.
Create Free Profile
Nine dental specialties:
Endodontics - focus on dental pulp and periradicular tissues
Orthodontics and Dentofacial Orthopedics - straighten teeth and correct facial deformities
Pediatric Dentistry - provide dental care to infants, children, and teenagers
Periodontics - the prevention, diagnosis, and treatment of the gums
Prosthodontics - provide restorative dental procedures
Oral and Maxillofacial Pathology - concerns diseases affecting the oral and maxillofacial regions
Oral and Maxillofacial Radiology - oral and maxillofacial radiologists analyze images for issues of the maxillofacial area
Oral and Maxillofacial Surgery - perform surgery on the teeth, jaw, face, and gums
Dental Public Health - focus on prevention and treatment of dental diseases and promoting dental health in communities
How important is dental school reputation for residency applications?
How dental school reputation impacts applications to a residency program is complicated. Dental schools in the US have not had a "proper" ranking system since the 1990s when many dental schools boycotted the US News and World Report for their overly simplistic rating.
Yet the reputation of dental schools can matter, even without a specific ranking system. Dental school graduates who plan to work as general dentists following graduation don't need to worry much about the reputation of their dental school as long as their degree comes from an accredited dental school.
However, students pursuing a dental residency program after graduation may pay more attention to the reputation of their dental school. A dental residency program is attended by those who wish to specialize and work at specialty clinics, as well as those who seek additional training. Because residency programs are so competitive, a dental school's reputation can be important.
Factors to Consider When Choosing a Dental School
There are important factors to consider when choosing a dental school aside from just reputation:
Cost of tuition, fees, and cost of living
Graded vs. pass/fail programs
Class size
Location
Best Dental Schools In The US
The University of California San Francisco School of Dentistry is among the best dental schools in the states. Founded in 1881, the UCSF School of Dentistry is a leading institution of oral and craniofacial health and has many different programs, including DDS, Ph.D., post-graduate training, and residency programs.
The Harvard School of Dental Medicine at Harvard University was founded in 1867 and is one of the best dental schools in the United States. The school focuses research on musculoskeletal-disease research and offers its student body public health opportunities.
The University of Michigan School of Dentistry is sometimes considered the #1 dental school in the country and is a top five NIH-funded research institution. Its DDS Program has ten times the national average of graduates working in community dental clinics.
The University of California Los Angeles School of Dentistry has a world-class reputation based on its excellent educational programs and internationally renowned faculty. It is ranked the #6 dental school in the world.
The University of North Carolina at Chapel Hill hosts the Adams School of Dentistry was North Carolina's first dental school to rank among the best dental schools in the US. It trains its students in both research and clinical practice.
The University of Washington School of Dentistry is one of the best dental schools in the US. Its dental program focuses on social responsibility and public trust and is an international education, research, and clinical training leader.
The University of Pennsylvania School of Dental Medicine was established in 1878 and is one of the oldest university-affiliated dental schools in the nation. The Penn Dental Medicine's mission is to transform global oral health and well-being through exceptional clinical care, innovation, education, and research.
The New York University School of Dentistry educates nearly ten percent of the nation's dentists. The school uses an integrated, collaborative approach to drive its research, which includes research opportunities for its students.
The University at Buffalo School of Dental Medicine is one of the top dental schools in the country. It has some of the best clinics and up-to-date facilities in the United States.
The University of Iowa College of Dentistry and Dental Clinics has been a leader in patient care, dental education, and oral science research since its founding in 1882. The college has 26 community programs focused on children, patients with special needs, and seniors.
What are the easiest dental schools to get into?
Some of the easiest dental schools to get into include:
University of Mississippi
University of Minnesota
University of Detroit Mercy
University of Utah
University of Washington
East Carolina University
Ohio State University
New York University
Indiana University
Scholarships on Bold.org
Bold.org has Exclusive Dental School Scholarships for students interested in dentistry!
Create a Bold.org profile and use the scholarship search feature to access hundreds of exclusive scholarships. The process is easy, and hundreds of scholarships are available to help aid students like yourself. There are scholarships on Bold.org available for many different majors and need-based and merit-based scholarships, among many other categories.
Read our guide on How To Get Scholarships for Grad School.
Frequently Asked Questions About Dental Schools
What is a good GPA to get into dental school?
Competitive dental school applicants will have a 3.5 cumulative GPA or higher. Many schools also average science courses; students should also have a 3.5 GPA or higher in this category.
What major is best for getting into dental school?
The majority of applicants to dental schools majored in biology and chemistry. However, there are accepted students who have undergraduate degrees in other majors. For example, some biomedical engineering students even become dentists by attending dentistry school after earning their undergraduate degree
How many years is dental school?
Traditional dental school programs are four years long. The first two years of dental school are typically spent studying basic biology, and the third and fourth years mostly consist of clinical study and direct patient care.
What is the cost of tuition at dental schools?
The average total cost dental students can expect to pay at an in-state public school is $151,508, and at private schools in the US, the average total cost is $268,348.
How should one apply to dentistry schools?
Applying to dental schools in the US involves many steps, but there are four main steps that need to be taken.
Take the Dental Admission Test (DAT). All US dental schools require the DAT.
Submit an application to ADEA Associated American Dental Schools Application Service (ADEA AADSAS). Most dental schools in the US require you to use the ADEA AADSAS to apply.
Submit additional materials requested by each dental school. Some schools require additional information, such as work history.
Participate in interviews. The majority of dental schools require an interview to be considered.
What is a good DAT score?
The DAT is scored on a scale from 1 to 30. Competitive scores that rank in the top 25% of DAT scores are 19 to 20 points, and a top score would be 22 or higher. The average score is 17.
Browse the Bold.org Scholarship Blog for more articles like this one!