How To Reduce the Cost of College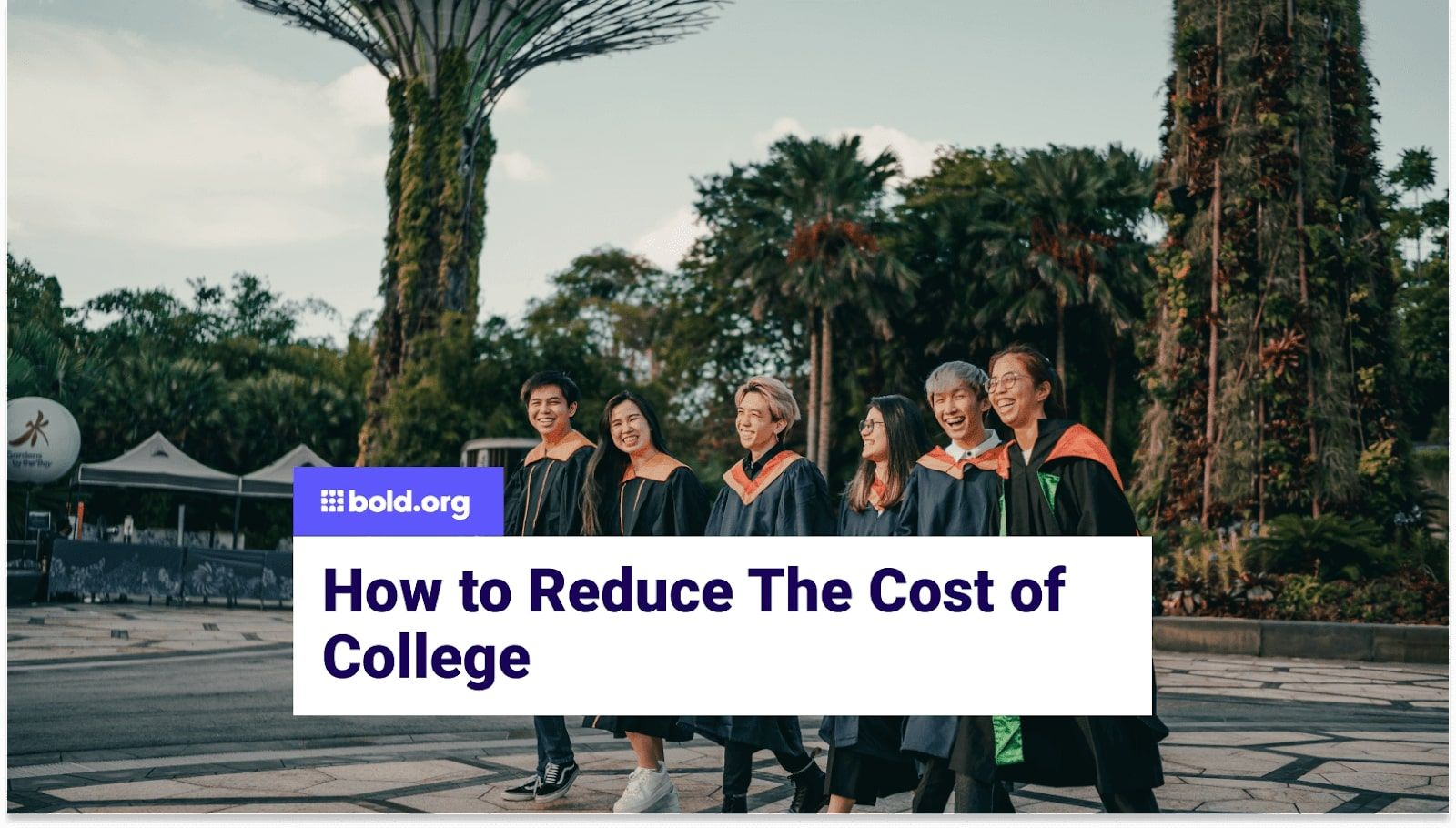 Top scholarships with upcoming deadlines
Are you looking for ways to lessen your college costs? Most students think college costs mean tuition, but really there are additional expenses like books, housing, transportation, school supplies, and more. These costs can accumulate as significant expenses and discourage students from pursuing higher education altogether. Figuring out how to pay for college remains the number one drawback for students of all ages.
Although college can be quite the price tag, with the right tips, you can significantly minimize your expenses and reduce the overall cost of school-related fees. This article will equip you with almost everything you need to know to reduce the financial impact of degree attainment.
Scholarships are a great way to reduce educational expenses; check out Bold.org's scholarships by signing up now!
Get Matched to Thousands of Scholarships
Create your Bold.org profile to access thousands of exclusive scholarships, available only on Bold.org.
Create Free Profile
Create an Ideal Budget
It is always best to go into your college search with a realistic budget in mind so that you know which routes are affordable. If you are lucky enough to receive support from parents, you chat with them early on and figure out how much they are willing to help financially.
An ideal budget will help jumpstart a more organized process and ensure no surprises with financial concerns down the road. It will also help you plan how much money you will need from outside sources such as scholarships, grants, student loans, or work-study.
Locating Money for College
All the money spent on your education does not have to come from your pocket. Before taking out thousands in student loans, utilize forms of gift aid, like no strings attached financial support, such as grants or scholarships.
Unlike other types of financial assistance, they do not require repayment following graduation. Grants and scholarships will most likely come from the following five sources:
Bold.org
Bold.org offers various scholarships, providing students with unlimited opportunities to fund their education. These scholarships have various eligibility requirements ensuring that they can cater to students from all backgrounds. Apply as early as today!
Colleges + Universities
Many colleges offer institutional grants and scholarships, like presidential scholarship programs. Do extensive research to see what programs are available at the universities you are applying to, and begin those deadlines accordingly.
Private Companies
Many companies offer scholarships based on creativity and merit to help further fund students' college education. Reach out to organizations in your area or surf their websites to see which offer financial support to students.
State Government Agencies
Every state will go about this differently, but government agencies might offer some federal grants for residents attending qualifying schools in the area.
The Federal Government
Provides grants to students each year that are assessed using the Free Application for Student Financial Aid. Monetary value can vary based on financial needs and familial income.
Local scholarships
Local organizations also offer scholarships to student residents. You can check with your guidance counselor, library, and community members to see if any opportunities are available.
Free Money for College
Nearly 85% of college students attending a private university or college received some sort of grant or scholarship. In fact, public colleges and universities provided financial aid to over 50% of enrolled students based on the latest data available.
Visit Bold.org to learn everything you need to know regarding the scholarship process. Have a better understanding of the weighted average importance of grades, standardized tests, class rank, talent, athletic ability, and legacy status for public universities and private colleges and how these factors can separately benefit your scholarship applications.
Furthermore, community colleges within specific states offer free college tuition for the first two years of working towards a college degree. Community college, a public institution offering open enrollment, is an excellent affordable option. Students can earn college credit at a significantly low cost and then transfer to any one of their desired private institutions.
Students who choose to stay at their local community college may apply for scholarships through Bold.org once they become responsible for tuition and fees.
One vital component every student should take advantage of is financial aid. Each year, thousands of students leave their financial aid documents incomplete with the assumption that they will not qualify for any money. While financial priority will be given to students from low socioeconomic backgrounds, there are still some to give to other students.
Even though the money received through financial aid may not pay for your entire undergraduate or graduate tuition, any penny helps. Read more about the Free Application for Federal Student Aid (FAFSA) to be on top of future deadlines and fully understand what a complete application should look like.
What You Need to Know about Student Loans
Sometimes, after exhausting all grant and scholarship routes, there may still be impending expenses left. When students do not have enough money, the next resort is usually student loans. It is important to note that student loans should always be taken cautiously, as many require you to pay interest. Currently, student loan debt is 1.7 trillion dollars among college graduates all over the country.
Before using student loans to pay for college classes, make sure you know the difference between each type of loan to choose the best one for your financial situation. There are two types of loans: Federal and Private loans. Each type of loan will accumulate interest differently, affecting how much you owe.
Federal loans are the most sought-after because they provide a six-month grace period, so repayment begins a couple of months post-graduation. While monthly payments begin after degree completion, interest payment may be your responsibility, depending on the loan. With direct subsidized loans, students do not have to worry about interest until that grace period is over - saving them thousands of dollars in interest.
Since private loans come from many different sources, there is no right way to determine which ones are better. It is best to consult with banks, credit unions, and other organizations to compare their student loan packages.
Student loans can be quite intimidating to navigate. Gather more information regarding student loans through Bold.org resources, including federal student loans, student loan forgiveness, and a more in-depth review of how student loans differ from scholarships.
In-State Schools versus Out-of-State Colleges
College tuition for in-state residents is significantly less expensive than for non-residents. The cost of tuition for non-residents can be 2-3 times higher than for those residing in the state where the school is based.
If attending an in-state institution would be a better option for you financially, then speak to a college counselor about what grades and test scores you will need to be a competitive applicant for those universities.
Every high school student should apply to a range of schools and consider local public universities that offer in-state tuition. It can be an affordable option to fall back on if accepted.
Proper Scheduling
One of the biggest expenses you can control is the time you are in school. In other words, graduating with the desired degree in four years instead of six will save time, money, and resources. You can control a large college cost driver by properly planning your schedule and staying on track.
Saving For College
The best thing you can do for yourself is to set money aside and save for college early on. Whether by working during the summer or in high school, saving money can help you immensely with expenses. With a full course load, it can be draining to work during the semester and sometimes even too late. The sooner you begin saving, the more that will be readily available when the time comes.
Negotiating Your Financial Aid Package
Many students assume that financial aid packages are final, but you can try to negotiate with your college advisor. There is no guarantee that it will drastically shift your award. However, under the right circumstances, you can save yourself thousands of dollars.
The college administration wants you to succeed and has accepted you for a reason, so graciously communicate with them regarding your financial concerns. They might be willing to do a lot more to help.
For additional resources, you can visit Bold.org and subscribe to our blog for the latest in college information.