How to get a track scholarship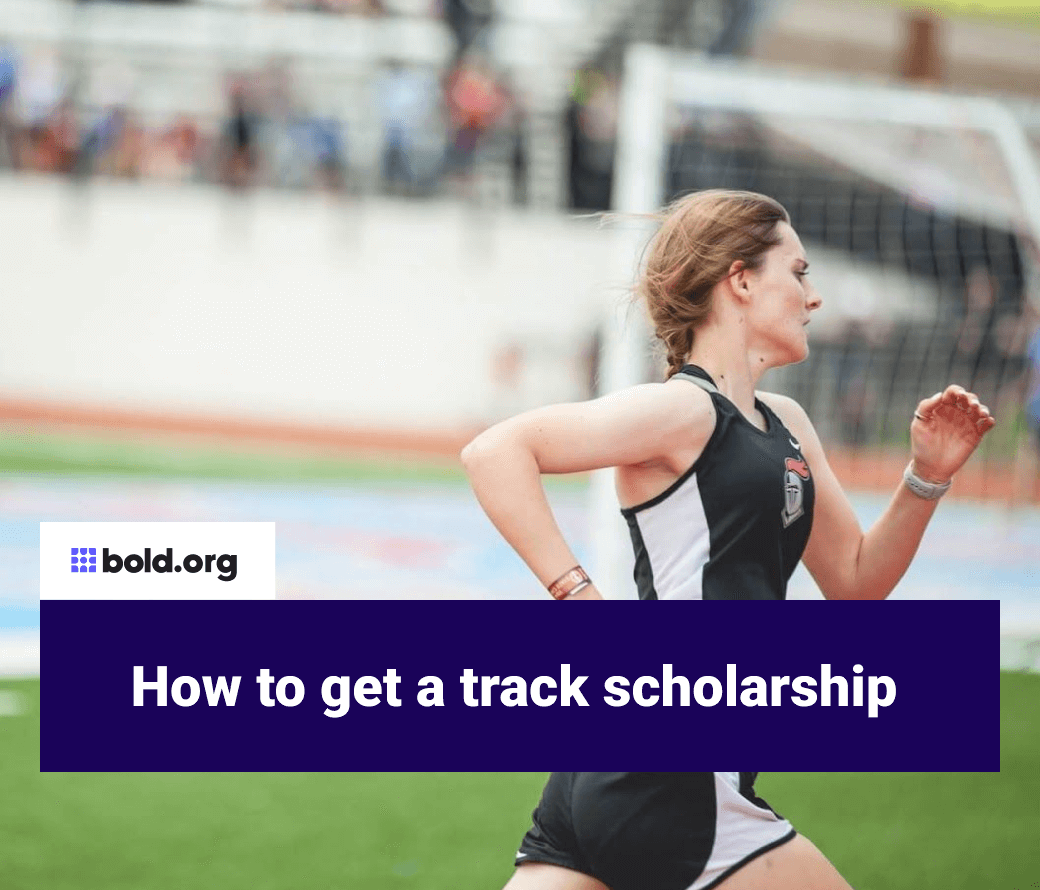 Top scholarships with upcoming deadlines
Many college coaches are willing to provide athletic scholarships to promising student-athletes. There are over 1,000 track and field programs available at the college level. Track and field scholarships may be of interest to students involved in track and field who want to earn more scholarship money. You can sign up for Bold.org here to begin qualifying for hundreds of exclusive scholarship opportunities!
Winning a track and field scholarship as a high school student may allow a student-athlete to attend college with less student debt. College track and field athletes can also benefit from scholarship money, as extra scholarship money may enable them to cover the costs of continuing their education.
Get Matched to Thousands of Scholarships
Create your Bold.org profile to access thousands of exclusive scholarships, available only on Bold.org.
Create Free Profile
In addition, an athletic scholarship can be very helpful to students who feel their true talents lie outside of the classroom. Many athletic scholarships are more dependent on a student athlete's ability, though some scholarships will still require a minimum GPA. As a result, regardless of academic capability, student-athletes have the opportunity to win scholarship money through athletic scholarships.
Though winning a track and field scholarship is competitive, student-athletes may still find it worthwhile to apply. At the NCAA Division I level, there are typically 18 track and field scholarships per team for women, and 12.6 scholarships for men's teams. Partial scholarships are more common than full athletic scholarships, but it's possible to win a full ride depending on the program students apply to.
Research track and field scholarships
The athletic scholarships students are eligible to receive are highly dependent on what NCAA Division applicants will place into. College track is somewhat unique in that college coaches are often very transparent about what time marks or scores students must reach to be considered.
Most divisions will have very clear-cut guidelines for running, high jumps, and other areas of track and field.
As a result, students interested in track and field should get an idea of their skills by competing in a variety of competitions. Once they have some reliable data to determine their skill level, students should research the standard scores for each division and see which division best matches their ability. Track and field students may want to consult their high school or current coach to help them determine what division would be best for them.
Knowing which division you are likely to place into is helpful for researching colleges and track and field programs as well. This part is quite important as eventually track and field students will want to get in touch with college coaches, and researching schools will allow students to direct their efforts toward the schools that best fit their needs. If you're hoping to attend a D1 school, learn more about how D1 scholarships work here.
Track and field student-athletes should compile a list of potential schools that have good track and field programs. This list should also be plausible, meaning that while it's fine to try to apply to the top schools, students should mostly focus on the schools they are likely to get into based on their skills.
Things to consider include the track and field program, academics, location, and price. Students should also research the school's specific policy on athletic scholarships to get a better idea of how much scholarship money they might be able to receive.
Reach out to college coaches
Now that track and field applicants have an idea of which schools they want to attend, students should begin to email the college coaches at these schools and the coaching staff. Because college coaches get hundreds of similar emails every application season, student-athletes should try to include all their materials in one email to make correspondence as easy as possible for the coach.
Students can include their athletic resume and a link to a competition highlights or skills video. In addition, students should include their name, current school and grade level, position or preferred area of competition, and one or two key skill statistics. Students should include some of their higher skill markers to let coaches know they have the raw numbers and they are worth an evaluation.
The idea in emailing college coaches is to establish a connection, and allow coaches to conduct a quick evaluation to see if you are worth a follow-up. By including all your information in one email and succinctly introducing yourself, you can allow the coach to get an idea of your skills without asking them to put in too much effort.
Students should also avoid copying and pasting one email to every coach. Though the main information can remain the same, opening with the coach's name and a quick explanation of why their school stood out to you can demonstrate a vested interest in their program.
Apply to and evaluate athletic scholarship offers
Based on the responses from the coaches, track and field student-athletes should have a good idea of which schools they are most likely to get into. Schools with coaches that respond favorably are where students should apply for college and concentrate their efforts.
Students should compare the amount of scholarship money they have been offered and decide which program makes the most sense for them. The financial aid packages from each school should have all the necessary information for students to decide which athletic scholarships will be best for them.
Frequently Asked Questions
Is it easy to get a scholarship for track?
The difficulty of getting a track scholarship is partly dependent on what college coaches need for their team and the ability of the student-athlete. A student-athlete who is uncommonly good at track and field will have a much easier time finding a track and field scholarship.
However, even among only the top track and field athletes, not every student will receive a scholarship. Ultimately, it is up to the college coaches to decide if a student would be an asset to their team or not.
For supplementary scholarship funding, you can find many athletic scholarships on Bold.org, including scholarships for track and field athletes!