How to Apply for Scholarships in High School in 2023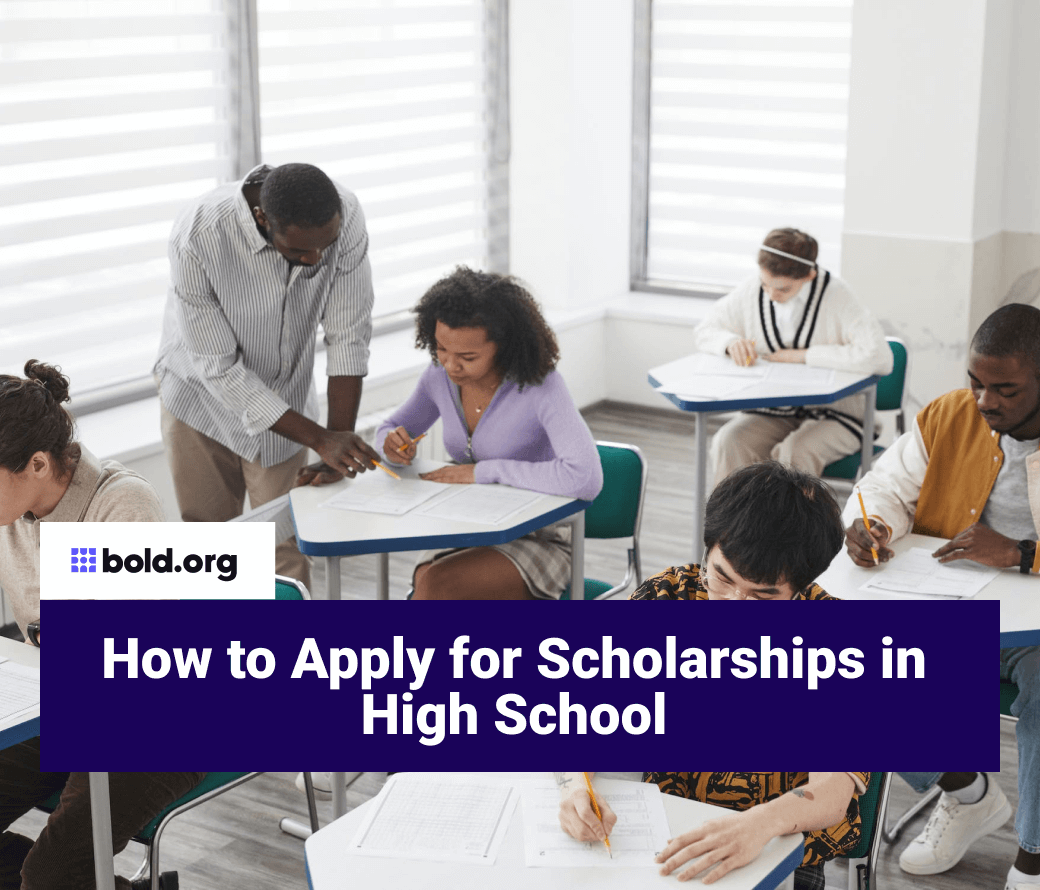 Top scholarships with upcoming deadlines
Though college scholarships represent a large portion of the total available scholarships, graduating high school seniors and underclassmen will have ample opportunities to apply for scholarships in high school. According to research, the average high school student may be able to qualify for up to 100 scholarships.
Make a free profile with Bold.org today to gain access to hundreds of scholarships for high school students. Browse through the complete list of scholarships available or use a filtered search to find scholarships that match your needs.
Free money like high school scholarships and college scholarships can be invaluable to students and their families when deciding where to go to college. An estimated 37% of high school students reported cost to their family as the most important aspect of choosing a college. Though the college admissions process focuses heavily on academics and talent when admitting students, the reality is that high school students also need to be able to afford the school that admits them.
There are many financial aid opportunities available to high school students, both graduating high school seniors and high school students in the grades below. However, the application process can be confusing at first and may seem more difficult than it actually is. Though a large portion of scholarships, 42%, cannot be located with a simple Google search, there are some tips and tricks to make applying to and finding scholarships easier.
College students can benefit from these tips as well. The application process for both high school students and current college students is relatively similar. The main difference between high school students applying for scholarships and college students applying is that they will qualify for different opportunities. Not all scholarship opportunities will be available to both high school students and college students. As a result, it's important to look at who is eligible to apply for each scholarship.
Deciding eligibility
In order to apply for a scholarship, you first need to find a financial aid opportunity you qualify for. Many scholarships will restrict the applicant pool by a number of factors, including major, grade level, location, personal background, and more. Students should carefully look at the requirements of each scholarship since students who apply without meeting all the criteria will likely be disqualified immediately.
Students should consider what kind of scholarships they will be most eligible for and try to focus on finding those scholarships. For example, students with a strong interest in business should look for business scholarships, since they will likely be eligible for most business high school scholarships.
Though high school students will not have a declared major, many scholarships will award money based on what students intend to study in college. As a result, high school students can still qualify for many scholarships based on their prospective areas of study. High school students who have good grades should consider applying for merit scholarships.
High school students should have at least three areas of scholarships they should look for: scholarships based on their intended major, general scholarships, and scholarships based on their personal interests or hobby. Students may have more than one intended area of study or hobby, which will broaden the number of scholarships they are eligible for even more.
By roughly sketching out these three categories, students will have a better idea of what to look for when they begin searching for scholarships. Of course, students may find scholarships that are outside of these three general categories, but having a starting point can be helpful for most applicants.
Finding scholarships
This part of the application process— the scholarship search— is often the most frustrating and time-consuming area of the application. To make it easier to find the right opportunities, students should consider searching for scholarships through platforms or organizations. Just Googling scholarships online is an inconsistent way to find scholarships as many opportunities are not readily available through such searches.
To find some scholarships you can apply for right now, review this list of recently updated scholarships for high school students.
Some tools high school students can consider to narrow their search are online platforms like Bold.org or local organizations. Online platforms are often the most reliable form of looking for scholarship opportunities. Both college students and high school students alike will be able to find opportunities that match their needs on such websites.
Because these platforms are made to help students find the right scholarships, they will often yield more results than Google or other search engines. In addition, these websites will often allow students to make a specific search based on their qualifications.
This means that students will often be able to filter the search results by major, grade level, or other factors, which will make it easier for them to find scholarships they are eligible to apply for. High school seniors, for example, can filter out any results that are for college students or even choose to only see high school senior scholarships. Check out this catalog of scholarships by grade level to view a few different lists of scholarships for high school students.
Academic and other types of organizations will likely not have as many scholarships as an online platform has. However, these organizations may have access to scholarships and financial aid opportunities that are not broadcasted online. For example, a local community organization may have a scholarship open to a student within that community. This opportunity, therefore, will only be available to a handful of students in your local area, greatly decreasing your competition.
The same applies to a school financial aid office or guidance office. High school students may be able to find a niche scholarship opportunity through their guidance counselor that is only available in their school district. If students can find a niche opportunity that they qualify for, they should absolutely try to apply. The more restricted a scholarship is, the less competition there will be, and the higher your chances are of winning.
Lastly, students should also apply for financial aid through their guidance counselor. Federal student aid or federal student loans can be more accessible than winning a scholarship. Research from 2021 shows that 53.3% of high school students completed the FAFSA or Free Application for Federal Student Aid. Learn more about federal financial aid with this FAFSA guide.
Acquiring federal student aid is predominantly reliant on one thing: family income. Unlike scholarships, federal student loans are not highly restricted, meaning most students will be able to apply for federal student aid.
Filling out the application
The actual application is actually the most straightforward part in most cases. Once students have found a scholarship they are eligible to apply for, all they need to do is enter their personal information into the application and write a short personal statement. Merit scholarships, which award money based on academic performance, will likely require students to submit their high school transcripts or GPA.
Not all scholarships will have an essay question, but those that do will provide a short and simple prompt for students to answer. The point of the essay is to showcase your personality and academic or other talents, so honesty and integrity are the most important things to keep in mind when writing the essay.
For the exact rules on how to submit the application, reach out to the organization or platform the scholarship was found on. Most online platforms will have instructions to follow and will send the application on your behalf.
Frequently asked questions about high school scholarships
When should a high school student start applying for scholarships?
There's no right or wrong time to apply for scholarships. Even underclassmen like high school juniors or sophomores can apply for high school scholarships, though graduating high school seniors will often have the most amount of opportunities available to them.
What is the best way to apply for scholarships?
There is no one size fits all method. Deciding on a method that works for you— for example, using an online platform— is the best way to apply. Regardless of the method you choose, the best way to apply is to stay organized and stick to a plan.
What is the youngest age to get a scholarship?
One of the youngest scholarship winners was awarded their prize money at just 10 years old. However, this is an outlier. Though younger students can and should apply to any opportunities they are eligible for, most students will have an easier time winning scholarships in high school or college.  Every scholarship is different, so always read the rules before spending time applying! On Bold.org, applicants must be in high school and at least fourteen years old to begin applying.
As soon as you meet these requirements, you can start applying for scholarships today by making a free profile with Bold.org!