Can transfer students get scholarships?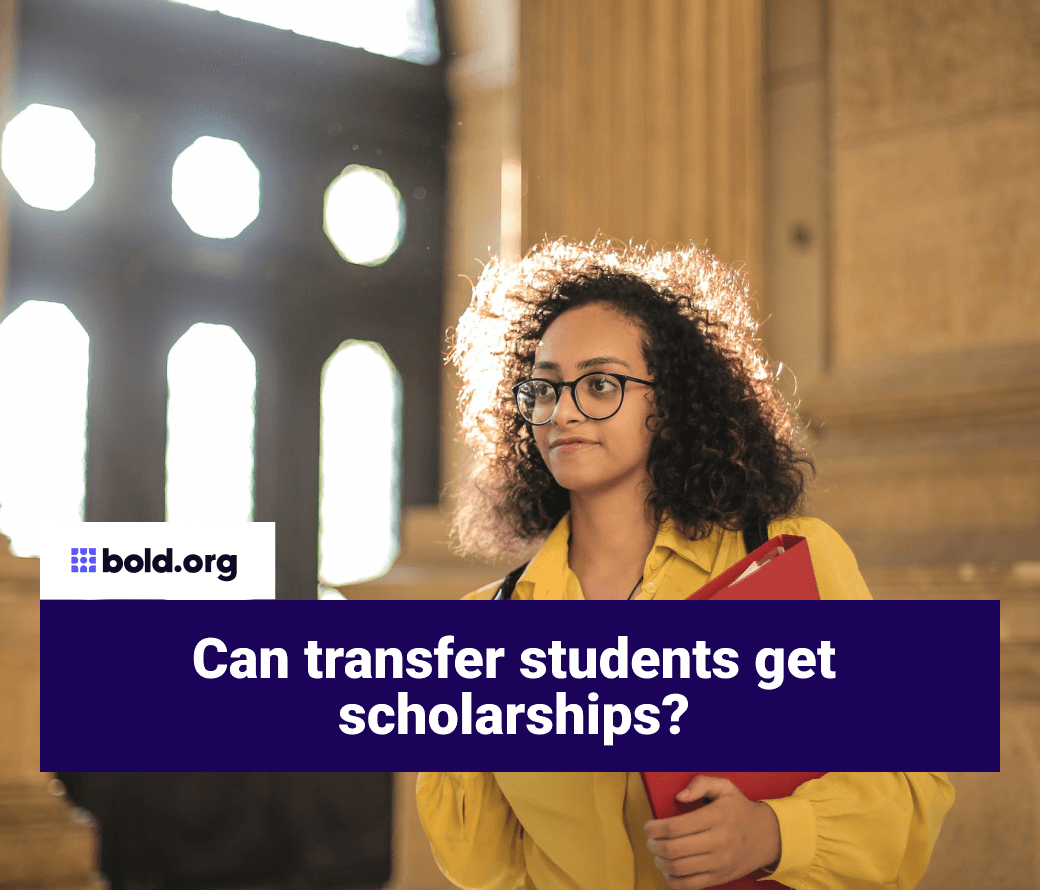 Top scholarships with upcoming deadlines
Although transfer students often save money by attending two years of community college, this doesn't change the fact that transferring to a four-year institution is still incredibly expensive. With college costs steadily rising, it's important to take charge of your financial plan. To start qualifying for hundreds of exclusive scholarships, sign up for Bold.org today!
The average cost of tuition is $16,518 at public universities and $38,185 at private universities, so finding a viable scholarship program can be vital to helping transfer students attend universities. Fortunately, not only can transfer students get scholarships but there are even scholarships designed for transfer students specifically. So, if you are one of the many transfer students concerned about financial aid and the steep cost of attending a university, rest assured that you can find and apply for plenty of scholarships.
Finding transfer student scholarships is actually a great way for transfer students to increase their chances of receiving a scholarship. This is because scholarships with narrow, specific criteria have fewer eligible applicants, so winners are selected from a smaller pool.
The range of different types of scholarships is incredibly wide as well. In addition to finding a specific transfer scholarship, transfer students and non-transfers alike can find merit scholarships, athletic scholarships, scholarships for academic excellence, scholarships for students at community colleges, and other types of college scholarships.
Furthermore, many scholarship programs have other criteria regarding grades, school year, ethnicity, institution, geographical location, academic interests, and more. As a transfer student, you could win a scholarship for transfer students pursuing a bachelor's degree in English more easily than a college scholarship open to any applicant. Since the specific criteria of the former means there will be fewer applicants, you are odds of being chosen are higher.
Finding scholarship programs with narrow requirements can be difficult, but on Bold.org, you can use the scholarship search feature to sort through hundreds of different types of scholarships, with new ones added daily. Here you can find transfer scholarships, merit scholarships, community college scholarships, athletic scholarships, community service scholarships, and more.
Do transfer students receive less financial aid?
Unfortunately, navigating financial aid for transfer students can be convoluted and difficult. Although transfer students do not inherently receive less financial aid from their schools than non-transfer college students, many schools do reserve more financial aid for incoming freshmen. Therefore, some schools do indeed give less financial aid to transfer students.
Additionally, students transferring to a new school will rarely be able to take the financial aid packages from their previous school and the government with them. This excludes scholarships funded by sources outside of your original school as these can almost always be transferred between institutions (certain stipulations may apply).
In order to get the aid you need to successfully become a transfer student, it is important to engage in research and open communication. First, before you begin applying to schools, you should research the financial aid programs available to transfer students at each institution. You can do so by looking at a school's website or even contacting their financial aid office. Moreover, whether you attend a community college or a four-year institution, you can always reach out to your advisor, who can point you in the right direction.
Once you've been accepted to an institution, be sure to thoroughly read through and understand your financial aid package. If it is not satisfactory, you can contact your financial aid office and try to negotiate for more aid. Don't be afraid to be your own advocate, as it can help you get the money you need to cover part of, or even full, tuition.
Finally, if the ultimate aid package you receive is not enough to support you, you can always apply for and win scholarships. In fact, scholarships do not have to be paid back like loans, so they can be a much better option for any transfer student concerned about future debt. Transfer students are eligible for transfer scholarships and other scholarship opportunities, so be sure to take advantage of all the options that await you. You can find scholarship opportunities through credible scholarship search engines like Bold.org or you can even reach out to your school counselor or financial aid advisor.
Do transfer students have a better chance of getting into college?
Overall, transfer students have lower admissions rates than non-transfers, and transferring into top programs in particular can be extra difficult. However, the likelihood of becoming a successful transfer student varies between schools. Some schools have a certain number of spots that are specially reserved for transfer students, and certain community colleges can make transferring to specific schools slightly easier. So if you are one of the many college students transferring from a community college or another four-year institution, you are sure to be accepted to a great school so long as you put in your best effort.
Community college students transferring to different schools should note that in general, universities look at grade-point averages in college and average grades in transferable courses more so than high school grades or standardized test scores.
Frequently asked questions about transfer students
Can international transfer students get scholarships in the USA?
International transfer students in the United States can absolutely get scholarships. Unless scholarship programs specifically require that applicants be from the United States (or any other specific country) then they are open to all students. While this makes applying to scholarship opportunities easier, it also means that it is incredibly important for anyone looking at a scholarship to read the requirements thoroughly.
If you find yourself confused about something in a scholarship description, you can always reach out to the scholarship provider and ask them questions about the scholarship program. If you are not applying for scholarships for transfer students, it may even benefit you to ask the scholarship provider about rules regarding college students who transfer schools.
You can read this guide for more information on international student scholarships!
Do you have to pay back scholarship money if you transfer?
Whether or not a scholarship has to be paid back in the event of a transfer is dependent on the circumstances of the scholarship. For instance, if the scholarship is funded by one university, then the recipient cannot continue to use the scholarship program money at a different university. Similarly, if you win a private scholarship that was only open to applicants attending a certain school, then transferring out may cause you to lose the scholarship.
Scholarships are like contracts between the provider and the recipient, so whether or not you keep the scholarship upon transferring will depend on the fine print. When you apply for scholarships and when you win them, be sure to read the rules thoroughly, especially those regarding transfer students, and also speak with your scholarship provider. Additionally, if you did not plan on transferring schools but decide to do so after receiving a scholarship, you can also speak to your scholarship provider.
Furthermore, scholarship money that has already been used almost never needs to be paid back. However, the unused money will have to be returned. If you are planning to transfer schools and are concerned about how it will affect your scholarship money, consider also applying to scholarships for transfer students. Scholarships for transfer students are inherently more likely to be lenient about students transferring between schools, so be sure to mix in some transfer scholarships during your application period.To start taking charge of your college finances today, take a look at the available Bold.org scholarships!