Best Online Math Tutors in 2023, Reviewed by a Student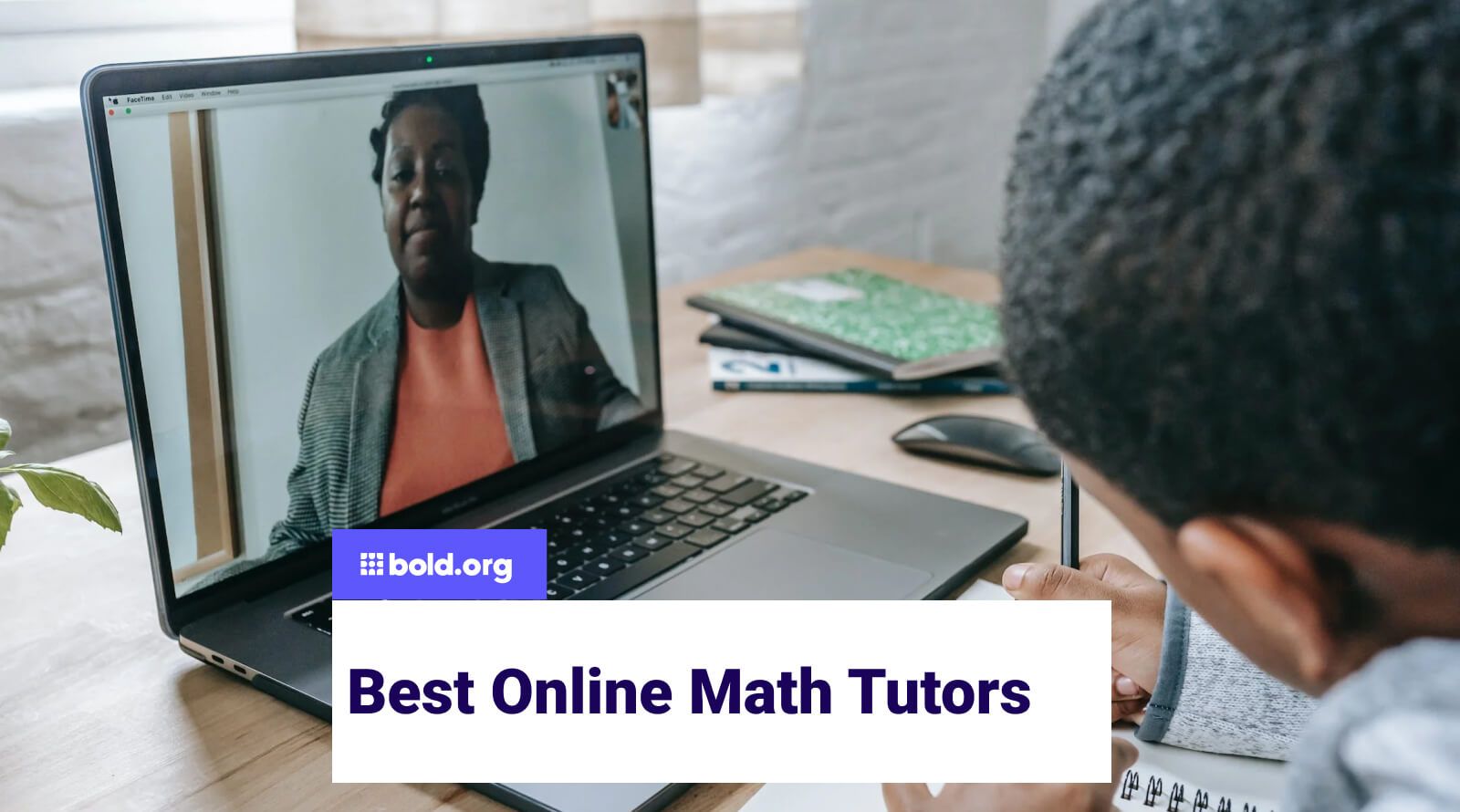 Top scholarships with upcoming deadlines
From middle school to college, many students may benefit from online math tutoring to improve their math skills. Math is an important skill integral to academic success at many stages throughout your education.
Standardized tests, such as the ACT or SAT, focus heavily on math. These test scores are also significant to college applications, meaning that math skills have the power to influence your college admissions.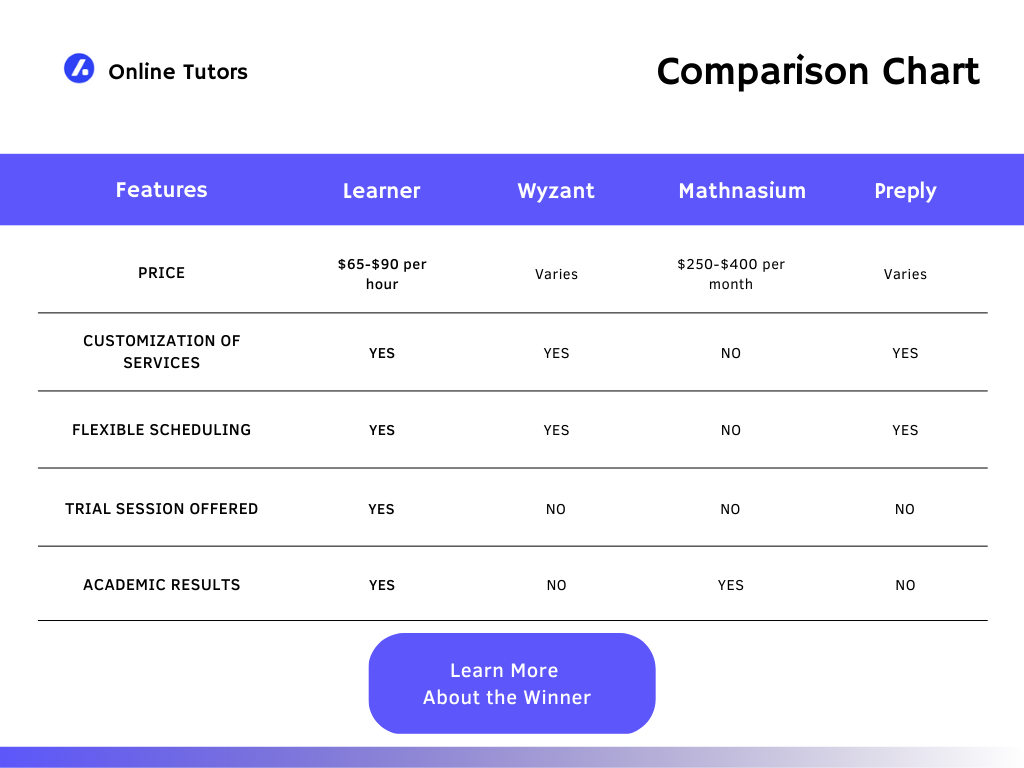 💡
TLDR: Learner.com earns the #1 spot as our Best Online Math Tutor.
Even aside from university acceptance offers, math is often required until grade 12. Succeeding on your math homework and tests will make a hefty impact on your GPA, regardless of your grade. For undergraduate college students, those that choose to major in a STEM or related field will go on to more advanced classes and have even greater use for a math tutor.
Don't let math hold you back - sign up for Learner tutoring today and start achieving your academic goals!
Click here to learn more!
There are several online math tutoring services students can find math tutors with. Each service has its own terms, pricing, and areas of education. Students may benefit greatly from an online math tutoring service to get academic help remotely and conveniently.
Having an online math tutor is one of the most effective ways to improve your math skills and grades. While a teacher or professor has to pace the class to get through the curriculum on time, a math tutor can slow down and address your specific questions.
One-on-one math tutors can give you more time and attention than your teacher or professor. Spending more time on a difficult topic can make a huge difference in your tutoring sessions and translate into better grades.
Check out Learner tutors today for one-on-one math tutoring tailored to your needs to help guide you to academic success!
Get Matched to Thousands of Scholarships
Create your Bold.org profile to access thousands of exclusive scholarships, available only on Bold.org.
Create Free Profile
Working with online math tutoring services to improve your grades can also have another benefit. Students with high math scores are eligible to apply for math scholarships, which can help lower the cost of college.
Check out this list of mathematics scholarships and consider applying if you are eligible. Sign up for a free profile with Bold.org to make the application process easier. You can also browse through hundreds of available scholarships to find other opportunities that interest you.
Are math tutors worth it?
Math is a central school subject that many students struggle with at some point in their academic careers. Students often need extra help outside of the classroom to better understand the subject material, which is where an online math tutor comes in.
Students can get extra help with their math skills in a few ways. The internet is an invaluable learning resource for millions of students everywhere. Online math videos and pre-made learning materials are often widely accessible to students who need help with their math homework.
However, much like the classroom, these online math materials are meant to explain concepts to a large general audience. For specific concerns and questions, it may be difficult to find a video that explains exactly what you find confusing.
Professors and educators teaching math are often willing to speak to students outside of class. This is a good option if you only have a few simple questions. However, asking for a lengthy explanation of a certain topic may take too much time. In addition, it may be inconvenient to seek out your teacher every week or so for the duration of the course.
Online math tutors combine the best of both worlds, giving you the expertise and one-on-one time of a professor, as well as the convenience and accessibility of online math resources.
A private math tutor is highly competent in mathematics and teaching these skills to others. Math tutors can give you their full attention and time during tutoring sessions without rushing to their next class.
In addition, an online math tutor can be a more time-efficient way to learn. Students won't have to sift through thousands of online math resources to find a video or article that addresses their questions.
Top 5 Online Math Tutoring Services
Learner is an excellent online math tutoring platform that offers help in several different subjects, including high school level math and SAT math prep. In addition, Learner places a lot of emphasis on the needs of individual students and works to match students with the right math tutor for them. Learner also offers a completely free trial session!
Learner employs a staff of caring and well-educated math tutors, all of which have extensive previous tutoring experience. It's also important to note that because of Learner's dedication to providing quality education, every math tutor must complete a rigorous screening process.
Students can choose their own tutor on Learner— and to make it even easier, Learner uses a questionnaire to better understand your academic needs and personality to find the right tutor for you. Answering questions on not only your academic capabilities but your learning style and personality helps ensure you get a satisfactory tutoring experience.
Having a connection between you and your tutor can foster trust and result in more productive tutoring sessions. That's why Learner places so much emphasis on making sure you are matched with a tutor who can work with your learning style. While many academics are very knowledgeable in their fields, not every scholar is skilled in educating others. All Learner tutors are both experts in their field and possess the necessary social skills to be effective teachers.
In keeping with their philosophy that education should be accessible, the first trial online math tutoring session is free with a money-back guarantee if students aren't satisfied with the service. A nice plus is that Learner can be used across devices, providing some flexibility to students.
Learner math tutors can work with your busy schedule, including traveling sports and high-time commitment jobs. Schedule your first session with the best online math tutoring service today!
The Princeton Review is a longstanding, well-respected online math tutoring service. Although this site is most well known for its SAT and ACT math tutors, The Princeton Review also provides good tutors for math homework help and high school classes.
The Princeton Review provides tutors in over 80 subjects, including chemistry, statistics, physics, calculus, and algebra. Many high school math classes have a direct equivalent on The Princeton Review site.
The site splits its math tutors between the homework help function and the academic tutoring service. The homework help option is meant to allow students to quickly get answers for a current problem they're having. There is no long term commitment with this option, it can be used as a one-time tool.
The homework help option starts at $39.99 per hour and allows students to choose from various math tutors. A free trial is also available.
The academic tutoring option is more like a traditional tutoring arrangement. Students can choose from 6, 24, and 60-hour packages, with pricing starting at $83 per hour. Both the academic tutoring and homework help services are one on one to allow students to get the most out of their math tutor.
Get one-on-one tutoring and achieve your goals with confidence. Book now!
Chegg is a good online math tutoring service for students seeking a variety of study resources.
Students can find used books or rent textbooks on Chegg, allowing students to save hundreds of dollars on a year's worth of textbooks. Many of these textbooks also have ebook versions available on Chegg, allowing students to access them anywhere they have an internet connection.
A major service Chegg offers is the answers to textbook questions and problems. With its vast database of textbooks and answer keys, Chegg can help students study more efficiently by allowing them to check their answers online.
Chegg solutions help students learn by breaking solutions down into steps. Students can choose to see parts of the answer before revealing the final answer. This approach improves math skills by focusing on the problem-solving aspect, allowing students to get help as well as checking if they are right or not.
Chegg also offers topic explanations with video and article guides. These resources can help supplement your textbook, allowing students to better understand the topic. Alternatively, these resources can teach students the same topic with a different perspective, potentially addressing some of your questions regarding a certain concept.
Achieving success just got easier. Get one-on-one tutoring and achieve your goals with confidence. Book now!
Skooli is an online tutoring service that allows students access to instant drop-in appointments with professional teachers and math tutors.
Students can ask a math homework or test prep question, and the Skooli system will find a tutor that matches your subject, grade level, and topic. Students can then take advantage of the opportunity to chat with a few tutors to help them choose which tutor they want to work with.
Once students have found a tutor that fits their current needs, students can proceed to Skooli's online classroom and get one-on-one help from qualified online tutors. Customized feedback and study tips after each tutoring session help students summarize what they learned and remember which topics they should focus on in the future.
As a quick, online drop-in service, Skooli is meant to be accessible and easy to use, making it ideal for quick math homework questions. Instead of charging an hourly fee for tutoring sessions, Skooli is a yearlong package that allows students to use its services anytime, anywhere, and as often as they like for a full year.
This can allow students to study at their own pace and improve their math skills on their own personal timelines. In addition, the yearlong package also means students can get help with multiple subjects as well as math.
One of the more flexible online tutoring services, students who sign up for Skooli should be able to connect with math tutors instantly thanks to the remote network of educators who are available at all hours.
Unlock your full potential with personalized tutoring. Book a session now and see the improvement yourself!
Wyzant is a tutoring service that allows students to scroll through the profiles of hundreds of qualified math tutors. In addition, Wyzant can help students find both in-person and online math tutors, an option some tutoring platforms may not offer.
First, pick your instructor on Wyzant. There are a variety of math tutors to choose from, all of which have different hourly rates and specialize in different fields. This can help students find a tutor that has the specific qualifications and qualities they are looking for.
Students can read reviews about each tutor from other students to get an idea of what each tutor's strengths are. Wyzant has already vetted all of the tutors on the platform, promoting math tutors with the best reviews and results.
Students can also chat with an instructor to see if they are a good fit. Having a quick conversation to make sure the tutor and the student are on the same page can lead to better results and more productive math tutoring sessions.
Lastly, students can book a one on one tutoring session with their chosen math tutor, either in person or online, and watch their math skills improve.
Don't struggle alone. Get expert help and reach your academic goals. Book a tutoring session today!
Frequently Asked Questions
How do I know if a tutor is good?
There are many qualities students should look for in a math tutor, such as years of experience, academic qualifications, and more. The question is not so much whether a math tutor is good but whether a math tutor is right for you. Students should determine their priorities in finding online tutors and try to find a private math tutor that matches those requirements.
For example, price, location, and availability are all important factors to consider on top of teaching experience and academic knowledge. For the most part, online math tutoring services will ensure students are only matched with qualified educators, meaning the other factors are up to personal preference.
What age is best to get a tutor?
Students of all ages can benefit from using an online tutoring site to get one on one help from a private math tutor. Some students only seek math tutors when they are having trouble with the subject, which is one way to determine when you need a tutor. Other students take a more preemptive approach and view math tutors as a way to stay on track in their classes.
All students can benefit from extra help with their math homework through online math tutoring. When you should start looking for math tutors depends on your priorities and your current math ability. Students interested in receiving academic support can use online math tutoring services as early as middle school.
On the other hand, many students may not feel that a math tutor is necessary until they experience some difficulty in a high-level class. Either approach is good— take the time to figure out what you want from a math tutor and what you can get out of it.
Ultimately, improving your math skills through online tutors produces better grades, which can be instrumental in the college application process. However, grades are one of many equally important factors influencing college admissions. Learn more about college and scholarships on Bold.org's scholarship blog!