Best Medical Schools in the US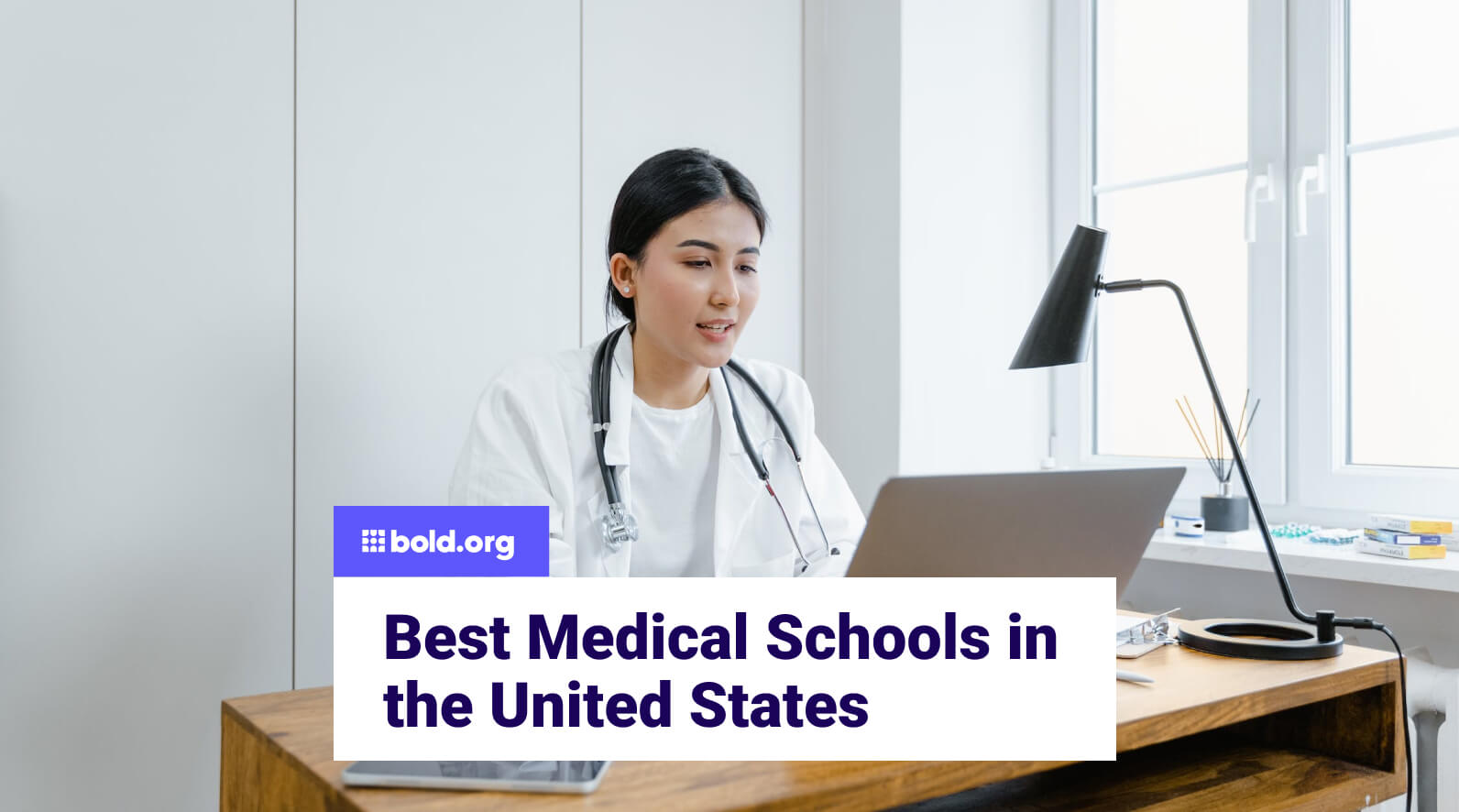 Top scholarships with upcoming deadlines
Some of the best medical schools in the world are located in the United States! These prestigious medical programs allow prospective doctors to learn about medical practice and participate in cutting-edge medical research alongside some of the most distinguished doctors and researchers in the country.
With dozens of medical schools, it can be confusing to determine which programs are the best places to earn a medical degree. In this article, Bold.org has compiled all the information you need about the top medical schools in the United States.
A common thread uniting the schools we've highlighted here is the rigorous course offerings that ensure medical graduates are thoroughly prepared for residency and beyond. Furthermore, many of these schools are some of the top research institutions in the country and prioritize a high level of research activity.
Faculty resources are another important criteria we considered when ranking these schools. The number of faculty compared to the size of the medical school and the faculty's involvement with teaching and student instruction are determining factors in the quality of a school's medical education.
As you continue to research US medical schools, don't forget to also prioritize applying to medical school scholarships to help you pay for medical school while reducing the amount of student loan debt you take on. You can learn more about the best medical school scholarships and how to get scholarships for medical school through more blog posts like these on our scholarship blog.
12 Best Medical Schools in the US
Harvard Medical School - Cambridge, MA
Harvard Medical School at Harvard University in Boston is consistently ranked as the #1 medical school in the United States for its leadership in medical research and technology. Students at Harvard University have the opportunity to participate in its innovative and influential medical curriculum as well as build robust clinical experience.
Alongside anatomy, biology, and other health sciences coursework, students will be immersed in learning about social and public health sciences that will inform their clinical practice as doctors. The M.D. curriculum is split into three phases: the pre-clerkship phase, where students take foundational courses, the principal clinical experience phase, during which students participate in clinical experience, and the post-clerkship phase, where students take advanced coursework.
M.D. candidates at Harvard University can also earn a dual degree from MIT in the Health Sciences and Technology track.
Get Matched to Thousands of Scholarships
Create your Bold.org profile to access thousands of exclusive scholarships, available only on Bold.org.
Create Free Profile
New York University Grossman School of Medicine - New York, NY
New York University Grossman School of Medicine is ranked as the second-best medical school for research. Bold.org considers this school one of the best medical schools in the U.S. because all M.D. candidates receive full-tuition scholarships.
The Full-Tuition Scholarship covers the full cost of tuition for all medical students, and those who opt-in for the NYU Grossman School Health Insurance Plan can also have their insurance costs covered. Students needing additional financial assistance with applicable fees can receive a Debt Free Scholarship to cover all tuition and fees.
NYU also offers an innovative three-year M.D. program that enables students to earn a medical degree at an accelerated rate and for a significantly reduced cost. Participating in the accelerated M.D. program enables candidates to transition faster into their specialization and reduce the time it takes to become practicing physicians.
NYU Grossman is unique because of its innovative, flexible degree program that is divided into four phases. In stage one, the Clerkship Preparation, students take foundational courses in medical education. Then, in stage two, M.D. candidates participate in one year of clinical exposure. Thereafter, students will have the opportunity to engage in individualized exploration and career preparation.
Johns Hopkins University - Baltimore, MD
Johns Hopkins University is renowned for its medical curriculum, which combines academics with clinical experience. Students are assigned one of four colleges to help foster a sense of community among the cohort throughout all four years of medical school.
The Genes to Society curriculum derives its name from the fact that myriad factors influence health outcomes for patients, including their DNA, their community of origin, social and environmental factors, and societal systems of oppression. M.D. candidates at Johns Hopkins University are trained to view medicine through a holistic lens that takes in biological, behavioral, environmental, and social components of health.
Students wishing to incorporate even more diversity into their medical education can pursue a combined degree through the M.D.-M.B.A., M.D.-Ph.D., and M.D. M.S. HCM (Masters in Health Care Management) programs.
Mt. Sinai Icahn School of Medicine - New York, NY
The Icahn School of Medicine in New York City is attached to one of the most renowned hospital networks in the United States, Mt. Sinai. Mt. Sinai's medical curriculum prioritizes building M.D. candidates' foundational scientific knowledge and level of comfort with technology while combining that knowledge with service in the local New York City community and beyond.
Four program objectives scaffold the four-year medical program. Firstly, Mt. Sinai prioritizes its M.D. graduates building competency in patient care, including clinical reasoning, communication skills, and medical decision-making. Graduates will also have a strong mastery of medical and scientific knowledge in areas such as organ function and systems, social determinants of health, and characteristics and mechanisms of disease.
The third pillar of the Icahn School of Medicine involves developing learning, scholarship, and collaboration skills. Finally, graduates of Mt. Sinai will be well-versed in professionalism and advocacy, including empathy and anti-oppressive practices.
University of California San Francisco School of Medicine - San Francisco, CA
The School of Medicine at UCSF structures its curriculum around its mission of developing twenty-first-century physicians who are prepared to address the medical needs of communities in the present. UCSF is also one of the best medical schools for primary care.
Three components of their integrated curriculum are prioritized throughout the duration of the four-year M.D. program. Students gain foundational knowledge in the areas of the sciences and clinical sciences while simultaneously developing the skills to think like a physician in the first stage of the program.
In Foundations 2, students participate in clinical practice to apply the skills and knowledge they learned in the first stage and gain experience in patient care. Finally, M.D. candidates have the opportunity to launch their careers by participating in a scholarly project of their choice and selecting the clinical experiences they want to gain more exposure to.
University of California Los Angeles - Los Angeles, CA
Another medical school in the University of California system, UCLA's School of Medicine, offers myriad research opportunities and an interdisciplinary medical curriculum that combines aspects of humanities and social sciences with the sciences.
Dubbed HEALS, the name of their curriculum stands for "Healer, Educator, Advocate, Leader Scholar" in honor of the person that they hope medical graduates will become at the end of their time at the school of medicine. Themes of the curriculum include structural racism and health equity, ethics and humanities, and interprofessional education.
Medical students have diverse options for pursuing medical research at UCLA, including research elective course offerings and an external summer research opportunity or a year-long mentored research project. Students can also engage in research through a year-long residential, immersive research program at the NIH or a Summer Fellowship at CTSI.
University of Washington School of Medicine - Seattle, WA
In addition to an M.D., the School of Medicine at the University of Washington houses a number of degree programs for candidates who are interested in various aspects of medicine. Degree offerings include a doctorate in physical therapy and a dual degree, M.D. - Ph.D. program that enables students to gain experience in clinical practice while furthering medical research and engaging in social action.
The University of Washington is highly committed to equity and diversity in medicine and actively encourages applications from students who are underrepresented in medicine, students with disabilities, and veterans. Interdisciplinary research activity is at the heart of U Dub's research programs, which receive funding from the National Institutes for Health.
Serving five states, the University of Washington incorporates a multi-state education program called WWAMI. The acronym stands for the states that U Dub serves: Washington, Wyoming, Alaska, Montana, and Idaho. First-year medical school students train at one of U Dub's campuses or a partner university; then, in their third, and fourth years, students have access to clerkships and clinical exposure at a diverse range of medical settings across the five states.
University of Michigan Medical School - Ann Arbor, MI
The University of Michigan Medical School's M.D. program operates through small group settings in smaller classrooms where medical students have access to individualized learning and mentorship from faculty. The program also prioritizes early engagement with patients and introduces students to team-based clinical care within their first month in school.
A flexible schedule for assessments and personalized learning support are designed to help medical students succeed and reach their highest potential. Students can take quizzes anytime between Friday afternoon and Sunday evening in their first year, allowing them to have some autonomy over their schedule and the flexibility to rest and hang out with friends over the weekends. A learning specialist can also work with students to identify learning challenges.
Community building and mentoring are core components of Michigan's medical school, and the M-Home program helps foster a strong sense of personal and professional connection amongst each cohort. Each medical student is assigned to a House and a smaller Doctoring group within the house led by two faculty members. Coaching, peer mentorship, and supporting one another's well-being is the purpose of M-Home.
Stanford University School of Medicine - Palo Alto, CA
Studying at the Stanford School of Medicine opens the door to working with clinicians and researchers at a world-class hospital and state-of-the-art facilities for medical students. Stanford's curriculum follows a new, "flipped classroom" model wherein students take traditional lectures in an online video format and engage in discussion and interactive learning during class time.
Dual degree programs are available for students interested in pursuing a medical degree alongside a Ph.D. or a Master's in Public Health. Through Stanford's Knight-Hennessy Scholars Program, M.D. candidates and other graduate students can receive up to three years of tuition in scholarship money and gain access to leadership programming and mentoring.
Columbia University Vagelos College of Physicians and Surgeons - New York, NY
Columbia University's College of Physicians and Surgeons' teaching affiliate hospital is New York-Presbyterian Hospital, one of the top hospitals in the United States. Patients that the hospital serves include New York locals from the surrounding community, as well as patients from all around the world who come to the hospital seeking world-class care.
Beginning in their third year, students can branch out and explore their individual interests in medicine through elective courses and a scholarly research project. Dual degree programs provide prospective doctors the opportunity to earn an M.D. alongside a Ph.D. or a Master's in Biomedical Engineering, Biomedical Sciences, and other topics.
Frequently Asked Questions
How Do I Choose the Right Medical School?
Considering that graduating from medical school can take four years or longer, choosing the right medical school to attend can have a huge impact on your future career, not to mention your quality of life while you are pursuing your M.D.
Ultimately, there is no one best medical school that will be universally equipped to meet the needs of every individual medical student. Choosing the best medical school for you will depend on your own goals for your career, your learning style, and the environment that you want to be immersed in during your four years.
Consider factors such as: What location do I want to be in during the next four years? (A city? A smaller community?) What areas of specialization am I interested in pursuing, and which institutions have the best programs in those areas? And, perhaps most importantly, what is my budget for paying for medical school, and what are the most affordable options for me to earn a medical degree?
Ultimately, an MD is an MD, so electing to attend a state school that allows you to pay in-state tuition may be more beneficial in the long run than attending a private medical school that will leave you with hundreds of thousands of dollars in student debt.
What is Residency?
Residency is a period of post-graduate medical education that allows newly graduated doctors topractice medicine under supervision of experienced doctors. Residencies can last anywhere from three to seven years, depending on the specialty.
Now that you understand which medical schools are the best in the US, you're ready to begin applying to medical school! Don't forget to create a free Bold.org account to access more medical school scholarships available exclusively through our scholarship search engine.