Top 10 Best Medical School Scholarships in 2023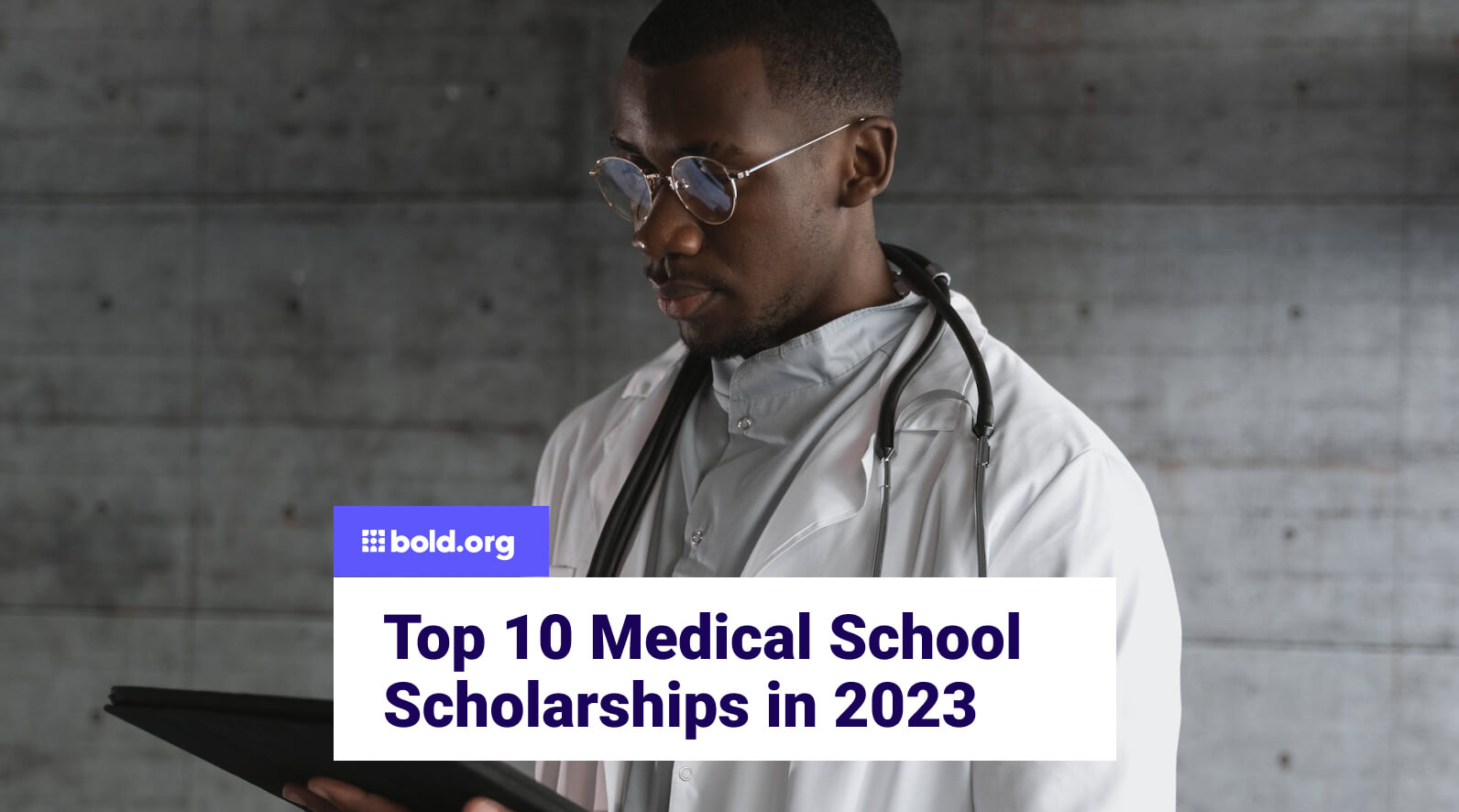 Top scholarships with upcoming deadlines
Obtaining a medical degree from an accredited medical school program is an exciting first step toward becoming a practicing physician!
Pursuing a career as a doctor can be a very rewarding professional path that empowers you to give back to your communities and attain financial security. However, many medical students may face massive amounts of debt due to the rising cost of medical school tuition.
According to the Association of American Medical Colleges (AAMC), the average cost for a first-year medical student at a public medical school program is $39,905. Medical students at private institutions pay even more, with first-year paying an average of $62,570.
Medical students often opt to take out student loans to pay for their medical education. Unfortunately, this can be a detrimental decision in the long run and riddles prospective doctors with student loan debt for decades. In fact, the average medical student graduates with nearly $200,000 in debt, according to the AAMC.
Prospective medical students and currently enrolled medical school students should consider medical school scholarships as a way to lessen the financial burden of paying for medical school.
Medical school scholarships can help cover the cost of tuition, fees, books, health insurance, and other necessary costs of attendance. And the best part is medical school scholarships do not need to be paid back, unlike student loans.
Get Matched to Thousands of Scholarships
Create your Bold.org profile to access thousands of exclusive scholarships, available only on Bold.org.
Create Free Profile
Many medical school scholarships are awarded, including scholarships for low-income students, women medical students, and students of color who aspire to become doctors. These scholarships can reduce the educational costs of attending medical school and help you focus on your studies rather than on paying back student loan debt.
Here, Bold.org has compiled all the information you need about medical school scholarships, including the different kinds of medical scholarships available and the ten best medical school scholarships in 2023.
Check out our blog post on "How to Get Scholarships for Medical School" to learn more about how to apply to medical school scholarships, and create a free Bold.org profile to search for scholarships for medical school on our scholarship search engine.
How Much Does it Cost to Attend Medical School?
The cost of medical education can vary greatly depending on whether you are attending a public medical school program in your state, a private medical school, or a public medical school program as an out-of-state student.
Public medical schools located within your home state will often be the most affordable option because they offer in-state tuition. For example, the University of New Mexico Medical School costs just $15,328 for the 2022-2023 school year for in-state students.
Private medical schools and out-of-state public medical schools will have a significantly higher cost of attendance. First-year medical students at the Warren Alpert Medical School at Brown University paid $93,620 in the last school year.
Tuition-Free Medical Schools
It sounds too good to be true, but you can attend medical school for free!
Tuition-free medical school programs do exist, although these medical schools are often the most competitive programs to be admitted to.
Notably, the New York University Grossman School of Medicine awards full-tuition scholarships to all their current and future matriculated medical school students. Full tuition scholarships further equity in medical education by ensuring all qualified students can earn a medical degree, regardless of income level.
Do your research on the medical programs in your state that might offer in-state tuition, full-tuitions scholarships, or generous financial aid programs to find the best medical schools for your budget. Contact a school's financial aid office to learn more about available financial assistance programs and school-specific medical scholarships that could help you pay for your medical education.
What Types of Medical School Scholarships Are Available?
Institutional scholarship programs are scholarships provided to students enrolled at a particular medical school by the school itself.
The amount and availability of institutional scholarships will vary greatly from school to school, depending on funding and the level of commitment a particular school has to provide financial aid to medical students.
Some institutional scholarships may be awarded based on financial need or geographic place of origin. Others are merit scholarships awarded based on academic excellence, area of specialization, or career interests.
Service scholarship programs are offered by the federal government and award scholarships to medical students who participate in programs that provide healthcare to populations or geographic areas in need. Many service scholarship programs are full-tuition scholarships that cover all educational costs. They can be a great opportunity to contribute to public health efforts and gain clinical exposure by practicing in underserved communities.
Outside scholarship programs, like many of the medical scholarships available here on Bold.org, are sponsored by individual donors or organizations committed to supporting outstanding medical students on their path to becoming a physician. Scholarship award amounts and eligibility requirements will vary by scholarship, so it's important to do your research to find scholarships that match your identity best.
The 10 Best Medical School Scholarships in 2023
National Medical Fellowships provide both need-based and merit scholarships to Black, Indigenous, Latinx, and students of color who are studying medicine and other health professions.
The organization's mission is to "dismantl[e] centuries of structural and systemic racism woven into medicine" by empowering medical students of color to become equity-minded health professionals and provide high-quality medical care to underserved communities.
Many different scholarship opportunities are available to currently enrolled students in accredited medical school programs and other graduate-level U.S. healthcare programs. Required degree programs and eligibility criteria vary per scholarship program, so check out the National Medical Fellowships website to learn more.
National Medical Fellowships also offer Service Learning opportunities for medical students to gain exposure to clinical practice in underserved communities with critical needs. These service learning opportunities are also paired with thousands of dollars in medical school scholarships.
The Diverse Medical Scholars Program is one of the service learning opportunities available from the National Medical Foundation and awards eligible medical students in their second, third, or fourth year with a renewable $7,000 scholarship.
Scholarship recipients are chosen for academic excellence, leadership, and commitment to medically underserved communities. This scholarship is specifically for students who come from communities that are underrepresented in medicine. Eligible applicants include African American, Hispanic/Latino, Cambodian, Native Hawaiian, Native American, and Pacific Islander medical students, among others.
As part of the service learning requirement, Diverse Medical Scholars complete 200 hours of service to a community of their choice.
The National Health Service Corps (NHSC) Scholarship Program provides scholarships to students pursuing primary care. Scholars must commit to a minimum of two years of full-time service at an NHSC-approved site in a designated Health Professional Shortage Area.
Health Profession Shortage Areas can include public or non-profit private medical facilities, geographic areas with a shortage of providers, or specific populations such as low-income communities or migrant populations.
The program fully pays for tuition, fees, and other educational costs and also provides a monthly stipend to help pay for living expenses while attending medical school. As a result, the NHSC Scholarship Program is an excellent opportunity to attend medical school on a full ride and gain clinical practice experience by working with medically underserved communities.
The American Medical Women's Association (AMWA) is the oldest multi-specialty organization whose mission is to advance gender equity in the medical profession and improve care in women's health. The AMWA Medical Education Scholarship awards four $500 scholarships to women currently enrolled in medical school.
Scholarship recipients are chosen based on their embodiment of the mission of the AMWA, as determined by their completed essay responses and one letter of recommendation. Financial need is also taken into account.
The Physicians of Tomorrow Scholarship program from the AMA Foundation awards $10,000 towards tuition costs for students approaching their final year of medical school.
Twelve different scholarship categories are available, including awards for medical students who are dedicated to providing healthcare to medically underserved communities and scholarships for underrepresented minority students.
Herbert W. Nickens Medical Student Scholarships are awarded to five medical students entering their third year of medical school who have served as leaders in the fight to eliminate inequity in medical education and health care. Scholarship recipients are chosen for their contributions to addressing the educational, societal, and healthcare needs of racial and ethnic minorities in the United States.
Each scholarship award is $5,000, and recipients accept the award at the Learn Serve Lead 2023: The AAMC Annual Meeting, with travel and registration costs covered.
Tylenol Future Care Scholarships award students currently enrolled in medical school, nursing school, or pharmacy school and have at least one more year of schooling remaining.
Ten $10,000 and 25 $5,000 scholarships are awarded each year and can be used to pay for tuition, fees, books, supplies, and equipment.
Rhio O'Connor was diagnosed with terminal mesothelioma and outlived his prognosis for more than six years. In O'Connor's memory, this scholarship offers $1,000 in cash awards every month.
Applicants are asked to answer several questions, including "Should cancer patients and doctors be able to use whatever treatments they like in treating cancer?" and "What changes or improvements should be made in our healthcare system and how we treat cancer in this country?"
This Bold.org exclusive medical scholarship seeks to support African American students from disadvantaged communities pursuing medical education. Any low-income, African American high school seniors, undergraduate students, and medical students planning to attend or are currently enrolled in medical school are eligible to apply.
One winner will be awarded $500, and scholarship applications close on May 28, 2023. To apply for this scholarship program, explain why you want to become a doctor and what books and charitable programs have shaped the person you have become today.
This Bold.org exclusive scholarship program funded by one of our generous donors seeks to honor the memory of Anartha Parr Pell, a mother and grandmother who worked as a medical transcriptionist for over six decades.
High school seniors, undergraduate students, and graduate students pursuing a career in medicine are eligible to apply. One winner will be awarded $1,000 in scholarship money, and applications are accepted until April 15, 2023.
Frequently Asked Questions
What Options Are Available for Financing Medical School?
Student loans, financial aid, and scholarships are all available options that medical students may elect to finance their medical education.
Federal loans are offered by the U.S. Department of Education to help students pay for the cost of their degrees. Eligibility for these loans is based on your Free Application for Federal Student Aid or FAFSA. Direct unsubsidized loans are widely considered to be the best overall deal for medical student loans. These loans do not require a co-signer and offer some of the lowest interest rates, regardless of credit history.
Private student loans are also available from private lenders if federal loans are insufficient to cover all your expected educational costs. Make sure you understand the terms of the agreement clearly when taking on private student loans, as rates and payment plans can vary among vendors.
Financial aid offered by the federal government, local and state programs, or your medical school is also available. Speak to your school's financial aid office to learn more about financial assistance programs available to students enrolled at your school or medical students living in your geographic area.
Now that you understand what financial aid options and scholarship programs are out there for aspiring healthcare professionals, you're ready to begin applying for medical scholarships! Read more blog posts like these on our Bold.org Scholarship Blog to learn more about applying for scholarships and paying for medical school.