Best Medical Schools in Texas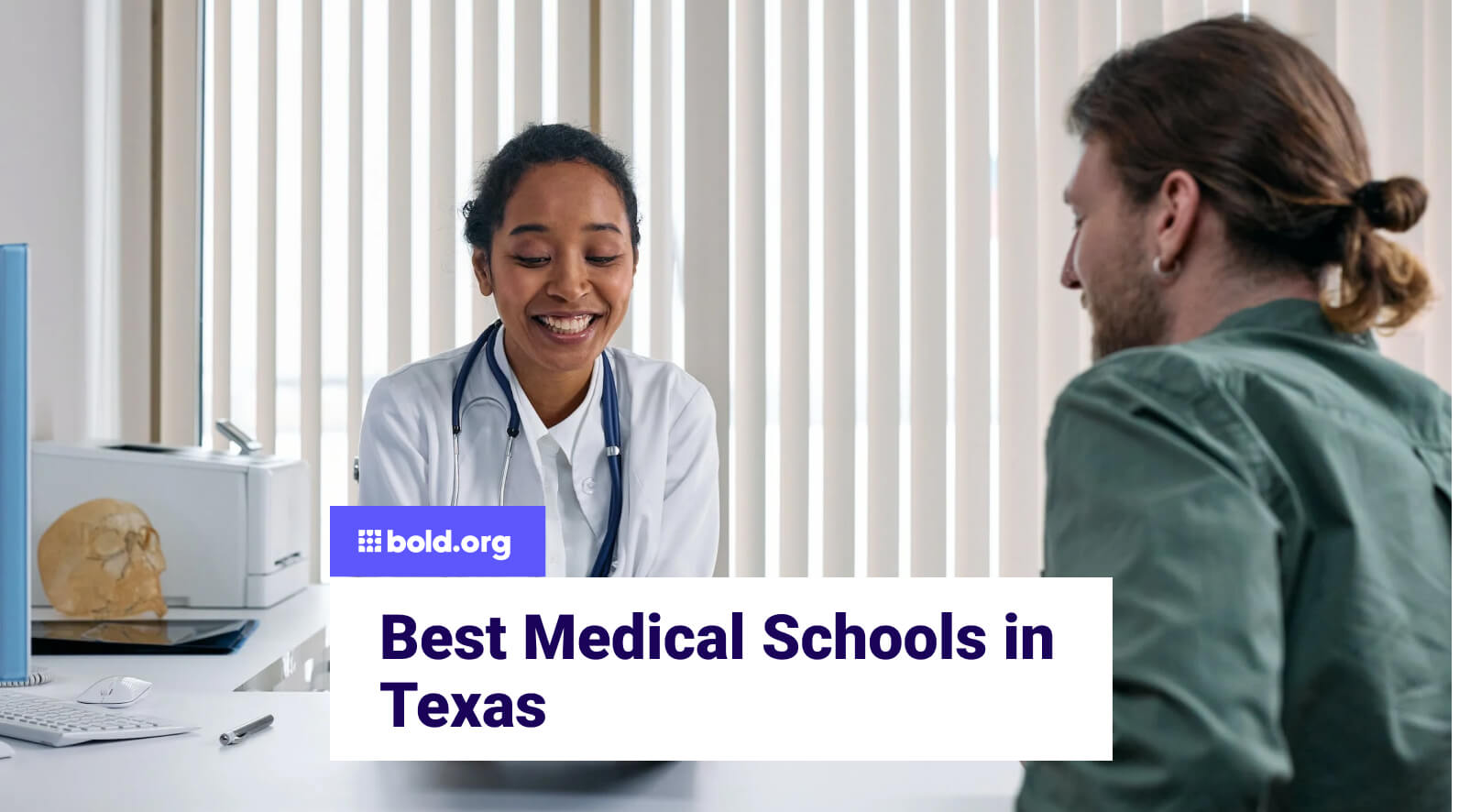 Top scholarships with upcoming deadlines
If you're considering attending medical school in Texas, look no further! The Lone Star State is home to some of the country's best and most affordable medical education programs. Top Texas medical schools offer prospective doctors superb clinical training experiences across the diverse communities that call Texas home.
These medical schools also provide some of the lowest tuition rates for medical students at private and public medical schools, especially for in-state students. No matter your clinical specialties of interest, there's a medical school that will fit your career goals and aspirations in Texas.
With 16 medical schools located in the state, it can be confusing to determine which medical schools are truly the best and worth your investment in the rigorous medical school application process. In this article, I have compiled a list of the ten best medical schools in Texas in 2023 to help you narrow down your top schools.
When ranking the schools that we selected, we took into consideration factors like the medical curriculum for first-year and second-year medical students, clinical training opportunities, and schools' investment in giving back to local communities.
As you prepare to take the next step in your career journey, don't forget to apply for medical school scholarships on Bold.org to help you pay for medical school while lowering your student debt. Create a free Bold.org profile and access hundreds of scholarships for college students through our scholarship search engine. To learn more about scholarships and ways to save money in college, check out more blog posts like this one on our exclusive scholarship blog.


How to Choose Which Medical Schools to Apply To
With so many medical programs to choose from, deciding which medical schools to apply to can be overwhelming. Considering the cost of applying to medical school and the lengthy time investment you spend on the application process, taking the time to research the medical schools that truly fit your goals is extremely important.
Here are a few factors you should consider when selecting medical schools for your final list:
Cost: It's no secret that medical school is very expensive! The American Association of Medical Colleges found that the median cost of a four-year medical degree in 2020 was $255,000 to $337,000. With the cost of education climbing higher each year, medical school will only continue to become more expensive as time goes by.
Carefully research the price of a four-year degree when building your medical school application list. Choosing a public medical school located in your home state will be the most affordable option. Some private medical schools that receive public funding also offer lower tuition rates for in-state students.
Curriculum: Every Texas medical school's philosophy behind their medical curriculum differs, depending on the age of the school, the teaching hospitals they are affiliated with, and the school's history. Consider how the first two years of pre-clinical curriculum are structured and the kinds of courses you'll be taking to prepare for the latter half of medical school, during which you'll be involved with clinical training.
Clinical Training Opportunities: Perhaps one of the most distinguishing factors between different Texas medical schools is the clinical training opportunities they provide to their third-year and fourth-year medical students. Medical students typically rotate between clinical specialties to gain exposure to various kinds of medical practice.
Texas's large size and population make it an excellent place to learn about medical fields and specialties. Some Texas medical schools even have multiple campus locations across various cities, enabling their students to truly gain the most diverse clinical experiences.
Location: The location of Texas medical schools vary, from bustling, up-and-coming cities like Austin to rural communities on the outskirts of the state. Consider where you want to spend your four years of medical education, your lifestyle, and the cost of living in various cities.
After all, you will spend the next four years in that particular community and environment, so it's important to ensure your location will add to, rather than detract from, your medical school experience.
Get Matched to Thousands of Scholarships
Create your Bold.org profile to access thousands of exclusive scholarships, available only on Bold.org.
Create Free Profile
Top 10 Medical Schools in Texas
Without further ado, here are the top ten medical schools in Texas!
#10 University of Texas Southwestern Medical Center - Dallas, TX
At number 10 on the list, we have the University of Texas Southwestern Medical School located in Dallas, Texas. UT Southwestern is affiliated with the prestigious University of Texas System and offers M.D. candidates extensive mentorship opportunities and early clinical exposure.
UT Southwestern is highly regarded for both research and primary care, ranking at #25 and #16, respectively, on the U.S. News and World Report. The school is affiliated with one of the largest teaching hospitals in the nation, Parkland Hospital.
With three additional affiliated hospitals, UT Southwestern's medical students have the opportunity to be involved with an extensive medical care system. Admissions to this school are highly selective, generally hovering around 5%, and accepted candidates often score in the tenth percentile of the MCAT.
#9 University of Texas Long School of Medicine - San Antonio, TX
The Long School of Medicine in San Antonio, Texas is the largest training center for physicians in South Texas and has a deep-rooted connection with the region.
Students at the Long School undergo clinical rotations at the University Hospital, the third largest public health system in Texas, and the South Texas Veterans Health Care System. In addition to the universal medical curriculum, students can earn "distinctions" in research, medical education, or medical humanities to further individualize their medical education.
Medical students at the Long School of Medicine also participate in cutting-edge medical research at the Johnson Center for Surgical Innovation, a massive simulation surgery training center, and the Sam and Ann Barshop Institute for Aging Studies, which researches age-related diseases.
#8 University of Texas McGovern Medical School - Houston, TX
The University of Texas McGovern Medical School is the largest medical school in Texas and the eighth-largest medical school in the United States. We've ranked McGovern at number 8 in our roundup of the best Texas medical schools for its diverse research opportunities and a full-course menu of clinical training.
McGovern Medical School is affiliated with the Texas Medical Center, the world's largest medical complex, in addition to the Lyndon Baines Johnson General Hospital and the MD Anderson Cancer Center. As a result, medical students at McGovern have extensive clinical training opportunities, including clinical rotations in highly specialized medical fields that they couldn't access anywhere else.
Students at McGovern take all their classes pass/fail in their first semester to help them ease their way into the rigorous medical curriculum. As they progress in their medical education, medical students choose a scholarly concentration to focus on in their studies.
#7 University of Texas at Austin Dell Medical School - Austin, TX
The University of Texas Austin Dell Medical School, another medical school affiliated with the UT system, is one of the newest medical schools in Texas. UT Austin Dell Medical School opened its doors in 2017 and is celebrating its sixth anniversary.
Dell Medical School boasts a smaller class size that allows students to be part of a tight-knit community. Additionally, a compressed science curriculum shortens the pre-clinical classwork from two years to one year, opening up an additional year for medical students at Dell to engage in research, an independent project, or additional clinical training.
As a new medical school, Dell is at the forefront of innovative healthcare curricula and models of healthcare delivery. While research and clinical opportunities aren't yet as established as some of the older schools, the unique coursework structure and the school's location in Austin open the door to a highly rewarding four years for its students.
#6 University of Texas Medical Branch School of Medicine - Galveston, TX
The University of Texas Medical Branch School of Medicine is the oldest medical school in Texas.
Students at UT Medical Branch take classes pass/fail for the first two years, easing the stress of pre-clinical studies. Then, in their latter two years, medical students have many unique opportunities to gain clinical experience, including caring for incarcerated populations and working in aerospace medicine through a partnership with NASA.
UT Medical Branch School of Medicine is also affiliated with the Texas Medical Center, the largest medical complex in the world, spanning 2.1 square miles in Houston. During clinical training, students rotate at various medical sites within Galveston as well as other locations throughout the lone star state.
#5 University of North Texas Health Science Center at Fort Worth Texas College of Osteopathic Medicine - Fort Worth, TX
At number 5, we have the University of North Texas Health Science Center, arguably the best medical school in the nation to earn a D.O.. The University of North Texas is also highly ranked for primary care and is the oldest and most established Texas school of osteopathic medicine.
Sixty percent of UNT graduates go into primary care following graduation, so if you're looking to follow in their footsteps, the University of North Texas might just be the school for you! The school also specializes in treating underserved populations and rural medicine and boasts numerous innovative community health programs, including the Hispanic Wellness Fair and Cowton Marathon.
#4 Texas Tech University Health Sciences Center School of Medicine - Lubbok, TX
The Health Sciences Center School of Medicine in Lubbok is one of Texas Tech University's two top-notch medical schools. It provides a community-oriented medical education to M.D. candidates centered around humanistic primary care and interprofessional collaboration with other health professions.
The medical school also has deep ties to West Texas, with satellite campuses located throughout the region where students can opt to spend their final two years in clinical training. Texas Tech University Health Sciences Center School of Medicine's Level 1 trauma center serves 108 counties throughout West Texas and Eastern New Mexico.
A unique feature of the school of medicine is its mission to decrease health disparities among medically underserved rural and minority communities in West Texas. As a result, this school is the perfect home for M.D. candidates with a passion for community health and social justice.
#3 Texas Tech University Health Sciences Center Paul L. Foster School of Medicine - El Paso, TX
Texas Tech University's second medical school at the Paul L. Foster School of Medicine is similarly dedicated to working with medically underserved populations. In particular, the school's location in El Paso at the U.S.-Mexico border offers M.D. candidates the opportunity to understand the medical needs of immigrant communities.
The Paul L. Foster School of Medicine is the only medical school in Texas that requires its students to learn Spanish language skills. M.D. candidates take pre-clinical courses pass/fail for the first two semesters. Public health education is also a central part of the school's medical curriculum, as students must take "Society, Community, and Individual" courses to learn about public health topics.
#2 Texas A&M Health Science Center College of Medicine - Bryan, TX
Texas A&M Health Science Center College of Medicine is one of the most prestigious medical schools in Texas, and we've ranked it at number two in our Texas medical school roundup. True to its roots as an agricultural school, Texas A&M emphasizes rural and population health in both its pre-clinical coursework and clinical rotations.
Medical students at Texas A&M can undergo clinical training at the main campus in Bryan or throughout its various satellite campuses in Dallas, Houston, Round Rock, and Temple. Students can also participate in interdisciplinary coursework through tracks in military health and the EnMed track that integrates medical curriculum with engineering.
#1 Baylor University College of Medicine - Houston, TX
Last but certainly not least, the Baylor University College of Medicine is considered one of the best medical schools in Texas for its renowned medical curriculum and a robust alumni network of practicing physicians. Although Baylor is a private medical school, tuition costs remain low because of public funding for in-state students.
As a result, Texas residents have a much higher chance of being admitted to this prestigious medical institution. In particular, Baylor is a top school for research as part of the Texas Medical Center, the world's largest medical complex, and other affiliated teaching hospitals. Baylor is also the only school to teach tropical medicine in North America, allowing students to learn about a unique medical population.
Frequently Asked Questions
How Do I Get into the Best Medical Schools in Texas?
14 of the 16 medical schools in Texas utilize the TMDSAS, the Texas Medical and Dental Schools Application Service, for its admissions process. To complete the TMDSAS, you'll need to submit a personal statement and two additional essays in addition to MCAT scores, a transcript, letters of recommendation, and other materials.
In-state applicants who use the TMDSAS go through a matching process where they can submit a ranked list of preferred schools. Lucky students will receive a pre-match offer from a school they can accept before all admissions results are released.
It's important to demonstrate your strong interest in pursuing medicine through a robust personal statement and diverse clinical experiences to maximize your chances of being accepted to one of the best medical schools in Texas. More personal components of the application will truly make you stand out as a candidate, but don't overlook MCAT scores and undergraduate grades.
Do you get paid in medical school?
Medical school students are not compensated for their clinical rotations, clerkships, or during their time in medical school. Nevertheless, medical students have the option of pursuing employment concurrently with their studies. Learn more about medical school costs by reading How Much Does Medical School Cost!
Now that you've learned about the best medical schools in Texas, you're ready to start your medical school application journey! While you're here, check out these exclusive medical school scholarships!