Best Law Schools in Ohio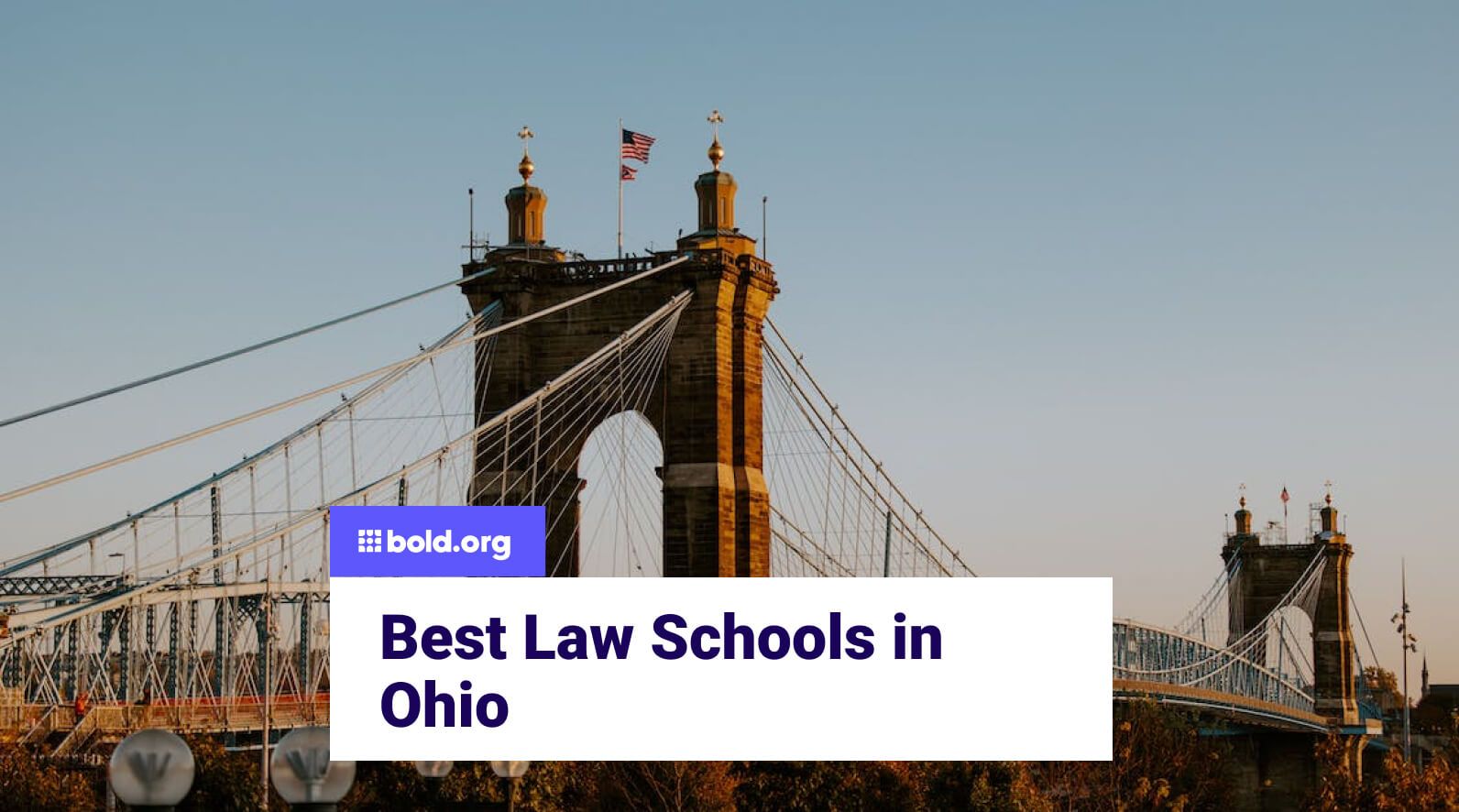 Top scholarships with upcoming deadlines
Ohio is home to many prestigious law schools that offer competitive programs, specialties, and opportunities for aspiring lawyers. Whether you want to pursue your dream law profession in the vibrant city of Cincinnati or study legal theory by the Great Lakes, the top law schools in Ohio have something unique to offer.
In this Bold.org blog, we'll introduce you to some of the best law schools in Ohio, going over each school's law curricula, professional opportunities, and alumni outcomes. You'll also learn how to choose the right law school for you and discover which Ohio law schools truly belong on your school list.
Financial access to law school is often a significant barrier for aspiring legal professionals who want to take the next step in their education. Luckily, applying for law school scholarships on Bold.org can help mitigate the financial burden of pursuing graduate studies in law.
Create a free Bold.org profile in minutes and start applying for hundreds of exclusive scholarships! Check out this blog post on the best law schools in Michigan to learn more about renowned Midwestern law schools.
Best Law Schools in Ohio
Located in the charming city of Columbus, Ohio, the Moritz College of Law at Ohio State University has a national reputation for producing some of the finest future leaders in the field of law. Graduates of the College of Law have become federal judges, U.S. senators, justices of the Supreme Court, and leading lawyers and law school professors.
Moritz is known for its rigorous academic environment that equips students with unparalleled analytical skills for the competitive and cut-throat legal world. Students at the College of Law benefit from being part of a collegiate community of legal scholars, where they can learn from their peers and distinguished faculty alike.
Furthermore, Ohio State is home to various legal clinic programs, including a Civil Law Clinic, Immigration Clinic, Justice for Children Clinic, and Criminal Defense Clinic. Through these programs, J.D. students gain real-world experience in the legal profession and represent diverse clients in a wide range of cases. Highly skilled students also can participate in judicial externships, through which they gain direct work experience in judges' chambers and public interest and government externships, working with federal state agencies and non-profit organizations.
Case Western Reserve University is another highly-ranked law school in Ohio with a national reputation for producing distinguished legal professionals. Located in the quaint city of Cleveland, Ohio, Case Western boasts the highest bar pass rate in Ohio, speaking to the strength of the law school curriculum.
The School of Law at Case Western is one of the oldest law schools in the nation. With a strong commitment to racial and social justice, 20% of students at Case Western identify as underrepresented minorities. The school was also the alma mater of the first African-American woman to become an Ohio State Supreme Court Justice, the Honorable Sara J. Harper.
Law students at Case Western can begin their law school studies in August or January. Additionally, students with work or family obligations can earn their law degree through the part-time remote program, which provides non-traditional law students with an accessible and affordable path toward their J.D.
The university is also home to one of the country's top Mock Trial and Moot Court programs, which prepares future lawyers for in-court proceedings by sharpening their public speaking and argumentation skills. All in all, these attributes make Case Western a prestigious law school that continues to make legal education more accessible for diverse law students.
Check out available scholarships for graduate school on Bold.org that can help reduce the cost of attending law school.
The College of Law at the University of Cincinnati is another reputable law school at the heart of a research-driven, public university. Students at the University of Cincinnati benefit from being at the center of a cosmopolitan Midwestern city in Cincinnati, Ohio, where they have unparalleled access to externships, internships, and volunteering opportunities.
Law students at Cincinnati Law have the option to choose from a variety of professional pathways that scaffold their journey through law school. Whether you want to explore the challenges businesses face in the 21st century through the Business and Entrepreneurship Law Concentration or focus on preserving our natural resources in Environmental and Energy Law, the University of Cincinnati is equipped with the resources to help you succeed in your field.
Furthermore, law school students at Cincinnati Law can publish legal scholarship in one of the college's distinguished legal journals. With a large student population, you'll discover various legal journals covering topics from immigration to intellectual property. As part of a large, cosmopolitan city, students interested in working with start-ups or in the arts also have multifarious opportunities to collaborate with other young professionals.