Best Law Schools in Michigan
College
September 25, 2023
7 min read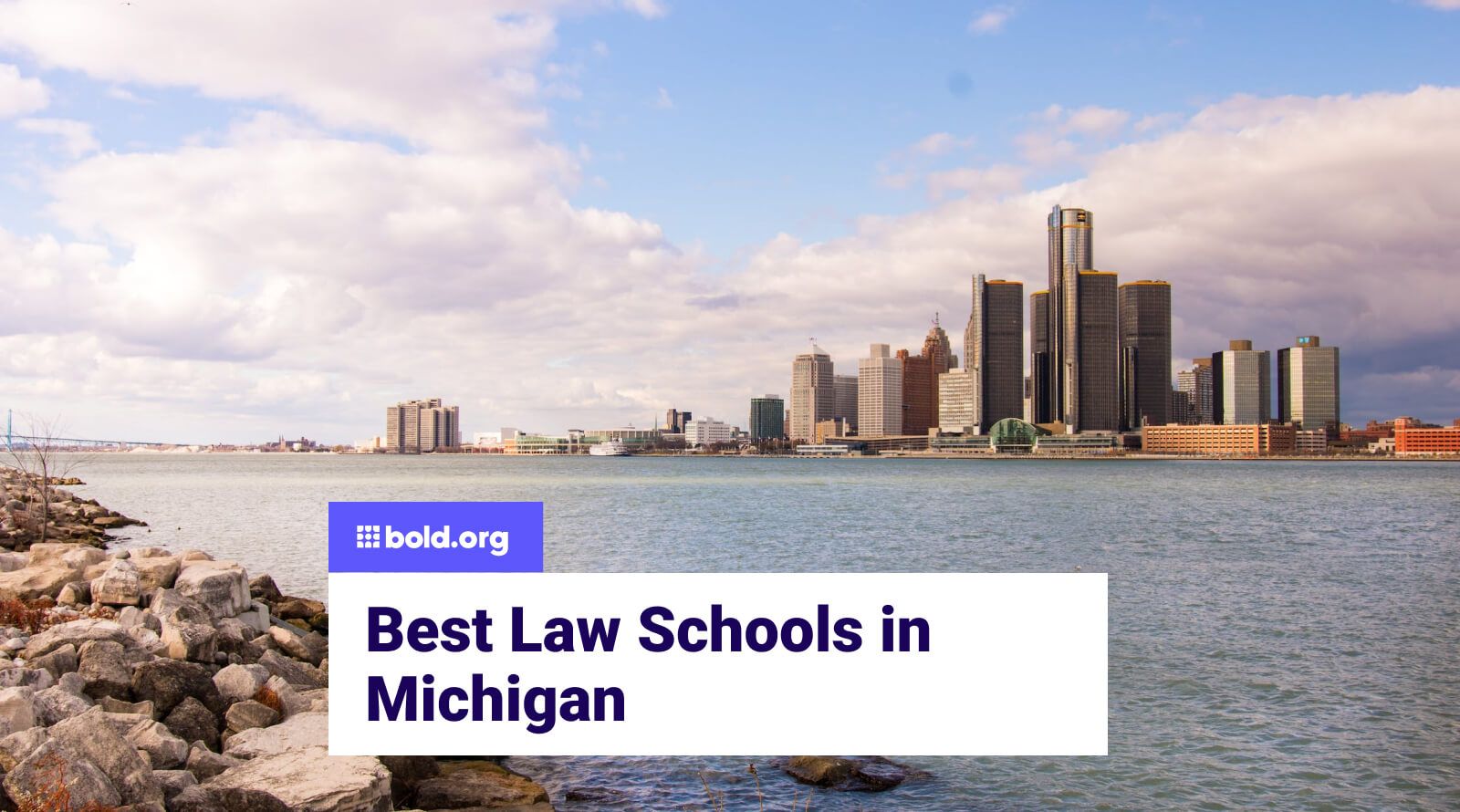 Top scholarships with upcoming deadlines
When pursuing a legal education, choosing the right law school can make all the difference in shaping your career and future prospects. Michigan is home to a thriving legal landscape and a rich tradition of jurisprudence. Whether you aspire to become a skilled litigator, a corporate attorney, a public defender, or any other legal professional, Michigan offers a diverse array of law schools that cater to a wide range of interests and career goals.
In this blog from Bold.org, we'll explore the top law schools in the Great Lakes State, providing valuable insights and information to help you make an informed choice about where to embark on your legal journey.
A common concern for prospective law students is law school costs. It's no secret that law school tuition can be costly, and many future lawyers take tens of thousands of dollars in student debt to pay for their education. Scholarships for law school students are one resource that can help make law education more accessible and affordable.
To browse hundreds of available scholarships, create a free Bold.org profile today. And don't forget to check out our scholarship blog to learn more about the best law schools in Texas!
Best Law Schools in Michigan
The University of Michigan Law School, often called Michigan Law, stands as one of the most prestigious and highly regarded law schools in the state of Michigan and on a national and international scale. Established in 1859, Michigan Law has consistently maintained its reputation for academic excellence and producing legal professionals who excel in various fields of law.
Michigan Law's commitment to academic excellence is evident in its renowned faculty, rigorous curriculum, and cutting-edge research initiatives. With a diverse range of courses and clinics, students at the University of Michigan Law can tailor their studies to their specific interests, whether it be environmental law, international human rights, or corporate law.
Furthermore, one of the key strengths of the University of Michigan Law School is its extensive and influential alumni network. Graduates of Michigan Law can be found in prominent positions across various sectors, including government offices, academia, top national law firms, and public interest law organizations. This network provides invaluable connections and opportunities for students, enhancing their career prospects upon graduation.
Michigan Law prides itself on its multidisciplinary approach to legal education. It encourages students to explore connections between law and other fields, such as business, technology, and public policy. This approach fosters a well-rounded understanding of the law's role in society and equips graduates with a unique perspective that is highly sought after by employers.
Wayne State University Law School is a cornerstone of legal education in the heart of Detroit, Michigan. As one of the oldest public law schools in the nation, Wayne Law has a rich history of providing accessible legal education and producing exceptional lawyers who make significant contributions to the legal profession.
Founded in 1927, Wayne Law has been committed to making legal education accessible to a diverse student body. The law school has a strong reputation for its inclusive admissions policies and efforts to increase diversity within the legal profession. This commitment extends to its numerous scholarships and financial aid programs, making it an attractive choice for students from various backgrounds.
Scholarships and financial aid programs from law schools like Wayne State University make law education accessible for all students interested in studying law! To learn more about law school scholarships, check out this exclusive blog post!
Located in the vibrant and culturally diverse city of Detroit, Wayne offers a unique advantage to its law students. The city's legal landscape provides numerous opportunities for experiential learning, including internships, externships, and judicial clerkships in various legal settings. Wayne Law students gain valuable experience and legal insights from this real-world practical legal training. Students also have the opportunity to engage in real cases by providing legal advocacy services to underrepresented communities.
The Michigan State University College of Law, often referred to as MSU Law, stands as a distinguished institution within the Michigan legal community. Located in the vibrant city of East Lansing, MSU Law has a rich history of providing students with a comprehensive legal education, preparing them for successful careers in various facets of the legal profession.
One of the standout features of MSU Law is its diverse and dynamic curriculum. The law school offers a wide range of specialized courses and legal clinics that cater to students with different interests and career goals. Whether you are interested in environmental law, intellectual property law, criminal law, or corporate law, MSU Law provides a robust selection of academic offerings to suit various legal aspirations.
Moreover, MSU Law significantly emphasizes hands-on training and practical experience. The law school's legal clinics, externships, and internship programs offer students opportunities to apply their legal knowledge in real-world settings. This practical exposure equips MSU Law graduates with the skills and confidence needed to succeed in their legal careers.
MSU Law is at the forefront of legal research and innovation, with faculty members actively contributing to the advancement of legal scholarship and legal theory. The law school's various research centers and institutes focus on contemporary legal issues, fostering an environment of intellectual curiosity and exploration.