How to take out a student loan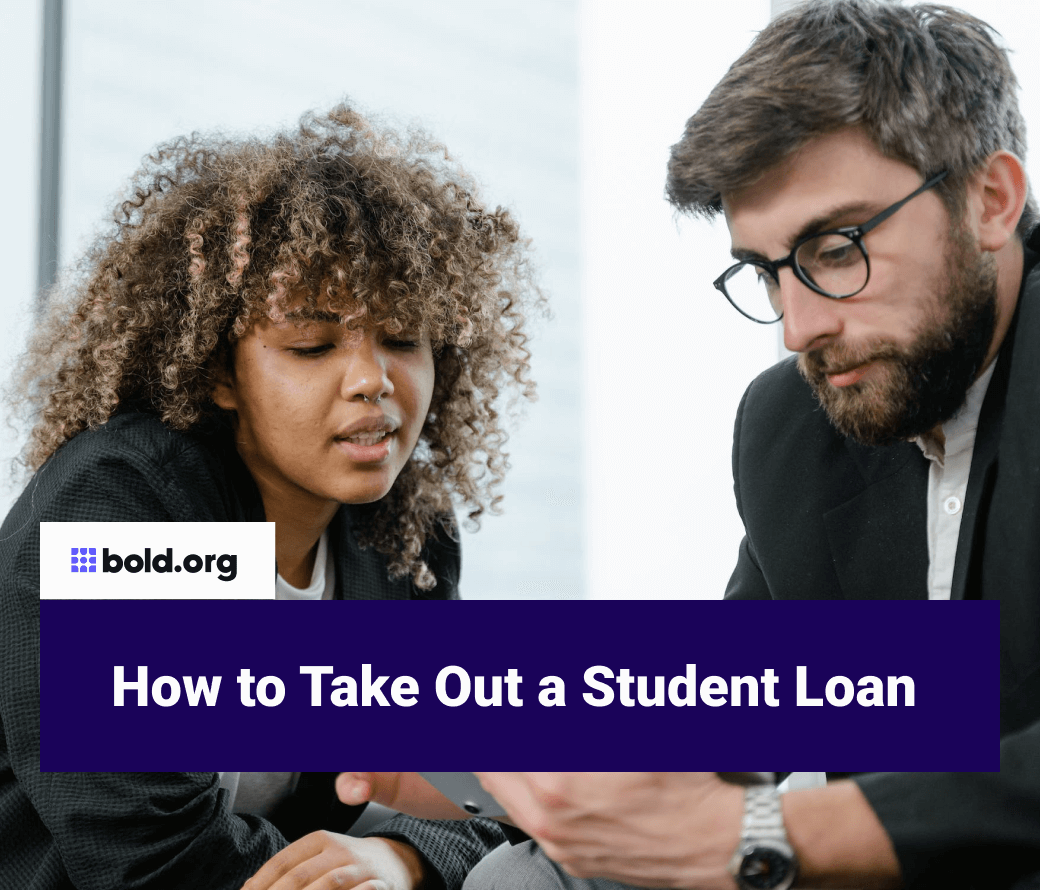 Top scholarships with upcoming deadlines
Of all of the forms of financial aid, student loans can be the most difficult to figure out. While they can be helpful for students who need to borrow money, student loans can come with high interest rates or extra fees that can put students in debt. As written in this Bold.org article, total student loan debt in the United States has now reached $1.75 trillion.
It is crucial to do research and carefully choose which loans you take out. There are two types of loans that students can get, federal student loans and private student loans. Students must decide the financial aid options that are right for them.
Bold.org strives to fight student loan debt and is here to help you navigate how to get the best financial aid for you. In order to help you understand how to take out a student loan, here is a list of steps to help.
Get Matched to Thousands of Scholarships
Create your Bold.org profile to access thousands of exclusive scholarships, available only on Bold.org.
Create Free Profile
Step 1: Fill out the FAFSA
The Free Application for Federal Student Aid (FAFSA) is an online application that college students and applicants fill out to determine the scholarships, grants, and federal student loan options that are available to them. If you think you might need to borrow both federal and private student loans, you should submit your FAFSA first.
Click on the following link to learn more information about applying for federal on Bold.org.
Step 2: Read your Financial Aid Award Letter
Once you fill out your FAFSA, you'll receive a financial aid offer from the colleges you've been accepted to. Federal student aid like federal student loans and grants will be determined by the department of education while scholarships will be given out by your school's financial aid office.
After you learn how much aid you're being offered from your financial aid office, you'll know how much you still need to borrow with a private student loan to have the funds that you need for college.
Step 3: Accept Your Financial Aid
Once you get your financial aid package, you can choose to accept all, some, or none of the financial aid given to you. Your aid offer will include directions on accepting aid. You might have to enter the amounts you're accepting in an online form, or if you receive a paper aid offer, you will have to sign it and mail it back to the school.
You should accept free money like scholarships and grants first and then accept earned money, such as through work-study, second. If you still need some financial help, accept borrowed money like federal student loans last.
Federal loans may be direct subsidized loans, which means they will not accrue interest until after graduation. You should accept these before unsubsidized loans and PLUS loans, which do start to accrue interest once you accept the loan.
Step 4: Find Private Loans
Once you've considered all of your federal loan options, you can begin to research private student loans. Private loans are given out by banks, credit unions, and online lenders. By going online, researching different lenders, and calculating the number of fees and interest that you will have to pay, you can make an informed decision about the loans you choose.
While many loaners focus on the APR (the yearly interest rate), another important factor is the total cost you'll pay for the loan, the TAR (total amount repayable). This is the amount you borrow plus the interest you'll end up paying over the life of the loan. Once you've found a loan that you can afford, you can start to apply.
Step 5: Apply for Private Loans
Most student loans have an online application process on their website, so you can apply whenever you need to. When applying, though, make sure that you take out the loan way in advance of your college's tuition payment deadline because it can take time for the lender to process your loan and send money to your school.
Make sure that you read all of the terms and conditions of the loan before you apply. Private loans can have high interest rates and fees, so make sure that you are taking out loans from trustworthy lenders. Additionally, it can be helpful to come up with a payment plan so that you can keep up with your loan payments.
Unlike unsubsidized and subsidized federal student loans, private student loan lenders usually require a credit check. In order to complete the credit check, you may have to have a cosigner—a parent, guardian, or another creditworthy adult.
Frequently asked questions about taking out student loans
Can I take a student loan out by myself?
Usually, you cannot take out a private loan without a creditworthy cosigner. The cosigner does not need to be your parent or guardian, but someone else with a good or excellent credit score may have to cosign the loan.
Most federal student loans, including direct subsidized, unsubsidized, and consolidation loans, don't require a co-signer, so you can take out federal loans by yourself.
How much can a student get in loans?
For federal student loans, undergraduates can borrow a maximum of $9,500 to $12,500 annually. Graduate students can borrow up to $20,500 annually. For private student loans, you can borrow as much as the entire cost of your education.
Although taking out student loans can be helpful for students, make sure that you can keep up with your loan payments so that you do not fall into debt. Although there is sometimes loan forgiveness, you should plan ahead.
Can all students get loans?
Yes, while not all students are awarded federal student loans, you can always get a private loan. While you may need to do a credit check for some federal and most private loans, anyone can get a student loan if they need one. If you need federal and private loans, make sure that you fill out the FAFSA and apply for the right loans online.
If you are not awarded federal loans or if you do not wish to take out private loans, you can also find plenty of scholarships to apply for. You can find hundreds of exclusive scholarships right here on Bold.org!