How to apply for merit scholarships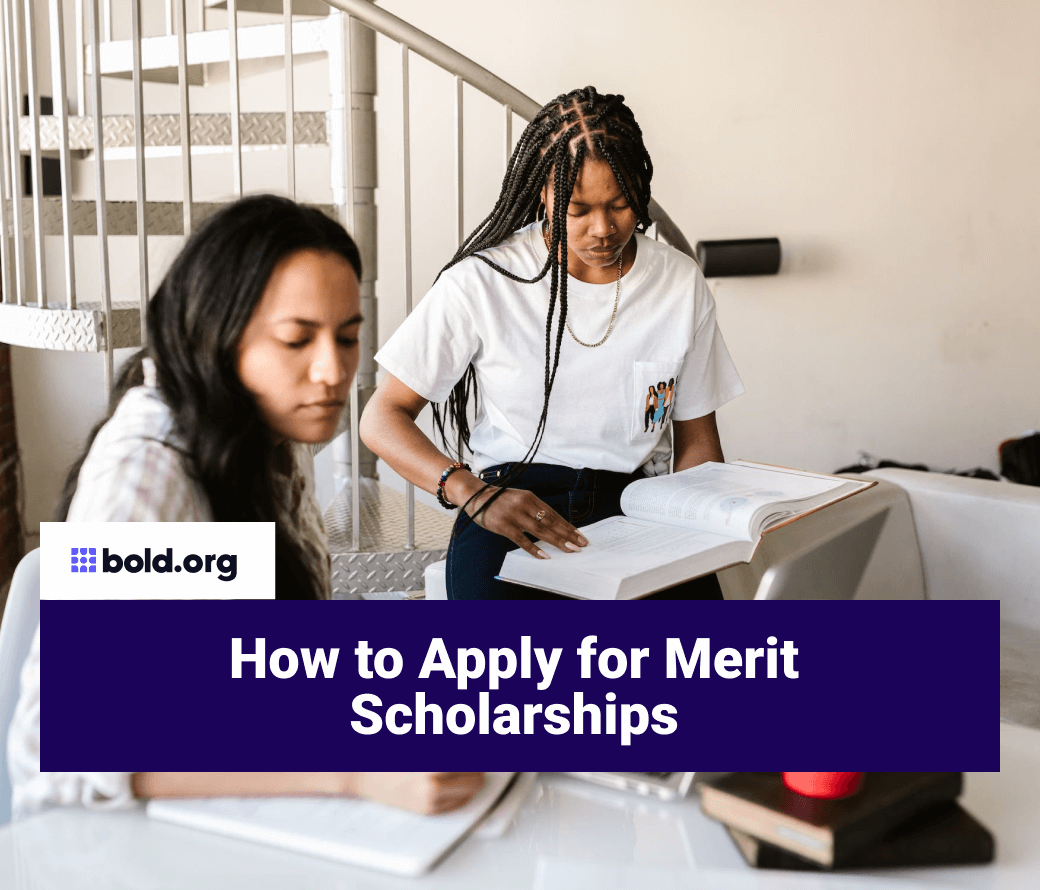 Top scholarships with upcoming deadlines
Applying for merit scholarships is easy if you know where to look. Merit scholarships are a form of financial aid that award free money to students with outstanding achievements. Extremely good grades and academic achievement can result in merit-based aid.
According to research from the 2019-2020 school year, 22% of undergraduate college students received some kind of merit-based scholarship. High school students are eligible for merit awards as well— anyone can win a merit scholarship.
It can be difficult to find merit scholarships just from an online search. Bold.org allows students to browse through hundreds of scholarships and find financial aid opportunities that are right for them. Make a free profile with Bold.org today to start applying.
For students who are looking for financial assistance, winning a merit scholarship can greatly help decrease the costs of higher education. Particularly talented students should strongly consider learning about how to apply for merit scholarships. Not all students will be eligible to apply for merit scholarships, but for those that do qualify, applying to a merit scholarship may offer better odds than applying to a general scholarship.
To better understand what a merit award is, check out this guide on merit scholarships. Students actively looking for merit awards should review Bold.org's updated list of merit-based scholarships. High school and college students can also look through this scholarship page to browse the complete list of scholarships available.
Win at school
Merit scholarships, as the name suggests, require applicants to be uniquely qualified in an academic or other area. As a result, students who hope to win merit awards will need to focus on their grades at school. Many merit scholarships require students to have a certain GPA, even if the scholarship is not based only on academic ability.
Students who have a study plan tend to perform better than students that don't. There is no one approach to studying that works for every student, so take the time to find which method works best for you.
Students should consider sticking to one approach for staying organized. For example, using a spreadsheet or notebook to keep track of assignment due dates. Studying, as well, can take the form of several different effective models such as flashcards, self-made tests, or simple note-taking.
Staying organized and having a concrete way to study can help students stay on track in school and get good grades. Both high school and college students can benefit from prioritizing their grades.
Talking to teachers for extra help is also a generally good idea. Letting teachers know that you're struggling in their class can be a good way to get free academic help. They may also recommend some resources you wouldn't have found otherwise. Building a good relationship with your teachers is also a good way to build a foundation for future letters of recommendation that you might need, either for college admissions or merit scholarship applications.
Ace the SAT/ACT
Some merit scholarships will consider standardized testing as well as your GPA. Similar to making a plan for studying, students should figure out how they can do well on the SAT or ACT. There are several tutoring groups that focus exclusively on the SAT and ACT. Students who choose to self-study might consider buying their own prep books, downloading old exams, and studying with friends.
Building a relationship with teachers or school administrators may serve you well in this aspect as well. Some schools host free SAT/ACT study events or have their own free study groups. Getting involved in these can be helpful for both studying and making sure students stay disciplined in their study plans.
The national merit scholarship program, for example, requires students to take a standardized test to be eligible to receive national merit scholarships. This type of award merit aid can greatly help with college finances.
Find the right opportunities
Because merit scholarships are based on academic achievement, most students will be able to find the best merit scholarships for them based on their talents. For example, a student who excels at math should look at merit scholarships for math students.
The point is to try to make your search in one area as exhaustive as possible. A math student who demonstrates unique prowess in this subject will likely be a part of the mathlete club or some other academic organization. See if your connections in these clubs and competitions will offer you any merit-based scholarships. It's possible that scoring high enough in a certain competition will qualify you for a merit scholarship. Look into these possibilities to make sure you don't miss a merit scholarship that is already within your reach.
By finding scholarships through competitions, organizations, and online platforms like Bold.org, students looking for merit scholarships should be able to find a few good matches. The national merit scholarship corporation is also a good place to look for merit-based scholarships.
Submitting a polished application
Though the application will differ depending on the merit scholarship you apply to, there are some general tips for submitting a good application. Firstly, try as hard as possible to have all your materials put together well before the deadline. This allows you time to check for errors and ask for letters of recommendation, if necessary.
Write a few drafts of the essay question and get feedback from your friends or teachers. This also helps you catch any minor mistakes before you send the application out. Teachers, in particular, can help you judge your writing and make sure you sound professional while getting your personality and ambitions across.
Frequently asked questions about merit scholarships
How do you ask for a merit scholarship?
Check if the college you intend to enroll in has a merit scholarship program. Many colleges have merit scholarships offered on acceptance if the applicant's grades are high enough. Qualified students who apply with a GPA over a certain threshold set by the school will likely be able to receive some kind of merit-based aid immediately through their scholarship programs.
There's no harm in writing to the financial aid office and asking if there are other merit awards you can apply for, either. Remember to research their scholarship programs first before you ask. The key to asking for additional aid opportunities is to be polite and patient.
Does FAFSA affect merit scholarships?
The relationship between the FAFSA and a merit scholarship will largely depend on the rules the scholarship's donor sets. Some forms of federal financial aid are completely blind to merit scholarships. To learn more, read this guide on the FAFSA and what it means for your financial needs.
For example, students must fill out the FAFSA to apply for a Federal Pell Grant. Students who are awarded a Pell Grant can apply for and win as many merit scholarships as they like, and the amount they get from the Pell Grant will not be reduced. Many need-based forms of financial aid will not consider other forms of aid the student earns.
Some merit scholarships, but not all, will reduce the aid they award to you if your financial needs have already been met. This can be because of budgeting or other reasons but is important to consider when applying for merit awards.
In general, need-based aid will not be affected by merit awards, but merit scholarships may be affected by need-based aid.
What is a good GPA for a merit scholarship?
What is considered a good GPA will highly depend on the rules of the particular scholarship you apply for. In general, it is more likely that students receive merit aid with a GPA of around 3.0. More competitive scholarships will raise the minimum GPA, while less competitive scholarships will lower it.
Get started applying to merit scholarships today by signing up for a free profile with Bold.org.