Giving Tuesday: Create a Scholarship to Change Someone's Life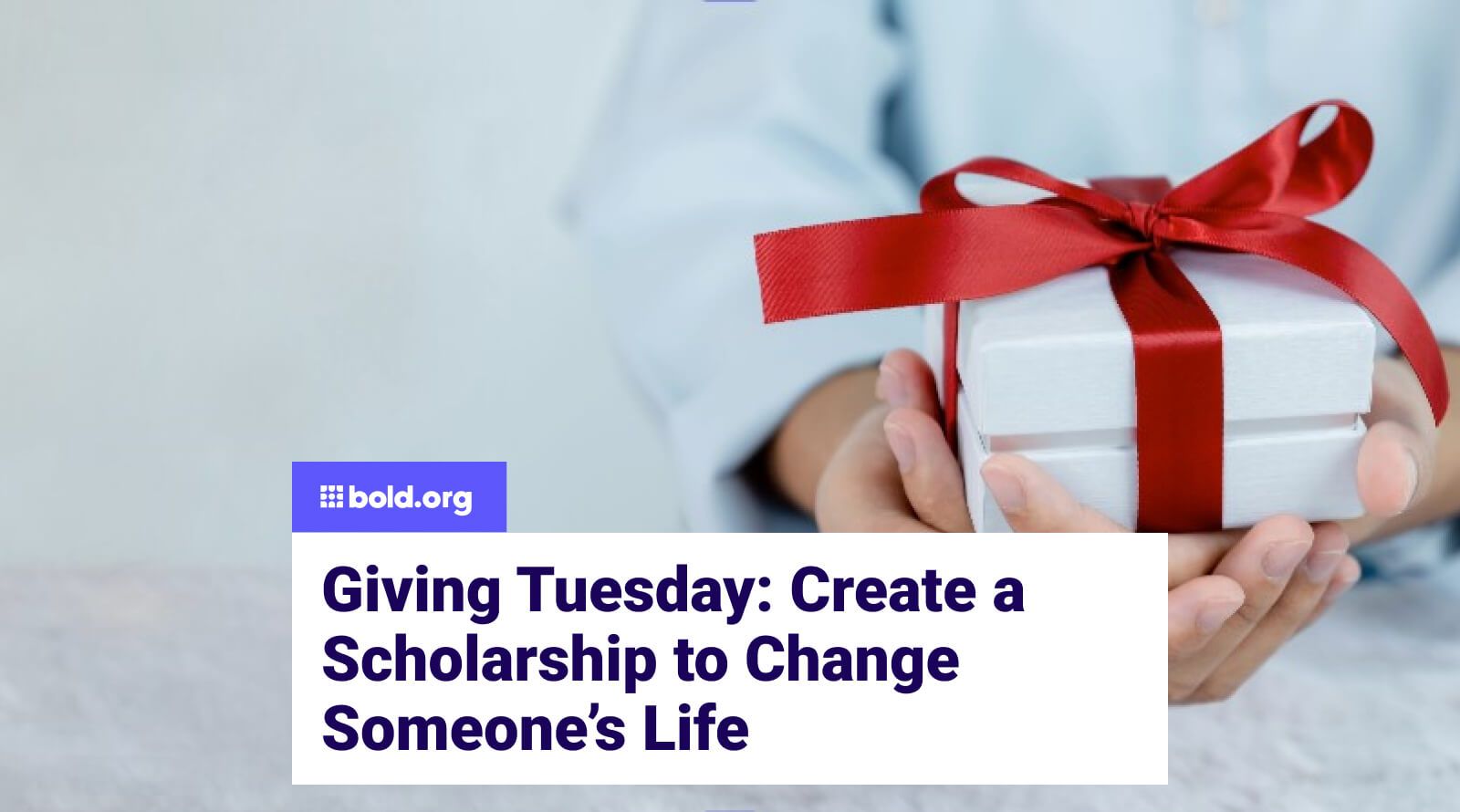 Top scholarships with upcoming deadlines
Giving Tuesday is a global movement celebrating generosity and kindness. Each year, people worldwide come together on Giving Tuesday to support the causes they care about and make a positive difference in their communities by donating money or volunteering their time and talents. In the United States, Giving Tuesday is held the first Tuesday after Thanksgiving, and this year, the holiday falls on November 28, 2023.
Giving Tuesday is the perfect opportunity to create a scholarship and change someone's life. Creating scholarships helps make higher education more accessible to students of all backgrounds. With the cost of college tuition rising rapidly each year, many students depend on student loans to afford the cost of their degrees. Creating a scholarship helps offset some of that dependency on loans, ensuring that talented students can graduate from school without being burdened with student loans.
If education and student success are issues close to your heart, consider setting up a scholarship fund on Bold.org this Giving Tuesday. Setting up a scholarship fund on Bold.org is fast, easy, and free, with 100% of your tax-deductible donations going to deserving students. The experienced scholarship team at Bold.org will work with you to create a scholarship that aligns with your values and awards students who share your identities, interests, or career goals.
Learn more about the three-step process for setting up a scholarship on Bold.org, and check out this blog post on IRS guidelines for creating a scholarship fund (spoiler alert: Bold.org takes care of all of the paperwork so you can focus on distributing your scholarship to the perfect recipients).
Why Are Scholarships Important?
According to the National Center for Education Statistics, in the 2021-2022 school year, the average cost of attendance for full-time, first-year undergraduate students was $38,800 at private, nonprofit universities and $9,700 at public universities. As the cost of college and higher education continues to grow disproportionately compared to the standard of living, many students struggle to earn their degrees without taking on tens of thousands of dollars in debt.
Research has shown time and time again that graduating from college has a significant impact on earnings and quality of life. The median yearly salary for college graduates aged 25-34 was $59,600 in 2023—people with only a high school diploma made over $20,000 less at $36,600. In lifetime earnings, people with college degrees will make 1.2 million dollars more than high school graduates.
Considering the massive impact of graduating from college, a scholarship is a gift that keeps on giving. Student scholarships provide access to the resources students need at a critical time in their lives, which will impact their families, communities, and futures. Indeed, scholarships are not just one-time gifts but long-term investments in students' potential.
Scholarships are not only a great way to support education and empower students but also a rewarding and fulfilling experience for the donors themselves. Many students have the potential, passion, and work ethic to pursue higher education but face financial barriers that may prevent them from going to school or graduating on time. By creating scholarships, you can help these students overcome financial obstacles, access the opportunities they deserve, and pursue their specific interests and goals.
By creating a scholarship, you can honor your values, passions, and achievements and share them with others with similar visions. If you want to honor the memory of someone you love or admire, setting up a memorial scholarship can keep their legacy alive. All in all, scholarships have a compounding positive impact on both the scholarship recipients' and donors' lives and communities.
The Chris Jackson Computer Science Education Scholarship is an excellent example of a donor-created scholarship on Bold.org! Browse hundreds of available scholarships on our platform to get inspired.
How to Create a Scholarship Fund on Bold.org
If you've never set up a scholarship fund, you might not know where to begin. Luckily, working with a trusted scholarship website like Bold.org simplifies the process of creating and awarding scholarships so you can focus on what matters: choosing the right scholarship recipients to support with your generous award.
There are no fees for making or contributing gifts to a scholarship fund on Bold.org, so you can rest assured that 100% of your donations and any donations you collect from your community will go directly to your recipients. Additionally, the Bold.org team handles all of the legal intricacies, administrative work, and advertising of your scholarship, so you can avoid the headache of having to set up your own nonprofit or save tens of thousands of dollars to create an endowed scholarship.
Define and Fund Your Award
The first step towards setting up a scholarship fund on Bold.org is to define your scholarship topic and eligibility criteria. Who do you want to help with your award? Which students and communities do you want your scholarship to go towards?
Many donors desire to support students with similar backgrounds or challenges to themselves, be it students from underrepresented groups, first-generation students, or students with disabilities. Other donors might want to boost student success in specific academic programs or career fields. For example, donors who work in healthcare might want to set up a scholarship fund for nursing students, physician assistant students, or pre-med students.
Once you've decided who to help with your scholarship, the next step is determining how much money you want to dedicate to your scholarship program. Anyone can create a scholarship on Bold.org, and you certainly don't need tens of thousands of dollars to spare. As little as $500 can change lives by allowing students to offset some of their college or graduate school costs.
Our experienced donor team at Bold.org will work with you at every step to figure out the type of award and the amount of money you want to dedicate to your scholarship. You can even set up a recurring annual award or renewable scholarships if you wish to make a lasting impact with your award. We'll do the heavy lifting and ensure your prize is advertised to the hundreds of students who visit our site daily.
Tell us about your mission with your scholarship award by creating a donor profile today! Based on your profile, our scholarship team will help you make the perfect scholarship that aligns with your values, mission, and philanthropic goals.
You can also reach out to friends, family, and community members to help maximize the impact of your scholarship award by creating a fundraiser. Our donor team at Bold.org will work with you to share your story, your goals, and what you hope to accomplish with your scholarship fund. Once we've set up your scholarship fund, you can share your funding page with your community and collect donations to increase the value of your scholarship. In this way, scholarship funds bring surrounding communities together and demonstrate the collective power of goodwill.
Learn more about our pricing and the most frequently asked questions from our donors.
Narrow Down Finalists
Once your award is up and running, the scholarship team will do a preliminary review of the applicants based on the selection criteria and eligibility guidelines. As a donor, you won't have to sift through hundreds of applications to pick the perfect scholarship recipient.
Select Winners
The final step as a Bold.org donor is to work with the donor team to choose deserving recipients for your award. You'll have the opportunity to review the applications that the donor team hand-selected as finalists, including students' profiles and their personal statements, and personally pick the lucky recipients.
Frequently Asked Questions About Giving Tuesday and Scholarships
What is the meaning of Giving Tuesday?
Giving Tuesday is a global day when people celebrate and support the causes that matter to them and their communities. The holiday was created in 2012 as a response to consumerism after Thanksgiving in the United States on Black Friday and Cyber Monday. Giving Tuesday reminds us to give back to our communities and be generous with our time, money, and resources as a way of showing gratitude.
It's important to note that Giving Tuesday is not just about donating money. It is also about giving time, skills, goods, or advocacy. Many nonprofits offer creative ways for people who may not be able to afford to donate to get involved with their work through volunteering, donating items, signing petitions, or sharing stories on social media. These activities can boost the visibility of nonprofits and foster a culture of generosity and community solidarity.
Traditionally held on the first Tuesday after Thanksgiving, Giving Tuesday is a worldwide phenomenon that occurs on different days in different countries. However, the spirit of Giving Tuesday remains the same throughout the world: to reimagine communities built upon generosity and collective spirit.
How effective is Giving Tuesday?
According to Giving Tuesday's official website, in 2022, U.S. organizations raised $3.1 billion in donations on Giving Tuesday. Evidently, Giving Tuesday has a huge impact and helps nonprofits increase their donations, brand awareness, social media engagement, and recurring giving programs.
How much money do I need to create a scholarship?
Creating a scholarship fund as a donor is an accessible accomplishment for many people! Here at Bold.org, we believe philanthropy is not just for the rich. You can create a scholarship with as little as $500, making a significant impact on a student's life! Unlike endowment funds at universities, scholarship fundraisers on Bold.org do not have a minimum amount.