Does Stanford give scholarships?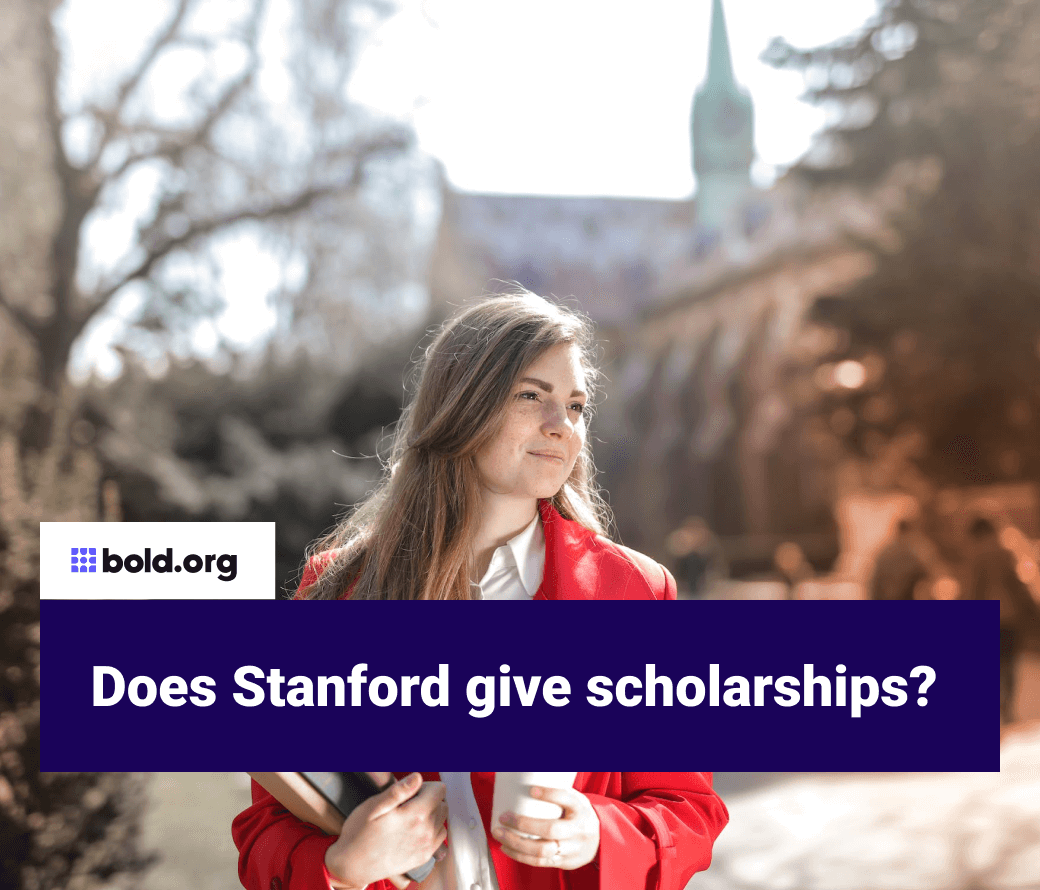 Top scholarships with upcoming deadlines
Located in the city of Palo Alto, California, Stanford University is an incredibly prestigious school. Every year, the college receives applications from thousands of local and international students who want to get a Stanford education. However, in addition to its prestige, Stanford is also incredibly expensive. Tuition alone stands at $57,693. Paired with other important fees like books and room and board, the cost of attendance for one year at Stanford is $82,162. To cover these high costs, create an account with Bold.org to unlock hundreds of exclusive scholarships!
As a result of this steep cost, many students rely on financial aid to attend Stanford. This can come in many forms, like loans, grants, work-study, and of course, scholarships. In many ways, scholarships are the ideal form of financial aid, namely in that they do not have to be paid back. Since they present such a great option to students, Stanford does indeed offer scholarships to students. This includes opportunities for graduate students like the Knight Hennessy Scholars Program, so if you are a graduate student at Stanford University, rest assured that you can also find useful aid as well.
Get Matched to Thousands of Scholarships
Create your Bold.org profile to access thousands of exclusive scholarships, available only on Bold.org.
Create Free Profile
Over 80% of students at Stanford receive some form of financial aid from a variety of sources. Over 55% receive aid from Stanford itself, which includes athletic scholarships, and over 48% of students will receive a need-based university scholarship. So if you are concerned about the steep cost of tuition, the chances are that at least part of the cost of attendance will be alleviated by a scholarship financial aid package.
Stanford uses a need-based financial aid system that involves a careful analysis of financial circumstances. This includes things like your family's expected contribution, your dependency status, and more. If the school determines that you will not be able to meet the student budget, then they will award or recommend scholarships, grants, and other financial resources.
Does Stanford give full-ride academic scholarships?
The average need-based scholarship for Stanford freshmen is worth $58,494, but prospective students should note that like many top schools, Stanford University does not give out merit scholarships. Merit scholarships are awards bestowed on students for things like academics, artistic talent, and other areas of interest. Stanford University scholarships are entirely need-based, and students do not receive awards for having outstanding grades or other academic successes.
That being said, having good grades and demonstrating academic excellence could increase your chances of success when applying for other scholarships. For instance, the Knight Hennessy Scholarship Program may not have a grade requirement, but having good grades in your degree program may increase your chances of successfully joining.
What scholarships are offered at Stanford?
There are many Stanford University scholarships that students can take advantage of to help fund their education. On this page, you'll find a list of different scholarships that Stanford University makes available to its students. Not all of them are directly funded by the school, but all are credible.
Frequently asked questions about Stanford scholarships
What GPA is required for Stanford?
Stanford University has an acceptance rate of 5%, which means it is an incredibly competitive school. Consequently, most accepted students have very high GPAs. The average GPA of admitted Stanford students is 3.96, meaning that your GPA should also be about 3.96 if you want to be admitted.
However, Stanford engages in a holistic application process, meaning that your raw scores are not the only determinant of your acceptance. Your extracurriculars, essays, and entire application are all incredibly important in determining your success as an applicant. If your GPA is below 3.96, you should work to improve it if you want to be accepted, but you should also know that it is not the only factor in consideration.
Additionally, having good grades can increase your chances of getting into scholarship programs outside of Stanford's system of financial aid based on need.
What kind of students does Stanford accept?
Stanford University seeks students that demonstrate academic excellence, intellectual vitality, and involvement in extracurricular activities. This means that you must have phenomenal grades, impressive test scores, and a passion for learning.
One mistake students often make when preparing for top universities is assuming that being a well-rounded candidate is the best path to take. While it is good to be well-rounded when applying to schools like Stanford, the truth is that most students applying are well-rounded. Instead, you should try to illustrate that you are particularly knowledgeable, talented, and passionate about a specific subject related to the degree program that you are interested in.
The reason Stanford boasts such an incredible list of alumni is that it admits students with the potential to become incredibly successful. These people, while oftentimes well-rounded, are distinct in that they are highly talented and passionate about a particular subject. Top schools want to continue to add amazing individuals to their list of alumni, so you can increase your likelihood of acceptance by illustrating that you will be one of these people.To make your dreams of attending - and affording - Stanford a reality, begin applying for Bold.org scholarships!