Does Bankruptcy Clear Student Loans?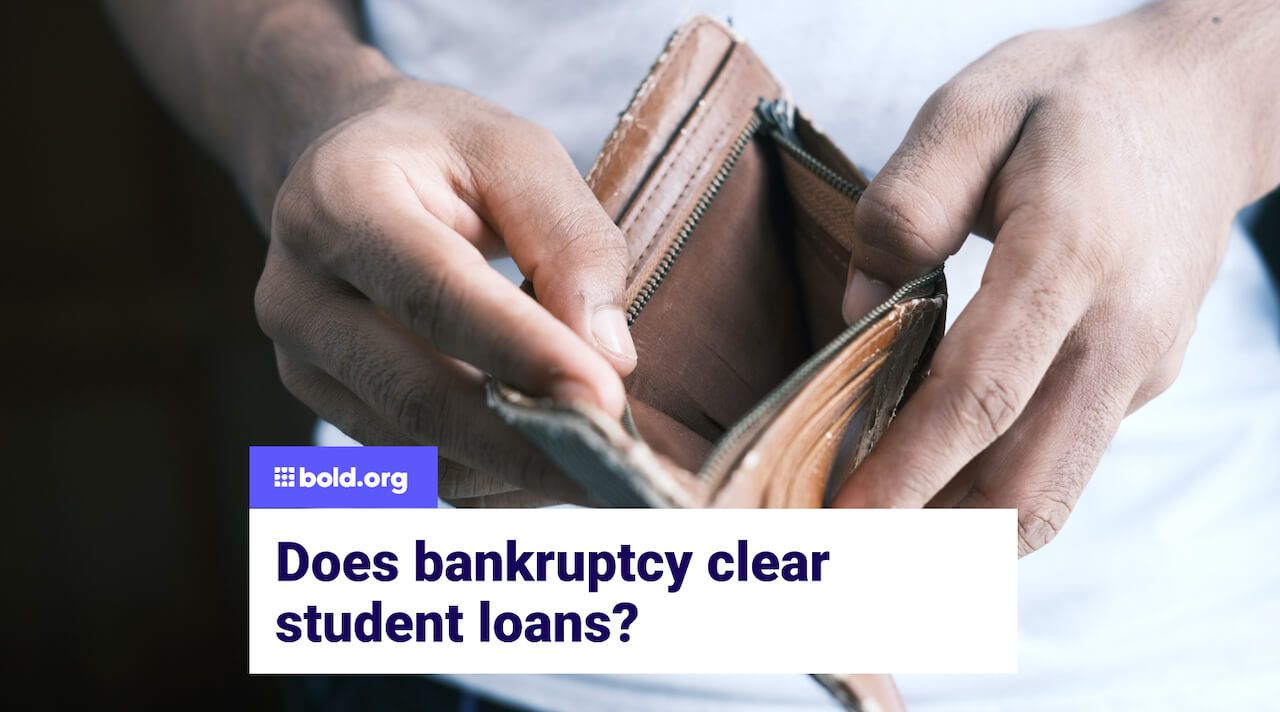 Top scholarships with upcoming deadlines
In some cases, you can have some or all of your student loans discharged after declaring bankruptcy. But, discharge in bankruptcy is not automatic for federal and private student loans, meaning that you have to do more than declare bankruptcy in order to clear your student loans.
Your loans can be discharged if you file for student loan bankruptcy and prove to a bankruptcy court that repaying your student loans would cause you and your dependents undue hardship. In order to prove undue hardship for student loans, you have to file for an "adversary proceeding," which is similar to a lawsuit. Your creditors may be present in the bankruptcy court proceeding to challenge the request.
To prove undue hardship during the adversary proceeding, you'll need to gather as much evidence as you can so that you can prove that repaying the loan would make you unable to maintain a minimal standard of living. Document all of your monthly expenses, loan statements, and any other proof of financial burdens, such as medical bills or a job termination notice. Private and federal student loan borrowers must provide evidence that this hardship will continue throughout a significant portion of the loan repayment period and that they have made an effort to repay the loan before filing bankruptcy.
Bold.org aims to get rid of student loan debt and is a crucial option if your student loan debt is causing you significant strife. To start paying off your loans today, create a free account on Bold.org and start applying! There's no limit to how much financial aid you can earn, so don't wait to start searching for scholarships and grants.
What happens to student loans when you file bankruptcy?
When you file bankruptcy and go through an adversary proceeding, the court can discharge student loans so that you don't fall into more debt.
Once you have shown the court your evidence that your student loan payment is causing undue hardship, the case can either end with a settlement, a dismissal, or a decision by the judge. A settlement is an agreement with the loan holder to clear a portion of your student loan debt after you pay a reduced amount over a certain period of time. A dismissal ends the case early based on the merits of your case.
If the case isn't dismissed or settled, the judge will step in and decide what to do about your private or federal student loans. The bankruptcy judge could grant you a full or partial discharge of your debt, or they can deny you a fresh start because you didn't meet the undue hardship standard.
How can I get rid of student loan debt?
If you can't afford your federal student loan payments, you can get your loans forgiven or discharged. Forgiveness programs like the Public Service Loan Forgiveness program which forgives the loans of people working full-time in public service can be extremely helpful. To learn more about forgiveness, take a look at this guide on student loan forgiveness.
In addition to a bankruptcy discharge, there are some other reasons to discharge student loans that could help any student loan borrower. When you die, when a parent dies, or when you suffer a severe and permanent mental or physical disability that prevents you from working, you can also have your student loans discharged.
Even if you can't completely get rid of student loan debt, there are also ways to postpone it. If you can't afford your payments because you lost your job, became ill, or have another financial crisis, you can use a forbearance or deferment to temporarily postpone your payments. A forbearance can last up to three years.
If you haven't taken out a loan yet and know that you will be unable to pay it back, you should consider whether student loans are the best option for you. There are plenty of other options like private scholarships which could lessen your student debt. On Bold.org, there are plenty of scholarship options that you can find and apply for quickly and easily.
Additionally, you can look for financial aid opportunities directly from your college as they may have unique scholarships and you can also seek out scholarships from more local sources. Community organizations, local businesses, your employer, and even your parents' employers may offer scholarships for people in your town.
Due to the more exclusive nature of these scholarships, there will be fewer people applying! Additionally, smaller scholarships from sources such as these often don't get much attention and may not even get any applicants at all. Each year, $100 million in scholarship funding goes unclaimed. Make sure to consider scholarships from all sources before turning to loans as you may be leaving money on the table.
Frequently asked questions about bankruptcy and student loans
How do I get a student loan removed from my credit report?
In many cases, a convincing letter to your student loan servicer will get negative loan information removed from your credit report. You can also file an account dispute that will force the bureau to review your file if your loan servicer fails to notify the credit bureaus with the correct loan information in your credit report.
How much do you have to be in debt to file Chapter 7?
No minimum amount of debt is required to file for either Chapter 7 or Chapter 13 bankruptcy, but it's important to think carefully about your financial situation and all of your options before filing for bankruptcy. Consider debt consolidation, refinancing, or any debt relief programs that are open to you before making the decision to file Chapter 7.
Browse the Bold.org Student Loan Research Report for more information about student loans.