(Untitled)
November 16, 2022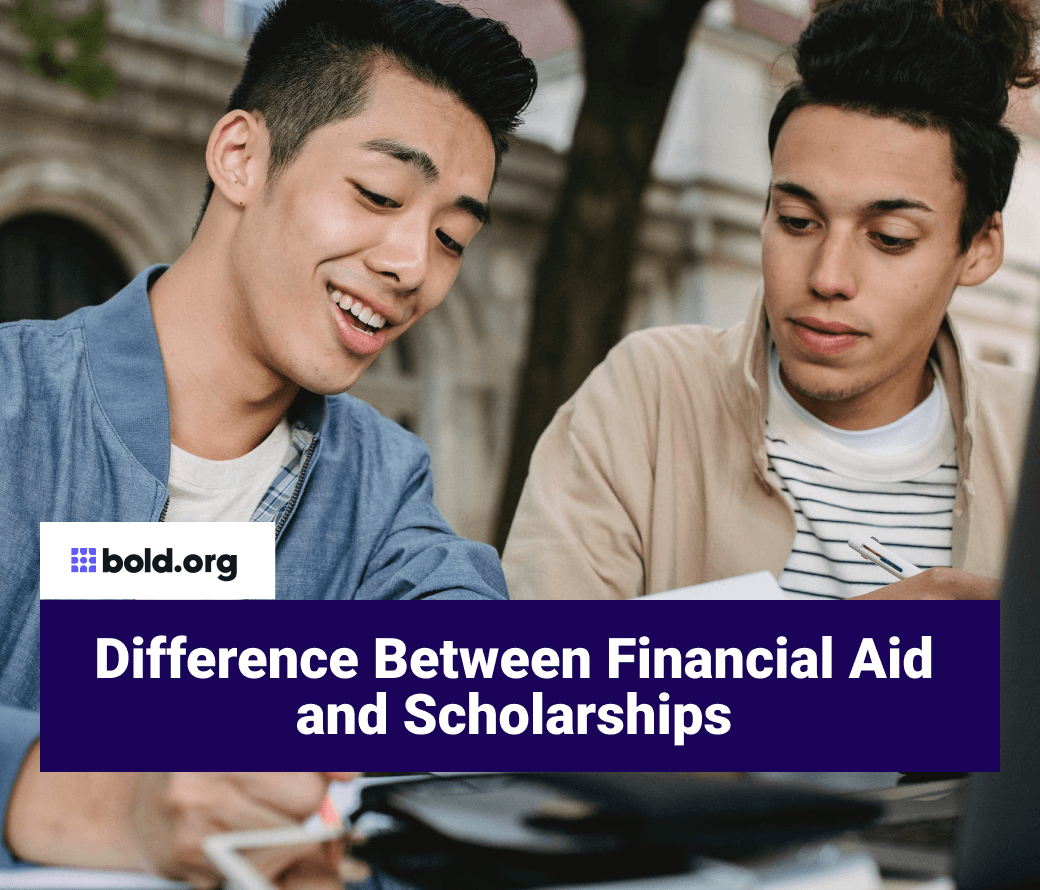 Top scholarships with upcoming deadlines
While scholarships are a form of financial aid, there's a significant difference between scholarships and other forms of financial aid.
Financial aid is an umbrella term that includes any kind of money that a student is given to pursue higher education, whether it is from the federal government, their college or university, or a private organization.
Scholarships are just one kind of financial aid. In a financial aid package, students will receive a certain number of scholarships, grants, and student loan offers, depending on their financial situations.
The differences between financial aid forms like grants, student loans, and scholarship money depend on where the money is coming from and whether the money has to be repaid. Grants and scholarships do not need to be repaid, but grants usually come from the federal government and colleges while scholarships often come from private organizations.
Get Matched to Thousands of Scholarships
Create your Bold.org profile to access thousands of exclusive scholarships, available only on Bold.org.
Create Free Profile
Additionally, student loans have to be repaid with interest, and they usually come from the federal government or from private lenders. It is important to understand the different types of financial aid options in order to graduate college without worrying about tuition and fees.
Scholarships are a vital part of a good financial aid package and hundreds of unique scholarship opportunities can be found exclusively on Bold.org, an independent scholarship provider aiming to eliminate student debt. To start benefiting from these scholarships, create your free account today!
How do scholarships work?
Scholarships are a form of financial assistance that you do not have to repay, so it is free money that you can use to pay your college expenses. By applying for private scholarships or filling out the Free Application for Federal Student Aid (FAFSA), you can get scholarships to lessen your college costs.
By applying for the FAFSA during your senior year, you can gain access to a designated amount of financial assistance. Depending on your expected family contribution, the amount of money that your family is deemed able to pay for college, you can get need-based scholarships. These scholarships are just based on your financial need, though, so need-based financial aid may not be enough to cover all of your tuition fees.
If need-based scholarships are not enough, merit scholarships can be a great source of additional financial aid. If you are an outstanding student or if you have a certain skill or experience, you can win a merit scholarship to help pay for your college education. Your merit scholarship amount will be determined by scholarship committees or a financial aid administrator, meaning that you may have to apply separately.
While the federal government contributes a lot of financial aid to students, states award financial aid to in-state students at public universities as well. Once you have discovered how much money your school's financial aid office is offering you, you can apply for private scholarships or loans to pay for the rest.
Which scholarships are easy to get?
While it does depend on the scholarship, generally the easiest scholarships to get are the scholarships with an easy application process. When you apply for scholarships in less time, you have the ability to apply for a larger number of scholarships. This can give you better odds of winning more scholarships, as it is often not guaranteed that you will win every scholarship you apply for.
Additionally, you should find scholarships that have specific eligibility requirements, for example only taking students of a certain identity, major, location, or another qualification. While these scholarships may take more time to apply for, these can be the easiest opportunities to actually win because the fewer applicants a scholarship has, the greater your chances of getting the scholarship.
What GPA do you need to get a full scholarship?
In order to get a full scholarship, it can be helpful to have a higher GPA. However, full-ride scholarship requirements vary by school and provider, so a high GPA is not required for every full scholarship. For the scholarships that do require a GPA, though, most will ask students to have a GPA above 3.0 in order to apply. Even if a scholarship doesn't have a GPA requirement, having a competitive GPA may help you stand out from other applicants.
Frequently asked questions about financial aid and scholarships
What is the difference between a scholarship and a loan?
Federal and private student loans have to be paid back with interest. Scholarships, on the other hand, are free money and don't have to be repaid. While there are certain instances in which you might have to return scholarship funds, such as if you fail to meet the requirements or drop out of school, scholarships are generally a form of gift aid with no repayment obligations.
Scholarships and loans also have different uses, as loans can often be used for additional expenses, such as room and board, while scholarships are generally more strict and must be used for tuition and fees alone. Student loans can be helpful for students who wouldn't be able to stay in school without them, but scholarships are preferable since they don't need to be repaid.
Do you have to pay back scholarships?
No, scholarships do not have to be repaid. Scholarships are free money, unlike private and federal student loans. However, it is important to know the terms and conditions of your scholarship, as some scholarships are awarded with the expectation that the winner will maintain a certain GPA, play a specific sport, pursue a certain major, or meet other requirements. If you accept a scholarship and end up failing to meet the requirements, you may have to return the funds if you're no longer eligible.
Additionally, if you receive more scholarship aid than you need, you may need to give the leftover sum back to the donor. Scholarships are typically designated to be used to pay for tuition, course fees, and/or book expenses, so if you've covered all of these costs and still have scholarship money, it may have to go back to the donor. Check with your scholarship provider to learn how leftover scholarship money will be dealt with before using the surplus on other expenses.
To start earning funding today, browse through the scholarship list on Bold.org and start applying.