Can You Get a Cheer Scholarship?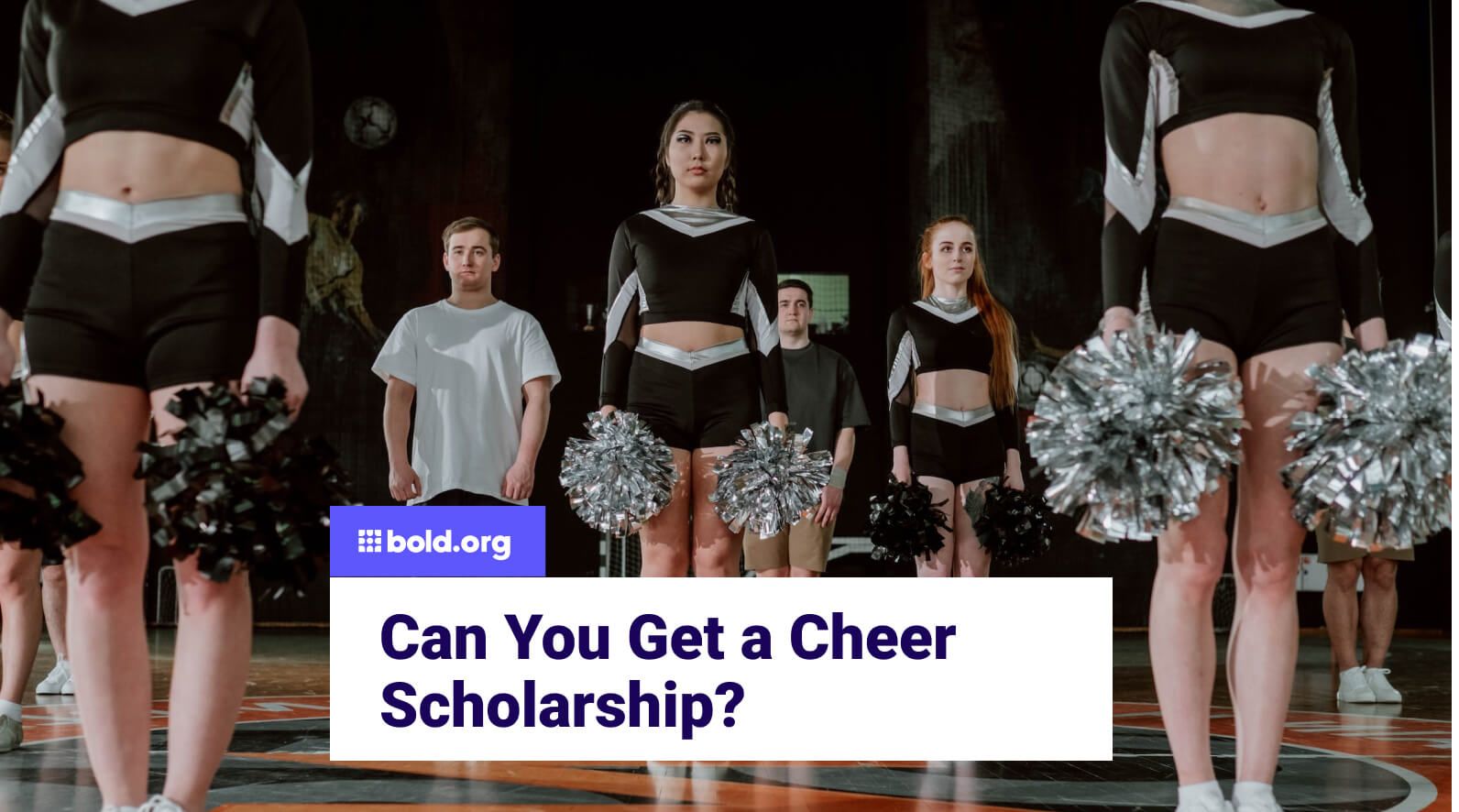 Top scholarships with upcoming deadlines
Cheerleading is more than just spirited sidelines: it's a physically demanding and highly competitive sport that requires skill, dedication, and teamwork. With the rise in popularity of competitive cheerleading, many aspiring college athletes may wonder if they can be rewarded for their talent through a cheerleading scholarship.
In this article from Bold.org, we'll explore the possibility of obtaining a scholarship for cheerleading, the steps to obtain one, and some top universities that offer cheerleading scholarships.
Cheerleading scholarships can empower athletes to continue pursuing their passion for cheer alongside academics at the collegiate level. Athletic scholarships help athletes balance the demands of athletics with academics by removing some of the financial pressure of a college education.
Scholarships for cheerleaders on Bold.org can help supplement any need-based financial aid or merit-based scholarship money provided by universities so you can focus on your studies and sports instead of worrying about tuition.
Create a free Bold.org profile today to apply for cheerleading scholarships and other exclusive scholarship opportunities!
Can You Get a Cheerleading Scholarship?
So, is it possible to get a cheer scholarship?
Cheerleading scholarships do exist, but the reality is that they are less common than scholarships for more traditional sports like football and basketball.
While cheer is a sport, cheerleading at the collegiate level isn't sanctioned by the National Collegiate Athletic Association (NCAA) - the governing body of college sports. As a result, there aren't official recruiting regulations for cheerleading, and cheer coaches often receive less funding for creating scholarships at cheer programs.
However, the landscape of college cheerleading is evolving, and opportunities for cheerleaders to earn scholarships are growing. Top college cheer programs are more likely to offer more cheerleading scholarships since they usually receive more funding from their institution. Some universities with top-tier college cheer programs may even offer full-ride scholarships for a handful of their top cheer squad members!
Exceptional cheerleaders may also qualify for athletic scholarships provided by individual donors or athletic organizations that can help supplement financial aid and scholarships offered by institutions.
Aspiring collegiate cheerleaders can apply for a variety of athletic scholarships on Bold.org that support student-athletes pursuing higher education!
How to Get a Cheer Scholarship
Cheerleading is a testament to the power of teamwork, dedication, and individual excellence. As a top-tier cheerleader, here's how you can obtain a cheer scholarship for college:
Elevate Your Skills
To embark on your college cheerleading scholarship journey, start by enhancing your cheerleading skills. If you're not already part of one, join a competitive cheerleading squad and attend cheer camps to accelerate your growth as a cheerleader. College cheerleading teams often require athletes to perform stunts, flips, and intricate routines, so having a strong background in competitive cheer can be a significant advantage when trying out for college cheer programs.
Demonstrate Academic Excellence
Besides cheerleading skills, your academic performance is crucial in securing a cheer scholarship.
Most colleges and universities that offer cheerleading scholarships require student-athletes to maintain a minimum GPA to be eligible for a cheer scholarship. Therefore, balancing your commitment to cheerleading with your academic responsibilities is essential when applying for cheer scholarships.
Keeping your grades up can also enable you to qualify for academic scholarships that award students who have demonstrated dedication to their studies. Earning academic scholarships can provide college athletes financial peace of mind while in school, helping them focus on their studies and cheerleading without worrying about college tuition.
Craft Your Story Through a Recruiting Video
In the modern world of college cheerleading scholarships, a compelling recruiting video can be your most potent asset. Embrace the power of storytelling and innovation to craft a video that showcases your cheerleading prowess and tells your story to college coaches.
First, begin your recruiting video by introducing yourself enthusiastically and authentically. Share your background, your passion for cheer, and why you aspire to be a part of a college cheerleading program.
Then, highlight your cheerleading skills with precision and flair. Film your best routines, stunts, jumps, and tumbling. Emphasize your dedication to perfecting your craft, and let every move and every cheer exude confidence and excellence. Your recruiting video should allow college cheer coaches to envision you as a member of your team and foresee the talent and dedication you will bring to their squad.
While showcasing your skills is vital, don't forget to include personal touches. Share anecdotes, moments of triumph, or obstacles you've overcome on your cheerleading journey. Let college cheer coaches see the person behind the athlete–the determination, the resilience, and the unwavering passion that make you unique.
Finally, highlight your academic achievements! Your recruiting video is an opportunity to underscore your commitment to education: mention your GPA, academic achievements, and any extracurricular activities that showcase your well-roundedness as a student-athlete.
Check out this exclusive blog post on how to get an athletic scholarship to learn more about the recruiting process!
Get Matched to Thousands of Scholarships
Create your Bold.org profile to access thousands of exclusive scholarships, available only on Bold.org.
Create Free Profile
Connect with Coaches
Building relationships with college coaches is vital to earning a cheer scholarship. Here are some tips and tricks on how to network, connect with coaches, and get recognized for your talent and dedication:
Attend Cheerleading Competitions and Camps
Cheer competitions and camps provide valuable exposure and give you the chance to perform in front of college coaches and recruiters scouting for cheerleaders. Embrace every opportunity to stand out and push yourself out of your comfort zone by signing up for regional competitions and cheerleading camps.
Some universities also host college clinics, which allow college cheer coaches to teach recruits what skills and routines will be performed at the school's tryouts and scout athletes. Take the time to research the college cheerleading programs you are most interested in joining, and keep an eye on their athletic calendar for any college clinics or open gyms. Attend college clinics to get the inside scoop on cheerleading tryouts and stand out to potential future coaches!
Reach Out to College Cheerleading Coaches
Once you've identified your target institutions, reach out to their cheerleading coaches. Craft a compelling and enthusiastic message expressing your interest in their program and cheerleading scholarship opportunities. Your initial contact should reflect your passion and commitment to continuing cheerleading in college!
Attend College Recruitment Days
Many colleges host recruitment days or informational sessions for prospective athletes. Attend these events to gain firsthand knowledge about the college cheerleading coach and program and to interact with coaches. These on-campus events are an excellent opportunity to ask questions and make a memorable impression on college cheerleading coaches!
Top College Cheerleading Programs in the United States
The top college programs for cheerleading have elevated cheerleading to an art form, showcasing incredible talent and dedication on and off the mat. Student-athletes at a premier college program are also more likely to earn cheerleading scholarships since well-known cheerleading colleges have better-funded programs. However, the more competitive the program, the more competition you'll have to face to earn a cheerleading scholarship.
The University of Kentucky's cheerleading program is legendary in the world of college cheerleading. With 24 national championships and a dedicated fan base, the Wildcats are known for their precision and crowd-pleasing routines. Kentucky's cheerleaders are ambassadors for the university's competitive teams, performing at athletic events, pep rallies, and community events. They also have an extensive outreach program, teaching cheerleading skills to young athletes nationwide.
The University of Alabama's cheerleading program, known as the "Crimson Tide," is another powerhouse in college cheerleading. The program has won numerous national titles and is known for its high-energy performances and iconic stunts. Alabama cheerleaders are recognizable at football games, basketball games, and other athletic events, leading the crowd with their enthusiastic cheers and intricate routines.
The University of Florida's cheerleading program, often referred to as the "Gator Cheerleading," is renowned for its versatility and skill. Whether performing gravity-defying stunts or leading the crowd in spirited chants, Florida cheerleaders excel in all aspects of their craft. The program has won numerous national championships and consistently ranks among the top in the nation.
The University of Texas cheerleading program, known as the "Texas Cheer," is a force to be reckoned with in the world of college cheerleading. The program boasts multiple national championships and is known for its innovative and high-energy routines. Texas cheerleaders are a fixture at Longhorns athletic events, where they bring their passion and enthusiasm to the crowd.
One of the standout features of the Texas Cheer program is its commitment to inclusivity. They have a co-ed team that showcases the talents of both male cheerleaders and female athletes, breaking down gender stereotypes in cheerleading and dance teams. This inclusivity, along with their dedication to skill development, makes the Texas Cheer program exceptional.
LSU's cheerleading program, known as the "Tiger Cheer," is celebrated for its creativity and athleticism. The Tigers have consistently ranked among the top college cheerleading programs in the nation and have numerous national championships to their name. LSU cheerleaders are pivotal in creating a vibrant and spirited atmosphere at athletic events.
Scholarships for College Cheerleading on Bold.org
This scholarship seeks to honor the life of Derk Golden by supporting athletes in pursuit of higher education. Any high school senior or undergraduate student who is an athlete and has a 3.0 GPA or higher can apply for this scholarship!
The application deadline is March 15, 2024, and one winner will be awarded $950. To apply, write an essay explaining why you are passionate about your sport, the role it plays in your life, and what sports have taught you about yourself.
This scholarship aims to honor the legacy of Dr. Edward V. Chavez by supporting students who have lost a parent and are passionate about sports. Dr. Chavez was an avid athlete who played football and baseball and went to college on a wrestling scholarship. Although he passed away in August of 2021, his legacy of athletic excellence lives on in his two sons.
To apply for this scholarship, write an essay about how losing a parent has affected you, how sports have improved your life, and how you plan to pay it forward. The deadline to apply is November 13, 2023, and any high school student who has lost a parent and is passionate about sports is eligible to apply. One winner will be awarded $1,165.
This scholarship seeks to honor the life of David G. Sutton, an athlete and a coach who coached all levels of basketball, baseball, and football throughout his life. Any high school athlete in Pennsylvania may apply for this scholarship opportunity, and one student will be awarded $500. The deadline to apply is December 1, 2023.
To apply for this scholarship, write an essay about a time when a coach positively impacted your life and how you exemplify the ideals and traits of David Sutton.
Check out these essay scholarships to help alleviate the costs of college as a cheerleader!
Frequently Asked Questions About Cheer Scholarships
What do I need to do to qualify for a cheer scholarship?
To qualify for a cheer scholarship, you typically need a high level of skill in cheerleading, a strong academic record, and a commitment to your sport and studies. Each college or university may have specific requirements, so it's essential to research and meet their criteria.
How important is academic performance in securing a cheer scholarship?
Academic performance is crucial for earning a cheer scholarship. Most institutions have academic requirements that must be met to maintain eligibility. Balancing your commitment to both academics and cheer is essential.
Are there scholarship opportunities for non-competitive cheerleaders?
Yes, there are scholarship opportunities for cheerleaders not involved in competitive cheerleading. Some colleges offer scholarships to individuals who demonstrate a strong commitment to cheerleading and their community, even if they haven't competed at the national level.
Now that you understand how to get a cheer scholarship, you're ready to start applying for scholarships! Don't forget to create a free Bold.org profile to start browsing and applying for hundreds of scholarships, and check out our scholarship blog for more tips and tricks on all things scholarships!